Labor Relations Insight
By Phil Wilson
It's been a week since the Supreme Court ruled 5-4 that state public sector unions may no longer compel employees to pay money to them as a condition of employment. As I said last week, this is the most important labor decision in the last quarter-century. Maybe even the last half-century. It's big.
Unions have wasted no time thrashing the decision and laying out their game plan to blunt its impact. The blowback has been a call to arms on two fronts.
First, many commentators urge workers and unions to use Janus as a rallying cry to support more "worker-friendly" candidates. The upshot of this line of attack is that Janus is the result of unions mis-spending all of the political contributions they've made over the last several decades. Instead of spending all that (coerced dues) money on worker-friendly candidates like Bernie Sanders, unions have sold out and supported the wrong candidates.
These commentators view this as the time for unions to rise like a Phoenix out of the ash-heap of wasted dues money. They look at the wave of teacher strikes over the last year as evidence that workers are ready to revolt and push the re-set button. We don't have that long to wait to see if they're right. November's congressional elections could have a monumental impact (especially after last week's announcement that Justice Anthony Kennedy is stepping down from the Supreme Court).
I find this line of attack pretty amusing. First, it's exactly what Justice Alito criticized about the Supreme Court's 1977 Abood decision. Billions of dollars of forced dues money were spent on the wrong candidates? Unions contributed to candidates who weren't aligned with the goals of their own members? That's exactly the reason Alito found that forcing people to pay for this political speech – as a condition of their employment no less –  was unconstitutional.
Also, I happen to live in one of those states where teachers rose up and fought for increased pay and school funding. Whatever your position about this wave of activism (and as the son of a retired school teacher I sympathize with the teachers) these protests were anything but a giant endorsement of unions. Most of them happened in spite of unions. If anything, they are further evidence that forced unionism ends up making unions weak and unaccountable. Janus got it exactly right.
The second reaction is from union organizers themselves. Their reaction is that Janus should not be surprising. The main thrust is that now is the time to galvanize current members and organize like mad. One playbook suggests that the proper reaction to Janus is to organize now, be diligent in your representation of workers, and to be politically active with candidates who fully support the issues important to working people. In other words, do the work your union members pay you to do in the first place. Hmm. Seems like if unions had done that most of the criticisms outlined in Janus wouldn't be around.
Since the Janus decision we also have seen a number of lawsuits by union members asking for a refund from all this wasted – and forced – dues money. It is very likely that these lawsuits will disgorge a lot of forced dues money from unions. It is also likely that private sector workers in non-right to work states will be able to make similar appeals based on the Janus decision.
In Janus v. AFSCME the Court found that public sector labor unions are now required to have clear permission (basically a waiver of first amendment rights) to collect fees from employees it represents. But the decision also raises serious questions about whether the agency-fee payer model in place in every non-right to work state is workable.
In the decision the Court stated that the agency-fee model outlined in Abood (which is also used for private-sector workers in non-right to work states) is inherently unworkable. The Court suggested it is nearly impossible for employees to exercise their right to stop paying for speech they find objectionable.
I believe many private sector workers who are forced to pay dues to unions (also presumably in violation of their first amendment rights) will also seek to keep their money. Hopefully this will discourage unions from seeking state protection (like they already have in California) to prevent potential objectors from learning about their free speech rights under Janus.
The reactions to Janus from both the political commentators and unions themselves are predictable. They also prove that all the justifications for overturning the Abood framework were spot-on. What remains to be seen is whether unions will actually walk their talk. I'm not holding my breath.
**********
Union Bailout Update
NLRB General Counsel Peter Robb issued a memo in June loosening the standards by which employee handbooks should be judged. The memo was the outcome of the recent Boeing ruling in December, that established a new standard for evaluating employer rules that balances the potential impact of the rule on employees' NLRA rights against the employer's legitimate justification for the rule.  The memo instructs NLRB regions that ambiguities should no longer be interpreted against the employer, and covered several categories of policies:
rules that are generally lawful to maintain;
no-photography rules and no-recording rules;
rules against insubordination, non-cooperation or on-the-job conduct that adversely affects operations;
rules protecting confidential, proprietary and customer information on documents;
rules against defamation or misrepresentation;
rules against using employer logos or intellectual property;
rules requiring authorization to speak for company; and
rules banning disloyalty, nepotism or self-enrichment.
The board held that Disney did nothing wrong when it withheld bonuses from a group of employees during negotiations with the union regarding wages. Although Disney had already announced the bonuses would be forthcoming due to recent tax cuts, and in fact paid other groups of employees (both non-union, and members of other unions), the board stated that the company could withhold the bonuses for the group under negotiations as part of its bargaining strategy.
NLRB Chairman John Ring announced that the board will proceed with rule-making on the issue of joint employer standards. In a letter to key Democratic senators, Ring pointed out that rule-making was the most appropriate way to deal with the joint employee issues, as cases are restricted to the facts of each case, and recusals don't apply. Because rule-making only applies moving forward (no retroactivity), there is also more certainty for employers.
The courts were favorable to employers in recent rulings, starting with the Supreme Court's affirmation of the legality of employer mandatory arbitration clauses. The court held that class and collective actions are not "concerted activities" protected by Section 7 of the NLRA.
The D.C. Circuit Court unanimously vacated the National Labor Relations Board's decision in Colorado Fire Sprinkler Inc. and called the board to task for what it deemed an "arbitrary and capricious" decision.  Two union-friendly members of the board (Hirozawa and McFerran - member Miscimarra dissented) stretched the facts to find that a construction pre-hire agreement had morphed into "proof" of majority support based on contract language alone, and not on the basis of employee choice. The ruling ensures that "the employees pick the union; the union does not pick the employees."
Amidst a frozen budget and rumblings from the White House - specifically as a directive from Mick Mulvaney, head of the Office of Management and Budget - that the Departments of Labor and Education may be merged into a single agency, the NLRB will soon offer buyouts and early retirement to eligible staffers in its regional offices and D.C. headquarters. The board's funding has not been increased in the last four years, and there are currently about 200 vacancies in field offices.
**********
Union High-Rollers
Since Big Labor is constantly lamenting the salaries and perks of the country's highest paid executives (running companies that create millions/billions of dollars in economic value), it is useful occasionally to take a close look at the salaries of union executives, running organizations that are nothing but a drain on the American economy.  The graphic below depicts the ten mostly highly compensated union executives for 2017. Not bad, for an entire industry that is supposed to be "looking out for the little guy."
**********
The Ride-Hailing Drivers Saga Continues
With the California Supreme Court's recent ruling about what classifies a worker as an employee vs. an independent contractor, Lyft and Uber are in a hard place. Although the U.S. Supreme Court just upheld arbitration clauses, precluding the filing of a class action suit as a way to bring the question to call, San Francisco City Attorney Dennis Herrera just subpoenaed both companies for records of driver pay and benefits, as well as their classification as independent contractors, rather than employees.
**********
Social Media Spotlight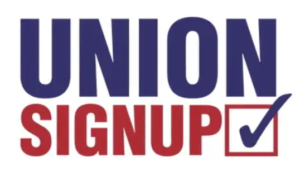 Electronic signatures are here to stay, and Big Labor is doing its best to take advantage.  This new site, UnionSignUp.com, offers a subscription service to unions to create online signup forms for the distribution and legal signing of authorization "cards." Employees can now sign authorization cards right from their smartphone.
**********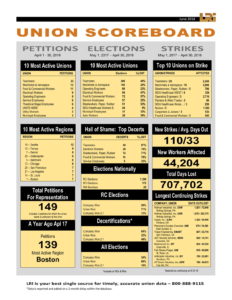 SCORE BOARD
Who are the winners (and losers) of the labor movement? Don't guess, just check the LRI Scoreboard
View this month's scoreboard (archives also located here).
Download a PDF of this month's scoreboard
**********
SEIU Watch
SEIU announced this month that it will be laying off its last health and safety staffer. This national department is the one whose job it is to lobby the Labor Department and other federal agencies to enact stricter workplace provisions. The decision to prioritize other expenses, like say political campaign contributions, over this clear resource for members is interesting to say the least – interesting, but not surprising. A quick recap of a few SEIU investments:
Since 2010, union officials have sent more than $1.3 billion in member dues (without prior approval) to liberal advocacy groups, including the Democratic Governors Association, Clinton Foundation, and Planned Parenthood.
Speaking of SEIU's spending habits, Dave Regan reportedly spent $6 million on just one of his ten ballot initiatives. This ballot initiative in particular targets kidney dialysis companies. Regan's hope is that he can get them to agree to a deal before the vote; in which case, he would withdraw the bill.
Regan's not the only union rep getting political this season. Big Labor across California have measures they are pushing (and financing) hard. Details here.
**********
Can I Get A Job Like That?
How would you like to get paid for 27 hours of work per day, 365 days of every year?  If you are a longshoreman working at the Port of New York and New Jersey, it is entirely possible!
These "favored jobs" are typically filled by people connected to union leaders or organized crime, and such malfeasance costs U.S. consumers tens of millions of dollars per year.
Although this rampant corruption still exists on the east coast waterfront, union-friendly politicians are trying to shut down the Waterfront Commission, the organization created decades ago to try to stem such corruption. A bill to close the Waterfront Commission was passed by the New Jersey Legislature nearly unanimously but was recently blocked by a federal judge.
**********
Teamster Beat
The longest labor case in history has finally wrapped up. What started in 1989 when David and Shirley Pirlott filed a federal case against the Teamsters for not allowing them to opt out of membership, ended this month – nearly 30 years later. The verdict? IBT owes David and Shirley $3000 each.
A recent ruling by the NLRB might lead us to believe that not much has changed in the Teamster handbook since 1989. The Board ruled this month that Local 385 violated federal when it "failed to respond to members who were trying to resign from the union."
In another recent decision by the NLRB, the Teamsters have been ordered to pay three years worth of back pay to an individual whom they unlawfully refused to refer for work opportunities. The union has been resisting and arguing against repayment since the incident ended in 2011.
**********
Fight for $15
Proponents for an increased minimum wage should be happy with this month's developments.
The Massachusetts legislature passed a $15 minimum wage bill. If signed into law by Gov. Charlie Baker, the bill would nullify several ballot initiatives that were headed toward a vote in November. The bill also includes "provisions for a paid family and medical leave policy and an annual sales tax holiday." Business interests, though against the measure, feel they have a better chance at compromise via the legislative process than they would through ballot initiatives, and are trying to take the positive perspective. Massachusetts would join New York and California as the third state to enact a $15 minimum wage.
And in a big move by Chick-Fil-A, one of their locations (Sacramento) has just announced that it will be paying employees up to $18 an hour.
**********
Right-to-Work
Opponents of right-to-work legislation in Missouri are giving big money to the organization, We Are Missouri, a political action committee looking to freeze implementation of R2W legislation voted into the state last year.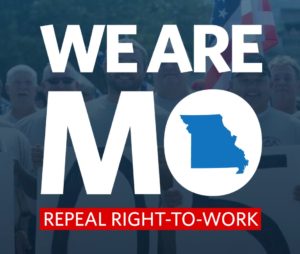 So far, We Are Missouri has received $8.6 million in large contributions. The most recent came from the Teamsters union and totalled $1 million.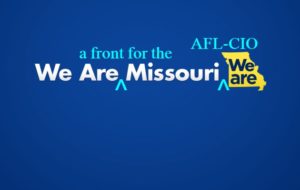 Missourians will vote on the referendum proposed by We Are Missouri during their primary election in two months.
**********
Auto Workers
The Auto Workers held their international elections this month. Gary Jones will serve as the new President of the union, while Ray Curry steps in as Secretary-Treasurer. Both of these men step into these roles during interesting times as the union continues to recover from the FCA scandal and prepares for upcoming challenges like contract negotiations with the Big Three, "possible consequences of steel and aluminum tariffs, and uncertainty surrounding global trade."
There has also been a new development in the Fiat Chrysler scandal. The UAW-Chrysler National Training Center, the official organization being sued for corruption, is suing Fiat Chrysler Automobiles officials and the involved union leader's widow for over $4.4 million in damages.
**********
Labor Around the World
The Global Workers Rights Index 2018 is out. This report ranks 142 countries on the degree of respect for workers rights. The worst countries for working people include places like the Philippines, Saudi Arabia, Egypt, Cambodia, Colombia, Guatemala. Countries best known for upholding workers rights are primarily found in Europe and include places like Denmark, Finland, Germany, Italy, Austria, and the Netherlands. The United States fell in the middle of the pack. Check out the report here.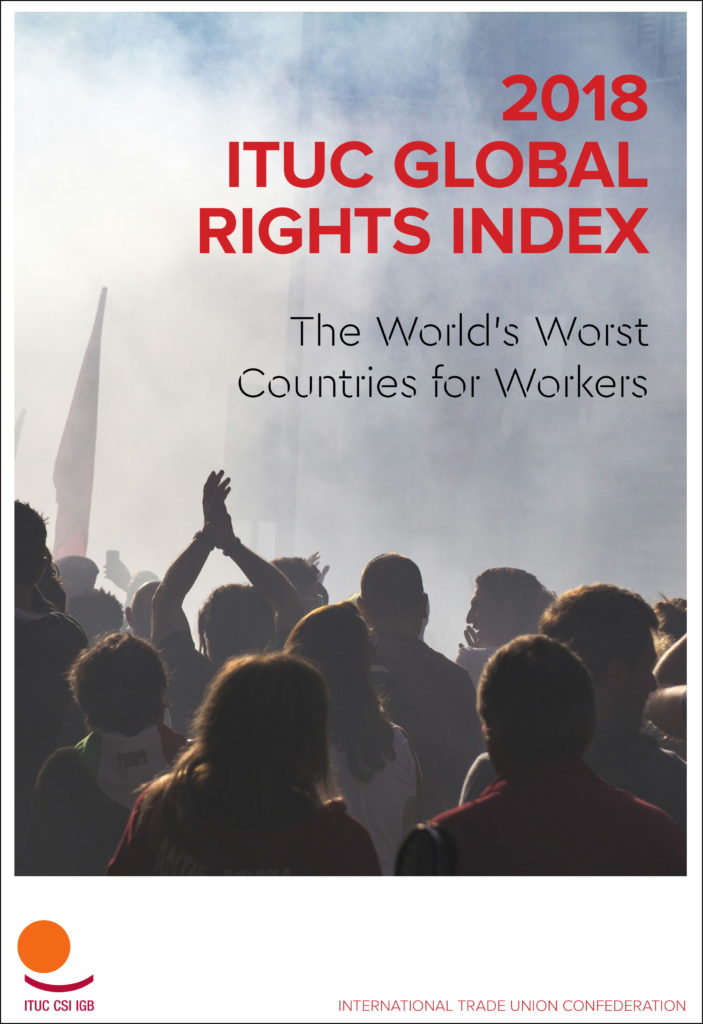 Prime Minister of Russia, Dmitry Medvedev, announced earlier this month that the country will be upping the age of retirement in regards to pension withdrawals, moving from 55 to 63 for women and 60 to 65 for men. The retirement age will begin its gradual ascent next year.
**********
Sticky Fingers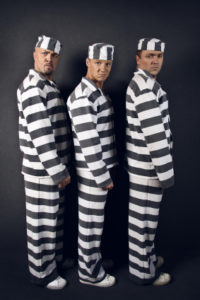 Current charges or sentences of embezzling union officials:
Dennis & Dorian Nicely - IATSE:  $57,310
Daniel Ross - TCU:  $4,847
Aaron Collington - Troy Police Benevolent Association:  $6,2009
Roger harris - AFGE:  $36,150
Roland Bedwell - United Plant & Production Workers:  Extortion
Adam Conheeny - FOP:  $30,000
http://nlpc.org/index.php?q=union-corruption-update
**********
Labor Relations INK is published semi-weekly and is edited by Labor Relations Institute, Inc. Feel free to pass this newsletter on to anyone you think might enjoy it.
New subscribers can sign up by visiting: http://lrionline.com/free-stuff/newsletter-signup/
If you use content from this newsletter please attribute it to Labor Relations Institute and include our website address: http://www.LRIonline.com
Contributing editors for this issue: Phillip Wilson, Greg Kittinger, and Meghan Jones
You are receiving this email because you subscribed to receive our labor relations newsletters and updates. You can manage your email preferences by clicking the link at the bottom of any of our email communications.
NOTE: if you are using older versions of Internet Explorer, read the text version, as the html may not load properly. We recommend upgrading to the latest version.