In this issue:
Millennials and Unions
Another Band-Aide To The Union Pension Crisis?
SEIU Watch
Insight, Sticky Fingers, Scoreboard and more…
The bottom of each story contains a link to the individual post on our site.
**********
Labor Relations Insight by Phil Wilson
How (and How Much) to Train Rapid Responders?
"How do I keep my response team trained and keep their skills fresh (without having to go through a union election)?" It's one of the most common questions I get from clients.
Do you struggle with this? Join the club. This week I had the pleasure of presenting at a CUE regional meeting in Dallas, Texas. One of the key topics I covered was how to develop and train response teams.
By the way, if you haven't had a chance to attend one of these CUE regional meetings in your area, you should. They are a great mini-CUE experience in between the two big conferences each year. And if you haven't already signed up for the next CUE conference coming up in Minneapolis this September what are you waiting for? You better not say for the speaker lineup to improve! I'm looking forward to presenting on Leader Approachability and Retention. You can sign up here.
The attendees in Dallas had some great questions about training responders and I thought I'd quickly go through my top three recommended practices here for all our readers:
Do I need a response team? How many responders should I train? This is a tough question and is very situational. This may not be the best "pocketbook" decision, but I talk more clients out of doing response training than I encourage to do it. That's because if you don't have a lot of union organizing activity or elections you will waste your training investment developing a response team. Many of the skills you develop during response team training are "use or lose" and specific to union activity. If you don't have a lot of campaigns, your team's training will atrophy and you'll have wasted a lot of money. This also impacts the number of people to train. Even organizations with many locations might only need a handful of responders. Again, this is based completely on actual activity you experience (versus "worst case" estimates of what you might experience). Less is more when it comes to responders. Invest a lot in developing a strong core team. If you need more later you can always train more (and your best responders will be able to help as they gain on-the-ground experience).
How long should training last and what topics should they learn? Again, this depends a lot on the type of activity you experience. But a common mistake I see is simulations that have responders do things that they will rarely (if ever) be asked to do in a live-fire campaign setting. At the same time these sessions ignore the things responders can do that provide the most value in a campaign. Instead of focusing on how to deliver campaign meetings or answer questions about the law, it is much better to invest time in conversation training drills. Responders obviously need to be able to talk about unions. However, the vast majority of training time should be focused on making genuine connections, being relatable and approachable, and in (legally) uncovering the underlying frustrations that are leading people to consider a union in the first place. People rarely spend enough time on the most important topic: how to effectively enter into a worksite that is in trouble. More responders crash and burn in this moment than any other. Since you never get a second chance to make a first impression, responders who are bad at this skill can put you in a deep hole. Our typical training lasts three full days (which sometimes extends to five days). Responders leave with deep skills but still have much more to learn (see number 3, below).
What kind of follow-up training should I do? Unless you have union campaigns every month (God forbid) response team training can never be a "one and done" experience. You have to regularly (monthly or every other month at the very least) "refresh" the key skills. Ideally, you do this in another live, in-person meeting. But very few companies are able to invest in that much live training. The best answer we've come up with is remote conversation training. This innovative training provides "just-in-time" experiences to responders without traveling or even disrupting their normal day. Every responder can benefit from these realistic, customized training situations.
If you are considering training (or re-training) your own response team I encourage you to give us a shout. Just be forewarned – I'll probably try to talk you out of it.
**********
Union Bailout Update
The addition of a new member to the Supreme Court always has ramifications for labor. In general, as a conservative, Trump nominee Brett Kavanaugh has a pro-business record, and according to this detailed profile, "Kavanaugh generally brings a pragmatic approach to judging, although his judicial philosophy is conservative, and he has applied principles of textualism and originalism espoused by the late Justice Antonin Scalia."
Relative to NLRB/DOL issues, it may be that "Kavanaugh is clearly inclined to resist the expansion of administrative-agency authority, but he has tended to approach administrative law issues on a case-by-case basis, rather than by mounting a frontal attack on the doctrine of deference to agency interpretations of ambiguous statutes."
Fast food restaurants played heavily in other labor news recently. A Fifth Circuit Appeals Court decision upheld the right of In-N-Out Burger employees to wear "Fight for $15" buttons at work, while a District Judge in Chicago ruled that Jimmy John's would not be held responsible as a joint-employer for labor law violations by franchisees.
McDonald's is not quite off the hook in their joint-employer case, as an NLRB Administrative Law Judge rejected a proposed settlement to a case attempting to hold the company responsible for the firing of franchisee employees who were campaigning for the "Fight for $15" movement.
Meanwhile McDonald's and six other fast food chains have agreed to drop "no poaching" clauses that prevent employees from moving across various franchises. Such clauses prevent managers from hiring workers at another store in the same chain, and eleven state attorneys general and several senators are working to eliminate the practice.  Seven additional fast food chains are under scrutiny, and about 90 CEOs will be receiving letters from Senators Elizabeth Warren (D-MA) and Corey Bookey (D-NJ) asking them to disclose their "no-poaching" clauses. They have also introduced legislation making the practice illegal.
The Obama-era "Persuader rule" is officially dead, having been rescinded by the DOL on July 17th.  The LMRDA reporting requirements and advice exemption are now as they existed before the 2016 rule.
It has just become easier to violate an employee's Wiengarten rights, even if the employee doesn't specifically reference the rights by name.  In Circus Circus Casinos, Inc. d/b/a Circus Circus Las Vegas and Michael Schramm, the board upheld an ALJ's decision that the company violated an employees rights due to the nature of a conversation that should have been construed to mean that the employee attempted to obtain the help of the union during a disciplinary discussion, during which a union representative failed to appear. The Board declared that
"no magic or special words are required. . .  It is enough if the language used by the employee is reasonably calculated to apprise the employer that the employee is seeking such assistance."
Gig economy companies such as Uber and Lyft took another hit in the contractor vs. employee debate, this one coming from the New York Unemployment Insurance Appeal Board. The board ruled recently that Uber was responsible for the unemployment benefits of three drivers, along with others who are "similarly situated." The New York Taxi Workers Alliance represented the three drivers in the case.
The NLRB is attempting to funnel more ULP disputes into their alternative dispute resolution (ADR) program. The program has existed since 2005, but was only accessed if one of the parties requested participation in the process. Under a new pilot program, the NLRB's Office of the Executive Secretary will actively contact parties with unfair labor practice cases before the Board and inform them of the option of using the ADR program.
**********
SEIU Watch
Now that Janus is officially passed, many people who have been forced to pay for union representation are wondering, "Can I get my money back?"
SEIU is one of the first unions to have a lawsuit filed against them in this regard. Freedom Foundation is leading the charge, speaking on behalf of the hundred in-home care providers who receive their paychecks through Medicaid.
In another case filed by the National Right to Work Foundation against SEIU Local 1000, the foundation is looking to recover wages taken for dues for approximately 40,000 people dating back to 2012. This could cost Local 1000 up to $100 million.
And in other SEIU news, Dave Regan has been accused of sexual harassment…
**********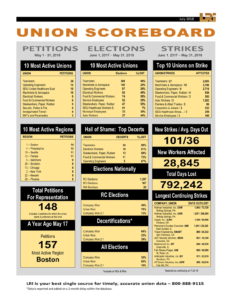 SCORE BOARD
Who are the winners (and losers) of the labor movement? Don't guess, just check the LRI Scoreboard.
View this month's scoreboard (archives also located here).
Download a PDF of this month's scoreboard
**********
Millennials and Unions
Although it has been posited that Millennials are more likely to be progressive/liberal in political mindset, they are pragmatic in their view toward the trajectory of their work life. This seems to be lost on unions, who rather than spend money to woo this infusion of labor into the union camp, continue to spend instead on political means to achieve their ends.
Millennials look the other way. With so many union pension funds in crises status, they know any dues they toss in that direction will never return to them. They also prefer choice, and thus stand against unions on right-to-work. It's also obvious that the union reliance on tenure for advancement and layoff protections is a disconnect, and merit bonuses (or even recognition) don't exist in most union environments.

[Image: Sodexo Workplace Trends Report - click image for source]
There are an estimated 78 million Millennial workers, and by some counts they are the only group positioned to save unions from extinction. Unions may have to change strategy and tactics dramatically to ever have a chance of gaining ground with them.
**********
Another Band-Aide To The Union Pension Crisis?
Big Labor leaders and Democrats are still trying to use taxpayer-funded means of salvaging soon-insolvent union multi-employer pension plans. They are finding it a hard sell even to their in-house crowd. The proposed Butch-Lewis Act of 2017 would create a new agency within the Department of Treasury which would sell bonds to private investors, then use that investment to provide 30-year loans to the underfunded or currently insolvent pension plans. Using debt to fund debt isn't a convincing way out of the union pension quagmire.
**********
Teamster Beat
Last month, the NLRB ordered Teamsters Local 385 to reimburse dues money that the union continued to deduct from employee paychecks, even after those employees requested their union membership to be cancelled. This, in the midst of current allegations that these local leaders have been embezzling from the union. Local 385 represents bus drivers and costumed characters at Florida's Walt Disney World. Dive more into this mess here.
**********
Fight for $15
San Francisco has officially become the first city with a $15 minimum wage for all businesses.
While this sounds like a great big step for low-wage workers, it's important to recognize it in context. San Francisco's cost of living is one of the highest in the country. According to a report by the Department of Housing and Urban Development, families earning $117,000 now qualify as 'low income' in California's Bay Area. And while $15 per hour isn't going to do much to help individuals climb the economic ladder in California, it does seem appropriate that if it should happen anywhere, this should be the place.
The consequences of pushing for a higher minimum wage will continue to play out on the push toward automation and thus the loss of such jobs. For example, McDonalds just announced that self-service ordering kiosks will be implemented in all locations by 2020.
**********
Auto Workers
Monica Morgan, wife of the late UAW President General Holiefield who was involved in the Fiat Chrysler Scandal, has officially been sentenced for her involvement in the case. She will serve 18 months in prison.
**********
Labor Around the World
India's textile and garment industry is worth $40 billion per year. And yet, forced labor, sexual harassment, and dangerous working conditions and abuses are common practice. In an effort to combat these worker injustices, two international groups were formed: U.S.-based Social Accountability International and Britain's Ethical Trading Initiatives. However, many believe the two groups are not doing enough to invoke change. Read more here.

**********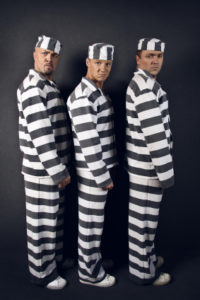 Sticky Fingers
Current charges or sentences of embezzling union officials:
Kerrie Clark - NEA:  $20,000
http://nlpc.org/index.php?q=union-corruption-update
**********
Labor Relations INK is published semi-weekly and is edited by Labor Relations Institute, Inc. Feel free to pass this newsletter on to anyone you think might enjoy it.
New subscribers can sign up by visiting: http://lrionline.com/free-stuff/newsletter-signup/
If you use content from this newsletter please attribute it to Labor Relations Institute and include our website address: http://www.LRIonline.com
Contributing editors for this issue: Phillip Wilson, Greg Kittinger, and Meghan Jones
You are receiving this email because you subscribed to receive our labor relations newsletters and updates. You can manage your email preferences by clicking the link at the bottom of any of our email communications.
NOTE: if you are using older versions of Internet Explorer, read the text version, as the html may not load properly. We recommend upgrading to the latest version.