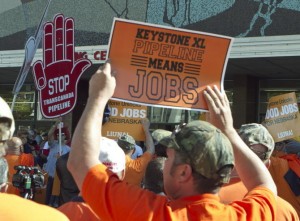 After three years (three years!) of "rigorous review" by the State Department, the Obama Administration announced on Wednesday it was killing the Keystone pipeline project and with it 20,000 American jobs.  As the President bows to pressure from tree-hugging Hollywood donors on Keystone, some pundits have conjectured that Obama made his emergency NLRB appointments last month in return for unions letting the Keystone decision slide.
Terry O'Sullivan, loudmouth president of the Laborers union will have none of that.
"The score is Job-Killers, two; American workers, zero. We are completely and totally disappointed. This is politics at its worst," he said. "Once again the President has sided with environmentalists instead of blue collar construction workers – even though environmental concerns were more than adequately addressed. Blue collar construction workers across the U.S. will not forget this."
"The Administration and environmentalists have blown the whistle on workers trying to feed their families and keep a roof over their heads," O'Sullivan. "Instead of celebrating their victory by hugging a tree they should hug a jobless construction worker because they're the ones who are going to need it."
The Keystone issue has also divided the labor movement, setting the building trades, coal miners and radicalized leftwing Obama boosters like SEIU at odds with each other.  Enter AFL-CIO president and frequent White House guest Dick Trumka with a statement sure to keep many awake tonight.
"We need dialogue between environmentalists and workers and communities about the future of coal." Trumka, said.  "About what the global labor movement calls a Just Transition to a low carbon emissions economy.  And the AFL-CIO is ready to host that dialogue."   Please, we beg you, no.
Radio talk show host Neil Boortz said today that beyond the rhetoric, union leaders won't punish Obama for the decision, knowing full well after he has secured the much-needed environmentalist political contributions, he'll "change his mind" and approve the Keystone venture after the election. The unions might even be able to make some hay of the announcement, taking responsibility for "pressuring" Obama to change his mind.