In this issue:
What The Uber Settlement Means
Unions And Modernization Don't Mix
Treasury Determined to Bilk Taxpayers In Pension Demise
Another Union Marriage Ends In Divorce
Scoreboard, SEIU Watch, Sticky Fingers and more…
The bottom of each story contains a link to the individual post on our site.
Labor Relations Insight
by Phil Wilson
I've been everywhere, man
I am home for the first full week in a month and looking forward to a holiday weekend before I hit the trail again. Traveling can get old, but there are parts of it I really enjoy. It is great to meet new people. Of course I like to talk about what's going on the world of labor relations and approachable leadership. But traveling also gives me a great opportunity to learn and grow too.
I thought for this month's insight I'd take readers on a quick tour of the last month, along with what I learned along the way. Who knows, maybe you'll pick up a thing or two yourself?
My first swing took me to Green Bay, Denver, Washington DC, and Minneapolis. This trip included doing labor relations training and updates for HR leaders and a C-Suite group, an approachability workshop, a talk to around 100 attorneys who practice Indian Law, and an after-action review with a client. Here's a few of the things I learned:
You can carry a lot of Approachability Playbooks in a carry on suitcase.
You cannot go to Green Bay without seeing Lambeau Field. Literally every single person you meet will ask you if you've been. If you answer "no" they may actually abduct you and take you there. The good news it is on the way to the airport.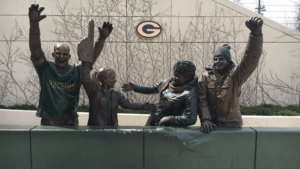 I was in Washington DC for about eight hours to participate in the US Chamber's bi-annual Labor Committee Meeting. I learned that eight hours is still enough time in DC to make your head hurt. By the way, if your company is a member of the Chamber you need to join this group – if your company is not a member your company should join the Chamber and then you should join the group.
Lawyers in Minneapolis will stay inside to get CLE credit even if it is 90 degrees in May.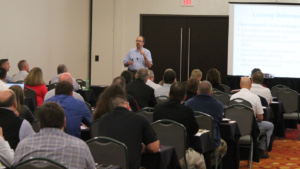 "After action" review meetings are surprisingly rare, but incredibly important. They are a hallmark of keeping Left of Boom and staying ahead of employee relations problems. It is inspiring to work with clients who want to learn and grow from challenges.
The parking lot outside a Hampton Inn is a terrific place to brief someone on the persuader rule.
I don't get to work alongside my friends nearly often enough. Or debate which track on Sticky Fingers is the best (we settled on Sway). But it is cool when it happens.
Downtown Green Bay is experiencing a resurgence. It is inspiring to see people take such pride in their community. I was just getting started on my travels, but I was already a little homesick (Tulsa and Broken Arrow are both experiencing similar downtown resurgences).
My second travel swing began on my birthday. This trip included stops in Indianapolis, Houston and the CUE Conference in Orlando. This trip was primarily speaking events including a couple of Approachable Leadership Keynotes and a Workshop, plus sessions on the DOL Persuader rule. Here are a few of the many things I learned on this trip:
Ohio State guys can be pretty hospitable, even to a Wolverine. Although they will make sure that their gifts are scarlet and not blue.
Engineers and quality folks are as interested in approachability as HR leaders – especially after they understand how much Deming believed in approachability.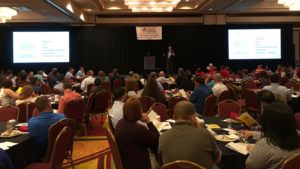 Cavemen, when left in a hotel room with two giant birthday cookies, will break down and eat the cookies after around an hour. They will eat the Slim Jim the next morning.
I suggested in our comments on the persuader rule that DOL dramatically underestimated the compliance burden of the rule. I can also tell you from experience that you can spend over 2 straight hours answering questions about the persuader rule and still not cover everything. Coincidence?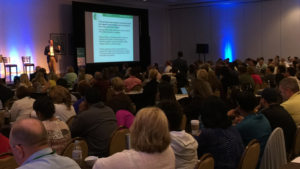 While it is hard for an Okie to brag on Texas, they do put on a heck of an HR conference.
I could listen to David Wimmer and Tammy Rattray talk about labor law developments (even crazy ones like BFI) all day long. Really.
The DOL and NLRB rulemakings are probably going to result in a lot of unintended consequences that unions won't like. The ambush rule has, if anything, hurt unions. The persuader rule could very well do the same.
Even a rainstorm can't prevent Disney from putting on an incredible fireworks show. It also can't dampen the spirits of a terrific conference experience. If you're not a CUE member now is the time to correct that.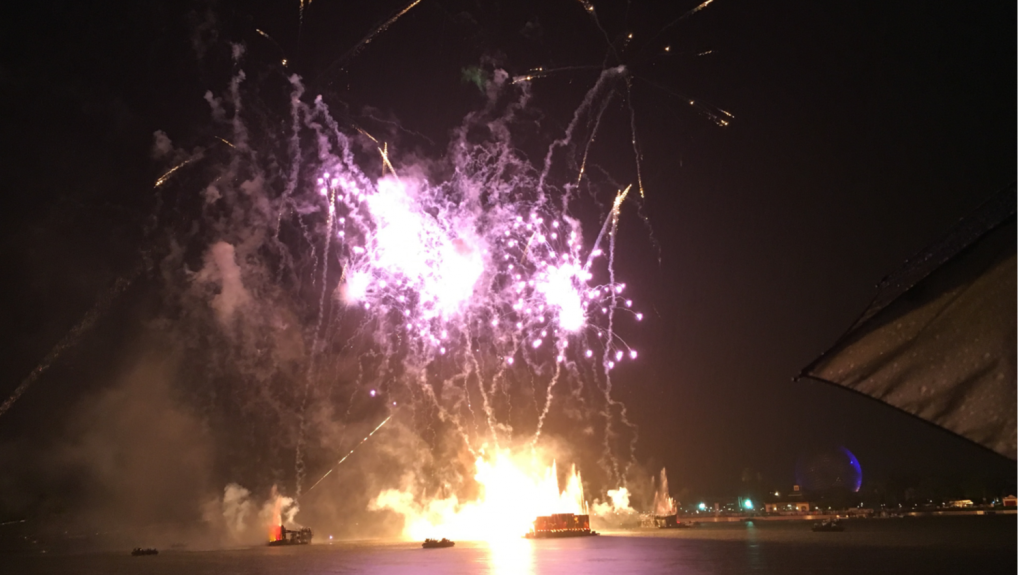 I am blessed to work with such amazing and talented consultants. I don't get to see them often enough either.
Where have your travels taken you over the last month or two? What have you learned? Feel free to share in the comments. Hopefully I'll see you out there on the road sometime soon!
**********
Union Bailout Update
The NLRB continues almost weekly to throw grit into the gears of American businesses. In March, General Counsel Richard Griffin sent a memo toNLRB regional directors directing them to cede discretion over numerous areas of labor law to his office. Among the cases Griffin wants to come across his desk are union withdrawal elections, at-will employer disputes, Beck cases and other controversial issues.
Former NLRB board chairman Peter Schaumber characterizes Griffins move as a power grab, and explains that the intent of the memo "is to reverse legitimate, long-standing board precedent. The reversals are going to increase the power of organized labor and restrict the influence of employers." Because the GC's office is less bound by Board precedent, Griffin is in a position to shift federal labor policy to more union-favorable terms.
In a May memorandum, Griffin asks the Board to review its current rule of permitting employers unilaterally to withdraw recognition from a union based on objective evidence that it has lost majority support, referred to as the Levitz Furniture framework. The move is obviously designed to make it even harder for employees to get rid of unions they no longer want - already an arduous process.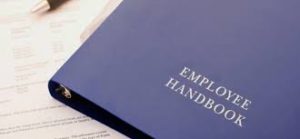 Employer handbook rules continue to take a beating from the Board. When an NLRB administrative law judge upheld the firing of two employees at William Beaumont Hospital, the Board went beyond the ALJ's findings to highlight two additional policy rules as illegal.
In another handbook defeat, a Board ALJ applied Purple Communications in a case against Rio All-Suites Hotel in Las Vegas to strike down an email policy, based on one of ten restrictions of use. the item in question: "Computer resources may not be used to send chain letters or other forms of non-business information."
In a similar case, Valley Health System LLC, the Board again one-upped the ALJ on an employee behavior policy, ruling that the use of the term "offensive" behavior had to be taken in context, and in this case the use was in context of other phrases that were deemed a violation of Section 7 rights, and was thus also unacceptable. The one upside to the ruling was the Board pointing to an earlier decision (Palms Hotel & Casino) in which the Board approved the use of the term, providing some guidelines (at least for now) as to safe use of the language.
The NLRB doesn't get its way 100% of the time. In Alabama, a District Judge awarded a nursing home $46,015.60 in attorneys' fees for fighting an NLRB injunction. The USW had filed an unfair labor practice against the owner of the facility when the owner decided to switch operators to one that was non-union, and the Board filed a Section 10(j) injunction. Judge Sharon Lovelace Blackburn of the U.S. District Court for the Northern District of Alabama, denied the injunction request back in December, and consequently awarded the operator the cost of defending itself, declaring that the NLRB's position in the Section 10(j) litigation was not substantially justified.
An appeals court also took the Board to task when the Board downplayed union threats against anti-union employees at a nursing care company during an organizing drive, overturning the certification of the union. The DC U.S. Circuit Court of Appeals noted, "We conclude that the Board abused its discretion here by finding that the threats did not create a 'general atmosphere of fear and reprisal' according to the Board's own precedent."

OSHA is also getting in the act of adding to employer headaches by instituting a new injury reporting requirement. The data from the reports will be entered into a public database, providing the unions one more tool to use in corporate campaigns or organizing.
**********
What The Uber Settlement Means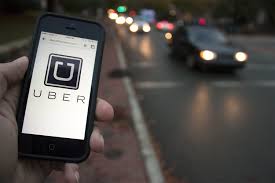 Most folks are aware of the high-profile class-action suits against Uber and Lyft. The two companies' drivers - independent contractors - are claiming they should be classified as employees.
In Uber's settlement, it retained the right to classify the drivers as independent contractors while amending some of its policies, changing the nature of the relationship to look more like an employer/employee model in some respects.
The case is interesting in that it presages a possible third category of workers that share characteristics of both employees and independent contractors. It has been suggested that American labor law is due for such modifications to bring it out of the 20th century. With the rise of the "gig economy," some such changes are probably inevitable.
Another interesting result of the agreement was the formation of the Independent Drivers Guild, an association affiliated with a regional branch of the International Association of Machinists and Aerospace Workers union (IAM). The alt-labor agreement provides for the association for a five-year period, during which time the union has promised to refrain from trying to unionize drivers, from encouraging them to strike and from waging campaigns to have them recognized as employees rather than independent contractors (although the union maintains the right to attempt to organize at any time the workers are reclassified as employees).
In the meantime, traditional employers should be reminded that the law favors workers being classified as something other than independent contractors. You should review any relationships with workforces not classified as employees and contracts with third-party workforce providers.
**********
Unions And Modernization Don't Mix
Nearly 40,000 workers from Massachusetts to Virginia entered their sixth week in the strike against Verizon yesterday, making this the largest work stoppage since 2011. The workers are represented by the International Brotherhood of Electrical Workers and the Communication Workers of America. Workers are being paid from a union fund while on strike.
Unlike most strikes, the main area of contention here is not about workers getting raises, it's about keeping Verizon from changing their business model. "Over 99 percent of the striking workforce work on the wireline side of its business." It's called Fios and it offers subscribers Internet, voice and video service.
There's another side to Verizon's business – wireless. Think 4G. This part of the business requires less linemen and service providers. It's also "where the future growth is," according to Jan Dawson, an independent technology analyst for Jackdaw Research. Verizon as a company is betting on the future of their wireless business.
Unfortunately for the workers on strike, that means much of Verizon's labor will switch from linemen and service technicians to call centers, as much of the issues involved in a wireless business can be handled virtually.
Verizon's chief executive, Lowell C. McAdam, penned a LinkedIn essay recently where he addressed the concerns of the workforce.
"Our objective in these negotiations is to preserve good jobs with competitive wages and excellent benefits while addressing the needs of our ever-changing business…[but] nostalgia for the rotary phone era won't save American jobs, any more than ignoring the global forces reshaping the auto industry saved the Detroit automakers. We're determined not to find ourselves in the same boat."
Both sides have agreed to use a mediator for upcoming negotiations.
For a look at how this strike is an example of the changing landscape of the labor movement, read this article on the "virtual picket line."
**********
Alt-Labor
We've known that the Fight for $15 movement was started by unions to potentially boost up dwindling membership numbers. Well it looks like it might finally be happening. Last week leaders of the movement met with Mary Kay Henry, president of SEIU, where it was decided that Fight for $15 members will vote on an official affiliation with the union soon. Should the affiliation be decided on, fast food workers will not pay dues at first. No doubt SEIU leadership will work that out eventually.
In other alt-labor news, Fight for $15 groups are protesting at McDonald's headquarters in Oak Brook, Illinois; the Coalition of Immokalee Workers has declared a national boycott against Wendy's; and it was recently discovered that teachers unions have been funding millions of dollars to "grassroots" campaigns like Hedge Clippers, a group that protests hedge funds and their influence on politics.
**********
SEIU Watch
SEIU and the American Federation of State, County and Municipal Employees are considering a merger. This partnership, which will be voted on first by SEIU members and then ratified by AFSCME members, will result in establishing the largest labor union in the country. SEIU votes on Sunday. Stay tuned.
California Assemblywoman Shannon Groves had two bills on deck for SEIU Local 1000 members – AB 2753 and AB 2754. The first would require California's public employee unions "post an itemized version of its budget online, making it accessible for its members." The second would "require public unions to hold an election every two years to determine if the current labor union should continue to represent its members." Both these bills were shot down earlier this month. Click here for details.
The drama with Dave Regan continues as always. Arbitration against him and SEIU-UHW over his "secret deal" with California Hospital Association began earlier this month (click here to refresh yourself on the details). The whole gang is there, including Duane Dauner, CHA's CEO and Regan's former ally. Our friends over at SternBurgerwithFries got a copy of the cross-examination of Rauner. It confirms a lot of the shady dealings we have been hearing out.
Approximately 2,100 students didn't make it to school last Tuesday, the 17th, when members of CSEA/SEIU Local 2001, went on strike. These members are bus drivers for DATTCO, who services Hartford Public Schools.
**********
Right-to-Work
Wisconsin has been a right-to-work state for about a year now; but in a bold move last month, Judge William Foust of Wisconsin suspended it. Foust found that "forbidding unions from collecting fair share payments from non-members who benefit from their services is an unjust taking." The International Union of Operating Engineers locals 139 and 420 had filed suits claiming the law violates the NLRA. The ruling was revoked yesterday by a state court of appeals judge. Wisconsin is right-to-work again…for now. We'll see if the same thing happens in West Virginia…
After becoming the 26th state to pass right-to-work legislation earlier this year, the West Virginia AFL-CIO and the state's unions are taking the decision to court.
It makes sense why unions hate right-to-work so much – it allows people who don't want to be union members to opt out. However, Vincent Vernuccio, director of labor policy at the Mackinac Center, says unions are actually benefiting from right-to-work legislation.
"According to BLS data, unions in right-to-work states gained more members in 2015 than those in states that allow forced unionism. These gains come despite the fact that non-right-to-work states have over 7 million more workers than right-to-work states…Between 2005 and 2015, union membership grew in right-to-work states by about 1.3 percent, but fell around 9 percent in non-right-to-work states."
Vernuccio's thought process here is that this growth is due to the fact that "right-to-work protections force unions to provide better service and value to members, making them more desirable."
**********
Treasury Determined to Bilk Taxpayers In Pension Demise

The Teamsters Central States Pension Plan is swirling the bowl, just waiting for the final flush. Earlier this month, the Treasury Department, which must approve any plans to cut pension benefits, rejected that proposed by the union. The Treasury official appointed to review the planned reorganization said the proposal was based on flawed assumptions and did not demonstrate it would successfully rescue the ailing fund. He also claimed the plan's proposed cuts were not "equitably distributed" among the retiree population, and the notice provided to plan participants about the cuts was too "technical" and "overly complex." However, the reality is that the Treasury, in cahoots with the DOL and the Pension Benefit Guaranty Corporation, used the rejection as a way to ignore the 2014 law Congress passed specifically to solve such a problem. By blocking the restructuring, the burden will fall on the the backs of American taxpayers via the cost of a later, more expensive bailout.
The problem will have an impact far beyond the Teamsters members and retirees. If (when) Central States fails, as one of the largest plan of its kind, it will likely bring down the Pension Benefit Guaranty Corporation (PBGC), the federal insurance program for pension funds of this type. The result could impact tens of thousands of other retirees who were never members of the Teamsters.
**********
SCORE BOARD
Who are the winners (and losers) of the labor movement? Don't guess, just check the LRI Scoreboard
View this month's scoreboard (archives also located here).
Download a PDF of this month's scoreboard
**********
Another Union Marriage Ends In Divorce
Like the failed 2004 merger of Union of Needletrades, Industrial, and Textile Employees (UNITE) and Hotel Employees and Restaurant Employees Union (HERE), the shotgun wedding of the California Nurses Association (CNA) and the National Union of Healthcare Workers (NUHW) has crumbled after only 3 years.
As in most union insider intrigues, money and competition between unions appear to be the driving factors in the dissolution of the relationship. NUHW, formed when a large SEIU local went its own way, balked when the AFL-CIO labor federation agreed to an anti-raiding policy with the SEIU, NUHW's favorite poaching target. When the NUHW suggested leaving the AFL-CIO, the CNA refused. There was also the matter of the $7.2 million loan from CNA to NUHW used to pay off huge legal fees associated with the stormy birth of the healthcare union. Apparently the loan has been forgiven, allowing NUHW to survive the recent divorce.
**********
Auto Workers Update
It's been quite a month for the Auto Workers – one to be celebrated, but also one with some losses.
As far as good news, Ford, Dodge, Jeep, and Chrysler have committed to investing in five Autoworker plants in Ohio and Michigan. This secures work for over 1,000 UAW members, some of whom have been laid off most of the year.
In bad news, Ford and Chrysler are still going to be moving some work to Mexico. Many would argue that this is a direct result of UAW "winning" the abolishment of the two-tier wage system, increasing labor costs in the U.S.
In South Bend, Indiana, 300 members of UAW have been locked out from their employer, Honeywell, since May 9 when they rejected Honeywell's new contract offer. Honeywell and UAW officials are scheduled to meet June 7 to continue negotiations.
Stay tuned for updates from the West Coast as UAW looks to organize workers at Tesla Motor's factory in California.
**********
Unions on the Campaign Trail
In an interesting preface to the 2016 presidential campaign, a Republican candidate may do more to drive a wedge between unions and their members than the usual automatic Big Labor support of liberal candidates generally provokes. Although 40% of union households generally vote Democratic, a current poll by the AFL-CIO shows that of the union households who have already decided on a candidate, 18% have selected Trump, while Clinton and Sanders have secured only 19% support combined!

Big Labor sent about $420 million in political contributions to liberal interests between 2012 and 2014, and rank and file union members who supply those funds are beginning to express their ire. The union leopard won't change its spots as election "funding" season continues, but the heat in the kitchen is starting to rise.
In a related story, seven different unions in the AFL-CIO are demanding that the labor federation cut ties with Tom Steyer, the environmental activist and megadonor funding a new super-PAC with the organized labor group. Steyer is against the Keystone Pipeline, and according to a letter from the union officials involved, "a growing trend within the Federation seems to consistently minimize the importance of Building Trades jobs and our members' livelihoods in the pursuit of a coalition strategy with outside organizations that has produced mixed results at best and disastrous results at worst for our members and their employment prospects in many instances throughout the country."  When the rank and file union membership catch on to the fact that the objective of the super-PAC is to take down Trump, things could really get interesting.
In an interesting side note for us in the labor space, US Labor Secretary Thomas Perez has been mentioned as a possible VP candidate on the Clinton ticket.
**********
Whistlin' Dixie
Most of you will remember that just two years ago, Volkswagen was actively supporting the unionization of its Chattanooga, Tennessee plant. What's changed? The company got caught cheating on emissions tests. Since then, VW management has changed quite a bit. And so has its thought process on organizing.
This change began when VW announced they were going to appeal the UAW victory with the 160 maintenance workers at the plant, a micro unit of the plants 1500 member strong workforce. VW is disputing the validity of the carve-out election, but the NLRB has ordered the automaker to the bargaining table.
The two groups are expected to meet soon, but VW isn't expected to back down from its position that the carve-out of maintenance workers is legitimate.
**********
Labor Around the World
Earlier this month Greek workers walked off the job to protest the country's proposed pension cuts and tax increases. This work stoppage "halted public transportation services, shut down government offices and closed schools." The strike, combined with additional weeks of sit-ins,  has left trash piling up and blocked national highways.
On Wednesday, representatives from Greece, the International Monetary Fund, and the Eurogroup agreed upon "a series of loose measures to help restructure Greek debt when the country's bailout deal concludes in 2018." The country's labor unions have not spoken out on these resolutions yet.
The French Cabinet has given Prime Minister Manuel Valls the go-ahead to push through highly-controversial labour reforms. These would make it easier for employers to hire and fire workers. As expected, many of the people of France are not happy about it. Earlier this week, unions and their members went so far as to block off entrances into depots and oil refineries, leading to fuel shortages and police action.
May Day has become known as a time for protests and this year was no different. Across the world, workers rallied to demand for higher wages, better conditions, and more job security.
**********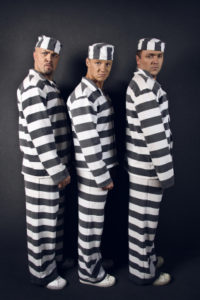 Sticky Fingers
Current charges or sentences of embezzling union officials:
Oscar Luevano - IAM:  $132,939
Bob Buford - UAW:  $28,697
Jimmy Deamicis - IBT:  $42,791
Johnny Wilson - ATU:  $120,352
Arthur Boedecker Jr. - UWUA:  $40,203
Esther LaFontant - UA:  $155,000
http://nlpc.org/index.php?q=union-corruption-update