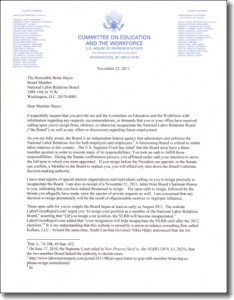 We've been reporting on the nasty letter exchange between Board Members Hayes and Pearce over the last week. Now Representative George Miller, the ranking Democrat on the House Committee on Education and the Workforce, has decided to get in the act (click the link or the letter to the right to download the full letter from Representative Miller).
Miller's letter accuses Member Hayes of receiving improper influence and "enticements" from "special interest organizations" (like conservative bloggers and Governor Nikki Haley of South Carolina). It would be interesting to see a similar request made of Members Pearce and Becker about any conversations they have had with representatives of labor unions or politicians about how to jam through the NLRB ambush election rule.
While I've never communicated with or even met Member Hayes, I've been clear about my point of view on his resignation. It is his personal decision, and I can see arguments both for and against. He certainly is entitled to resign. When Hayes promised to serve out his term he couldn't possibly have imagined that Pearce would throw out to rule book to jam through a rulemaking in this unprecedented way. At the same time it is also easy to see why Hayes would not want to leave the Board with only Member Pearce in charge for a year or more - even without a quorum.
At the end of the day Member Hayes has to do what he thinks is right for him personally and the long-term credibility of an agency that, let's face it, is pretty much out of credibility at this point. But if Representative Miller and the Democrats really want Hayes to to serve out the remainder of his term I'd respectfully suggest that everyone take the guns away from each other's heads and take a deep breath.
Pearce and Becker should call off the meeting on Wednesday and agree to follow the normal rulemaking procedures (you know, things like actually reading and responding to all the comments and drafting an actual rule that is responsive to those comments before you vote on them). If that means that the rule doesn't make it before Becker's recess appointment ends that isn't Member Hayes' fault. The Democrat Members of the Board have already proven with the Notice Posting rule that they don't need any help from Member Hayes to get their rules done.
The bottom line is that the Democrat Members picked their battles and they started this one too late. They got a ton of other pro-labor decisions and rulemaking out the door before the end of Becker's term and they should be satisfied with that. Forcing Hayes to allow all the normal procedural rules be tossed aside to jam through this blatantly partisan and politically motivated rulemaking process is asking too much. If Hayes does resign to prevent the Board from having a quorum, Pearce, Becker and now Representative Miller have nobody to blame but themselves.