We recently mentioned the amazing growth of union staff salaries. Labor insiders are beginning to hop on the same bandwagon, highlighting the top echelon of the pay scale for scrutiny.
When Labor Notes took a look at data filed under the Labor Management Reporting and Disclosure Act (LMRDA), they found that between the years of 2000 and 2008, the number of union staff earning more than $100,000 and those earning more than $150,000 a year both tripled!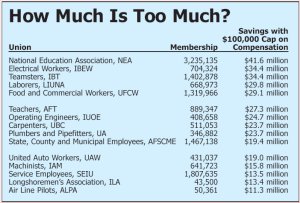 Labor Notes bemoaned the payment of excessive salaries at the expense of funding organizing efforts at a time when union densities have been plummeting. According to their calculations, placing a salary cap of $150,000 on total compensation (many officers double their salaries or better with reimbursable expenses, car allowances, etc.) would provide $143 million per year for new organizing efforts, and a cap of $100,000 would free up over $500 million!
Our bet is that Big Labor ignores its own advice, and continues to soak dues-payers for exorbitant salaries.