It's as if the DOL is running through a pool of oatmeal. The Senate finally confirmed Marvin Kaplan to serve on the National Labor Relations Board, providing a temporary 2-2 Republican/Democrat split, while Phil Miscimarra (Republican) has decided to decline a second term. William Emanuel, the pending pro-business appointee, won't face Senate confirmation until after the August recess, so there may actually be a a couple of months of a 3-2 pro-business board composition until Miscimarra steps down Dec. 6th. Then we're back to a 2-2 tango and will have to wait for another appointee and confirmation process.
It appears the DOL may finally have settled on a candidate for the position of NLRB General Counsel to replace Richard Griffin. Peter B. Robb is a management-side attorney who has criticized the board's pro-union decisions, especially concerning employer policies and the ambush election rule. Even if nominated and confirmed, he won't take office until Griffin's term expires in November.
Congress is tightening the purse strings of the NLRB, with a House panel approving an 11% cut to the agency's budget. Consequently, the board has announced the closing of three field offices - San Diego (Region 21), Anchorage (Region 19) and Little Rock (Region 15). Although Congress hasn't passed a final budget yet, these cuts to the NLRB (not to mention what might happen to the DOL overall budget) will have ramifications. The National Law Review listed these for starters:
The NLRB could ramp up the pressure on employers, unions, and employees to settle unfair labor practice charges early to avoid NLRB personnel having to travel to speak to potential witnesses.
The NLRB could loosen its time targets for deciding whether unfair labor practice charges have merit in the hopes that, given more time, a case can be settled.
The possibility of less-prepared NLRB witnesses in unfair labor practice trials because possibly overtaxed NLRB attorneys will not have been able to meet with witnesses as much as in the past.
The Board could request administrative law judges permit witness testimony by video to avoid having to pay witness travel costs.
The NLRB could struggle to process representation petitions quickly, which has been a key focus of the agency since the "quickie" election rules were implemented in April 2015.
Meanwhile, the board spanked a company for firing an employee for suggesting (on Facebook) that a former employee should consider suing the company.
In another case, a re-run election was ordered by the NLRB because a visiting COO asked an audience of employees, "How are things going?" He also responded to a woman who had expressed prior concerns, that he would "look into" the issue. These comments were enough for the NLRB to declare "solicitation of grievances" misconduct by the company.
In the courts, the board hasn't gotten its way completely. In a recent decision, the D.C. Circuit appeals court sided with CNN in a case of NLRB joint-employer overreach.
The 8th Circuit sided with employers also in the MikLin Enterprises, Inc. case, where a Jimmy John's franchise fired or disciplined several employees for extreme, public disloyalty that was intended to harm the employer's reputation and business. The board claimed the behavior was "protected concerted activity," but the 8th Circuit didn't agree.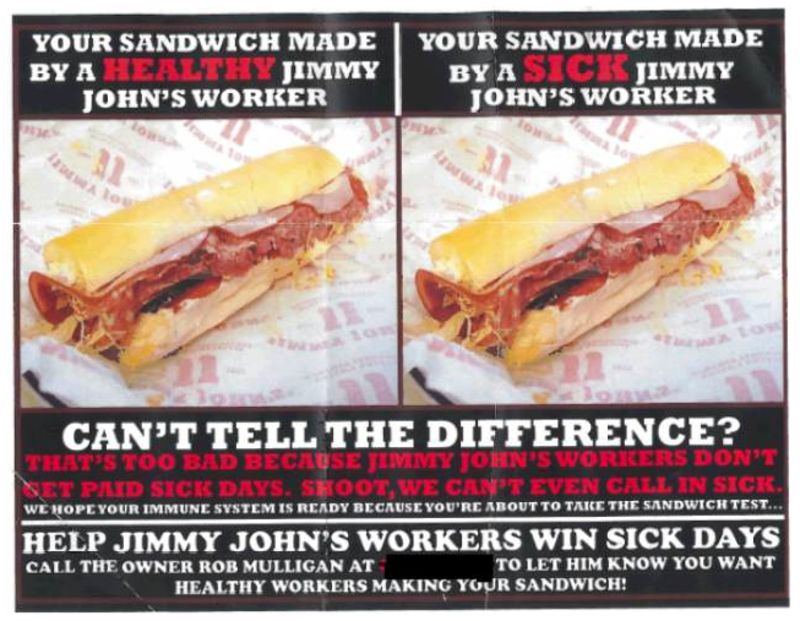 The courts also sided with employers' rights to limit the activities of union business agents during business hours, particularly when the activities of such agents have been pre-negotiated.  The D.C. Circuit upheld Fred Meyer Stores Inc.'s right to call the police to escort business agents from the premises when they violated the terms of the agreement.
The D.C. Circuit did stand behind the NLRB on another micro units case, allowing a carve out of Rhino Northwest LLC employees as "riggers" during a recent campaign.
In light of recent racial conflict in Charlottesville, VA, this last NLRB ruling is a bit chilling. In  Cooper Tire & Rubber Co. v. NLRB, the 8th Circuit determined that it was perfectly legal for a white employee to spout the following hate speech at a group of African-American replacement workers on a union picket line:
"Hey, did you bring enough KFC for everyone?"
"Go back to Africa, you bunch of f***ing losers."
"Hey anybody smell that? I smell fried chicken and watermelon."
The dissenting opinion of Judge C. Arlen Bean captures the compelling moral and ethical argument against such egregious interpretation of the NLRA:
No employer in America is or can be required to employ a racial bigot. Indeed … the court's requiring of the petitioner to do so here, is tantamount to requiring that Cooper Tire violate federal anti-discrimination and harassment laws … . Engaging in union organizing or efforts to vindicate protected labor activity does not insulate the volatility and heinous nature of racist, or sexist, remarks. … Discriminatory and degrading stereotypes are not legitimate weapons in economic disputes carried out on the picket line.
At the state level, Oregon became the first state to enact a predictive scheduling law.  Employers in retail, food service and hospitality businesses with 500 or more employees worldwide, will have to post schedules seven days in advance, and beginning on January 1, 2020, fourteen days in advance. Employers will also be required to provide a good faith estimate of the worker's schedule at the time of hire, and are no longer allowed to schedule employees within 10 hours of their last shift. Additionally, if schedule changes are needed, the employee must jump through a set of notification hoops and may need to provide premium pay to affected workers. Even employers with collective bargaining agreements must abide by the new law.
Although Washington state is the traditional bellwether state in the northwest, keep your eyes on this idea spreading from Oregon. Labor rights activists are already stumping for similar legislation in other parts of the country.