The NLRB has continued to move against mandatory arbitration provisions in employment contracts, and in fact, has been extraordinarily focused on the issue. In the last two months, the Board has decided twenty seven separate cases surrounding employment policies that prohibit workers from bringing collective legal actions. As board Chairman Mark Pearce clarified in the Solar City case, "The board made it clear an employer may lawfully maintain an arbitration agreement that requires arbitral proceedings to be conducted individually, but only so long as the employer leaves open a judicial forum for class and collective claims."
The Board is at odds with the Fifth Circuit court, which ruled in Murphy Oil in October, 2016, that the Federal Arbitration Act trumps the NLRA. The Board viewed the Fifth Circuit's decision as based on a misunderstanding of the right at stake, and appears to be working to push the issue to the Supreme Court.
2015 saw a 10% increase in wage and hour litigation, and with the overhaul of the Fair Labor Standards Act's overtime exemption for white collar employees, it is expected to increase this year as well. A proposed change to the rules, expected this year, doubles the salary basis test for an employee to be considered as exempt. Many employers will be required to make changes to how employees are compensated and potentially classified.
The final version of the Persuader Rule is expected as early as March. For details you can watch the replay of our webinar on the rule here.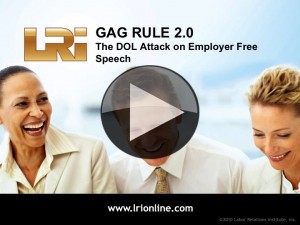 Although it's been a year since the Purple Communications ruling allowing off-duty employees access to company email systems for the purposes of organizing, there are many unanswered questions remaining to be clarified, among them:
Will the principle of Purple Communications be expanded to non-employees?
Are on-duty employees permitted to use emails for these purposes?
What about other forms of electronic communications, such as corporate texting, voicemail, etc.?
A group of professors from around 70 different universities have petitioned the NLRB to drastically change the rules surrounding captive audience meetings. The professors attempted to use the Railway Labor Act (RLA) to bolster their case that if an employer holds a captive audience meeting for the purposes of expressing its opinion during a union organizing drive, the union should be given the same time - on the clock - to hold a similar meeting. Although the use of the RLA was a bit out of context, it will be interesting to see how the Board handles the case.