A few more details on the final Elections Rule posted by the NLRB, due to take effect April 16, 2020. The board did not completely rescind the Obama-era rule but makes fundamental changes. Changes have been made in the following areas (read article for details):
Pre-election hearings - extended time period
Notice of petition for election - more time to post
Statement of position - extended time for filing
Scope of pre-election hearing - a return to prior board procedures (pre-2014 changes)
Post-hearing briefs - right to file restored and extended
Election scheduling - "normally will not schedule an election before the 20th business day after the date of the direction of election."
Pre-election requests for review - more latitude for either party to have ballots impounded
Voter list - extended time to provide list
Election observers - limited to non-supervisory employees (where possible)
Certification of results - a request for review will delay certification
Click here to read the PDF from the NLRB.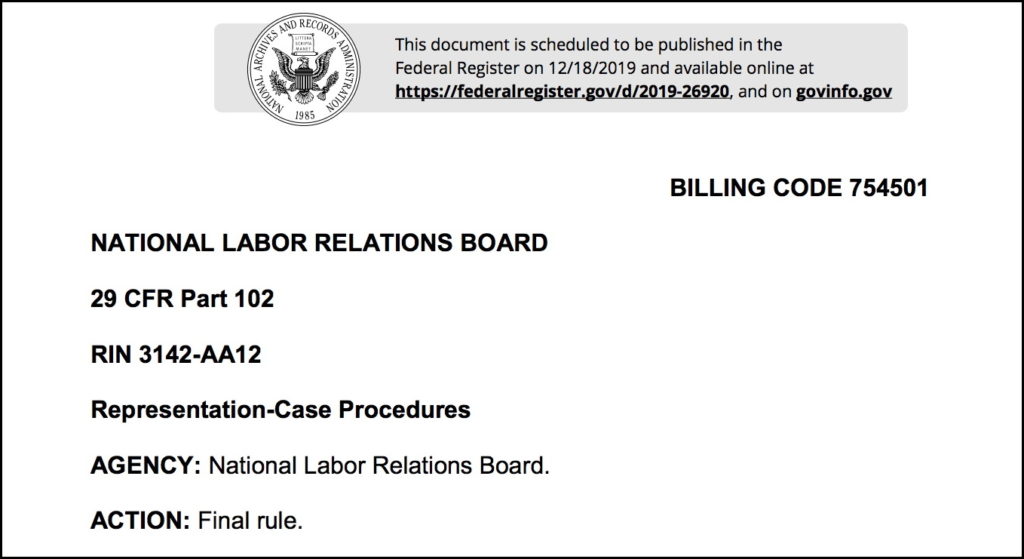 As a follow-up to the Alstate Maintenance decision reviewing protected concerted activity, the board provided further definition in the recent  Tschiggfrie Properties decision, clarifying the appropriate proof paradigm under Wright Line (1980). There must be direct or circumstantial evidence demonstrating that anti-union animus was a motivating factor in the adverse action at issue before the burden shifts to the employer to demonstrate the same action would have been taken in the absence of the unlawful motive.
Google, who has faced the scrutiny of the NLRB before, is now under Board investigation again for its recent firing of four employees, allegedly for involvement in union organizing activities. The company cites the handling of data in a manner against policy as the reason for the terminations.
California's Anti-Arbitration law (A.B. 51) may not take effect on January 1 as passed in October of this year.  State and national trade groups - including the U.S. Chamber of Commerce - filed suit in California federal court, asking for a preliminary injunction. The suit argues that the state law is preempted by the Federal Arbitration Act, and asks the court to declare A.B. 51 unconstitutional.