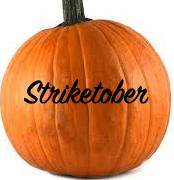 "Striketober" (a catchier term than "Strikegust" or "Strikeuary" ever could have been) found itself on the lips of major news outlets throughout the month of October. As it turns out, too, the pandemic-fueled phenomenon continues into November with picket lines apparently showing no signs of slowing. Notably, however, these strikes actually haven't achieved record-breaking volume in a historical sense. Some reports estimate that about 100,000 workers either went on strike or threatened to do so during the month of October, as compared to much larger numbers during the 1940s, '50s, and beyond. However, several prominent examples of internal strife continue to attract a great deal of media attention. 
The issue of whether this period deserves the Striketober label is something that will no doubt be interpreted for years to come. At this moment in time, the cable-and-internet news cycle keeps pushing this news to the forefront. Given that we also live in an "extremely online" reality, these stories end up being political in nature and, as such, get rehashed and amplified, all while the companies who are weathering these strikes take hits to their bottom line.
Here are several high-profile examples of companies who've recently felt the strain:
In addition to these accumulating strikes, organizing efforts at previously long-term union-free employers (Starbucks and Amazon) continue to churn up public interest. Likewise, the "Great Resignation" within many industries (including healthcare and education) continues to see workers retire or otherwise choose to end their employment.
To further muddy the Striketober waters, President Biden - attempting to balance his pro-union position against economic recovery - declined to take a stand regarding specific disputes, so how this will all work out through a historic lens is anyone's guess. As it stands, workers do appear to feel emboldened to strike (over pay and working conditions) amid COVID-related worker shortages. And the unions who represent these workers are more than happy to seize the opportunity to strike.