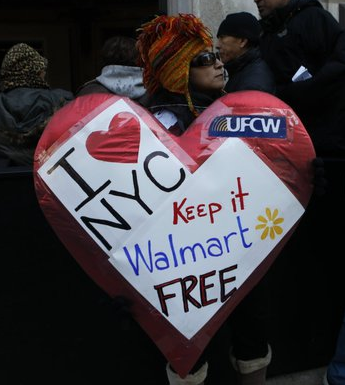 A Quinnipiac Poll released last week shows 63% of union households in NYC would shop at Walmart if they could.  Currently, union members (and everyone else) can't shop at a Walmart in NYC because their union bosses won't have it — and they've  been putting the screws to city officials to keep NYC Walmart free.
Not only do union members not seem to agree with their union bosses about Walmart, but there seems to be a certain lack of solidarity on the Walmart issue between labor lords who stand to get something from new Walmart stores (the Building Trades) and those who make their living demonizing Walmart. (the UFCW and SEIU).   Mums the word on both sides when it comes to the concerns of the other — jobs jobs jobs (actually dues dues dues) on the Building Trades side versus the UFCW's quixotic quest to organize Walmart by any means necessary.
Quoted in the New York Post one UFCW member who wished not to be named doubted the poll results saying,"They said they contacted union members, but didn't say which union members were reached. What would members of the steamfitters union care about the grocery store unions?"
Solidarity forever brothers and sisters. Carry on.