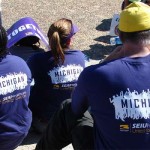 Well, it's been a fun few months for the employees at Luther Manor Nursing Home in Saginaw, MI.  By a two to one margin, Luther workers voted on Sept. 23 to dump SEIU and go with Sal Roselli's NUHW in his first raid of an SEIU shop outside of California.  SEIU members at Muskegon's Hackley Hospital are waiting for their election date.
Coming into the Luther election SEIU tried a number of fat carrot and pointy stick tactics to win back the hearts and minds of fed up Luther workers.  SEIU organized barbeques called "backyard bashes" where Luther workers could win a flat screen or bike just for showing up to meet the union hierarchy.  Earlier, SEIU held a number of "vote until you get it right" contract ratification re-re-revotes at Luther, with reports of ballot box stuffing and voter intimidation.
Meanwhile, a benefits clerk for SEIU-UHW in California was sentenced last week to 12 years in prison for stealing information on 30,000 SEIU members who work for Kaiser Permanente.  The stolen information was used to open old accounts and take advantage of instant credit offers to the most credit worthy of the Kaiser employees, leading to the theft of an estimate $1M or more in high-end merchandise.