Missouri is fighting to keep its newly enacted right-to-work law in place, and Big Labor recently achieved a victory in the courts that paved the way to bring the issue to a public vote. Due to go into effect on Aug 28, opponents have collected more than 300,000 notarized signatures, 3 times the minimum required to push the measure to the ballot box in November 2018.
While Big Labor continues to fight against right-to-work laws with its right arm, the left arm is starting to pull the ballot lever for right-to-work! In Maine, the Maine State Employees Association (an SEIU local) agreed to eliminate the requirement that state employees who choose not to join the union pay a mandatory fee to the union for collective bargaining and other services, in exchange for a 6 percent pay increase over the next two years. Union loyalists of course are calling it a sell-out.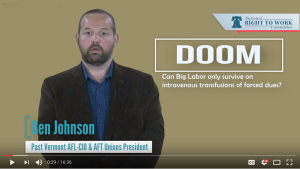 Ben Johnson, a former state union president for both the Vermont AFL-CIO and the state chapter of the American Federation of Teachers (AFT), has endorsed right-to-work as a critical workplace right.  Johnson came to this realization after he left Big Labor. "I don't expect to bring around to my way of thinking any union officers or staff still in the wilderness," Johnson said. "To them the words and arguments I utter are only tools the forces of capitalism use to bust the union." Click here or on the image above to watch him on YouTube.