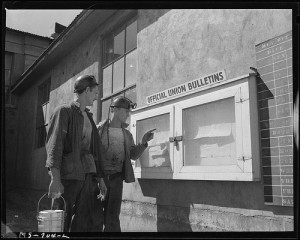 Over the next month the Board will also be busy rolling out new Web pages that emphasize to employees their right to participate in "concerted activity" with or without a union presence.  Although currently 90% of the NLRB's workload comes from complaints around union-related activity, the Board is apparently now keenly interested in expanding its meddling into shops that don't even have a union in the mix…just yet.
The Board is creating new web content to capitalize on what will likely be its website's highest traffic levels ever on and around Poster Day, April 30. Employers are expected to make repeated visits to download materials or check for updates, and their employees will then (in theory) swarm the site as directed to by the many millions of posters newly posted in backrooms all across America.
And it would appear the Board will be playing up concerted activity rights in its new web pages while not talking all that much about rights of association.  Speaking about workers not under immediate threat of unionization Chair Mark Pearce said, "I want workers to know that if they have grievances they have a right under certain circumstances to voice them."
Of course, while concerted activity is protected regardless of union presence, concerted activity charges will likely draw swift and keen union attention.   And Board decisions around non-union concerted activity cases could go a long way towards emboldening members of prominent new non-unions like ROC, OUR Wal-Mart and Warehouse Workers United.  It's the hot new emerging organizing trend of the largest most aggressive unions (SEIU, UFCW, Teamsters) — organizing workers into non-union "employee associations," that don't seek representation rights (yet) but do perform many of the same functions as a union such as: collecting dues; issuing demands; exploiting the emotions of the frustrated; spewing class warfare hate speech; and consistently choosing to agitate around workplace issues rather than actually help solve them.
Lost in all this maneuvering the real question — will a new sea of 10pt legalese under foggy Plexiglas above the time clock result in more organizing activity?  Fittingly the guessing about that question will be over by May Day.