In a tug-of-war of polling results, Gallup and OdinText came to two different conclusions.  According to Gallup's latest data, union approval is now at 60% - up from the 48% low in 2009.
On the flip side, on Labor Day OdinText ran a text analytics poll, asking 1500 Americans "What are your thoughts and impressions of Workers Unions?" As the image below indicates, only 40% indicated they were in favor of unions, with 25% indicating they were not in favor of, and the remaining 35% being indifferent. Text analytics polls supposedly do a great job of quantifying the reasons behind the results, and we suggest visiting the article for the details.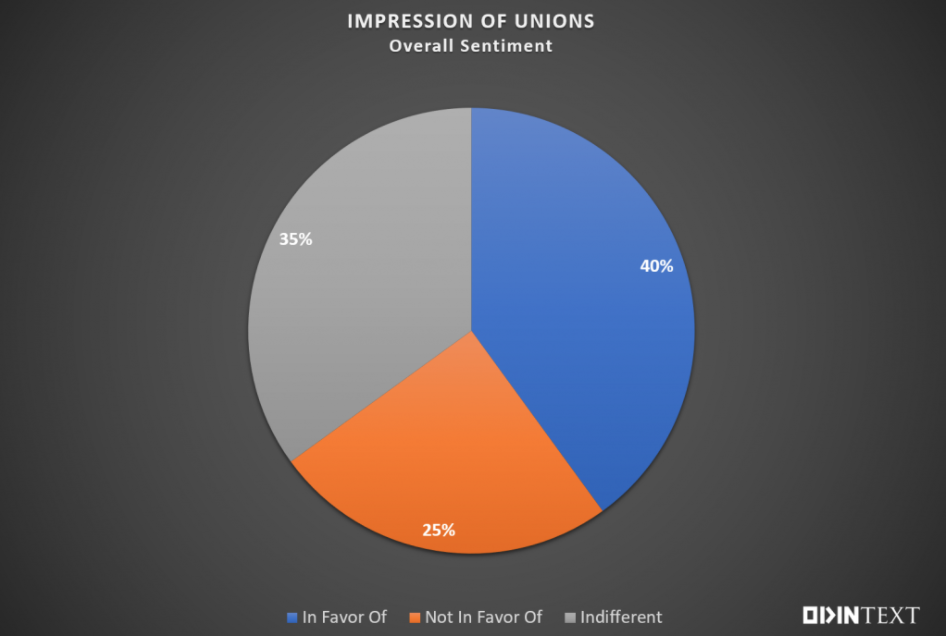 Interestingly, Gallup summed their results in this fashion: "Americans remain more pessimistic than optimistic about unions' future. Forty-six percent say they think unions will become weaker than they are today, while 27 percent say they will be the same and 22 percent say stronger."
Perhaps the two polls are closer in alignment after all.
Against the poll results, 24/7 Wall St. reviewed hard data: 10-year changes in union membership. Of the 200 metro areas in the study, 15 showed declines of 7.5% or more in the decade between 2006 and 2016.