This week the NLRB held an open meeting to receive comments on its proposed rulemaking to pave the way for quickie elections. One of the primary arguments made by opponents to the rulemaking is that unions already win nearly 70% of NLRB elections under the current election rules. Since this is true, why on earth is the NLRB trying to tilt the playing field even further in favor of unions?
Member Becker and others argued that the reason the rules were still necessary is that unions are withdrawing lots of union petitions. Even though unions win more elections, they often have to withdraw their petition after dealing with a so-called "vicious anti-union campaign." The problem is the facts show exactly the opposite is true.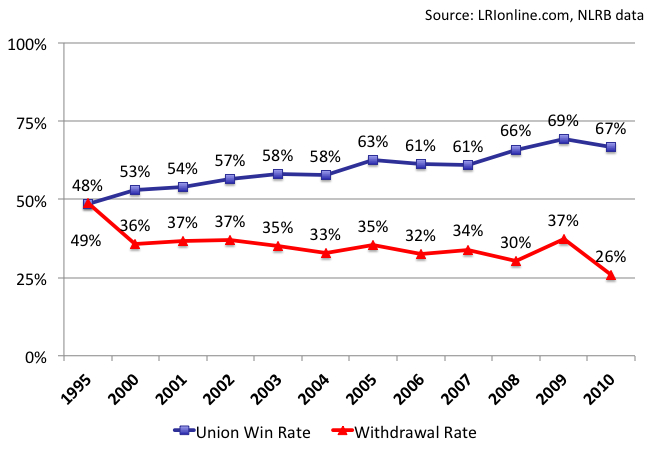 If you start with numbers from 1995, unions won about half of their elections and withdrew about half of the petitions they filed. In the intervening 15 years the percentage of union wins steadily rose while the number of withdrawals declined. Last year unions won 67% of RC elections and only withdrew 26% of them.
Unions have filed thousands of comments in favor of the quickie election rulemaking. If you haven't filed your own comment yet, please do so now. You can learn more about how to comment on the proposed quickie election rules here.