Save the date: On June 24th I'm presenting The PRO Act Pivot. The point of this webinar isn't hand-wringing over this terrible legislation. Instead, we'll focus on the practical steps you should be taking NOW to both anticipate the PRO Act and situate your company to respond to a completely new labor environment. You're probably asking yourself whether I think the PRO Act is going to pass this year. Join me on the webinar to understand why that's the wrong question.
Biggest labor news this week: Joe Biden (finally?) nominated Gwynne Wilcox to become a Member of the National Labor Relations Board. If confirmed by the Senate Wilcox will join Board Chair Lauren McFerran as the second Democrat Board Member.  The Board will remain a Republican majority until later this year when Bill Emmanuel's seat opens up in August.
Wilcox is a union-side attorney with the law firm Levy Rattner and she serves as associate general counsel to the largest SEIU local. In addition, she sued McDonald's on behalf of Fight for $15. This work will present some recusal issues similar to the ones Democrats raised against Bill Emmanuel, and I would expect Republicans in the Senate to raise these issues during her confirmation.
Given the speed with which the Administration attacked labor issues – especially the unprecedented sacking of Peter Robb and Alice Stock during his first week in office – I've been surprised at how long it took to nominate a new Democrat Member to the NLRB. I suppose one reason for the delay is that one additional Democrat doesn't really make a big difference at the Board right now. Until that third seat opens up there can't be a Democrat majority (or even a tie vote). The Biden team may have wanted to keep the Senate focused on nominations that matter right away. But there aren't a lot of days on the Senate calendar between now and August when this seat will matter a lot. It makes a lot of sense to fill it now.
Direct elections for the UAW? The UAW is under a lot of pressure to switch to direct elections for its membership. Part of the consent decree that allowed the UAW to avoid federal trusteeship requires a referendum of all members to decide whether to switch to direct elections. As of now there is no date set for the referendum. This is seen as a potential solution to the horrible corruption scandal that recently resulted in convictions of 12 UAW officers, including 2 former presidents.
Most voters in union elections are told "you are the union" and you get to select your union leaders. In most unions this statement is completely false, and the UAW is a great example. The UAW and many other unions "elect" officials indirectly with slates of candidates that are basically hand-picked by top leaders who know will keep them in office. If a local gets out of line and selects leaders the International doesn't like then the International just trustees the local and inserts their supporters into leadership. And what about the "yous" that are the union? They don't get to say squat.
Direct elections aren't some silver bullet to solve union corruption. The Teamsters (who were so corrupt that they were put under federal trusteeship for over 30 years) were forced to switch to direct elections. Nevertheless, they had famous election corruption scandals while under trusteeship – including the first directly elected "reform" President Ron Carey. Even the last election for International President was a head scratcher. James Hoffa Jr. lost his election in US locals only to have his bacon saved by a late surge of support from Canada.
Union popularity at an all-time high relative to business? This tweet and the underlying research is pretty eye-opening. Unions have been gaining in popularity over the last few years. But this is the first chart I've seen that plots union support against company support. The gap is as wide as it's been since the 1960's and generally union and company support tracked pretty closely. This is the first time there's been a huge gap between them.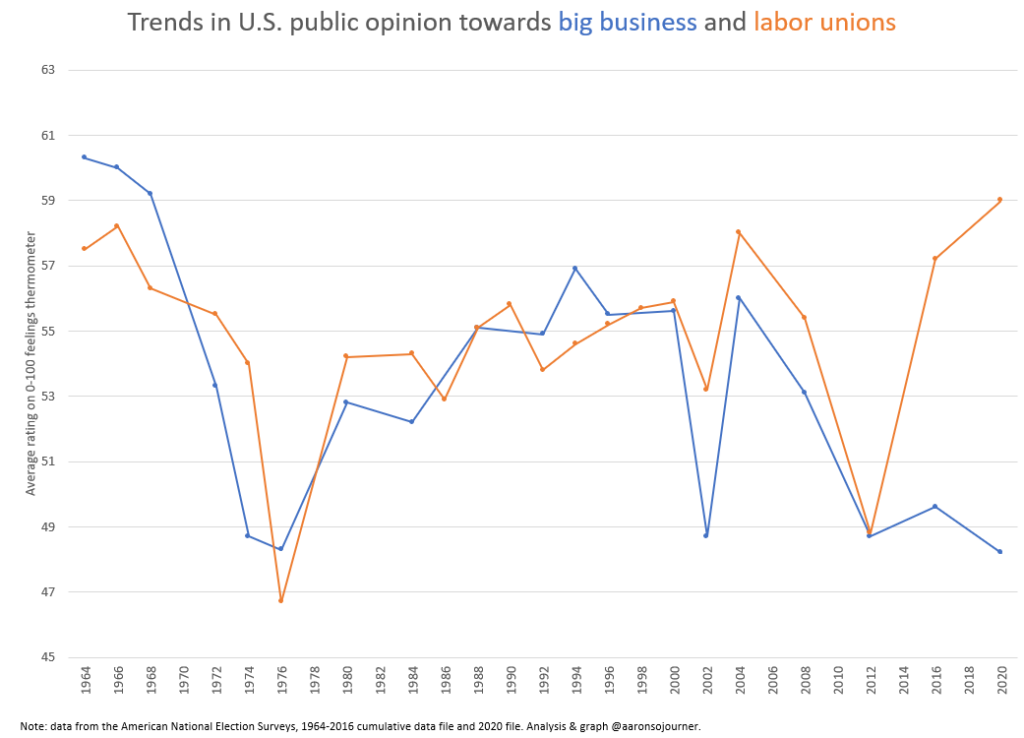 What does this mean for union elections? I will say that in general I think this research maps pretty well to the campaigns we've been involved in over the last year. And it means that union messages (even ones like the "you are the union" one we talked about above) just seem to hit with more credibility than they have before. Employees don't start from a place of trusting company leaders like they may have in the past. They are more willing to trust the idea of a union, even in spite of (mountains of) evidence that shows union promises don't usually play out as advertised. That makes the campaign environment that much harder – which is another good reason to make sure you are keeping your company Left of Boom.