by Phil Wilson
Resolution or Revolution?
Did you make any New Year's resolutions as you kicked off the new decade? For the first time in a long time I didn't. I'm not really sure why. Partially it could be that so many resolutions don't make it to February. But I've made many that stuck over the years, so I don't think that's it.
Instead it may be a shift in my thinking overall. LRI just celebrated our 40th birthday on January 11. We had a great celebration of our first 40 years with our current team, many former teammates, and numerous consulting partners (with many others there in spirit). It was a great way to cap off an incredible 40-year run my Dad started back in 1980.
The celebration also provided an opportunity for us to begin planning LRI's next 40 years. Over the last couple of months of 2019, we've done a lot of work on our own organization. This includes a reorganized leadership team and new strategic process. As we kick off a new decade, I've never been more excited about the direction of our company.
Our strategic work included a lot of reflection on what made us successful over the first 40 years. Part of that was clearly articulating our core values. I know what you're thinking – that's what I usually think when somebody mentions core values. But the process we went through was very meaningful and I'd like to share it with you.
We began with this distinction: you don't come up with core values, they are there all along. Our core values started with my Dad in a one-room office in front of a self-storage business in 1980. As he added team members and changed locations those core values continued to drive everything we did. All we did was describe the values that were already there.
The way we went about describing the values was interesting. We started by listing people – current teammates, former team members, and consulting partners – who we felt like best represented what LRI stands for and what made us successful during our first 40 years. Once we had that list, we started describing the things that made those individuals stand out.
After a lot of spirited discussion and debate, we boiled those behaviors down to these six: integrity, excellence, show up and step up, help others, teamwork, and lead. None of these are surprising or revolutionary. But these are our DNA. They set us apart. They make us successful. We slip up sometimes, but this is who we are. And I guarantee that clearly articulating these behaviors – and holding each other accountable to them – will revolutionize LRI.
I shared a document describing our DNA at the 40th anniversary party. I wanted to share it with our clients and readers.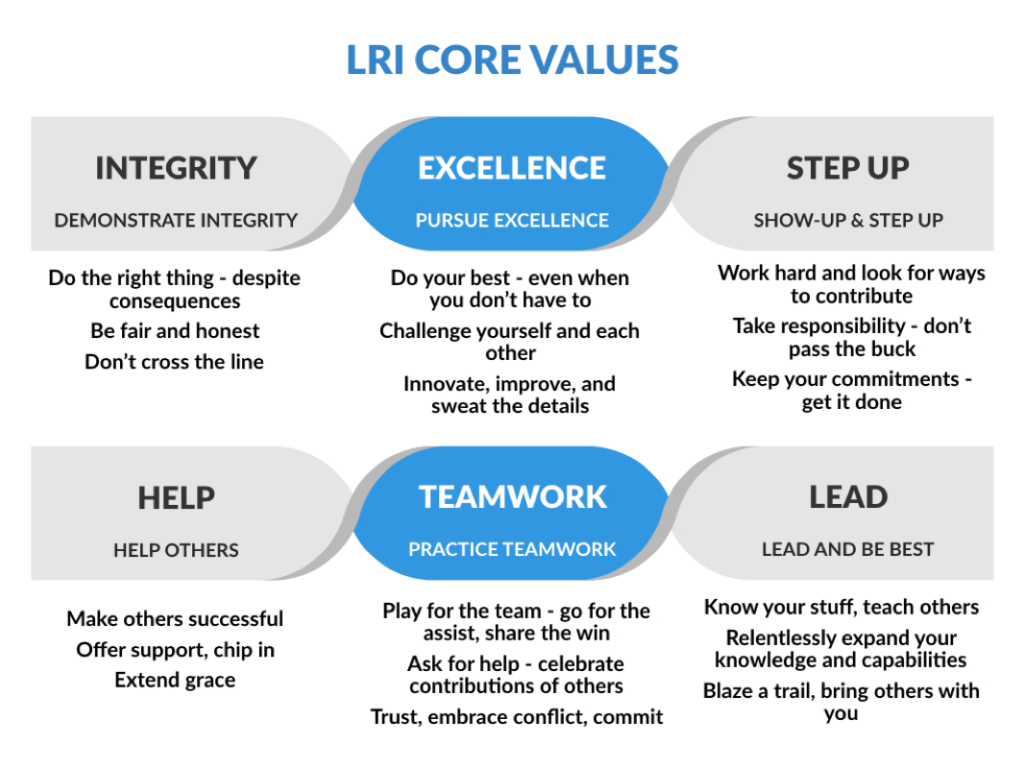 Again, we've lived these core values for 40 years. That's not the revolution. What is different is our commitment to live these values with intention. We are now going through every aspect of what we do, from the consulting services we deliver, the products and information we offer, the people we add to our team, and even the clients we work with, using these principles. That's what is revolutionary.
We hope you'll be with us for our next 40 years!