In This Issue: 
PRO Act Creep
Vaccination Mandates
Sexual Harassment Gets a Make-over in Texas
Electric-Vehicles: Which Way Blows The Union Wind?
Insight, Scoreboard and more… 
Labor Relations Insight by Phil Wilson 
Are you living in a card-check multiverse?
If someone offered you a chance to step into a Star Trek transporter and send you somewhere else in the universe, would you do it?
That was the first question Tyler Cowen asked physicist and philosopher David Deutsch on a recent Conversations with Tyler podcast (highly recommended). What followed was a fascinating primer on the latest thinking in quantum physics on the multiverse (spoiler: Tyler would NOT hop in the transporter, but David might).
I realized as I listened that we are absolutely living in a multiverse, and I can prove it! Because you live in a universe where union elections are how we officially certify whether a union enjoys majority status. But there's been a fork in that universe. Alongside that universe is another, where the Joy Silk Mills doctrine is alive and well (and expanded).
In this new universe a union can seek certification by simply asserting its majority status on the basis of cards. Yep, card check. Without any change in the National Labor Relations Act and without adopting the PRO Act.
On August 12, 2021, General Counsel Abruzzo initiated the new fork. She asked the Regional Directors to forward to advice any cases in which an employer, "refuses to recognize and bargain with a union where the union presents evidence of a card majority, but where the employer is unable to establish a good faith doubt as to majority status; specifically, where the employer refusing to recognize has either engaged in unfair labor practices or where the employer is unable to explain its reason for doubting majority status in rejecting the union's demand. See Joy Silk Mills, Inc., 85 NLRB 1263 (1949)."
Less than one month later we already have our first case in this new fork of the multiverse. It's the first I'm aware of and is ongoing, so I'm not going to get into the exact facts. But rest assured this will be the first of many.
In this new fork a union sends a letter to an employer demanding recognition (and to begin collective bargaining, including and information request), claiming a majority of employees signed authorization cards. That same day the union files a certification petition with the NLRB. One day later, after the employer declines to recognize the union based on cards, the union files an unfair labor practice charge alleging that the employer illegally refused to recognize the union as the bargaining agent. A few days later the union then reiterates its demand to bargain and information request. About 10 days later the union files an additional charge against the employer for failing to respond to its information request.
This is what every employer should be expecting over the coming months. If a union has a majority signed up on cards they'll engage in this same dance, living in a new Joy Silk multiverse until told otherwise. And the weight of the General Counsel will be on their side all the way.
One might ask, "wasn't this whole Joy Silk thing put to rest by the Supreme Court in the 1970's?" Well, as a matter of fact it was, in the Linden Lumber Division decision in 1974. In that case the Supreme Court held that the NLRB did not abuse its discretion when it created the current framework, where an employer is not required to accept a union's proof of majority status and can instead ask the union to seek an election to prove it represents a majority. Seems like that sort of shuts off this fork of the multiverse, right? Not so fast.
The new General Counsel must be contemplating a whole new framework. She'll ask the Board to go further than the original Joy Silk framework, instead arguing they should exercise their discretion exactly the opposite way it did in Linden Lumber. In other words, if an employer does not have proof that a union lacks majority status it is an unfair labor practice to fail to recognize the union. In other words, the 9(c) election is only available in cases where an employer proves its good faith doubt (or a union has less than a majority signed up). In other words, card check becomes the default certification method.
This new branch in the multiverse will certainly face legal challenges, especially since the Supreme Court has already given its stamp of approval to the current framework. But is changing the default an abuse of discretion by the Board? That's a little more slippery than if the Court had held that the statute dictates the current framework – and unfortunately, they didn't say that. And since we don't have a transporter to go back and get them to edit their opinion, we're going to be stuck in this new branch of the multiverse for a while. Beam me up Scotty!
PS – Curious about how your company should respond to this new "card check" multiverse? Join me next week on our PRO Act Pivot Part 2 webinar where we'll cover this and much more.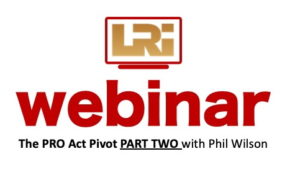 **********
Union Bailout Update
As we highlighted last month, the new Democrat-majority NLRB is itching to make its mark on labor law. General Counsel Abruzzo has targeted more than 40 decisions from the last four years, and the low-hanging fruit will be starting with the cases already in hand. Abruzzo is also cooking up ways to increase the penalties to businesses for alleged labor violations, including providing access to unions and reimbursing them for organizational expenses. Congressional democrats meanwhile are attempting to use the budget process to implement PRO Act penalty provisions.
The D.C. Circuit Court of Appeals struck down a Trump era ruling restricting non-employees from demonstrating in front of businesses. The court sent the case back to the now-Democratic board.
Former NLRB member William Emanuel is facing a probe by the Department of Justice over whether he should have recused himself from five cases brought before the board during his term, due to alleged conflicts of interest. The action stems from Emanuel holding stock via mutual funds. In a statement, Emanuel clarified:
"At no time was I aware of the names of the many individual stocks held in these sector mutual funds," he said. "In all but one instance the small dollar amounts that could be attributed to me through the fund's holdings of individual stocks did not exceed levels that would have required me to seek a waiver had I held the stocks individually. When this issue was called to my attention, my advisor immediately sold these sector mutual funds."
**********
Covid-19
Last month, the subject of vaccination (against a labor backdrop) sparked so much back-and-forth that it didn't seem possible for the issue to fuel greater contention, but lo and behold, that's precisely what happened. President Biden's sweeping new federal mandate (requiring that companies with 100+ employees must require vaccination or test weekly) affects up to 100 million American workers, and of course, the mandate is under fire.
The new guidelines appear to be constitutional (as framed through a rare exception via the Occupational Safety and Health Administration of the Labor Department), although court challenges should be expected. It must be noted that mandates by individual employers had already rocketed following the Pfizer jab's FDA approval; yet the federal nature of Biden's mandate leaves some employees (particularly those in short-staffed industries) feeling emboldened to resist the requirements.
Amid unions, the general subject of vaccine mandates proves to be scattered:
Here's how the topic previously rolled out with several prominent employers, independent of Biden's aggressive mandate:
In the face of vaccine mandates, mounting claims of religious exemptions throughout the public and private sectors leave employers in an unenviable position. However, leaders of several faiths (including Catholicism) have announced that they won't endorse exemptions, with dioceses in multiple faiths taking steps to mandate the jab among their own employees.
**********
Organizing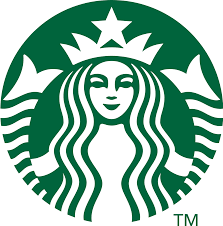 Starbucks' union-free streak (across it's 8000+ locations) might soon come to an end. Workers in Buffalo, New York began to organize and announced the first organizing committee (Starbucks Workers United) in the company's history. Before long, news broke that workers seek to unionize all 20 stores in the city.
Elsewhere, the art world is seeing museum staffers organize in Chicago while fully unionizing in Brooklyn, and Hamilton College student workers are on the verge of unionizing tour staff, which may be a first in the United States.
Amazon employees squashed a headline-making attempt at organization in April by the Retail, Wholesale and Department Store Union (RWDSU). However, the Teamsters are maneuvering at a local level, which shows that the long-term battle is not over. Multiple battlegrounds have emerged for the deep-pocketed union, which is circling facilities in Southern California, Oceanside, California, and Massachusetts. On a related note, California lawmakers are advancing historic legislation that, if passed, would require transparency from Amazon and similar companies about warehouse quotas and productivity goals.
**********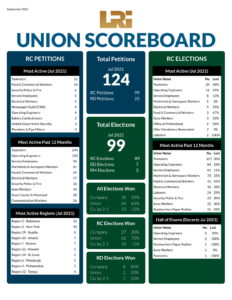 SCORE BOARD
Who are the winners (and losers) of the labor movement? Don't guess, just check the LRI Scoreboard
View this month's scoreboard (archives also located here).
Download a PDF of this month's scoreboard
**********
Sexual Harassment Gets a Make-over in Texas
Two new laws in Texas make it much easier for a sexual harassment claim to be made by employees. The law now specifies that any business that has at least one employee qualifies under the law, and provides very specific language to outline what is considered sexual harassment.
**********
Union Corruption
Following prison sentences for two UAW presidents (Gary Jones and Dennis Williams) and corruption convictions for dozens of other UAW officials, federal prosecutors took the extraordinary step of sharing case evidence with an independent, court-appointed watchdog, who could very well turn up more union misconduct and seek internal charges within the UAW. In doing so, the feds aim to reform the UAW and guard against future corruption.
As wild as the above fraud scandal turned out to be, a newly unsealed indictment (out of the U.S. Attorney's Office in the Eastern District of New York) is a doozy. The feds brought charges against 14 defendants (including the Colombo Family crime boss and several other family members) for a host of offenses, including labor racketeering. Within the Feds' announcement, the Department of Justice alleges that the infamous mob family schemed to take over a New York-based labor union and the health-care benefit program while, in the process, extorting money that was earmarked for union members.
**********
Tech/Media Unions
Choppy waters might lie ahead for Apple as CEO Tim Cook, who's facing a sudden increase in unrest that presents a stark contrast to the company's notoriously secretive culture. Those tight-lipped ways are a boon for ongoing product security efforts, but the tech titan's actions are now facing NLRB scrutiny following charges brought by multiple employees including the following:
(1) One charge that alleges unfavorable working conditions and reduction of responsibilities for an employee who filed a harassment complaint;
(2) Another claim that details how Apple banned a Slack messaging channel in which employees discussed pay equity. On this subject, Reuters quotes associated documents that accuse Apple of "engag[ing] in coercive and suppressive activity that has enabled abuse and harassment of organizers of protected concerted activity."
At least partially in response to these complaints, Cook held a company-wide meeting, although it remains to be seen how the NLRB probe will shake out or whether organizing efforts will intensify, after a group of Apple employees built an organizing website called  #AppleToo, which the workers say is an attempt to "press for accountability and redress to the persistent injustices we witness or experience in our workplace."
Meanwhile, news outlets also continue to see collective bargaining efforts increase, including MSNBC staffers voting to unionize amid a record-breaking run of organizing in recent months.
**********
Electric-Vehicles: Which Way Blows The Union Wind?
President Biden has made no secret (quite the opposite, in fact) of his goal of shifting the auto market towards electric vehicles in a significant way. His expressed 2030 goal would be for EVs to represent 50% of all U.S. auto sales, which would come as quite a change for a gas-powered industry. And as it turns out, the UAW (which is generally pro-Biden) isn't thrilled about the prospect of shifting toward an industry where EVs dominate and, as a general rule, will require up to 40% less labor to assemble. This presents a key danger: fewer jobs.
It's an interesting conundrum, and the Associated Press dug in with a fact check and emerged with a declaration: Biden has overstated the UAW's willingness to hop on board with a swift EV transition. In retrospect, this shouldn't be too surprising, considering that workers' duties would shift from predominantly building gas-powered engines and transmissions toward electric motors and the batteries to support them. Perhaps that's why the UAW's statement doesn't cosign Biden's EV percentage goal yet agrees to "support his ambition not just to grow electric vehicles but also our capacity to produce them domestically with good wages and benefits."
Meanwhile, automakers remain divided on the associated bill, which is still moving through Congress with Democratic support and a telling bias: the EV tax credits will be expanded for those automakers who are cranking out union-made models with zero emissions. This has led to pushback from Toyota and Honda, who publicly oppose the Democratic proposal while declaring that it discriminates "against American autoworkers based on their choice not to unionize."
Likewise, Tesla CEO Elon Musk (who definitely noticed that his union-free company got snubbed by Biden's EV summit despite being the largest EV automaker in the world) straight-up accused Democrats of pushing for EV incentives that were "written by Ford/UAW lobbyists, as they make their electric car in Mexico."
**********
Healthcare
The overworked and overextended medical profession continues to make headlines while, unfortunately, continuing with no solution in sight. From a record-breaking strike for Massachusetts nurses to an entire nursing home staff walking out for a day, the U.S.-based situation remains dire with unions and hospitals pointing fingers on who's more to blame for the staffing crisis and deteriorating working conditions throughout the healthcare industry.
In Canada, the situation is heating up to the point where hundreds of physicians stepped up to demand pay raises for nurses, who are fed up with the "hero" label without corresponding financial incentives to match. As one nurse told the Canadian Broadcasting Corporation, "Money talks, and you-know-what walks." The open letter in question appeals directly to Ontario Premier Doug Ford to repeal a bill that nurses believe prevents collective bargaining for pay raises. This, of course, remains an area of interest, depending on any move that Ford makes on the bill, one of many that regulates the Canadian federal health care system
**********
Minimum Rising
Both the public and private sectors continue the trend of pushing minimum wage upwards, with federal contractors passing the $11 mark in 2022 and cities like Santa Fe pushing to $15 for hourly city workers. On the private side, supply-and-demand remains a motivating force, as with Walmart edging up to $12 per hour and Walgreens forecasting $15 per hour by November 2022.
Elsewhere, Democratic Kentucky lawmakers want to more than double the state's existing hourly minimum wage over the next five years. This type of plan is already in place in Florida, where labor shortages keep pushing wages up across the board, a move that outpaces the required incremental increases that will reach the $15 mark by 2026.
**********
Labor Around the World
The issue of labor rules for gig workers continues to heat up around the globe, even as California's embattled Proposition 22 (which grants app-focused rideshare and delivery companies exemptions from classifying drivers as employees) awaits possible further legal proceedings with Uber vowing to appeal a ruling that the law is unconstitutional.
South of the U.S.-Mexico border, Labor Minister Luisa Maria Alcalde signaled that Mexico is also grappling with how to best wrap its arms around its own growing gig economy while attempting to put rules into place for workers. At this point, no specifics on the plan exist, but her words draw attention to the coming "clearer plan" that Alcalde promises regarding Mexico's desire to regulate gig worker conditions. This focus follows up on the nation's recent labor-outsourcing ban, and Alcalde does make mention of social-security access and rules about pay for wait time between rides. Until a plan firms up, all eyes will await further word.
Alcalde also acknowledged that early results from the U.S.-Mexico-Canada Trade Agreement (T-MEC) signed by President Trump — and specifically, the decision by GM plant workers to reject a collective bargaining agreement against a powerful union that stood accused of corruption — functioned as a "test case" of the worker rights portions of the new trade deal that replaces NAFTA.  In doing so, Alcalde warned that this case could be interpreted as a "red flag," given that labor-violation reports against the plant couldn't stack up against overcome workers' resistance to the union in question.
**********
Labor Relations INK is published semi-weekly and is edited by Labor Relations Institute, Inc. Feel free to pass this newsletter on to anyone you think might enjoy it.
New subscribers can sign up by visiting: https://lrionline.com/free-stuff/newsletter-signup/
If you use content from this newsletter please attribute it to Labor Relations Institute and include our website address: https://www.LRIonline.com
Contributing editors for this issue: Phillip Wilson, Greg Kittinger, and Kimberly Ricci
You are receiving this email because you subscribed to receive our labor relations newsletters and updates. You can manage your email preferences by clicking the link at the bottom of any of our email communications.
NOTE: if you are using older versions of Internet Explorer, read the text version, as the html may not load properly. We recommend upgrading to the latest version.