In this issue:
Laboring Towards 2020
UAW Strike
Union Corruption
Unions in Healthcare
Scoreboard, Sticky Fingers, Insight and more…
The bottom of each story contains a link to the individual post on our site.
**********
Labor Relations Insight by Phil Wilson
The Iceberg of Ignorance
In the last month we've had the opportunity to conduct a number of assessment projects. This is some of the most rewarding work we do. It is truly Left of Boom work where a client proactively tries to identify employee relations molehills before they turn into mountains.
These projects usually include interviews with frontline leaders and focus group meetings with employees. Clients are often surprised to learn that we never bring up unions in these interviews or meetings. Why? Because the topic of unions is completely irrelevant (and even distracting) to a company focused on creating a positive work environment.
The vast majority of our time on these projects is spent talking to the two foundational levels of the organization – frontline employees and their immediate supervisors. That's because these are the folks who know best what's actually happening on the ground. They can state clearly whether the strategy of the company is actually translating to the day-to-day experience of employees or customers.
I ran across an interesting LinkedIn article that highlights a study explaining why this approach works. The 1989 study by Sydney Yoshida focused on a Japanese car maker, but it resonates with our experience in workplaces of all shapes and sizes. Yoshida researched who knows the most about what's happening in an organization and relayed what he called "The Iceberg of Ignorance." You won't be surprised at all about the overall results – frontline employees and their supervisors know far more about what's going on than levels of management above them. What may be a surprise is the vast difference from the top to the bottom. Here is a diagram: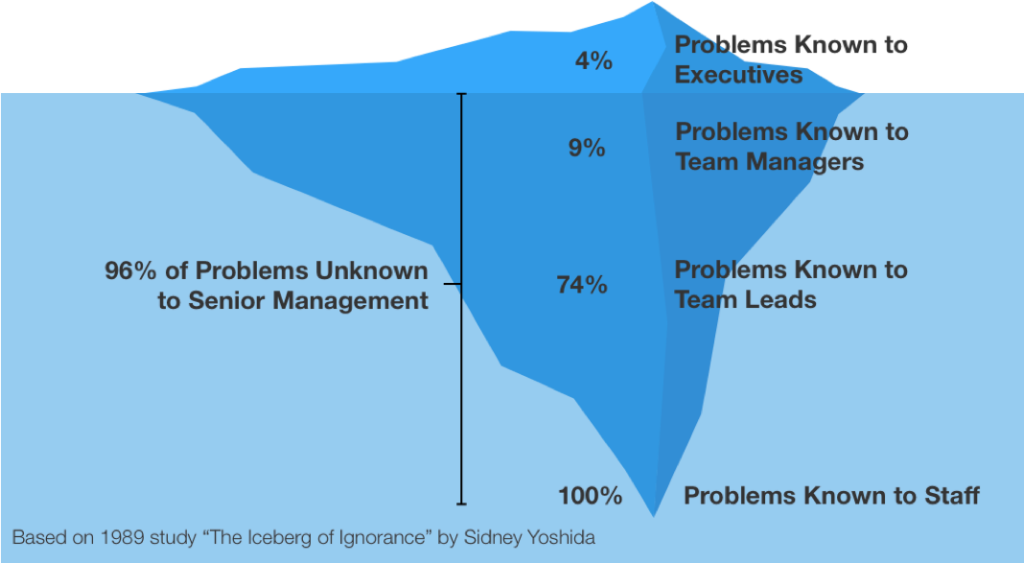 The study reveals that 96% of problems known to the organization are unknown to top leaders. Even at the level of team managers, 91% of problems are unknown. That's a major problem. It is very unlikely that top leaders will take any action to solve a problem they don't know exists. And because the gap is so large, it is also very likely that they'll make changes that can create more problems (on top of the ones they didn't know about before).
Acting based on this poor understanding of the situation means that any employee relations successes are most likely dumb luck. And dumb luck isn't a great employee relations strategy.
There are myriad reasons for this huge knowledge gap. In the worst cases it can be that higher level leaders just don't care to know about the problems. That's not been my experience. More often the case is that top leaders are focused on higher level problems. Ironically, these problems are often equally unknown to the lower levels of the organization. These leaders don't take (or have) time to get to the frontline and learn how their decisions impact how the work is actually getting done.
At the same time employees on the frontline don't understand why they are being asked to change the way they work. To them these decisions often look dumb (to be fair, sometimes they are). They resist, especially when they feel the decisions were made with no input from the people closest to the work.
The Iceberg of Ignorance is a problem in every area of an organization, but it's especially prevalent on the employee relations side of the house. The good news is there is one simple (although not easy) answer: leader approachability. And you don't even have to hire consultants to do it. Here are three quick tips for your organization:
ONE:  Think about the "structural approachability" of your organization, especially at the mid-level manager level (where known problems drop from 26% unknown to 91% unknown). What can you do to make sure mid-level managers have the time and space to talk to frontline employees and their immediate leaders about what's happening in the organization? Create "skip-step" opportunities (birthday or anniversary lunches, focus groups, or fireside chats are great options). Most organizations operate very lean and put a lot of time pressure on mid-level managers. The less time you give these managers to understand what's happening in the organization, the larger your Iceberg of Ignorance grows - it's a choice.
TWO:  Make sure all leaders focus on their own personal approachability. Talk about approachability as a part of your leadership culture. Make sure leaders can describe exactly what it means for them to be approachable and how they do it. Ask employees whether they believe their leaders are approachable. And look for signs of it (do people actually approach their leaders with suggestions, ideas, or complaints). Consider the three core components of leader approachability (openness or right space, understanding or right feeling, and support or right action). Are we doing the best we can in those three areas?
THREE:  Run to the smoke. Whenever a leader senses there is a problem or concern they should go out of their way to find out what's happening and do their best to drive that issue to a solution. They must go looking for problems and not just wait for them to show up on their doorstep. When we teach this to leaders in our workshops we tell them they should be a "heat seeking missile for frustration." They need to look for things that create daily frustrations for their team; ask the question "what would make this better," and then act.
I hope you will do something this month to tackle the Iceberg of Ignorance in your own organization. It's well worth the effort.
**********
Union Bailout Update
At the end of September the Senate confirmed Eugene Scalia as the new Labor Secretary. The son of deceased Supreme Court justice Antonin Scalia was confirmed by a vote of 53-44, along party lines.
The National Labor Relations Board set a 2022 goal of reducing its case processing time by 20%.  As of the end of September (the NLRB fiscal year), they had already achieved a 17.5% time reduction.  The average time from the filing of an Unfair Labor Practice (ULP) to final disposition has dropped from 90 to 74 days.
The NLRB extended the comment period on proposed election rule changes, moving the close date to December 10th. If you missed it the first time we posted, and/or still want to comment, go here.
The Department of Labor settled on a mandatory overtime threshold of $35,000, moving up from the $23,600 standard set by the George W. Bush administration, yet under the $47,000 mark attempted by President Obama. The new rule will take effect at the beginning of the new year.
In the spring of this year, an NLRB judge ruled that a T-Mobile internal program designed to collect gripes from call center employees was an illegal company-run labor organization, and ordered the group disbanded.  The Communications Workers of America were behind the push, complaining because the group was thwarting their efforts to unionize workers. A three-member NLRB panel overturned this ruling on September 30th, declaring the T-Voice program is not a company-controlled union, and that the group functioned simply as a "suggestion box" for worker concerns.
**********
Laboring Toward 2020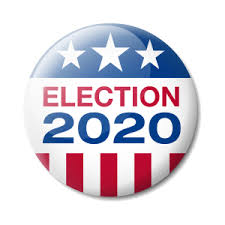 Steven Greenhouse, a labor pundit and pro-union author, has "graded" the Democratic candidates labor platforms. If you're interested in a pro-union perspective of these platforms, dig into the details in this article. Here are the overall grades Greenhouse assigned:
Bernie Sanders: A
Elizabeth Warren: A
Pete Buttigieg: B+
Joe Biden: B
Cory Booker: B
Julián Castro: B
Kamala Harris: B
Beto O'Rourke: B
Amy Klobuchar: B-
Andrew Yang: C+
Elizabeth Warren released her 14-point labor plan just prior to her scheduled participation in a Service Employees International Union forum with other 2020 presidential candidates. The plan outlined five goals:
Extending labor rights to all workers;
Strengthening organizing, collective bargaining, and the right to strike;
Raising wages and protection pensions;
Increasing worker choice and control;
Expanding worker protections, combating discrimination, and improving enforcement.
**********
UAW Strike
Voting in the UAW strike is a mixed bag so far, with union locals are voting on separate days. Thus far, the Warren Technical Center in Warren, Michigan, a metal stamping plant in Saginaw, Michigan, and a transmission plant in Toledo, Ohio all approved the deal. However, a large assembly plant in Spring Hill, Tennessee, with almost as many workers as the other three facilities combined, narrowly voted it down. Many union members are angry about the provision of the deal to close three plants, including an assembly line in Lordstown, Ohio, and transmission plants in Warren, Michigan, and Baltimore.
The pending deal would dissolve the UAW GM training center, similar to the center UAW Fiat Chrysler center under federal investigation.
The strike has cost GM at least $2 billion, and according to some financial analysts could "bring GM to its knees."
UAW goosed strike pay to $275 per week in the middle of October, up from $250.
Due to UAW strikers at a Mack Trucks plant in Baltimore, Volvo announced it will lay off 3,000 workers as it shuts down production due to lack of transmissions and engines that come from a Maryland plant the companies share. Although the Mack Truck strike isn't linked to the UAW-GM strikes, the negotiations with GM could affect the Mack negotiations.
**********
Labor Solutions Corner
In the Insight article above we listed some proactive steps you can take to strengthen your employee relations environment, but if you are interested in what an in-depth analysis provided by our MDI supervisor interviews and employee focus groups can do for you, we'd be happy to send you a sample report and speak with you further.
We're just a phone call away:  800-888-9115.
**********
Union Corruption
We just celebrated the 60th anniversary of the Labor Management Reporting and Disclosure Act of 1959. That is the piece of legislation that mandates union financial transparency — just where all did union member dues go this year?
We can thank the LMRDA for informing us of union investment in national bar chains, professional baseball sponsorships, and obviously, political contributions. Click here for some of this year's most curious.
Speaking of union transparency, one local Longshoreman leader just pleaded guilty to taking $150,000 in bribes in exchange for not filing member arbitration complaints against a certain employer.
Vance Pearson, former director of UAW's Region 5, has stepped down from his role in the organization after being charged with embezzlement, fraud, filing false reports, and conspiracy. He is the 10th person charged in the ongoing investigation of the union's finances.
**********
It's All Academic
The Chicago teachers strike has entered its second week, with Elizabeth Warren joining the front lines.
Also, the NLRB extended the time frame for submitting comments on whether or not graduate and undergraduate teaching assistants qualify as "employees" under the act. The submission window will remain open until December 16, 2019.
**********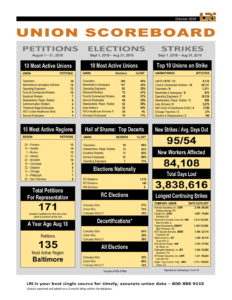 SCORE BOARD
Who are the winners (and losers) of the labor movement? Don't guess, just check the LRI Scoreboard
View this month's scoreboard (archives also located here).
Download a PDF of this month's scoreboard
**********
Union Pension Turmoil
Another union pension fund is asking the federal government for permission to cut pension checks to retired members. If nothing is done, the Michigan Regional Council of Carpenters and Millwrights expect its fund to run dry by 2035.
Meanwhile, retired Teamsters are lobbying for a federal loan.
**********
Unions in Healthcare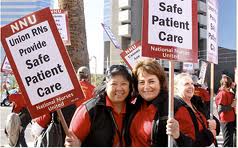 Although it may seem counter-intuitive, the stronger overall economy is leading to greater union leverage in the healthcare sector. Among the contributing factors are:
Sector growth outpacing availability of qualified applicants
Larger union representation in healthcare than in other industries
Healthcare remaining a hot political topic
Aggressive nature of unions that target healthcare industries
One in every seven jobs created in 2018 came from the healthcare sector, and in July 2019, only about half of job openings were filled by healthcare providers. With the aging of the healthcare workforce and retiring Baby Boomers, this isn't likely to change anytime soon.
Although the percentage of unionized workers in the private sector has been dropping for years, landing at 6.4% in 2018, it remained higher in the healthcare sector, at 7.7% that year. Using the rhetoric of staffing ratios, which seems to make intuitive sense, union organizing attempts in the healthcare sector are more difficult to fight.
The media and political landscape will continue to keep healthcare front and center in the attention of the general population, as the struggle over the "dismantling" of Obamacare confronts the progressive agenda of single-payor healthcare.
In the middle of all this, the CNA/NNU, the SEIU and a few other aggressive unions are finding plenty of opportunity to obfuscate facts, scare the general public, and use the power of strikes to enhance their leverage.
As this Becker's Hospital Review article noted for October alone, hospital employees continue to be active.
**********
Minimum Rising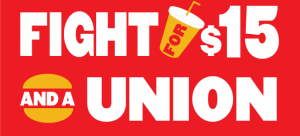 Service Employees Local 32BJ is ramping up its efforts to organize fast food workers in New York City. Right now, they are working specifically on employees at Chipotle and McDonalds to sign union cards. The Fight for $15 movement – funded by the SEIU – always had organizing fast food workers as the end game. Though the movement has had some success in raising the minimum wage, it hasn't made much inroad into organizing fast food chains. This time they're hoping to make it into the endzone.
**********
Alt Labor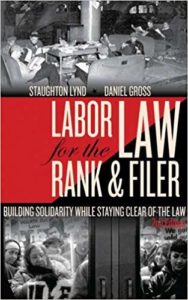 Although businesses tend to focus on the traditional employee collective action threat of union organization, with the goal of collective bargaining in mind, there has been a recent rise of non-traditional organizational action.
Tech workers at Google, rideshare workers (Uber and Lyft), and those in the gaming industry have recently used the ideas from a book entitled "Labor Law for the Rank and Filer" written first by longtime labor historian Staughton Lynd in 1978; and then more recently revised with labor organizer, Daniel Gross in 2008.
According to Lynd and Gross, Big Labor and its menagerie of organizations fall under the umbrella of "business union." A business union is typically "controlled from the top down by officers and staff (usually white males) who are not regularly employed at the workplace." The biggest negative of a business union is that they are preoccupied with acquiring a bargaining agreement "that requires workers to give up the right to strike and any say in the company's major decisions."
Rather than organizing around a business union, Lynd and Gross recommend "solidarity unions — that is, worker-led groups that are not typically certified as exclusive bargaining agents under federal law and therefore don't need to win majority support to exist." In this set up, groups of workers "decide together on a course of direction action" to right any company wrongs. And they do so on a case by case basis without giving up concessions for the future.
In the case of Google, many employees argued for filing lawsuits or organizing with a union, but in the end, those espousing the non-traditional approach won the day, and the results speak for themselves.
**********
Unions in Media

The increase in union activity in publishing continued this month as the Los Angeles Times reached a tentative labor agreement that represents about 475 members of the organization. After a year of collective bargaining and the impending ratification by the end of the month, the L.A. Times Guild will become the first ever union in the organization's 138-year history.
**********
Labor Around the World
Food delivery apps have become a staple in the gig economy worldwide over the last few years. That's why it's no surprise that, as unions continue their attempt to infiltrate the gig economy and fast food workers, their approach includes companies like Uber Eats and Foodora.
In the last month, both companies have formed the first unions representing food delivery workers — Uber Eats in Japan and Foodora in Norway. Both of these organizations operate on a global scale.
USMCA (the proposed trade agreement between the U.S., Mexico, and Canada) is supposedly ready to go as far as Mexico and Canada are concerned.
After U.S. lawmakers visited Mexico earlier this month to touch base on labor reforms pertaining to the agreement, Mexican President, Andrew Manuel Lopez Obrador, delivered a letter to the Chairman of the House Ways and Means Committee — essentially supporting the agreement and encouraging Speaker Nancy Pelosi to put it up for a vote as soon as possible. Pelosi says she wants "more environmental protections, prescription drug protections, and worker rights protections" before she agrees to a vote.
Longtime Mexican oil union leader, Carlos Romero Deschamps, resigned this month after rumors of corruption, as did Australian labor boss Kaila Murnain.
**********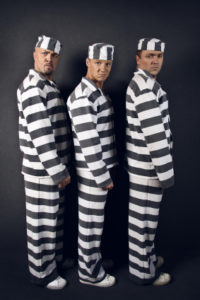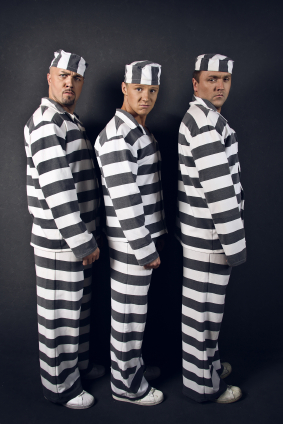 Sticky Fingers
Current charges or sentences of embezzling union officials:
Gregg Pedersen – ACT: $6,320
Travis Cofer – USW:  $12,432
Tony Liesenfeld – AFGE:  $77,000
Earl Roberts – USW:  %53,697
Juan Evereteze – AFGE:  $38,000
Eric Childress – CWA:  $2,619
Mitchell Sharp – LIUNA:  $1,000
Ken Morris – AFT:  $31,000
Wanda Coleman-Gordon – APWU:  $71,063
Theodore Watson – Insulators:  $125,000
Michael Grimes – UAW:  $1,500,000
http://nlpc.org/index.php?q=union-corruption-update
**********
Labor Relations INK is published semi-weekly and is edited by Labor Relations Institute, Inc. Feel free to pass this newsletter on to anyone you think might enjoy it.
New subscribers can sign up by visiting: https://lrionline.com/free-stuff/newsletter-signup/
If you use content from this newsletter please attribute it to Labor Relations Institute and include our website address: http://www.LRIonline.com
Contributing editors for this issue: Phillip Wilson, Greg Kittinger, and Meghan Jones
You are receiving this email because you subscribed to receive our labor relations newsletters and updates. You can manage your email preferences by clicking the link at the bottom of any of our email communications.
NOTE: if you are using older versions of Internet Explorer, read the text version, as the html may not load properly. We recommend upgrading to the latest version.