In this issue:
AFL-CIO Facing The Music
AFSCME Blames Billionaires
Hotel Strikers Running Business Away
SEIU Watch, Teamster Beat, Insight, Scoreboard and more…
The bottom of each story contains a link to the individual post on our site.
**********
Labor Relations Insight by Phil Wilson
Unions Required to Represent Members (and they don't like it one bit)
On October 24th NLRB General Counsel Peter Robb issued an important update for union officials: to meet their duty of fair representation, unions actually have to represent their members.  Novel concept.
Robb's memo was a little more politic, but the basic point is this: in most NLRB regions union officials get a pass for failing to represent their members so long as the reason for the misrepresentation was mere negligence.  You read that right. The rule has been that unions can be consistently terrible at representing members and still meet their "duty" of fair representation. As long as everyone is getting equally terrible representation the union is off the hook.
The new interpretation raises the bar slightly. Unions can still get away with negligence. But to do it they need to show that their negligence was an anomaly. The memo states:
In cases where a union asserts a mere negligence defense based on its having lost track, misplaced or otherwise forgotten about a grievance, whether or not it had committed to pursue it, the union should be required to show the existence of established, reasonable procedures or systems in place to track grievances, without which, the defense should ordinarily fail.
While one could argue that even this bar is too low, it at least forces unions to take the minimum steps to make sure grievances and information requests are handled properly. And it seems like it may be working.
This month Labor Notes ran a really interesting article on how to avoid Duty of Fair Representation (DFR) charges.  I'll first note the irony. This article – which is a textbook on taking good care of representing members – is instead about avoiding DFR charges. This gives an idea about how seriously union leaders take this "duty." The author of this article – a union official for Chicago Teamster Local 705 – states it this way:
An internal National Labor Relations Board directive issued in September has raised the bar for how diligently unions must pursue grievances. A union can now be found guilty of violating the duty of fair representation (DFR) for losing track of a grievance or failing to promptly return a member's phone calls about it. That's a departure from long-established standards. Until now, you put the union at risk only if your treatment of a case was arbitrary, discriminatory, or in bad faith—not if the steward or union rep simply made a mistake, or did a poor job.
The interesting thing about this article is what follows. It is a terrific explanation of the things a union can do to "prove" it's met the duty. These things are exactly what you'd want your union leaders to do. Keep track of communications. Appeal things even if you're not sure you'll succeed. Document investigations. Bring witnesses to meetings. Inform others about what's happening. There are 15 different recommendations and they are all great.
Unions complain about rules related to financial transparency and being forced to earn their money. But I think they have things all wrong. If all unions follow the advice in Labor Notes their product will dramatically improve. People might even start to think a union is worth the dues they pay. And if enough people did that, maybe unions would actually start growing instead of dying.
**********
Union Bailout Update
The question of the recusal of John Ring and William Emanuel from the McDonald's case continues to heat up. In a letter sent to encourage Ring and Emanuel to ignore calls for recusal,  attorneys for McDonald's lambasted the chief proponent of recusal, Richard Painter, as a "recently failed Democratic Senate candidate" and "cable news talking head," describing his letter as "nothing more than a transparent attempt to interfere with the National Labor Relations Board's processes." So far it appears that Ring and Emanuel see no need to recuse themselves.
The NLRB ruled 3-1 in the DuPont case that companies may implement unilateral changes to employee benefits without advance notice to the union if the changes are consistent with annual past practice. The DuPont case was originally lost by the company in an earlier ruling and the company was charged with an unfair labor practice.  DuPont  appealed twice. In the meantime, the board issued the Raytheon case in December 2017, which held that employers do not have to bargain over changes to employment terms so long as the changes are consistent with past practice.  With the Raytheon decision overruling the original DuPont majority holding, the board applied Raytheon to DuPont to settle the matter.
In recent rulings, the board has signaled that it will take a new approach to failure-to-bargain charges. In the past, the board took a very restrictive view of the definition of a union's waiver of rights to bargain over working conditions. The Trump board has shown that it will apply the waiver standard in a more balanced way, and has indicated that it would like to reconsider the current waiver standard.
The NLRB plans to hold unions' feet to the fire in regard to the duty of fair representation of their members. Unions used to be able to dodge charges on the basis of "mere negligence," (ie. when the union loses or misplaces a grievance). Not so any longer. A recent Memorandum to field offices has redefined such behavior, and could lead to charges of gross negligence. Unions will also have more difficulty ignoring members' phone calls to ascertain status of grievances, and such actions can be charged as willful and arbitrary.
Since Trump's reappointment of Mark Pearce to the NLRB, a coalition of conservative groups has appealed directly to Congress, asking them to oppose the re-nomination. In a letter, the group accused Pearce of the "weaponization of ethics rules at the NLRB — using ethics rules on conflicts of interest to wrongfully pressure certain Board members into recusing themselves from important cases."
In a recent Kentucky State Supreme Court ruling, Kentucky became the first state in the nation to prohibit employers' use of mandatory arbitration agreements as a condition of employment. The Court found a way to determine that the Federal Arbitration Act does not preempt Kentucky Revised Statute 336.700. A petition has been filed asking the Kentucky Supreme Court to reconsider the decision, and if the petition is unsuccessful it is likely to move to the U.S. Supreme Court, where the issue is likely to be resolved in favor of arbitration.
**********
AFSCME Blames Billionaires
Post-Janus, the AFSCME is trying to find a scape goat for their predicament.
**********
AFL-CIO Facing the Music
After downsizing staff last year, the labor coalition's latest move to impose a contract that its employees had rejected triggered a strike vote by the Office and Professional Employees International Union (OPEIU), the union of the labor organization's staff. If the employees do indeed strike, it's possible members of other affiliate unions may join them.
**********
Hotel Strikers Running Business Away
Marriott hotels are losing customers left and right, as many conference planners are moving events to alternative locations to avoid the inconvenience. About 7,700 Marriott workers in San Francisco, Oakland, San Jose, Boston, Detroit, Honolulu and Maui are currently on strike. In San Francisco alone, the Oracle OpenWorld conference, the Human Rights Campaign, Shanti Project, Chicana Latina Foundation and Bay Area Wilderness Training have all cancelled business with Marriott facilities.
In Boston, the Dodgers decided to cross the picket lines and took up residence in the Ritz-Carlton Boston during the playoffs.
**********
SEIU Watch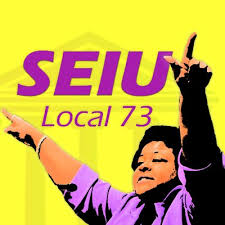 After two years under trusteeship, SEIU Local 73 members voted this month via mail-in ballots to elect their new leadership. Stay tuned for the results. And for a refresher on why this local was under a trusteeship to begin with, click here.
Dave Regan's California ballot initiative is officially the most expensive ticket in California's 2018 midterm elections – racking up a total of $125 million in contributions from both sides.
**********
It's All Academic
Charter school jurisdiction can be tricky. Are they exempt from federal labor law? Or are they not? The answer, it seems, depends. In the most recent case of a charter school in Louisiana, the 5th Circuit U.S. Court of Appeals ruled that – no, they are not exempt and they must recognize and bargain with their union.
On the collegiate level, Columbia University postdoctoral workers and associate research scientists voted to unionize. Georgetown graduate students will cast their votes in early November. And Tufts graduate students just nailed down their first labor contract.
**********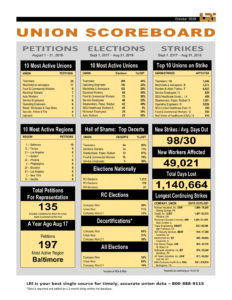 SCORE BOARD
Who are the winners (and losers) of the labor movement? Don't guess, just check the LRI Scoreboard
View this month's scoreboard (archives also located here).
Download a PDF of this month's scoreboard
**********
Teamster Beat
This is something you don't see very often.
After a 54% "no vote" from their members, Teamsters went ahead and ratified a five year contract with UPS. Why? Because less than 50% of the membership turned out to vote. Apparently, when less than 50% cast a ballot, IBT isn't required to honor the wishes of its membership.
Good to know…and now they do.
**********
Fight for $15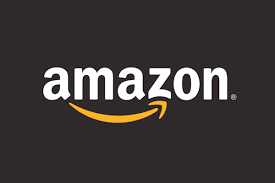 Fight for $15 had a couple big wins over the last month.
First, the Port Authority of New York and New Jersey shared its plan to vote on a minimum wage increase to $19 an hour. Then Jeff Bezos announced he'll be raising Amazon's minimum wage to $15. Employees can expect to start seeing the increase on November 1st.
Also expected in November, Arkansas voters will decide whether or not to raise their state's minimum wage to $11. But of course, even after voters weigh in on it, lawmakers still have to see it through – which isn't always the case. Just ask tipped employees in D.C.
**********
Right-to-Work
Ohio public employees have filed two class action lawsuits against the American Federation of State, County, and Municipal Employees for their right-to-work policies post-Janus. The first challenges AFSCME's decision to only allow workers to opt-out of paying union dues during a 15-day period. The second asks that the union repay the dues it forcibly collected from non-members in recent years.
In other right-to-work news, a recent study found that the U.S. auto manufacturing industry does more business in right-to-work states.
**********
Auto Workers

The Auto Workers can't seem to catch a break as the investigation into corruption within their organization continues to grow. After guilty pleas by seven UAW leaders and Fiat Chrysler executives on embezzlement charges, federal prosecutors are now looking into the misappropriation of more than a million dollars of union dues and training funds spent at a Palm Springs resort in 2014, 2015 and 2016. Dive in here.
**********
Labor Around the World
Representatives from Canada's Building Trades Unions met with Prime Minister Justin Trudeau this month to discuss implementing "community benefit agreements" on a larger share of infrastructure projects nationwide. These agreements would essentially place stipulations on all infrastructure projects in the country – many of which are funded by the state. Also in Canada, Alberta officially implemented its $15 minimum wage at the beginning of this month, making it the province with the highest minimum wage in Canada.
Speaking of minimum wages, Nigerians are calling for a rise in their monthly minimum wage to as much as 50,000 naira ($164) from 18,000 naira.
Mexico's labor secretary is looking to make some serious adjustments to union elections in the country. Starting with, all must be conducted by secret ballot.
**********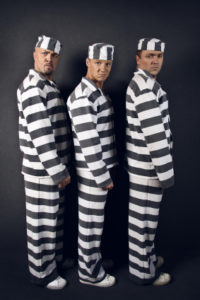 Sticky Fingers
Current charges or sentences of embezzling union officials:
Timothy Caroll Smith – ACT:  $80,000
Steven Perry – UBC:  $20,458
David Hendricks – IATSE:  $14,087
John Burgess – Pacific Stainless Products Employee Association:  $35,000
Rocco Fazzolari – United Industrial & Service Employees Union:  $1,300,000
http://nlpc.org/index.php?q=union-corruption-update
**********
Labor Relations INK is published semi-weekly and is edited by Labor Relations Institute, Inc. Feel free to pass this newsletter on to anyone you think might enjoy it.
New subscribers can sign up by visiting: https://lrionline.com/free-stuff/newsletter-signup/
If you use content from this newsletter please attribute it to Labor Relations Institute and include our website address: http://www.LRIonline.com
Contributing editors for this issue: Phillip Wilson, Greg Kittinger, and Meghan Jones
You are receiving this email because you subscribed to receive our labor relations newsletters and updates. You can manage your email preferences by clicking the link at the bottom of any of our email communications.
NOTE: if you are using older versions of Internet Explorer, read the text version, as the html may not load properly. We recommend upgrading to the latest version.