In this issue:
Uberization Of Work
Election Results and Expectations
Refining the Definition of "Employee"
UAW Attempting To Make Hay
SEIU Watch, Sticky Fingers, Insight, Scoreboard and more…
The bottom of each story contains a link to the individual post on our site.
**********
Labor Relations Insight 
by Phil Wilson
Trump's Labor Agenda
The labor relations world could not look more different than it did just two weeks ago.
This is my first Insight article since Donald J. Trump shocked everyone (perhaps even himself) and became the 45th President of the United States. If you didn't get a chance to listen to my post-election webinar last week I gave my first impressions about what to expect in more detail. But here are the highlights.
Union Households Delivered Trump the Presidency
Trump rewrote the election map on his run to the White House. Ironically he did this by tearing down a wall – the "blue wall" states of Michigan, Pennsylvania, Wisconsin, and Ohio. Check out this map: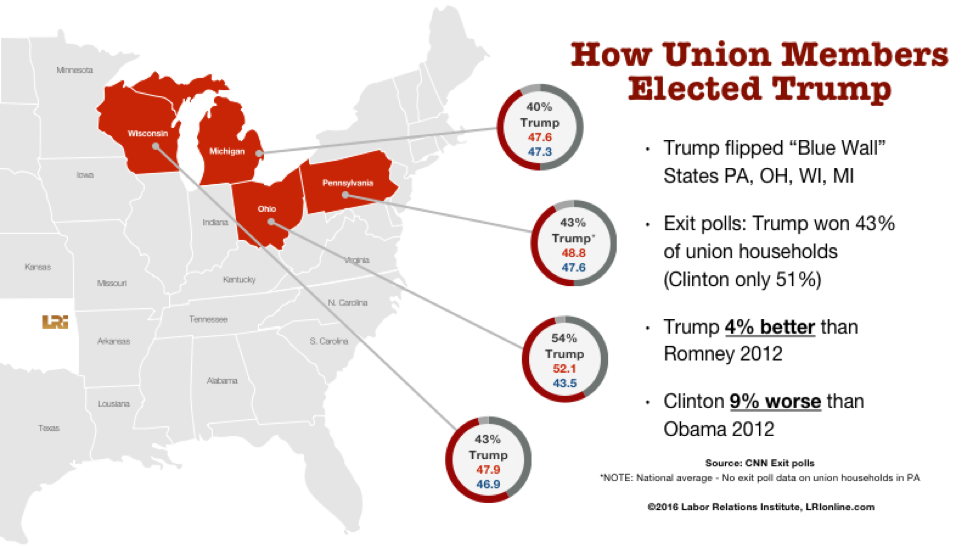 After unions spent millions of dollars and hundreds of thousands of hours pushing union members to vote for Hillary, Trump won 43% of union households nationally according to CNN exit polling. Hillary Clinton won only 51% of them.  That is a 13% swing from Obama's victory over Mitt Romney in 2012. In Ohio Trump won an incredible 54% of union households.
The real story of this election was that Midwestern working class voters gave a big middle finger to the Democratic establishment generally – and their union leadership specifically. They decided that they'd rather roll the dice on a controversial agent of change than struggle through another 4 years of Democratic leadership.
Labor Policy to Expect from President Trump
It is early, but the financial markets certainly believe that working class voters knew what they were doing. Trump has just started naming Cabinet officials, and labor appointments are not at the top of the priority list (although he did interview potential Labor Secretaries this weekend). But clearly the core domestic focus of the first 100 days is jobs. And early indications are that a Trump cabinet will roll back government regulations with a vengeance.
What does this focus on jobs and reduced regulation mean for labor policy? Here are a few things to watch for:
Executive Orders: A lot of the big changes during the Obama Administration began as Executive Orders. Many of these will be reversed the first week after Trump takes the oath of office. These include the blacklisting regulation, paid leave, successor employer rules and many others. While these orders mainly impact government contractors, they are "quick wins" you can expect to see right away.

This is a very common first move when the Presidency changes parties. This one will have two differences. First, since Obama was unable to do much of anything legislatively after the 2010 mid-term elections, most of his biggest accomplishments were done through Executive Order. This means a lot of his achievements will be reversed with a pen stroke. Second, President Trump is a marketer over anything else. I would expect to see a lot more fanfare about this somewhat routine move, especially as proof about how serious he is about rolling back regulations.

Rule Making: This is another area where the Obama Administration moved the ball quite a bit. Agency rules are more difficult to change or reverse. There are two categories to watch here. Many of these rules, especially the recent ones, are subject to litigation. The persuader rule is basically dead. The Labor Department could choose to appeal before Trump takes office – if so, you would imagine the new Labor Secretary will withdraw that appeal as soon as they take office. The new Department of Labor may also want to lose on rules like the overtime rule or blacklisting regulation (although they will still hope to preserve executive authority to make rules, so they could end up appealing cases about rules that they don't support long term).

Other rules have already survived litigation. Things like the ambush election rule can only be reversed by new rule making, which takes time and effort. Another option is to change the Congressional Review Act to allow Congress to review and vote down regulations they don't agree with. Today that law only allows review for 60 days after a rule goes final, but some have argued that should be amended to allow review at any time. Trump has also vowed to make it more difficult for agencies to issue new regulations, and this would be one way to do that.

National Labor Relations Board: The NLRB will remain Democrat controlled until two Republican members can be confirmed. This will take some time. Unfortunately, Board appointments aren't likely to get "fast tracked" in the Senate. And Richard Griffin will remain General Counsel until November of next year. This means that rolling back NLRB decisions and rule making (like the ambush election rule) aren't likely to start happening until the middle to end of next year. And there is no reason to believe that Griffin will put on the brakes as he aggressively tries to make having a pulse a protected concerted activity.

Traditionally the Board has refused to overturn precedent without at least 3 votes (a majority of the full-strength, 5-member panel). Since the Board today has only 3 members, including one Republican Phil Miscimarra, you would expect things to stay somewhat stable until the new members are confirmed. But this Board and General Counsel have not shied away from controversy. If you want new Republican members confirmed quickly it might be time to hope for the Democrats on the Board to abandon the old tradition.

Legislative Action: Until two weeks ago this topic seemed as fantastical as the new Harry Potter movie. But in addition to Trump winning the Presidency the Republicans now control the House and the Senate. While you may have heard this is the first time that's happened since President Hoover (not true – Eisenhower and George W. Bush also briefly accomplished it) it is pretty rare. And that means there is at least the possibility of legislative solutions to some of the regulatory overreach of the last 8 years. Legislation is never an easy matter (you need 60 votes in the Senate, which are exceedingly hard to get). But there is a better chance of legislative fixes now than at any time since 2003. I would caution folks to remember the lesson of the Employee Free Choice Act. This was the key agenda item of unions when Obama swept into power in 2008. They came incredibly close to achieving it. But they didn't, and that's the point. The business community should shoot for laser-targeted fixes versus swinging for the fences. Home runs are great show, but you win by hitting singles and advancing runners. That's what Republicans must do over the next two years.

There are numerous legislative proposals already waiting in the wings for the new Congress (check out my slide deck from the webinar for a list of just a few). Hopefully they will act on a few of them soon.
That's just a taste of what we have in store for the next few months. Speaking of tasting things, I hope you and your family have a blessed Thanksgiving.
**********
Union Bailout Update
Hopefully the nature of this section will change sometime after the first of the year, when a new sheriff arrives in the capital. If you missed our update on what we expect under a Trump administration, you can catch the replay here (the Insight article above hit some of the highlights). A name has already surfaced as being floated for a role either on the NLRB or as board General Counsel - retired attorney G. Roger King.
Staying in character for the present, the NLRB determined that several retail employees who engaged in an in-store protest during work hours were unlawfully disciplined, under the Quietflex Mfg. Co. guidelines. Board member Miscimarra's dissent challenged the applicability of Quietflex, and instead pointed to Restaurant Horikowa for guidance related to retail establishments.
NLRB General Counsel Richard Griffin is urging the board to accept intermittent work stoppages as a legitimate labor tactic, particularly threatening the ability of healthcare and retail facilities to operate effectively.
The 11th Circuit demonstrated just how tricky it can be to create no-solicitation policies in mixed-use areas within a facility. Permanent mixed-use areas must be treated differently than "converted" mixed-use areas, and you should be aware of the difference.
The Fourth Circuit reversed itself and has determined in a South Carolina nursing home case that nurses are not supervisors, citing the Supreme Court's Kentucky River decision as the rationale for the switch.
There are a few items to express gratitude for this Thanksgiving season!  As we mentioned in a news blast last week, a Texas judge permanently blocked the Persuader Rule, saying the rule change likely violated the First Amendment and was arbitrary and capricious. And the Sixth Circuit ruled that counties and other municipalities in Kentucky, Michigan, Ohio and Tennessee can legally pass local right-to-work laws, overturning the ruling of a lower federal court. According to Judge David McKeague, local governments are included within the phrase "the states" because they are subdivisions of state government. Thus federal labor statutes granting the authority to pass right-to-work laws to "the states" includes the smaller municipalities.
**********
Uberization Of Work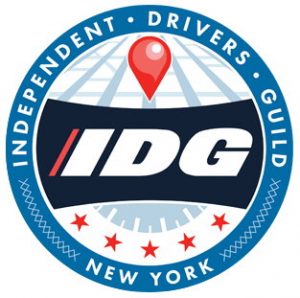 A new style of "representation" is emerging in the gig economy. Uber drivers have expressed frustration over the appeal process for deactivated accounts. Now, with assistance provided by the International Association of Machinists and Aerospace Workers (IAM), the 40,000 Uber drivers in New York City can take their cases to arbitration with a group called the Independent Drivers Guild (IDG), which Uber funds.
The drivers did not vote for the IDG, it doesn't represent them in collective bargaining, and the drivers pay no dues to the organization. Additionally, the IDG has agreed that it will not attempt to organize Uber drivers while the current agreement is in place (it expires in 2021) nor attempt to get the drivers reclassified as employees (they are independent contractors to Uber).
Uber isn't out of the woods yet. The NLRB is fighting a similar battle with Uber on a different front, working to classify 385,000 drivers in California and Massachusetts as employees instead of contractors.  Meanwhile the Teamsters are attempting via the courts to secure the same result for Lyft drivers in California. Uber will likely not be out of the woods for a while.
The New York City Council added an additional layer of complexity to the freelance question by passing first-of-its-kind legislation designed to protect independent contractors from "wage theft." If you use independent contractors you may want to keep an eye on how this concept spreads. If it catches on like Fight for 15, it is conceivable we could see federal legislation crafted of a similar vein, although the new administration would likely add some friction to the prospects and the best chance would be after a swing in control of the House, Senate or both after another election.
**********
Election Results and Expectations
If you are interested in election prognostications and missed our Fall Labor Update Webinar, you should review it here.  For another list of potential impacts to labor professionals, take a look at the details behind this list posted by Fisher & Phillips attorney Jeffrey Mandel. His list includes the following:
Immigration
Labor relations
Pay equity
Data security
Supreme Court nominations
Employee leave
Workplace safety
Wage and hour
Affirmative action and federal contractor compliance
Non-competes and other post-employment restrictive covenants
All four states that had a ballot initiative to raise the minimum wage passed them (Washington, Arizona, Colorado and Maine). Right-to-work met with mixed results, with Alabama enshrining the existing right-to-work statute in their constitution, and Virginia defeating a right-to-work initiative. However, due to Republican election victories at the state level, expect to see additional statewide right-to-work laws proposed for Kentucky, Missouri and New Hampshire.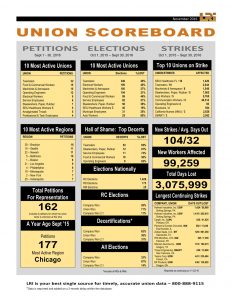 **********
SCORE BOARD
Who are the winners (and losers) of the labor movement? Don't guess, just check the LRI Scoreboard
View this month's scoreboard (archives also located here).
Download a PDF of this month's scoreboard
**********
Refining the Definition of "Employee"
Pro-union law professor and former SEIU Organizer Brishen Rogers has penned a treatise for the American Constitution Society suggesting legislative changes to "expand and clarify" the meaning of the term "employment." His suggestions include:
Redefine employment per the "suffer or permit" test and specify that the "suffer or permit" test defines employment very broadly;
Define workers in certain highly fissured industries as the legal employees of firms who contract with them individually for labor, and/or the joint employees of user firms who obtain their labor through subcontracting or franchising arrangements;
Develop concrete guidance for courts to apply in other industries, or direct an expert agency to do the same; and
Place the burden of proof on the party seeking to avoid employment status and implement other procedural and remedial reforms.
You can download the 10-page brief here.
**********
SEIU Watch
People join unions because they want "representation." The union tells them that when the going gets tough, we'll be here to fight for you. For your respect. For your working conditions. The list goes on.
But what about when your union doesn't fight for you? After years of paying dues for representation, that's exactly what happened to Starla Rollins.
Rollins is a member of SEIU-UHW and served as a Ward Clerk at Dignity Health's Community Hospital of San Bernardino for over 20 years. In 2012, Dignity Health issued a "reduction in force" and Rollins was laid off.

Unions are huge on seniority (the people who have been here the longest are the last to get laid off and the first to get promoted, they make the most money, etc.). This system is a foundation of union representation across the board. This is why it's so surprising that when Rollins urged her union to enforce the seniority agreement in her contract, they refused. And what's more, when Rollins filed a grievance against the hospital, SEIU-UHW ignored it.
So Rollins sued her union. SEIU-UHW officials will stand trial for failure to represent their member. (Fun Fact: This happens all the time. Just in the last month, there have been 163 charges filed by members against their unions for failure to represent.)
Rollins isn't the only SEIU-UHW member who knows her union is "failing to provide basic support to its members". Another 250 workers at College Hospital Cerritos ditched SEIU-UHW this month.
In other SEIU news, one personal care assistant in Connecticut is being harassed by SEIU for refusing to join the union. More details here.
*ULP data gathered from LRIRightNow.com
**********
Teamster Beat
The Teamsters union has a history of corruption. It's the reason why, until last year, the Independent Review Board overlooked "all" union affairs for more than a quarter-century. Though the decree has been lifted, the union found itself involved in another investigation earlier this year. And that investigation is making everyone think maybe that decree should have stayed in place.
Late last month, a court-appointed independent investigator alleged:
"Secretary-Treasurer Ken Hall, the union's second in command, withheld e-mails and other documents from review earlier this year. The obstruction was intentional and happened while Hall knew about the investigation of 'current high ranking Teamsters officers, fund trustees and union employees, including Hall.'"
Between this and so many Teamsters retirees losing benefits due to extremely underfunded pension plans, plus the prison guards and probation officers who just outed their union for not getting them raises in nearly 11 years, IBT isn't getting much good publicity these days.
But hey…President James P. Hoffa won the election to remain president of the union for his 18th consecutive year. We all know what this means…
Nothing. Nothing really. We can pretty much expect everything to stay the same.
**********
UAW Attempting To Make Hay
It was hard to ignore the unexpected support union members showed toward Donald Trump throughout the election, but it's especially hard to ignore now after seeing the exit polls. (For more on this, check out Phil's Insight article above, or the video of the labor update here.)
Some of the swing states that put Trump over the edge are heavily UAW-represented areas (Wisconsin, Michigan, Ohio, Pennsylvania). Being the opportunists that they are, unions - especially those in manufacturing industries - will attempt to hold Trump to campaign promises related to trade and infrastructure.
One thing UAW President Dennis Williams claims to be excited about concerning President-Elect Trump's reign in office is his commitment to renegotiate the North American Free Trade Agreement (NAFTA).
"It's one of the most important things we can do," Williams stated.
UAW leaders were also happily caught off-guard when Trump announced via Twitter that Ford had decided NOT to move another of their manufacturing plants to Mexico. More on that here.
In not so great news for the Auto Workers, the Honeywell lockout continues in South Bend, Indiana. Many onlookers had expected an agreement to be made earlier this month.
**********
Labor Around the World
Americans know all too well about the struggles that plague the public education system.  Unfortunately, so do Mexicans.
A recent teachers strike in the country addressing a 2013 education reform, appears to address a bigger problem amidst unions as a whole in the country. Specifically, the government's relationship with labor unions. Click here for a deeper dive.
And in good news for all involved, negotiations between the Detroit Three and Unifor, Canada's auto workers union, are officially completed with Ford being the final piece of the puzzle.
**********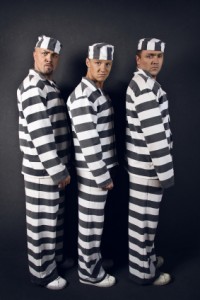 Sticky Fingers
Current charges or sentences of embezzling union officials:
Adele Dewey - USW:  $4,224
Aaron Contreras - CWA:  $43,293
Michell Clifton - IAHFI:  $23,014
Coralee Stotler - IBT:  $10,000
Robert Smith III - ILA:  $1,000,000+
John Bickerstaff - IAHFI:  $70,659
William Winecke - Soo Line Locomotive & Car Foreman's Association: $41,036
Roberto Gracia - ILA:  $30,000
http://nlpc.org/index.php?q=union-corruption-update