In this issue:
Laboring Toward 2020
Tech/Media Unions
Alt-Labor
Insight, Sticky Fingers, Scoreboard and more…
The bottom of each story contains a link to the individual post on our site.
Labor Relations Insight by Phil Wilson
A few weeks ago I did a presentation (on Zoom, obviously) about virtual campaign communications during a world of social distancing. During that presentation I shared this chart, showing the topics I've been asked about most during the pandemic: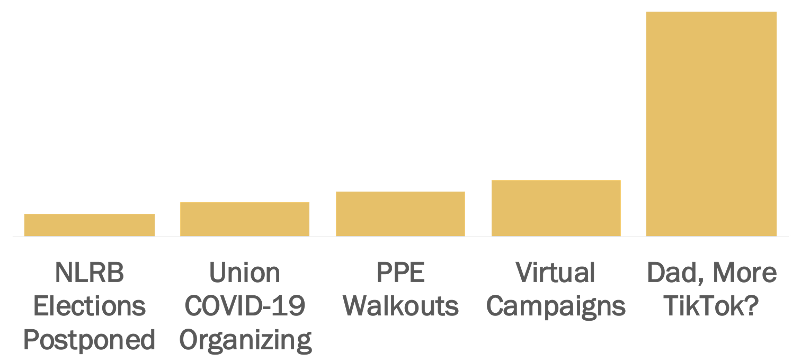 As you probably guessed, I live with a teenager.
The amount of time teens (and let's face it, the rest of us humans) spend online is crazy. And the pandemic has dramatically increased this trend. While we take the first tentative steps back into meat-space there is no doubt that the vast majority of our interactions will continue to happen in cyber-space for the foreseeable future.
This raises an interesting question for unions. While most agree that unions today have the best organizing environment available to them in the last century, they too face the problem of access to potential members. And unions have had a pretty spotty record of leveraging technology to organize.
A fascinating, must-read article from In These Times explains the problem this way:
Reaching the next generation of union members means online organizing. It also means taking a much more flexible approach to organizing—one that does not restrict itself to only traditional union campaigns. The raw materials are millions of hard working, younger people who are at ease online, and who have the general political and moral tilt that would make them prime candidates for organized labor, but who don't know much about unions, or how to connect their day-to-day work issues with what organized labor does. The attitude of traditional unions has often been that these working people should beat a path to their door. Instead, the labor movement needs to bring its tools to the people.
The article features a couple of online organizing platforms. The first, Coworker.org, has been around since 2013 and has hosted campaigns for millions of workers. These campaigns are not union organizing efforts. Instead, they are issue-driven campaigns. But they have proven the viability of online organizing around workplace complaints.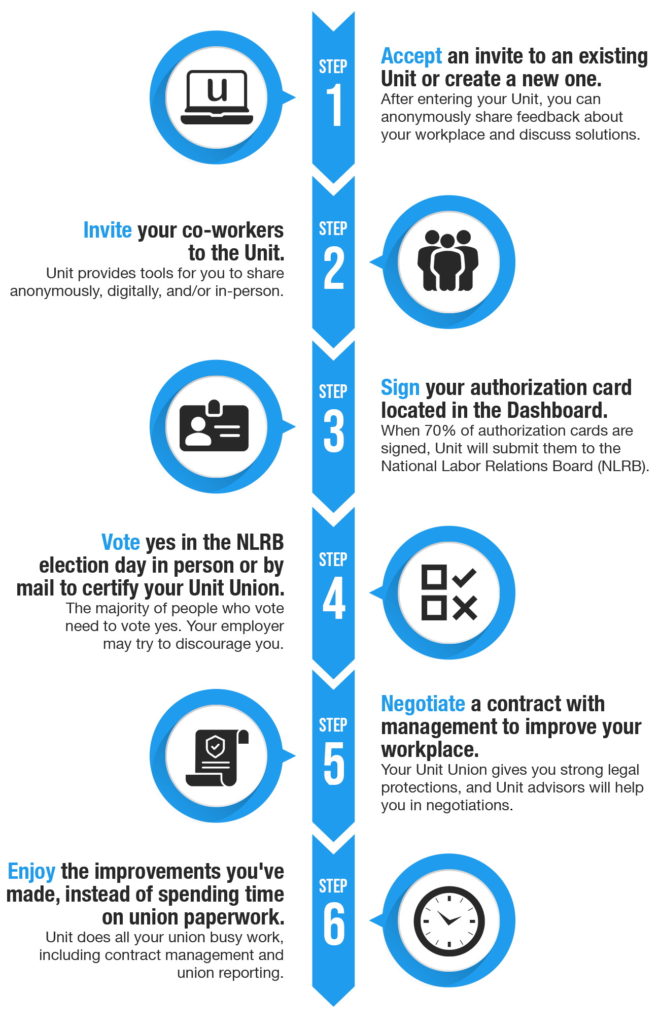 New entrants to the field include Unit.work and GetFrank.com. You should check out both of them.
Unit.work, unlike Coworker.org, is designed to start union organizing campaigns. Once a group of employees sign up they receive help with signing authorization cards and forming an independent union in a workplace. If employees choose to organize a "Unit Union" (this isn't required) they agree to pay 0.8% of their monthly earnings as a subscription, beginning as soon as the election is won. In exchange employees get support from Unit during the organizing effort and subsequent collective bargaining negotiations.
Unit.work describes itself as a for-profit, labor-side consulting firm. This is a fascinating model that attempts to reach workplaces and potential bargaining units off the beaten path of traditional unions. It is not affiliated with any union. But independent unions organized in this way are no different than "official" unions. There are no examples of success stories on the website, but we'll be on the lookout for examples of units organized this way.
GetFrank.com is also a for-profit company that works on a subscription basis. Instead of trying to organize a union with collective bargaining rights, GetFrank allows a group of workers to anonymously make demands of the employer.
One problem I see with GetFrank's model is that an employer is under no obligation to deal with a representative like this (and commits an unfair labor practice if they negotiate with a non-majority representative). However, the app says they won't make demands with less than 75% support from coworkers and it is easy to envision an employer who refuses to bargain with a GetFrank unit will quickly face an NLRB election. This is another fascinating model.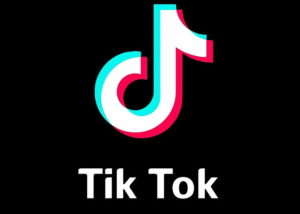 Will traditional unions take advantage of these innovations? Historically they've been slow to adopt, but I think anyone reading this would say their use of technology over the last two months has changed dramatically. It is hard to see the world going back to the way it was before the pandemic, and I am sure that will be true of union organizing as well. The first two months of 2020 saw union petition activity surge over the same period in 2019 (according to LRIRightnow data, January RC showed over a 30% increase year-over-year). As the economy re-opens so too has petition activity. It will be interesting to see if unions begin leveraging technology like this as part of their "new normal" toolkit.
Or maybe they'll just spend more time on Tik-Tok.
**********
Union Bailout Update
We have been tracking the NLRB responses to the pandemic, and maintaining a list of how each region has been handling elections and related issues, based on the experiences of the attorneys and our clients.  You can review that web page here.  Please email us any details from your own experience that would be helpful - we'll keep the details confidential.

After its original postponement of elections, the board is working hard to maintain "business as usual." Case in point, an acute care hospital that asked to stay the election due to "an extraordinary circumstance" and the expectation of a "huge influx of sick patients in the coming days and weeks," was denied the appeal. It is possible that more definitive data would have persuaded the board, but the general argument of "current circumstances" wasn't enough to trump the board's obligation "to maintain operations to the extent that it is safe and feasible to do so."
Although the regional directors have been opting to hold hearings via phone, the board ruled that in cases where witness testimony was involved, such hearings must be conducted by videoconference instead of phone.
Unfair labor practice hearings are set to resume on June 1.  The board has stated that both in-person and virtual options will be used, and the Division of Judges has acquired equipment and licenses to handle the virtual cases. Motions or objections with respect to holding an in-person or online hearing – or taking witness testimony by videoconference – will be decided by the designated ALJ.
The rules for conducting mail ballot elections - specifically the vote counting process - received clarification in Providence Health & Services – Oregon d/b/a Providence Portland Medical Center. Whereas prior to Providence, the agents counting votes were allowed to use discretion in attempting to interpret voter intent when there were marks in both the Yes and No box, the board provided a bright line rule that whenever a ballot "includes markings in more than one square or box, it is void."
The notice posting requirements for employers who violate the NLRA have been modified during the pandemic, due to many companies either shutting down or working with reduced staff. The new guidelines state that the 14-day rule does not apply, and the 60 day time period for posting does not begin to run until a "substantial compliment" of workers has returned.
As employees are returning to work, the EEOC has provided guidance for handling high-risk employees, whether special accommodations are requested by the employees or not. Among the suggested strategies for mitigating risk to such individuals:
Providing additional or enhanced personal protective equipment, including gowns, masks, gloves or other protective equipment
Taking additional or enhanced protective measures, such as erecting physical barriers or increasing space between employees
Eliminating "marginal" job functions (i.e., less critical or incidental job duties as distinguished from the "essential" functions of a position)
Temporarily modifying work schedules to reduce contact with coworkers, or relocating the employee's personal workspace to increase social distancing.
Identifying an effective accommodation depends on many factors, including the employee's job duties and the design of the workspace. Consequently, the EEOC encourages employers to discuss with employees the listed examples as well as other possible accommodations.
In a case before the Ninth Circuit Court of Appeals, an employer made a statement during collective bargaining that was perceived by the union as an "inability to pay" the wage increase demands proposed by the union. The union therefore requested financial documents from the employer to substantiate the claim, which it has the right to do, but when the employer clarified that it was "unwilling," not "unable," the NLRB held that there was no obligation to surrender the documents. The Court upheld the NLRB decision.
If you are in the retail or service industries and pay certain employees a significant amount of their income via commissions, a new rule that relaxes the "retail service exemption" will be of interest. The rule removed two provisions from the department's Wage and Hour Division regulations, providing greater simplicity and flexibility in qualifying for the exemption. You can read the rule in the Federal Register here.
OSHA has returned to a normal policy of physical inspections in areas where covid cases are dropping. There are still some variable approaches to high-risk workplaces, but in general you should expect business-as-usual if you are in a state or area where covid risk is declining.
As was expected, Big Labor has been attempting to twist the covid crisis to promote its own agenda.  As both businesses and government agencies have grappled with proper and balanced responses to the pandemic, The AFL-CIO's Richard Trumka railed at DOL Secretary Eugene Scalia for a perceived failure of OSHA to step up safety enforcement, especially in light of covid risks.
Trumka, along with support from Democratic lawmakers, sued OSHA to issue an emergency temporary standard to protect workers from coronavirus. The D.C. Court of Appeals required OSHA to reply to the Trumka's motion by May 29. Scalia has defended OSHA's handling of the issue by saying the agency can bring enforcement actions under the Occupational Safety and Health Act's "general duty" clause.
As we reported in last month's issue of INK, unions have successfully used the pandemic relief bills to advance their agenda. They are now pushing for the implementation of electronic NLRB elections to be added to further relief packages. In a letter to lawmakers, Big Labor demanded "The next COVID-19 response bill must include funding and direction to implement the changes needed for the NLRB to adopt an electronic representation election process."
**********
Laboring Toward 2020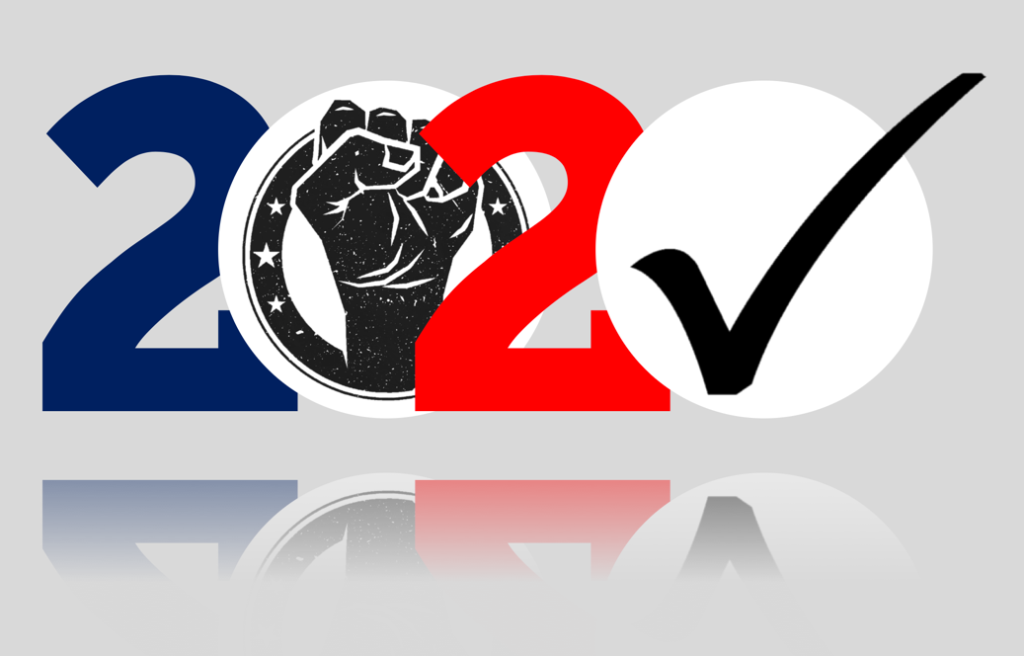 Unionized staffers of Democratic presidential contender Joe Biden have reached a new milestone: the first time a major party's apparent presidential nominee will employ unionized workers under a collective bargaining agreement. The agreement was announced in a joint statement between the Biden campaign and Teamsters Local 238. Senators Bernie Sanders and Elizabeth Warren paved the way when their primary campaign staffs organized.
Election season turns hosts of union organizers and volunteers into political canvassers, almost exclusively for Democratic contenders at local, state and national levels. A great deal of the energy has formerly been invested in face-to-face conversations, but in the age of social distancing, this should shift dramatically. Even phone bank operations may have to adapt. Digital media and paid advertising might see an uptick, with more reliance on texting and other social media campaigns.
The experiments carried out during the political season are likely to spill over into union organizing when the dust settles, if the unionistas can see through their biases to determine what worked and what didn't.
**********
Tech/Media Unions
NLRB officials are approving mail-in ballot elections as a way to keep organizing efforts alive during the pandemic. Examples of this include Instacart workers in Chicago voting to join UFCW, Johnson Control workers in San Antonio voting to join SMART, and Curaleaf Massachusetts (a medical marijuana dispensary) in Boston voting to join UFCW.
The Board also ruled this month that the election at Hearst Media will move forward, despite multiple objections by Hearst. A date for the election has not been set.
**********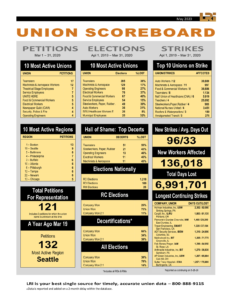 SCORE BOARD
Who are the winners (and losers) of the labor movement? Don't guess, just check the LRI Scoreboard
View this month's scoreboard (archives also located here).
Download a PDF of this month's scoreboard
**********
Alt-Labor
The Service Employees International Union is still using its relationship with worker centers to instigate labor action––most recently, with Working Washington (WW) and its attempt to stage a strike against Chipotle utilizing Postmates workers.
Postmates is a gig-economy food delivery company. WW's plan was to have Postmates workers ignore any and all Chipotle orders for a three day period. They even came up with a hashtag, #GuacOff. Funny thing though…we're not seeing much report that anyone actually #GuacedOff.
Get 'em next time, SEIU.
**********
Union Corruption
Just a few months after the FCA-UAW scandal became public, rumors started to circulate about whether or not similar bribes and favors with the union were happening at GM and Ford as well. That was three years ago. GM is officially off the hook. Federal prosecutors informed the auto manufacturer in early May that it is not currently a target in the investigation of corruption within the Auto Workers union.
Former UAW President Gary Jones was arraigned this month on charges of embezzlement and racketeering. He pleaded not guilty.
**********
Gig Economy
Early this month, the state of California filed a lawsuit against Uber and Lyft, claiming that both companies are misclassifying workers as independent contractors. The suit was filed by California Attorney General Xavier Becerra, along with city attorneys from San Francisco, Los Angeles, and San Diego.
The somewhat curious, slightly shady part of the whole deal is that each of the attorneys involved in the suit have significant labor connections. Namely, their campaigns have garnered hefty contributions from the state's Big Labor community. Click here for details.
**********
Healthcare
Illinois nursing homes avoided a major strike this month by about 10,000 members of SEIU Healthcare who work at more than 100 nursing homes in the state. The union and the Illinois Association of Healthcare Facilities reached a tentative agreement one day before the strike was set to take place.
**********
Right-to-Work
The AFL-CIO and the International Union of Operating Engineers Local 150 are attempting to institute a law that would ban right-to-work legislation in the state of Illinois. Specifically, they are looking to bar any law from being passed that "restricts or interferes with the ability of workers to join together and collectively bargain over wages, hours, and terms and conditions of employment."
The only problem is that Illinois law currently dictates that proposed constitutional amendments must be passed by state legislature at least six months before the next general election in order to make it on the ballot…and these unions are cutting it a little close. They blame COVID-19, of course; and are using the circumstance as the main argument in their petition to an Illinois federal court to lift the requirement.
In similar news, a West Virginia Supreme Court upheld the state's right-to-work law in a 5-0 decision last month.
**********
Labor Around the World
We've already seen how unions are taking advantage of the COVID-19 pandemic to organize workers here in the US, so it's no surprise that the same is true in Canada. SEIU Local 2 launched a campaign to organize essential workers this month. The campaign is called, "Unions are Essential." Meanwhile, the Canadian government has already budgeted an extra $3 billion to raise wages for the country's essential workers, which begs the question – Are unions essential?
In Australia, unions are backing pay cuts for fast-food workers. Yes, you read that right.
**********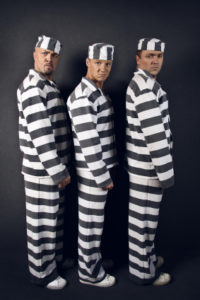 Sticky Fingers
Current charges or sentences of embezzling union officials:
Tammy McBride – Roofers: $13,868
Unnamed Secretary – TWU: $350,000
Melvin Fisburn – IBEW: $82,213
Harold Schaitberger & Thomas Miller – IAFF: $6,000,000
Dayton Nakanelua & Jeanne Endo – UPW/AFSCME: $300,000
Anthony Dehl – NEA: $54,254
Judith Barker – IBT: $5,425
Joshua Greer – USW: $2,642
Rudy Zeigler – AFGE: $5,276
http://nlpc.org/index.php?q=union-corruption-update
**********
Labor Relations INK is published semi-weekly and is edited by Labor Relations Institute, Inc. Feel free to pass this newsletter on to anyone you think might enjoy it.
New subscribers can sign up by visiting: http://lrionline.com/free-stuff/newsletter-signup/
If you use content from this newsletter please attribute it to Labor Relations Institute and include our website address: http://www.LRIonline.com
Contributing editors for this issue: Phillip Wilson, Greg Kittinger, and Meghan Jones
You are receiving this email because you subscribed to receive our labor relations newsletters and updates. You can manage your email preferences by clicking the link at the bottom of any of our email communications.
NOTE: if you are using older versions of Internet Explorer, read the text version, as the html may not load properly. We recommend upgrading to the latest version.