In this issue:
PRO Act news
White collar tech workers organize
New online union organizing tools
Insight, Scoreboard and more…
**********
Labor Relations Insight by Phil Wilson
Could the 5th Amendment Save Us From the PRO Act?
Some of the most important Supreme Court decisions fly under the radar when first argued. Cedar Point Nursery v. Hassid, argued in front of the Supreme Court this week, is one of those cases.
In case you haven't heard about Cedar Point (and I wouldn't blame you, it wasn't on my radar until last week) it is very interesting. The central question is under what circumstances can the government grant access to union organizers on a company's private property? Cedar Point Nursery is a farm in California. Agricultural businesses like Cedar Point are excluded from coverage under the National Labor Relations Act (NLRA), so they are covered instead by California's State Labor Code.
The California Code requires agricultural companies to give union organizers access to their property to help them organize agricultural workers. Organizers can be on the property up to 3 hours per day for 120 days per year. The original rule was adopted in 1975 at the urging of the United Farmworkers under the leadership of Cesar Chavez.
The employers in this case argued that the California regulation was an unconstitutional "taking" under the 5th amendment. As such, the State of California should have to pay just compensation to the company. But this case really isn't about the lack of compensation – it's really about whether the government should be allowed to compel access to private property in the first place.
The implications of this decision are far-reaching. That's because the centerpiece of the Biden Administration's labor policy, the PRO Act, relies on a number of similar provisions that both grant access to union organizers ("equal time" for example) and restrict employer access to their own workers (banning "captive audience" meetings). Additionally, the PRO Act includes numerous other provisions that might be considered takings (for example, requiring companies to accept labor contracts determined by outside arbitrators). The Cedar Point decision will clearly indicate how the current Court will balance property rights with government attempts to advantage union organizing.
It's hard to predict how the Court will rule based on oral arguments. Often the questions asked don't necessarily reflect how a Justice plans to vote on a particular case, but instead anticipate or attempt to refute arguments that another Justice might be considering. That said, the oral argument in Cedar Point does suggest a possible outcome.
This isn't the first time the Court has had to deal with an issue like this. In the 1956 NLRB v. Babcock and Wilcox case, the Court faced a similar circumstance. Union organizers sought access to employees who worked in a remote location controlled by the employer. The NLRB found that refusing access for distributing literature on the employer's property effectively prevented the union from reaching workers and found the employer's no distribution rule unlawful.
The Court in Babcock and Wilcox disagreed. There the Court found that the union's right to organize employees must be balanced against the employer's property rights. They established the rule that where a union has other reasonable ways to access employees (like at their homes or in the community) then the employer was not required to give the union access to its property. The Court stated:
"…an employer may validly post his property against nonemployee distribution of union literature if reasonable efforts by the union through other available channels of communication will enable it to reach the employees with its message and if the employer's notice or order does not discriminate against the union by allowing other distribution."
The Babcock & Wilcox decision did not consider the 5th Amendment argument presented in Cedar Point. During the oral argument the Justices seemed concerned about ruling that the California regulation amounted to a government taking. Instead, Justice Kavanaugh suggested the Babcock & Wilcox balancing framework might be a better approach to resolving this dispute.
Most Justices seemed skeptical of using the takings clause in this way. They named numerous other situations where the government is granted access to a private employer's property, especially safety and compliance investigations. Justice Breyer seemed especially concerned about the "dozens and dozens and dozens" of other laws that allowed inspections that might be impacted by this decision. He even expressed concern about restricting inspections of our private spaceships and electric cars. No kidding. Check out pages 12-13 for the head-scratching exchange that ends with Breyer reminding everyone that, "They had no spaceships at common law."
Counsel for the Employer did make some strong arguments for why this case should be distinguished from other government inspections. The access provided here is not for an inspection. The property right is granted to non-government third parties. And this access is much more burdensome than other routine inspections. That said, it does look like the 5th Amendment argument faces some headwind with a majority of the Justices.
Even if the Court decides that the statute isn't a per se taking under the 5th Amendment, the opinion in Cedar Point will be a very important prism for thinking about challenges to the PRO Act. That bill (which I anticipate will soon be considered by the Senate) is without doubt a much bigger infringement on employer property interests than the California regulation. Hopefully the Court anticipates these further encroachments as it decides what to do in Cedar Point. Unfortunately, they may get to consider it either way.
**********
Union Bailout Update
It came as no surprise when the House once again passed the PRO Act in early March. Although under current conditions there are not enough Senate votes to pass this bill into law, the "nuclear option" of removing the filibuster could grease the skids to take this to the finish line.
We noted in the February edition of INK a list of NLRB General Counsel decisions rescinded by acting GC Peter Ohr. Here is an updated list and a few other actions, capturing some of the additions since then.
NLRB Chairman Lauren McFerran's dissent in an employee handbook case in February took to task the current board's allowance of using a disclaimer to reconcile discrepancies between provisions in the handbook that may be at odds with union employees with a collective bargaining agreement. Once the board is constituted in a pro-union fashion, expect to see many of the handbook gains achieved by management during the prior administration eroded significantly.
The Trump administration took steps to reign in inconsistent and overly aggressive enforcement by field employees of the Wage and Hour Division of the Department of Labor. The incoming deputy administrator of the WHD, Jessica Looman, revoked the instructions of the prior administrator, turning the 50 district offices loose to proceed at will. A March 8 memo from Looman delegated to regional administrators authority to greenlight their staff's use of:
"Enhanced compliance agreements" in settlements, which generally require more egregious violators to take steps to ensure adherence to wage laws;
Visa certifications for undocumented workers who are victims of severe workplace crimes;
Cooperation agreements with state agencies to share information;
"Sharing letters" between WHD and other government agencies investigating the same workplace; and
Requests to withhold payments to government contractors who owe workers wages.
**********
Covid-19
The city of Long Beach, California, passed an ordinance requiring grocers to pay $4 more per hour to their employees. The California Grocers Association challenged the measure in court, and thus far has not prevailed. The city theorized that large grocery stores have made significant profits during the pandemic while their employees' wages have remained the same, despite the increased risk of exposure to COVID-19 that grocery workers face. "Never let a good crisis go to waste…"
On February 24th, the Office of Inspector General called OSHA to task for not keeping up with pandemic-related safety issues. The administration has pushed OSHA to release an emergency standard, but none has been forthcoming to date.
**********
Tech/Media Unions
Glitch employees have signed the first collective bargaining agreement by white collar tech workers in the United States. This comes nearly a year after workers at Glitch voted to join the Communication Workers of America. The contract is unique in that it didn't focus much on wage and benefit provisions, but rather on "just cause" protections for Glitch employees.
In the media sphere, Fortune magazine has filed a complaint with the NLRB against the NewsGuild of New York for failure to bargain. This came after a one-day strike by Fortune employees. The company and union have been trying to negotiate a contract since Fortune workers organized in 2019.
**********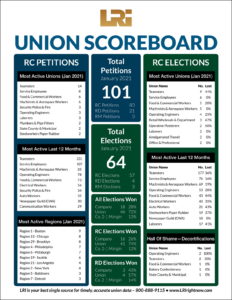 SCOREBOARD
Who are the winners (and losers) of the labor movement? Don't guess, just check the LRI Scoreboard
View this month's scoreboard (archives also located here).
Download a PDF of this month's scoreboard
**********
Union Corruption
New indictments have been handed down to John Dougherty, former business manager for IBEW Local 98 and his nephew, Gregory Fiocca, former shop steward for the same local. On March 3rd, each was indicted for one count of conspiracy to commit extortion and 18 counts of extortion.
These charges are separate from those brought on by the FBI in 2019 against Dougherty and seven others involved in the embezzlement, wire fraud, and bribery allegations associated with the Electrical Workers and their dealings.
**********
It's All Academic
On March 15th, the NLRB withdrew a Trump-era proposed rule that attempted to end the recognition of private institution graduate students as employees under the NLRA. This came just after two labor victories for faculty at Elon University and Ithaca College, sending the message that, under Biden, the NLRB will continue to have jurisdiction over undergraduate, graduate student, and adjunct faculty labor complaints.
**********
Organizing
The UFCW took aim early at the cannabis industry, as their 2013 Cannabis Workers Rising initiative will attest. The pandemic didn't seem to impede the drive, as organizing campaigns erupted and so-called labor peace agreements proliferated. New and emerging adult-use markets, especially in areas of the country with an existing larger union presence, have been the main targets.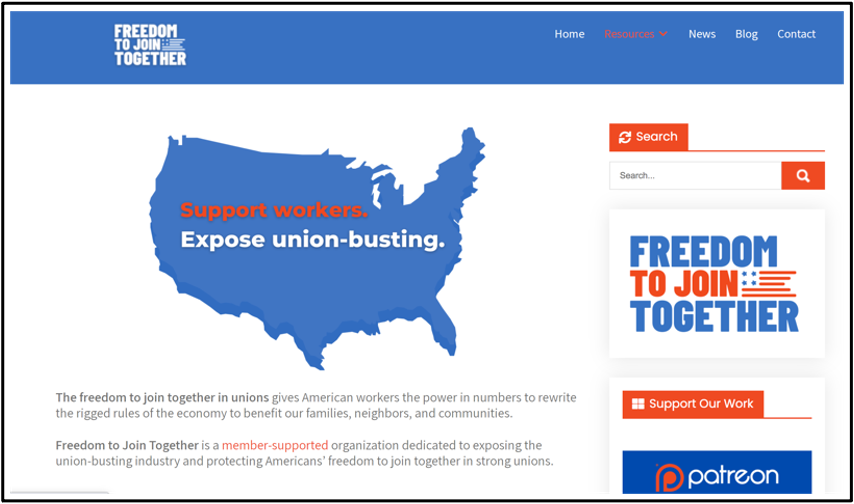 Another union organizing website has popped up, sponsored at least in part by the group-funding conduit Patreon. This site takes a two-pronged approach of targeting consulting companies and law firms who assist companies in explaining the realities of unionization to employees, while offering to hook folks up with local unions.
**********
Right-to-Work
There are currently twenty-nine states with Right to Work laws. Montana was looking to be the thirtieth, but the measure was voted down in the Montana House of Representatives earlier this month by a wide margin, with 29 Republicans joining the Democrats in opposition.
**********
Healthcare
Nurses at St. Vincent Hospital in Massachusetts have been on strike since March 8. This comes after 18 months of negotiations. Striking nurses say they will continue to strike until a contract has been reached. Meanwhile, the hospital was forced to hire replacement workers, at which point over 100 of the striking nurses crossed the picket line to return to the job. Click here for details regarding key sticking points for nurses and the hospital.
At Maine Medical Center, the largest hospital in the state, nurses are preparing for their first union vote in over twenty years. If workers vote to organize, the Maine State Nurses Association would gain 1,900 new union members.
**********
Minimum Rising
The amendment to add an increase to the federal minimum wage to Biden's $1.9 trillion COVID-19 relief bill failed to pass the Senate earlier this month. Despite that, we can expect it to remain high up on the agenda during the course of Biden's tenure. In fact, other lawmakers have already proposed two other options.
The Higher Wages for American Workers Act is sponsored by Republicans Mitt Romney and Tom Cotton. It proposes to gradually increase hourly pay from $7.25 to $10 over the course of five years. Then after every two years, pay would increase to match the rate of inflation.

Additionally, Sen. Josh Hawley proposed the Blue-Collar Bonus Tax Credit. In this case, workers who make less than $16.50 an hour would receive quarterly payments from the IRS to make up the difference.
Wyoming also has a new bill on the table to increase its minimum wage to $15 per hour.
**********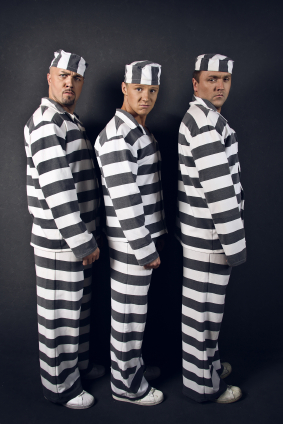 Sticky Fingers
Current charges or sentences of embezzling union officials:
Stephen Rooze – BLET:  $140,064
Donald Snyder – NAGE/SEIU:  $94,649
http://nlpc.org/index.php?q=union-corruption-update
**********
Labor Relations INK is published semi-weekly and is edited by Labor Relations Institute, Inc. Feel free to pass this newsletter on to anyone you think might enjoy it.
New subscribers can sign up by visiting: https://lrionline.com/free-stuff/newsletter-signup/
If you use content from this newsletter please attribute it to Labor Relations Institute and include our website address: http://www.LRIonline.com
Contributing editors for this issue: Phillip Wilson, Greg Kittinger, and Meghan Jones
You are receiving this email because you subscribed to receive our labor relations newsletters and updates. You can manage your email preferences by clicking the link at the bottom of any of our email communications.
NOTE: if you are using older versions of Internet Explorer, read the text version, as the html may not load properly. We recommend upgrading to the latest version.