In this issue:
Unions Capitalizing On CoVid-19
Laboring Toward 2020
Union Corruption
Scoreboard, Insight, Sticky Fingers and more…
The bottom of each story contains a link to the individual post on our site.
**********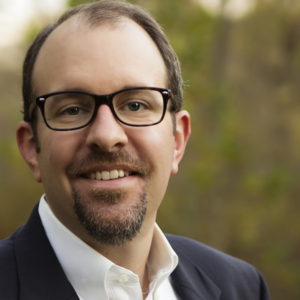 Labor Relations Insight by Phil Wilson
What a difference a month makes!
What a difference a month makes. Many of you are reading this sheltering in place somewhere in the US. I write this as I shelter in place at home in Oklahoma, where the COVID-19 crisis is taking hold. I am very grateful that my family (including my extended LRI family) is, as of now, healthy and safe. I hope yours is as well.
Companies around the country are scrambling to react to this unprecedented crisis. Healthcare workers on the front lines are absolute heroes and heroines in a crisis situation (here are some great tips if you want to help). Many others are risking their health to keep essential services available, including first responders, grocery and pharmacy employees, food and package delivery workers, manufacturers producing essential goods such as protective gear, and many, many others.
Non-essential businesses are scrambling as well, doing all they can to keep people employed as long as possible. Re-working their businesses to accommodate remote working and taking sick time off with pay whenever possible. The government is also working furiously to provide ways for businesses and individuals to weather this crisis and keep people working as long as possible.
Unfortunately, even during this unprecedented crisis, unions are taking full advantage of the situation. They are pressuring the NLRB to begin conducting elections immediately using mail ballots and telephone hearings. Organizers continue to meet with employees and file petitions even while the NLRB has postponed all elections out of safety concerns for its staff and the employees who will vote in elections. Late last night they negotiated into the $2 trillion stimulus package a commitment that mid-sized employers who take out loans must remain neutral in union organizing elections during the term of that loan.
At the same time unions are taking every opportunity to bash employers and the government – both represented employers and direct relationship ones – for any perceived faults, such as lack of Personal Protective Equipment. Never mind that these are problems worldwide and that union representation can do exactly nothing to fix them. They are also encouraging walkouts and wildcat strikes and objecting to telework provisions not in current labor agreements; they are affirmatively making things worse. Further, unions are filing massive information requests with companies, creating additional strain on staff who are scrambling to react to a crisis and keep their teams safe and healthy.
Unions are also taking credit for anything positive that happens during this crisis:
Got a wage increase? We did that!
Got sick pay? We did that!
Got a check from the government? We did that?
Got unemployment pay? We did that!
Look, I recognize that union lobbying has added things to these packages, just as lobbying from businesses and other interest groups has shaped the packages. But these things are happening in an unprecedented bipartisan fashion (last night's stimulus package passed unanimously – let that sink in).
Unions taking a victory lap in a situation like this is unconscionable. But that's just par for the course. And employers – even though they are consumed with responding to the crisis and keeping employees as safe and healthy as possible – must at the same time make sure they are not sitting back and letting unions campaign unopposed during this crisis. Here are some practical things you can be doing right now:
Look for the silver lining: There is no shortage of terrible news today. We are in a crisis, and it's likely you're already communicating at a pace like never before. Much of that is the "need-to-know" information about how the operation is responding to the crisis and protecting the team. Make sure to also take a brief moment to reflect on the positive things that come out of situations like this. The importance of your mission. Being community-minded and taking care of others. Highlighting examples of taking care of each other. Becoming closer as a team. This disease has caused so much pain and so much suffering all over the world – it is important as leaders to ensure the team is also reflecting on ways this experience can make us better and stronger when the pain is over; and it will eventually be over.
Counter union messaging: Unions are continuing to organize, and they are taking full advantage of the pause in union elections to continue to build support and plant the seeds of future elections. If your company is a target of organizing it is important to counter these messages. This is doubly true for companies that currently have postponed elections or where unions are visibly organizing (holding meetings, hand-billing, etc.). While this activity is shameful – adding additional distraction at a time when people should be focused on serving others and staying healthy – that's what's happening and will continue to happen. Think carefully about what you can do now to counter these messages. When employees express frustration with the unwelcome interruption of union organizers be sure to acknowledge and empathize with that frustration. Ask organizers to stand down during the crisis. If they refuse, continue to communicate with workers virtually. The same tools you are using to run your business remotely can easily be deployed to continue training and communications.
Prepare for the return to the "new normal": The other key work you can do today is to prepare for the period when we get back to the "new normal," whatever that is. Scenario plan for elections to be held by mail ballot and for limits (and perhaps bans) on group meetings. Train managers now on the things they'll need to know when campaigns start back up. Figure out what you will do if your company ends up under a neutrality provision (there are many valuable things to communicate even under a neutrality agreement). Anticipate the campaign messages unions will use to persuade your workforce. Many of our companies are in a holding pattern at the moment, but the moves you make today will position you for success (or failure) when the world turns back around.
Rest assured that we are here to help. Even while the labor relations world has been put on "pause" we continue to work relentlessly to serve our clients. We will continue to monitor things and update you when we think that's helpful. If you have any questions at all about your specific situation I encourage you to contact us. We are also planning a number of virtual meetings where clients can share experience and compare notes about what they are going through during these unprecedented times. And most importantly, especially for those folks on the front-lines of this crisis, please stay safe and healthy and take care of each other.
**********
Union Bailout Update
All NLRB elections have been suspended through at least April 3rd, including mail ballots. The Board noted that it will monitor the situation and potentially extend the postponement.
As we notified you on March 24th, the Board announced that it is pushing the effective date of the new union election rules to June 1.
In addition to most regional board employees working remotely, there are top-level vacancies at more than half of the regional offices. The board's regional workforce has seen an 11% drop from 2017 levels and a 27% decrease since 2011. Meanwhile, the board has improved its case processing time 17.5%, nearly meeting its goal of a 20% reduction by 2022 in just one year.
**********
Laboring Toward 2020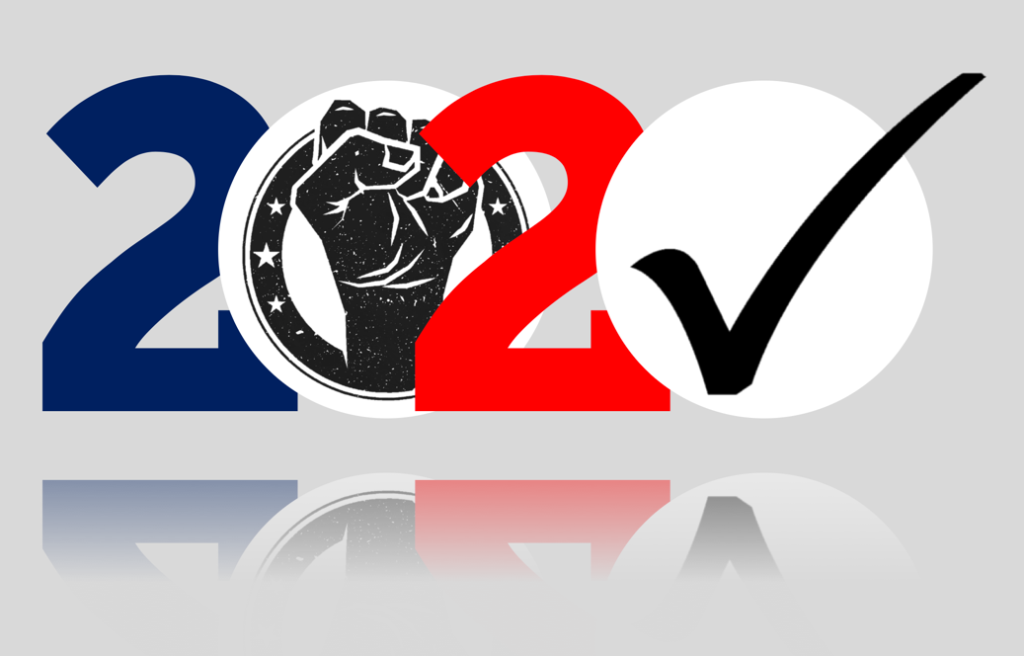 Who does Big Labor want for a candidate?  The current approximate tally stands at 26 union endorsements for Bernie Sanders against 11 for Joe Biden.  Biden currently holds the majority of delegates, and folks are beginning to wonder how much longer Sanders will stay in the race.
As usual, unions game the system to get around contribution limits to candidates, and the SEIU seems to have written the playbook.  If you want details on how they do so, this article provides a good example.
Speaking of the SEIU, the militant union in typical fashion has pledged $150 million of worker's dues to the Democrat Presidential candidate.  Even SEIU admits that up to 20% of its membership are conservative (and that is probably a very conservative estimate).
**********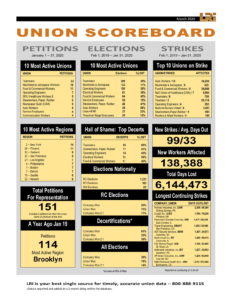 SCORE BOARD
Who are the winners (and losers) of the labor movement? Don't guess, just check the LRI Scoreboard
View this month's scoreboard (archives also located here).
Download a PDF of this month's scoreboard
**********
Union Corruption
The hammer finally fell on Gary Jones, former President of the UAW, as federal prosecutors charged the disgraced union leader with plotting to embezzle over $1 million in the widespread scandal.
Ironically, just as the Teamsters finally emerged from three decades of federal oversight, a similar federal takeover of the UAW is being considered as an option in an attempt to clean out the "culture of corruption and greed" rampant in the organization.
One wonders if the Feds were a bit hasty in releasing the Teamsters from oversight, as a report by Teamsters Independent Investigations Officer, Joseph diGenova, charges that Teamster boss Rome Aloise continued to exert control over union affairs in unethical and possibly criminal ways during a supposed two-year suspension from Teamster leadership. Aloise is a Bay Area local leader as well as an Executive Vice President of the International union, who was suspended in December 2017 for a host of allegations.
Meanwhile, the Border Patrol Union is missing half a million dollars from its coffers. While rumors of a massive embezzlement scheme have been circulating among the El Paso local staff since 2018, union President Brandon Judd told agents in November of last year that there is an open investigation, confirming, "we expect there will be indictments."
**********
It's All Academic
Fifty-four graduate assistants received an unwelcome letter in the last week of February from University of California, Santa Cruz, notifying them they will no longer have teaching appointments for the spring semester.  The grad assistants had started a strike, which spread to the U of C Davis and Santa Barbara campuses as well, over a cost of living adjustment.  The TAs are represented by the UAW.
**********
Manufacturing + Logistics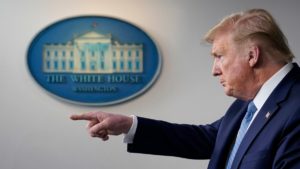 Auto companies have shut down production for various lengths of time, including Ford, GM, FCA, Honda, Toyota, Nissan and Hyundai.  A couple of workers were sent home with the virus from an FCA plant in Sterling, Michigan sparking a set of wild cat strikes in protest, before the FCA announced the plant shutdown.
Amid speculation that auto workers could be called upon to return to work to produce much needed ventilators for the healthcare system, UAW leaders seem to believe that the employees would be willing to return to work in spite of the hazards due to contributing to a cause rather than simply returning to a job.  The idea is currently in the feasibility study phase and was instigated by the invocation of the Defense Production Act.
Amazon announced opening 100,000 new full- and part-time jobs in their distribution centers and delivery network, as Americans are shying away from brick and mortar retailers in favor of the perceived safety of online ordering.  Others retailers with online options are following suit.
**********
Labor Around the World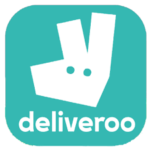 France provided another blow to gig-economy companies by claiming Uber drivers were employees, not contractors.  Services like Uber, Lyft, Just Eat-Takeaway and Deliveroo are facing legal challenges from Brazil to Colombia, as they have been in the U.S.
**********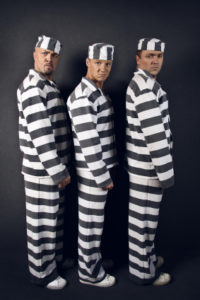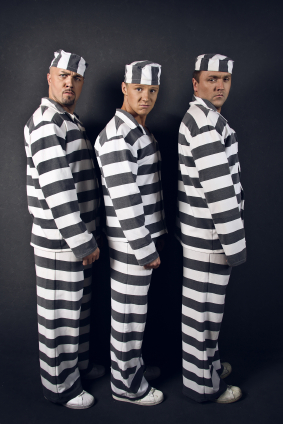 Sticky Fingers
Current charges or sentences of embezzling union officials:
Rick Drain - LIUNA:  $50,281
Michael Johnson - IBEW:  $9,317
Janet Pilcher - NALC:  $65,033
John Sammons - AFGE:  $1,000
Moises Romero - IAM:  $100,000
Gary Jones - UAW:  $1,000,000
Shelby Hyman - AFSCME:  $176,000
Christian Leeds - AFSCME:  $13,444
Aphrodite Ueberroth - Iron Workers:  $750,000
http://nlpc.org/index.php?q=union-corruption-update
**********
Labor Relations INK is published semi-weekly and is edited by Labor Relations Institute, Inc. Feel free to pass this newsletter on to anyone you think might enjoy it.
New subscribers can sign up by visiting: https://lrionline.com/free-stuff/newsletter-signup/
If you use content from this newsletter please attribute it to Labor Relations Institute and include our website address: http://www.LRIonline.com
Contributing editors for this issue: Phillip Wilson, Greg Kittinger, and Meghan Jones