In this issue:
Oregon Fast Food Chain Goes Mail Ballot
The Gig Economy
Transportation & Logistics
Scoreboard, SEIU Watch, Insight and more…
The bottom of each story contains a link to the individual post on our site.
**********
Labor Relations Insight by Phil Wilson
New Decision Protects Employer Property
The NLRB is steadily rolling back (or I'd call it rationalizing) a number of the more outrageous Obama-era NLRB decisions. Earlier this month they returned to the longstanding rule that employers do not have to welcome union organizers onto public areas of their private property.
The Supreme Court has ruled in two important decisions (Babcock & Wilcox and Lechmere) that employers generally have the right to exclude non-employee organizers from their private property. These cases carve out very limited exceptions for when organizers might gain access to an employer's private property.
In NLRB v. Babcock & Wilcox Co., 351 U.S. 105 (1956), the Supreme Court held that while an employer can't prohibit employees from soliciting each other, "no such obligation is owed nonemployee organizers." The court then held an employer can restrict access to union organizers so long as the union has other ways to access employees and that it is not withholding access in a discriminatory way.
In Lechmere, Inc. v. NLRB, 502 U.S. 527 (1992), the Supreme Court reaffirmed and extended Babcock. It held that employers can restrict nonemployee union access to an employee parking lot on the employer's property. The Court even said that the Babcock access exception would only apply in "rare cases" and where it was absolutely necessary to protect the Section 7 rights of employees. The Supreme Court in Lechmere went out of its way to remind everyone that outside of this very limited exception, "Section 7 simply does not protect nonemployee union organizers . . . ." Not much to argue about, right?
Not so fast. Over the last 30 years unions and pro-labor Boards have sought to create additional exceptions to broaden the general Babcock and Lechmere access framework. They set their sights on access to "public spaces" on the employer's property like cafeterias. Numerous Board decisions over this period have given union organizers access to these public spaces.
Most Circuit Courts who have considered the issue continue to follow Babcock and Lechmere, but this month the Board wanted to make clear that its position is clear. There is no "public space" exception outside of the limited circumstances of what the Supreme Court provided in Babcock and Lechmere.
In UPMC (368 NLRB No. 2) the NLRB clarified that an employer does not have to allow access to its facility by nonemployees for promotional or organizing purposes. They further state that just because there is a public space like a cafeteria located on company private property does not mean nonemployees get access to that public space.
The Board also clarified that the general rule is that an employer's private property remains private and they can establish and enforce any access they want as long as they are facially neutral and consistently enforced. Absent a showing of discrimination, the employer is free to decide what activities, if any, nonemployees get to do. They have the right to eject someone who violates those rules, even if they are a union organizer.
What's the key takeaway for you? First, make sure to review your no solicitation rules and practices. If you have public spaces, make sure you are clear that your rules apply to these spaces as well. These rules must be facially neutral and consistently enforced.
Second (and most important) make sure your supervisors know and understand the rules. The key problem in most of these cases it that exceptions to the rule get made from time to time, and those exceptions are later used as evidence of discrimination whenever the union wants access.
The UPMC decision is a welcome clarification to this consistent encroachment to employer private property over the last several decades. And it's a great time review your no solicitation rules and practices.
**********
Union Bailout Update
NLRB General Counsel, Peter Robb, issued two memos adding guidelines to the December 2017 Boeing decision, which established a new standard for evaluating workplace rules. In the memos, Robb explains that it is lawful to:
require employees to cooperate in workplace investigations,
require employees to maintain a professional appearance, free of  "[a]ny . . . inappropriate commercial advertising or insignia,"
define confidential information to include business plans, internal correspondence, customer lists, and personally identifiable customer and employee information and prohibit employees from
disclosing such information, and
prohibit employees from communicating with the media on behalf of the employer.
In Nuance Transportation, which elicited the memos, the GC found the following to be unlawful:
A rule prohibiting employees from sharing payroll information.
A rule prohibiting all "non-business use" of the employer's email system, or using email for matters that did not "promote the [employer's] objectives" was not only unlawfully overbroad, but it conflicted with a policy that allowed limited personal use of the email.
A rule prohibiting personal cell phone use because it prohibited employees from using their phones to communicate with each other regarding, or take photographs to document workplaces concerns, during non-work hours.
The NLRB has announced new rulemaking priorities, to include:
access to an employer's private property;
standards to determine when students who perform work at a private college or university in connection with their studies are "employees" within Section 2(3) of the NLRA; and
representation election regulations, including the Board's current procedures for blocking an election petition after the filing of an unfair labor practices charge, voluntary recognition, and the formation of Section 9(a) bargaining relationships in the construction industry.
It is anticipated that the proposed rules will be made public in September.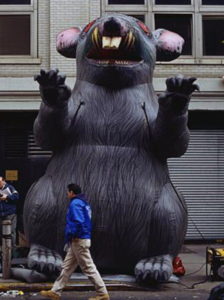 It looks like giant rat inflatables may no longer be considered lawful union speech (against a neutral party), but instead classified as picketing, and thus illegal. When a Chicago IBEW local hung some banners and set up an inflatable "Corporate Fat Cat" balloon, the NLRB General Counsel pressed the board's Chicago office to issue a complaint. In his advice memo, the GC said the banner was a "functional equivalent" of a picket sign, and by having it next to the inflatable rat, the union was picketing a neutral employer, thus violating Section 8(b)(4) of the National Labor Relations Act. The parties informally settled the matter, so the board will have to wait for another opportune time to prosecute the issue.
Early in his tenure, President Trump used an Executive Order to initiate an overhaul to the apprenticeship training system, reducing government oversight and allowing industry to set the standards and handle certification. No proposed program has yet emerged, but drafts of the plan indicate that parameters for the third-party program certifiers would largely remove the Labor Department from the certification equation. Labor Secretary, Alexander Acosta, favors excluding the building trades from the new program, siding with the unions.
In New York, an appeals court ruled a New York state law barring farm workers from unionizing and collective bargaining is a violation of the state constitution. New York Governor, Andrew Cuomo, hailed the ruling and urged the state legislature to enshrine farm workers' right to unionize into state law. The Senate followed through, and passed the Farm Laborers Fair Labor Practices Act. The New York Farm Bureau had argued the state constitution explicitly disallowed farm workers organizing, and plans to appeal the ruling.
The overtime storm created by the Obama administration hasn't abated yet, as both the House and Senate passed bills aimed at codifying new overtime levels as originally proposed ($51,000), rather than accept the DOL's more reasonable target of $35,308. It is unlikely the congressional initiative will become law in the current administration.
**********
Oregon Fast Food Chain Goes Mail Ballot
Portland may soon play host to the first two unionized fast food chains. Employees at thirteen Little Big Burger stores will be able to vote by mail ballot, after the company's offer to rent a U-Haul trailer and run around town to facilitate in-person voting wasn't deemed reasonable.
If workers vote to unionize, they join five Burgerville locations, also in the Portland area.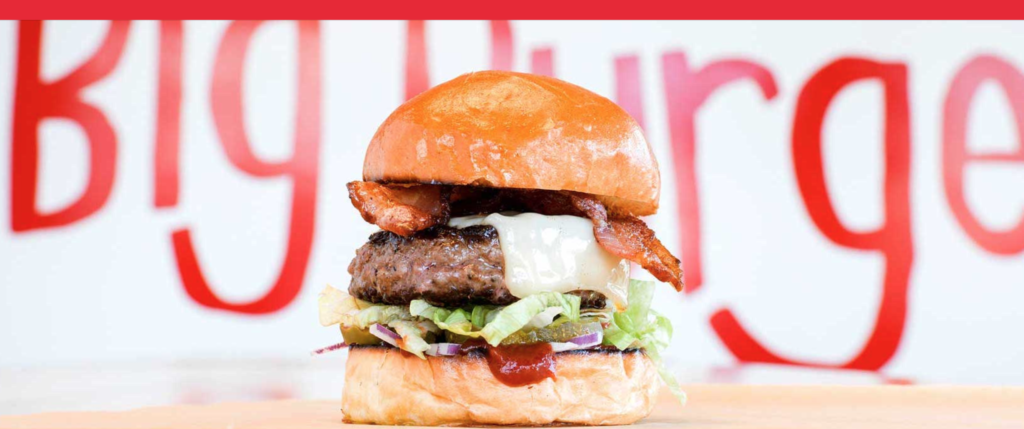 **********
The Gig Economy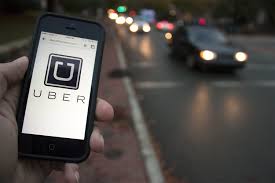 In April, the NLRB and the DOL both revealed their stance that Uber drivers should be classified as independent contractors. Last month, the NLRB released a memorandum that outlines their reasoning.
While there are 10 qualitative factors when determining contractor status, the NLRB places the most emphasis, in the case of Uber at least, on just two: "level of control by the company over the worker and how the workers are paid in relation to the company."
Meanwhile, California has passed its own bill that applies a three-part test, called the ABC test, when determining employer status. "To be a true independent contractor, it says, a worker must be free from a company's control, doing work not central to the company's business, and have an independent business in that trade." The bill still needs Senate approval to go into effect.
In New York, lawmakers just proposed the "Dependent Worker Act," which isn't so much trying to get more independent contractors classified as employees, but rather to provide more benefits to those who work within the gig economy. Click here for details.
The gig economy isn't going anywhere. In fact, IRS reporting shows that at least 11.8% of US workers are now participating in this kind of part-time work, with that number on a steady incline.
**********
SEIU Watch

SEIU-UHW spent $37.5 million on "political activities and lobbying" in 2018, which is more than their entire expenditure on organizing and representing membership during the same period. In fact, three-quarters of the political spending can be broken down into six recipients, each some form of a political consultant group pushing for certain statewide initiatives:
$14.9 million to Waterfront Strategies (Washington DC)
$4.6 million to the Fairness Project (Washington DC)
$2.5 million to Kimball Petition Management (Thousand Oaks, CA)
$2.1 million to Ohioans for Kidney Dialysis Patient Protection (Ohio)
$1.2 million to Savvy Communications (Rancho Mirage, CA)
$2.2 million to Greenstripe Media, Inc. (Newport Beach, CA)
In other SEIU news,
An ex-SEIU officer in Chicago, Robert Kurtycz, was found guilty of six counts of wire fraud.
A Washington State SEIU affiliate settled a suit last month, admitting that one of its canvassers forged a woman's signature and the union has since been illegally withdrawing dues from her.
After being under an imposed trusteeship for years, Local 73 held its first election for new leadership in October 2018. Last month, the Department of Labor overturned the election due to union misconduct and ordered a new one scheduled, with government oversight.
**********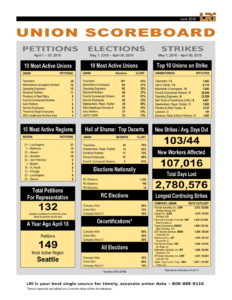 SCORE BOARD
Who are the winners (and losers) of the labor movement? Don't guess, just check the LRI Scoreboard
View this month's scoreboard (archives also located here).
Download a PDF of this month's scoreboard
**********
It's All Academic
The National Education Association keeps losing local affiliates and they're not coming back any time soon.
The Blue Valley Education Association (BVEA), which represents 1,800 staff in Kansas' fourth largest school district, cut ties with NEA in May 2019. Soon after, the national union created a "new" affiliate, Blue Valley NEA, and petitioned the NLRB for an election in an attempt to regain its lost membership. It didn't work. BVEA defeated Blue Valley NEA by 904 to 104 in a mail-in ballot election this month.
**********
Healthcare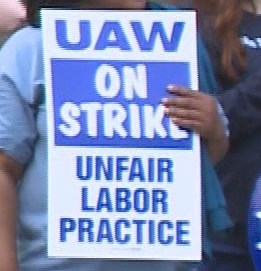 The renowned Johns Hopkins Hospital has been the target of a long running organizing campaign by National Nurses United. The union resorted to filing Unfair Labor Practice charges against the hospital last October. To avoid costly litigation, the hospital reached an agreement to post a notice of employee rights to organize. Contrary to the unions statements, hospital spokesperson, Kim Hoppe, reiterated that the NLRB made no determination that the hospital violated federal labor law.
Nurses at St. Vincent Hospital in Toledo, OH walked out on strike on May 6th and returned June 12 when a tentative agreement was reached between the UAW and the hospital. When given the chance to vote on the new contract, 57% of the nurses rejected it, leaving the group without a contract. Two other hospital units totaling about 930 employees took part in the strike until they approved new contracts in early June.
**********
Transportation & Logistics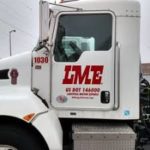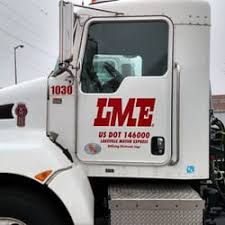 Just before Thanksgiving 2016, 95 truckers and dockworkers employed by Lakeville Motor Express in Roseville were laid off without notice and the company filed for bankruptcy. Soon after, the workers and their union—a Teamsters local—filed a complaint with the NLRB claiming that Motor Express "actually continued to operate, just at a different location in the Twin Cities and under the new name LME Inc."
Last year, the NLRB found the two companies had been acting as "alter egos" and ordered LME to pay $1.25 million in back pay. Workers received the first of these payments this month.
LME continues to deny the accusation of wrongly dismissing Motor Express workers in favor of cheaper nonunion laborers.
**********
Minimum Rising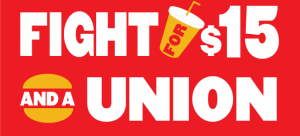 House Democrats are expected to bring the bill for a national $15 minimum wage to the floor for a vote in just a few weeks. Confidence that it will pass appears to be high.
And when you consider facts like:
…it's hard to imagine the Dems not taking this one.
Even if the bill doesn't pass now, we can expect to continue hearing about a national $15 minimum wage throughout the 2020 election cycle.
**********
Whistlin' Dixie
Workers at the Volkswagen Chattanooga plant voted, for the second time, against joining the UAW earlier this month, but (big surprise) the union still won't take the hint! Rather than accepting that the workers at this location simply don't want a union, the Auto Workers are pinning the results on current labor laws and pushing for a bill that would prevent captive audience meetings during organizing campaigns.
**********
Labor Around the World
On the final day of the International Labour Organization's (ILO) annual conference this month, the UN labor body adopted a new treaty against violence and harassment in the workplace. The treaty, fueled by the #MeToo movement, aims to "protect workers, irrespective of contractual status, from harassment in places where they are paid, taking a rest, eating or using sanitary facilities." More details here.
Also this month, the nation of Argentina came to a standstill when thousands of people took part in a general strike as a protest to government policies and the rising cost of inflation.
**********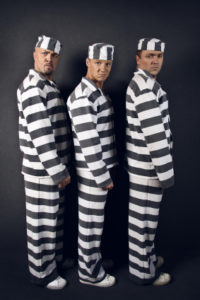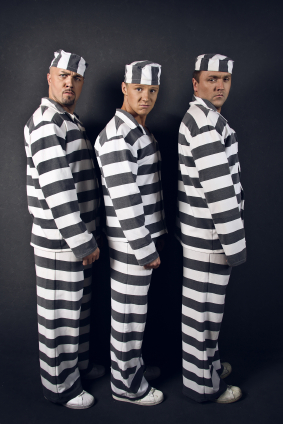 Sticky Fingers
Current charges or sentences of embezzling union officials:
Linda Woodford – AFSCME:  $4,000
Bud Sherwood – TCU:  $10,813
John Scarcella – ACT:  $10,000
George Peltz – IBEW:  $1,000,000
Robert Kurtycz – SEIU:  $85,962
Claudia Beltran – UA:  $30,000
Caroline Phelps – IUOE:  $36,923
http://nlpc.org/index.php?q=union-corruption-update
**********
Labor Relations INK is published semi-weekly and is edited by Labor Relations Institute, Inc. Feel free to pass this newsletter on to anyone you think might enjoy it.
New subscribers can sign up by visiting: https://lrionline.com/free-stuff/newsletter-signup/
If you use content from this newsletter please attribute it to Labor Relations Institute and include our website address: http://www.LRIonline.com
Contributing editors for this issue: Phillip Wilson, Greg Kittinger, and Meghan Jones
You are receiving this email because you subscribed to receive our labor relations newsletters and updates. You can manage your email preferences by clicking the link at the bottom of any of our email communications.
NOTE: if you are using older versions of Internet Explorer, read the text version, as the html may not load properly. We recommend upgrading to the latest version.