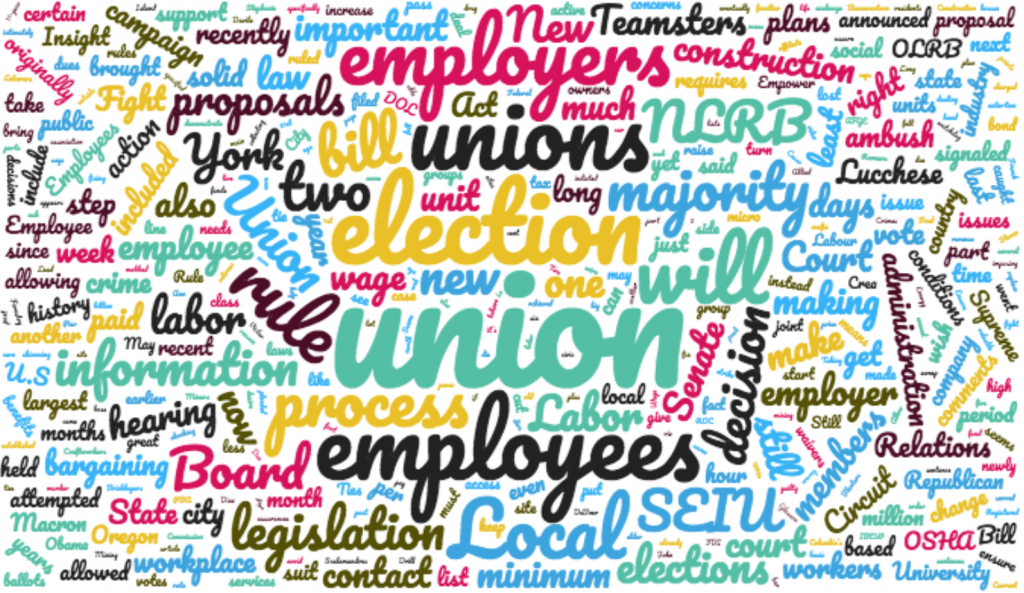 In this issue:
Mafia/Union Ties Still Strong
Union Wrestling Match
Pensions On The Ropes
Insight, SEIU Watch, Fight for $15 and more…
The bottom of each story contains a link to the individual post on our site.
**********
Labor Relations Insight by Phil Wilson
Three Things Congress Can Do to Fix Labor Law Today
It's been another month and we remain not one step closer to a Republican majority National Labor Relations Board. I suppose you could say the Administration took a quarter-step when it announced this week its "intention to nominate" Marvin Kaplan to the Board. That's a quarter-step in the right direction, but a better step would be officially nominating both Kaplan and Bill Emmanuel, so that the Senate can start the process of getting them confirmed.
Due to the congressional calendar (and the likelihood Democrats will be playing the four-corners offense the next two years) it's all but certain that the we won't have a Republican majority before the August recess. And there is no guarantee that Phil Miscimarra will continue on as Chair when his term expires in December. If things don't move quick we could very well be stuck with a 2-2 tie until sometime in 2018. And 2018 will be consumed with the mid-term elections. I'm beginning to worry whether a full Republican Board and General Counsel will be in place before 2019. Seriously.
Luckily not everyone in Washington is sitting still. A number of solid proposals are moving in the House. As long as it continues to take 60 votes to pass legislation in the Senate these proposals aren't likely to become law. But the filibuster rule isn't on the most solid of footing. So there is at least some chance for labor law reform. And a legislative solution is much more solid than the "on again, off again" labor policies adopted through agency decisions and rulemaking.
Three proposals got hearings recently and deserve your consideration (and more important the consideration of your Representatives and Senators). First, is the Employee Rights Act (HR2723). The most important requirement of this legislation is that unions can only gain representation rights with a secret-ballot election. This is a very valuable rule that eliminates the main goal of most anti-corporate campaign activity and ensures employees aren't denied the right to vote on whether they wish to be represented by a union. In addition this legislation requires that elections be decided based on all eligible bargaining unit employees (not just a majority of those who vote in an election). These two provisions ensure that unions are only brought into a company based on the support of an un-coerced majority of workers in a represented unit.
Another important provision of the Employee Rights Act is the requirement that new secret-ballot elections be held in any units where more than 50 percent of employees are new since the last union vote. I would make this change voluntary (i.e. at the request of an employee in the bargaining unit) and include a safe-harbor provision for unfunded pension liability. But the idea that unions must enjoy majority support from the people they actually represent today makes total sense.
Another great proposal is the Employee Privacy Act (HR2775). This is one response to the ambush election rule (the other is below) and helps ensure that employers only turn over information to unions that is approved in advance by employees. The ambush rule-making (which seems to get worse every week as the Board interprets what it means) requires employers to turn over any "available" contact information for employees, even if employees don't wish to have their private contact information disclosed. This legislation lets employees select one form of contact information they wish to be turned over.
Those two proposals are great, but they don't do anything to deal with the "ambush" part of the new election rules. The Workforce Democracy and Fairness Act (HR2776) fixes that by requiring all elections to have a minimum 35-day campaign period. This is dramatically shorter than in any other important election in America, but a heck of a lot better than the current two to three week (if you're lucky) campaign period. Student council election campaigns are longer than union elections these days, and that should change. HR2776 also makes sure that bargaining units share a community of interest, versus the fractured units allowed under the NLRB's Specialty Healthcare line of decisions.
These proposals won't fix everything that's wrong with our labor laws. And they aren't perfect (I know employers who don't like aspects of each bill). But each of these proposals is a step in the right direction. And a much more solid step than waiting for a Republican-majority NLRB to get seated and then trudge through a complicated rule-making or decision process that will just be reversed the next time Democrats regain a Board majority.
**********
Union Bailout Update
The DOL under new head Alexander Acosta has withdrawn two memos (or administrative interpretations) originally posted by the Wage & Hour division related to independent contractor and joint employer status.  Although such action does not change any law, it does signal the administration's possible intention to backtrack up the slippery slope of joint employer issues.
The administration also revoked a 2013 Letter of Interpretation which allowed non-employee union members to attend OSHA inspections, even when no employees at the targeted company were represented by a union.
The DOL has also signaled that it intends to revoke the Persuader Rule, publishing a Notice of Proposed Rulemaking that will take public comment on rescinding the rule altogether.
Acosta apparently plans to bring a more reasoned approach to the Overtime Rule. When the Obama administration attempted to double the threshold from $23,660 to $47,476, a November, 2016 court decision brought implementation to a halt.  Acosta's comments at his confirmation hearing suggest he may review the threshold in light of a cost-of-living increase in the neighborhood of $33,000.
The OSHA record-keeping rule is still winding a tortuous path through the courts. The rule went into effect Jan. 1, 2017 but the July 1st compliance deadline has been indefinitely postponed by court action. While industry groups filed suit to block the rule, the unions attempted to line up on the side of the government to defend it when the Trump administration signaled a desire to weaken the rule. In preventing the unions from joining the suit, labor department attorneys stated that the "unions have failed to identify a concrete manner in which the Government cannot adequately represent that shared interest." As originally conceived, the rule calls for employers to electronically file injury and illness logs that OSHA requires workplaces to keep, which would then be posted to the agency's public website.
On June 1, the U.S. Court of Appeals for the Second Circuit upheld the Whole Foods Market, Inc., 363 NLRB No. 87 (2013) ruling that employers could not prohibit employees from making surreptitious audio or video recordings of workplace activities.
The 6th Circuit became the 3rd circuit to uphold a prohibition on class action waivers in employment arbitration agreements. The Supreme Court has agreed to hear the issue, and the Trump administration has signaled that it stands on the side of employers. In the court filing, acting U.S. Solicitor General Jeffrey Wall said the Supreme Court should find that class action waivers are legal and enforceable under federal law.
Back again to the 2nd Circuit, vulgar and profane comments on social media were determined to be protected concerted activity. The court included two conditions. First, the rant included issues or comments connected to workplace conditions (even if aimed at an individual), and second, there was an existing perceived tolerance for profanity in the workplace by the employer.
The D.C. appeals court upheld the NLRB's recent expansion of remedial powers, allowing the imposition of job-search costs to employers in the case of wrongful discharge findings.
The Supreme Court denied Macy's petition to challenge the 5th U.S. Circuit Court of Appeals' 2016 decision allowing micro unit organizing at a Massachusetts store. For now at least, micro unit organizing remains a reality.
The NLRB recently moved the compliance bar higher yet again in relation to the submission of a list of all eligible employees during an election. In RHCG Safety Corp., the board ruled that "available" includes phone numbers not included in any company database but held by supervisors in their cell phones or via other means.
If you are an Oregon employer, pay attention to this recently passed Pay Equity Bill, as the ramifications are substantial. A long list of "protected classes" has been created, amidst other rules related to salary history and compensation amount. New York passed a similar though less intrusive bill making it illegal for employers to inquire about a prospective job applicant's salary history or to rely on that history during the hiring process. Oregon and New York tend to be bellwether states, so keep an eye on this trend.
State legislators in Oregon also responded to the recent decision to allow local municipalities to pass right-to-work legislation, by passing a bill requiring union membership as a condition of employment at unionized companies.
As expected, the Kentucky State AFL-CIO and a Teamsters local filed suit in Kentucky challenging that state's new right-to-work law.
Swinging the pendulum in the other direction, Missouri Governor Eric Greiten signed a bill banning local governments from giving preferential treatment to union contractors on public construction projects.
New York City Mayor Bill de Blasio's efforts to force unionization of city car washes received a slap in the face when a judge ruled his effort illegal. The city had attempted to require, as a part of a licensing process, that carwash owners buy a special bond within a two-tiered system. For unionized employers the bond was $30,000, but for union-free, $150,000.
As Phil's Insight mentioned, congress is working on rescinding the ambush elections rule. A recently announced Senate bill seems to combine elements of two House bills, all aimed at pushing back the Obama administration's union-friendly actions. Elements of the Senate bill include:
Guarantee workers have time to gather all the facts to make a fully informed decision in a union election. No union election will be held in less than 35 days.
Ensure employers are able to participate in a fair union election process. The bill provides employers at least 14 days to prepare their case to present before a NLRB election officer and protects their right to raise additional concerns throughout the pre-election hearing.
Reassert the board's responsibility to address critical issues before a union is allowed to represent workers. The board must determine the appropriate group of employees to include in the union before the union is certified, as well as address any questions of voter eligibility.
Empower workers to control the disclosure of their personal information. Employers would have at least seven days to provide a list of employee names and one additional piece of contact information chosen by each individual employee.
North of the border, the Ontario Labor Board has announced changes to that province's labor and employment laws. Among the litany of changes, the proposed legislation would make the following changes to the union certification process:
Eliminating certain conditions for remedial union certification, allowing unions to more easily get certified when an employer engages in misconduct that contravenes the LRA
Making access to first contract arbitration easier, and also adding an intensive mediation component to the process.
Requiring the Ontario Labour Relations Board (OLRB) to address first contract mediation-arbitration applications before dealing with displacement and decertification applications
Allow unions to access employee lists and certain contact information,  provided the union can demonstrate that it has already achieved the support of 20 per cent of employees involved
Expressly empower the OLRB to conduct votes outside the workplace, including electronically and by telephone
Empower the OLRB to authorize Labour Relations Officers to give directions relating to the voting process and voting arrangements in order to help assure the neutrality of the voting process
**********
Mafia/Union Ties Still Strong
FBI agents and NYPD cops arrested 19 members and associates of the Lucchese crime family in a May 31st sweep. Crimes charged included wire fraud, racketeering, drug trafficking and murder committed over a 17-year period.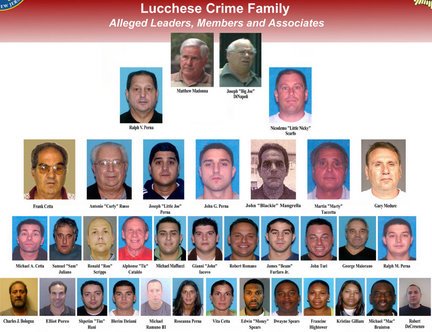 How does this tie into unions?  According to the article,
Labor racketeering was a big part of this crime web. And it was the elder Steven Crea who made it happen. During January 1991-October 1998, brothers Giuseppe and Fred Scalamandre, owners of several Long Island construction companies, paid Lucchese crime family boss Alphonse D'Arco and underboss Anthony "Gaspipe" Casso about $40,000 a year to avoid making scheduled union benefit contributions, as specified in collective bargaining agreements. The Lucchese organization then paid off bosses and agents of Laborers International Union of North America (LIUNA) Local 66, Blasters, Miners & Drill Runners Local 29 (a LIUNA affiliate), and International Union of Bricklayers & Allied Craftworkers Local 1 in exchange for assurances of "labor peace." Federal officials eventually caught on to the scheme, and indicted the Scalamandres. The brothers pleaded guilty to skimming about $5 million from benefit plans plus another $1 million in tax fraud. Crea was sentenced to 34 months in federal prison in January 2004 for extortion. Two months later, he was sentenced to two to six years in prison, to be served concurrently with his 34-month sentence, for price fixing at three New York City construction sites and for imposing a "mob tax" on unions and contractors. As the New York construction industry long has been mobbed up, none of this should come as shocking.
Taking a page from the mafia playbook, of which Teamsters Local 282 appears intimately familiar based on past association, a double-breasting scheme in the construction industry  defrauded the Local's benefit fund by about $5 million. For decades this Teamster Local did the bidding of both the Lucchese and Gambino crime families. After it's 1989 racketeering settlement with the government the Local supposedly severed ties to the Mafia, but apparently old habits die hard.
**********
SEIU Watch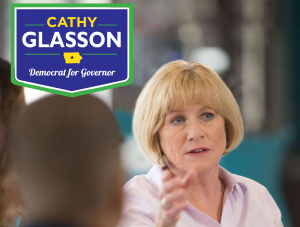 SEIU Local 221, the largest public-sector union in the country, lost another 400 members this month. The group of city librarians, planners, forensic investigators, and others decided to leave the Service Employees and create their own union. Nicole Hobson, president of the newly formed Association of Chula Vista Employees said:
"This decision was kind of a long time coming…Lack of services, high dues, they have high employee turnaround, they give us inexperienced representatives."
According to Hobson, the employees who left the Local were giving SEIU $230,000 in dues per year.
"For as much as we were paying, we should have been getting VIP services," she said.
In other news, Cathy Glasson, president of SEIU Local 199 is running for governor of Iowa. Check out her campaign site here.
**********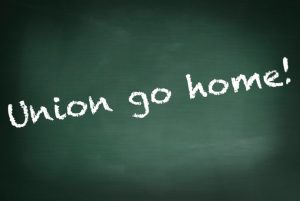 It's All Academic
Vanderbilt's recent vote to unionize non-tenure track faculty is up in the air – despite the fact that the majority of lecturers and adjunct professors voted no.  Apparently, a significant number of the ballots are being challenged, and the NLRB now needs to hold a hearing to determine which ballots are credible.
A little further north, Graduate Students United withdrew its request for a mail-in ballot to organize graduate students at the University of Chicago. It will instead be pursuing an in-person election in the fall. The union claims they were forced to make this decision after an NLRB hearing went on for 10 days due to "stalling and obstructionist tactics by the University." The University counters that the points it raised were obviously substantive or else the NLRB would not have granted a hearing or asked for written briefs from both parties.
**********
Union Wrestling Match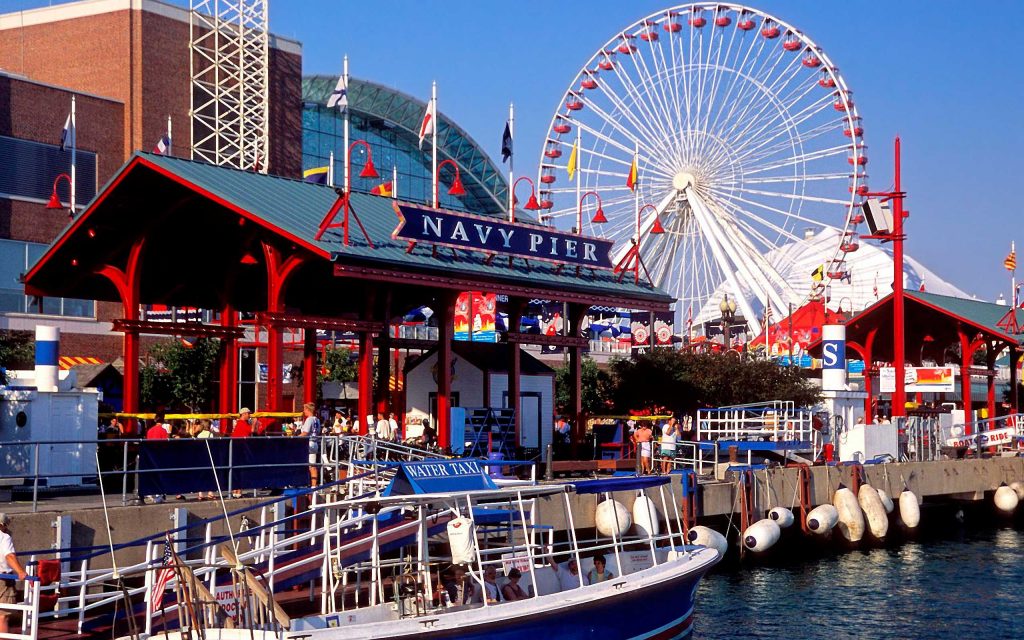 The Teamsters have been picketing Chicago's Navy Pier tourist attraction. A new security contractor has allegedly made plans to replace the Teamster security personnel, who now make $24 an hour, with personnel provided by SEIU Local 1 at a wage rate of $13 per hour. Seems ironic, since SEIU is leading the national Fight for $15 charge.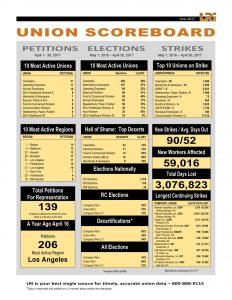 **********
SCORE BOARD
Who are the winners (and losers) of the labor movement? Don't guess, just check the LRI Scoreboard
View this month's scoreboard (archives also located here).
Download a PDF of this month's scoreboard
**********
Pensions On The Ropes
The New York State Teamsters Conference Pension and Retirement Fund submitted a proposal earlier in the year to cut benefits to active and retired Teamsters, but withdrew it in April when it became evident the Treasury Department would reject it. It has now submitted a revised proposal that would cut benefits by slightly lesser amounts than originally proposed - by 18% for active members and 29% for retirees.
In Michigan, state legislators are planning to funnel new teachers into 401(k)-type plans instead of the costlier pensions as a solution for underfunding concerns.
**********
Fight for $15
Lead organizer for the "Fight for $15" movement was caught needing to put a foot in his mouth. After spouting that he doesn't get paid for attending protests, it came out that he does. In fact, in 2016, he was paid more than $146,000 by the Service Employees Union. Hmm.
Despite revelations like the one above, the movement itself is still making headway across the country. State lawmakers in Illinois approved a plan to increase the state's minimum wage to $15 an hour over five years.
Massachusetts, on the other hand, hasn't committed to a $15 minimum wage just yet, but if you were to ask Senate President Stanley Rosenberg, we may as well all start planning on it now. He says the state will "absolutely" see the raise and "if it doesn't happen in the Legislature, it will be on the ballot." Massachusetts's current minimum wage sits at $11.
Nancy Pelosi is making similar statements, vowing that if Democrats take back the chamber next year, Congress will see a fight for a $15 minimum wage bill within the first 100 hours.
**********
Labor Around the World
The election of President Emmanuel Macron in early May upended France's political system.  The sensation continued last week as his party, Republic on the Move!, (which didn't exist 14 months ago) won the majority in Parliament. This parliamentary victory for Macron is huge, granting him the insurance he needs to push through legislation without much friction. However, there are still French unions to deal with, and while they lost much of their sway in parliament in the last election, Macron knows how important it is to still handle them with care. Click here for a deeper dive.
Australia's Construction, Forestry, Mining and Energy Union (CFMEU) is one of the largest unions in the country. And it is about to be under investigation by the newly established Registered Organisations Commission. The ROC is a union watchdog and it has reason to believe the union, specifically the mining division, is misspending funds it has been collecting from members since the early 1990s.
A civic strike at Columbia's largest port in Buenaventura brought the city to a standstill earlier this month. The mass protest was put on by social and community groups demanding that the government issue "a state of social and economic emergency and provide basic quality of life improvements." Currently, Buenaventura's ports bring in $1.8 billion in annual revenue, yet most of its 400,000 residents live in poverty.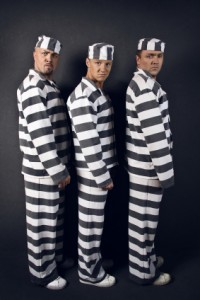 **********
Sticky Fingers
Current charges or sentences of embezzling union officials:
Ann Reddig - IATSE: $193,000
John Matassa Jr. - IUAW:  $6,250
David Diaz - AFGE:  $17,149
Stephanie DeBoer - IBEW:  $307,000
Victor Davila - PBA: $35,000
http://nlpc.org/index.php?q=union-corruption-update
**********
Labor Relations INK is published semi-weekly and is edited by Labor Relations Institute, Inc. Feel free to pass this newsletter on to anyone you think might enjoy it.
New subscribers can sign up by visiting: http://lrionline.com/free-stuff/newsletter-signup/
If you use content from this newsletter please attribute it to Labor Relations Institute and include our website address: http://www.LRIonline.com
Contributing editors for this issue: Phillip Wilson, Greg Kittinger, and Meghan Jones
You are receiving this email because you subscribed to receive our labor relations newsletters and updates. You can manage your email preferences by clicking the link at the bottom of any of our email communications.
NOTE: if you are using older versions of Internet Explorer, read the text version, as the html may not load properly. We recommend upgrading to the latest version.