In this issue:
PCA & Covid-19
Woke Politics As Organizing Tool
Is Media The Next Union Stronghold?
Insight, Labor Around the World, Scoreboard and more
**********
Labor Relations Insight by Phil Wilson
I'm a big Neil Young fan. I've been listening to him since I got my first "sound system" – one of those 1980's all-in-one turntable, cassette tape, radio deals. The speakers were terrible, but in a weird way that probably made Neil Young and Crazy Horse sound even better. I've seen him live several times and whether he is playing a screaming guitar solo (I'm looking at you Cinnamon Girl) or an acoustic ballad, he never disappoints.
At some point I got a bootleg cassette tape of Young playing a solo show in the mid-70s (it's got my favorite rendition of "Baby Mellow My Mind"). In between songs he'd usually make some quick quip about the song he'd just played or the one coming up. As soon as he finished a song the crowd would start yelling out popular songs they wanted to hear. You could tell, even at this relatively early point in his career, that being a human jukebox was just not his thing. At one point he muttered one of the more important philosophical statements I've ever heard: "What keeps you alive kills you in the end."
Labor unions suffer the same problem today. What's kept them alive for decades is a combination of historical bargaining units, government monopoly, and political allies that have all realigned in fundamental ways. And that's causing major problems for unions.
Many see signs that unions are entering a renaissance period, and maybe they are. They're more popular than they've been in decades. They are in the news constantly. You've got the most pro-labor President ever (and at this point that's not a Biden brag, I'd say it's a fact). And I do believe there has been a general shift in the perception of unions – they are somehow cool again.
But this doesn't alter the fundamental problems unions face. The vast majority of union dues income still comes from manufacturing, construction, logistics and similar jobs. Even most service sector jobs are in this same demographic swath. But at the top, labor unions are getting further and further afield of the priorities and day-to-day concerns of their rank and file. In many ways unions are completely out of step with their members, the people who fund them and in a real sense keep them alive.
In an interesting article by Mill McMorris, he outlines the major problem. Union leaders generally lean much further left than the members they rely on for dues. And because of their alignment with a political class that has also shifted left, this creates a fracture. It's killing union membership. McMorris writes:
Oren Cass, president of American Compass, a pro-union conservative group, also links the rise of political activism to plummeting membership. Cass argues the decline of union preeminence in the workforce has led the movement to turn to politics for salvation, in the process becoming "a functioning arm of the Democratic Party."

"Traditionally, labor's primary pathway to power was the labor market," Cass says. "As unions have less and less to do with the economy, they've had more and more to do with politics."…

… "If labor's view is that the number one priority is to have Democrats in office because they get better policies, then everything will be subservient to that," Cass says. "Increasingly, organizing is not what unions do — a lot of what is done under the heading of labor is just color-by-numbers left-wing activism."
Unions for their part are certainly making efforts to turn their attention to grow membership that is more aligned with the progressive ideals of their leaders and political allies. That's a smart move, if it works. But until then they must come to terms with the fact that the bulk of their current members do not support their political priorities.
Nowhere was that more pronounced than in the last two presidential elections. Union members voted against the wishes of their union leaders in huge numbers. In that last election Biden – remember he's the most pro-union president ever – won union households only 6% more than non-union ones.
One answer unions pray for is the PRO Act, and Joe Biden has made it one of his top legislative priorities. It is reportedly being included in the $3.5 trillion infrastructure bill being pushed through the reconciliation process. The Senate HELP committee is holding a hearing on it today.
But the PRO Act, while providing additional government support to unions, would also alienate millions of people who are currently represented by unions. The PRO Act eliminates right to work laws across the country. However, millions of union-represented employees choose not to pay dues, presumably because they don't see the value of their representation. Instead of doing the hard work of justifying the dues investment, unions instead will use their government monopoly power to force payments from these workers. My guess is this will cause a wave of decertification elections across right to work states, further hobbling unions as they scramble to replace these members.
Unions are doing all they can to appeal to a new audience of today's workers, and if they could wave a magic wand I'm sure they'd swap their current membership with workers better aligned with their political priorities. However, they cannot afford to alienate the audience that got them where they are today. Or what has kept them alive could kill them in the end.
**********
Union Bailout Update
President Biden has announced his nomination for the National Labor Relations Board seat soon to be vacated by William Emmanual. David Prouty is currently general counsel for SEIU 32BJ.
Jennifer Abruzzo, whom Biden nominated to fill the seat of general counsel to the NLRB, has refused to commit to the Senate hearing that she would recuse herself from any cases involving the Communication Workers (CWA) or any of its affiliates. As one of the top lawyers for her former employer it would be reasonable to expect her to do so, but she appears to be assuming the same defense used by former board member Craig Becker. The former AFL-CIO and SEIU lawyer argued that the affiliates were separate entities from the national union. It also appears Abruzzo outright lied to the committee when asked about her role on the NLRB transition team in the firing of former general counsel Peter Robb. She declared that she was "one of about 25 members" of said team, when documents secured by a Freedom of Information Act request show that she was actually half of a two-person team.
The Senate recently voted 50-48 to advance Abruzzo's confirmation to a full vote.
The Senate also confirmed worker rights attorney Julie Su as Deputy Secretary of the Department of Labor by a 50-47 vote.
The House released its version of the funding bill for the DOL, asking for $2.2 billion beyond the fiscal year 2021 budget, and $400 million more than Biden's budget request. Congress will likely default to a continuing resolution to prevent a shutdown when the money runs out on September 30th.
When a farm worker died from the extreme heat in Oregon at the end of June, the Oregon OSHA moved to enact an emergency rule to expand requirements for employers to provide shade, rest time and cool water for workers during high and extreme heat events.
More employers are open to hiring remote workers, but this expression of the modern workplace comes with a few unforeseen landmines. Case in point, a job-posting requirement resulting from a new Colorado equal pay law. The state's Equal Pay for Equal Work Act requires a pay rate to be included in any new job posting. This also applies to any company in any state outside of Colorado who may accept an applicant working remotely from Colorado. The law is not without teeth, with penalties per occurrence ranging up to $10,000. Some companies are tip-toeing around the law by adding an "except Colorado" exclusion to where they would accept remote applicants from, or including a very broad salary range with a list of qualifiers.
**********
PCA and Covid-19
What constitutes protected concerted activity in the era of Covid-19 is a challenging question. It is likely that the new administration's NLRB will take a very liberal view, but this recent advice memo indicates that not all Covid-19 related issues will provide fodder for unfair labor practice complaints.
The June 15th advice memo relates to a case in Illinois where a bartender was fired for complaining about the bar allowing patrons into the inside seating area rather than restricting them to the patio, and not requiring them to wear masks. When the employee informed a supervisor that he would only feel comfortable returning to work if the employer changed their policies, he was fired based on this unwillingness. The employee filed a ULP, which the NLRB regional offices kicked to the Board General Counsel's Division of Advice.
**********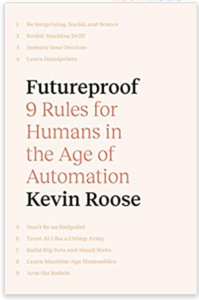 AI, Technology, and Labor
"Can leaders realistically take care of their employees while tapping into the efficiencies of automation?"
That's the question Forbes tries to answer in this interview with Kevin Roose, author of the book "Futureproof: 9 Rules for Humans in the Age of Automation." In it, Roose provides four key ways to responsibly scale AI-driven organizations. Definitely worth a read for anyone whose industry is seeing the effects of technology on its workforce now or in the future.
**********
Labor Solutions Corner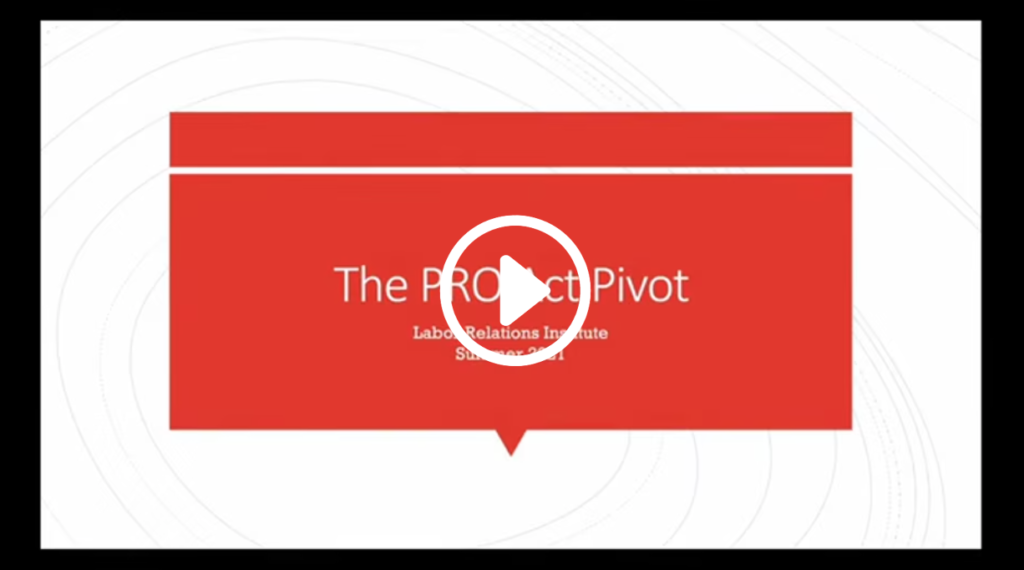 In case you missed the PRO Act Pivot Webinar when it aired on June 24th, you still have a chance to gain valuable insights from Phil's analysis.  Included in the webinar:
Could the PRO Act pass THIS YEAR? (spoiler alert…yes);
Why the PRO Act may not be your biggest threat - and why the biggest threats are filibuster-proof;
The key time frame for your top concerns;
What actions should you be taking RIGHT NOW to prepare for what's coming next;
How to engage your leaders on the issue.
You'll W.O.W. (Walk Out With):
PRO Act Pivot Self-Audit Tool: Use to evaluate your most important next actions (and assess the biggest threats to your business);
Talking points document for your executive team;
Left of Boom recommendations top companies should be implementing NOW;
Research report for your chosen industry, geography or union of interest ($195 value alone)
The cost to access the recording of the webinar and secure the W.O.W.'s is $99. (NOTE:  the research report offer expires at the end of the month, so act quickly!)
CLICK HERE to take advantage.
**********
Tech/Media Unions
Poynter put out an article this month that points to the historic level of union organizing at newspapers, digital outlets, and broadcasting stations, with the main takeaway that the trend doesn't look like it's going anywhere soon.
In the past decade, 90% of the organizing drives at news publications have been successful. This month, we can add union wins at Insider and Change.Org to that list.
**********
Organizing 
The lessons of the pandemic have not been lost on unions. Email, social media, and apps have taken the place of restaurants, bars, and employer parking lots. Add proselytizing social issues to the mix and you've got two of the biggest trends in union organizing.
Fight for $15 and the minimum wage were just the beginning of organized labor's integration into social issues. Now, as white collar workers with more bargaining power join the ranks, we're seeing activism tied to organizing across the board from climate change to racial justice to diversity, equity, and inclusion.
**********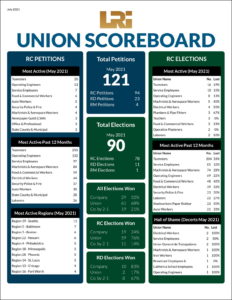 SCORE BOARD
Who are the winners (and losers) of the labor movement? Don't guess, just check the LRI Scoreboard
View this month's scoreboard (archives also located here).
Download a PDF of this month's scoreboard
**********
Contract Negotiations at Work
The UAW and Volvo have finally ratified a contract after being on strike since early last month. This contract, the third agreement presented to workers, was reportedly the same agreement they had voted on and rejected just a week earlier. In fact, many workers are calling for a recount, alleging ballot fraud and accusing the union of negotiating more on the company's behalf than the workers'.
Teamsters workers at Marathon Petroleum's St. Paul Park refinery also accepted a contract offer this month, but the road to get there was also less than smooth. What started as a weeks-long strike turned into a 5 month long alleged lockout.
**********
Union Corruption
Vance Pearson was sentenced to 12 months in federal prison this month. Pearson was the last of 10 UAW officials who were sentenced for contributing to a years-long corruption scheme that included "breaking federal labor laws, stealing union funds and receiving kickbacks and illegal benefits from contractors and auto executives."
Meanwhile, the federal trial for John Dougherty and half a dozen other leaders with the Electrical Workers Local 98 has been pushed back to a date that has yet to be determined. Dougherty and his band have been accused of embezzlement, bribery, and theft of more than $600,000 in union funds, while Dougherty separately awaits trial for another 18 counts of extortion. Incredibly, Dougherty was just reelected as the Business Manager for the AFL-CIO-affiliated Philadelphia Building and Construction Trades Council.
Over at the Steelworkers union, a former financial secretary pled guilty on June 28 to embezzling almost $40,000 from her local.
And in case you missed it, the Freedom Foundation has been working to chronicle the ways in which government unions have coordinated a national campaign to prevent the enforcement of Janus v. AFSCME.
**********
Healthcare

On the 124th day of the nurses strike at Saint Vincent Hospital, the Massachusetts Nurses Association walked away from the table. Staffing ratios still remain one of the key contentious issues. The National Union of Healthcare Workers couldn't resist piling on, picketing at several California hospitals in support of the Massachusetts strike.
Healthcare employees and their unions are not likely to take the mandating of Covid-19 vaccinations lying down. The SEIU has already begun to speak out, while workers at a Texas hospital filed suit after 178 of them refused to comply. A judge threw out the suit, and 153 of the workers were either fired or resigned.
Fallout from Covid-19 struck again as about 500 employees of a health tech company announced their intent to unionize. The group claims the company's mishandling of the Covid-19 vaccination program and their "mistreatment" during the pandemic as the driver for the move.
**********
Minimum Rising

The minimum wage in Chicago went up to $15 an hour on July 1st, while the minimum wage for all of Cook County, IL remains at $13.
Southwest Airlines is also scheduled to make the $15 minimum adjustment on the first of next month, in hopes of attracting more workers as airlines continue to rebound from the pandemic.
**********
Labor Around the World
The United States and Mexico announced in a joint statement earlier this month that a new union vote will be held at GM's Siloa plant by August 20th. This is in response to the first official labor complaint under the USMCA, filed at General Motors Mexico facility earlier this year. A number of safeguards have been put in place to ensure a fair election, per the joint statement.
Oil industry workers at refineries, plants, and power stations in Iran have been on strike since June 21st. This is the largest oil industry strike the country has seen since 1979. As of last week, it had expanded to 105 refineries in 35 cities. Workers are protesting low wages and challenging working and living conditions. Currently, Iranian oil workers make about $300 a month.
**********
Labor Relations INK is published semi-weekly and is edited by Labor Relations Institute, Inc. Feel free to pass this newsletter on to anyone you think might enjoy it.
New subscribers can sign up by visiting: https://lrionline.com/free-stuff/newsletter-signup/
If you use content from this newsletter please attribute it to Labor Relations Institute and include our website address: http://www.LRIonline.com
Contributing editors for this issue: Phillip Wilson, Greg Kittinger, and Meghan Jones
You are receiving this email because you subscribed to receive our labor relations newsletters and updates. You can manage your email preferences by clicking the link at the bottom of any of our email communications.
NOTE: if you are using older versions of Internet Explorer, read the text version, as the html may not load properly. We recommend upgrading to the latest version.