In this issue:
Control Versus Advocacy
Will 2020 Bring Sunshine For Big Labor?
California's Next Step for the Gig Economy
Insight, Scoreboard, Sticky Fingers and more…
The bottom of each story contains a link to the individual post on our site.
**********
Labor Relations Insight by Phil Wilson
Labor Advice for Bernie
You ever wish you were a fly on a wall? I can think of a few times. When mom debated my punishment for opening the Mattel handheld football game a week before Christmas. Or the discussion outside the squad car after my "donut" incident. And these days pretty much any time my daughter's door closes.
But I don't think I've ever wanted to be a fly on the wall more than this last week as the Bernie Sanders campaign figured out what to do about its "labor problem." And by labor problem I'm not talking about how to get more unions to support his presidential campaign bid.
Bernie Sanders got to experience first-hand the joys of dealing with a labor union. We regularly tell clients that you get the union you deserve. Bernie's situation is exhibit A.
If you haven't been paying close attention here's the highlights. In March the Sanders campaign made history by voluntarily recognizing UFCW 400 to represent all campaign staff below the Director level. Not long after that the Sanders campaign entered into a labor contract - standard stuff.
But over the last several months the unionized campaign staff decided the original deal wasn't good enough. They claimed it paid campaign workers less than $15 per hour, a wage rate that Sanders constantly harangues employers about being the minimum "living wage" for workers. Then last week the Washington Post broke a story quoting leaks from anonymous sources inside the union. That story was a barn-burner. The unionized campaign employees bashed Sanders for hypocrisy around wages and revealed a lot of details about the negotiations.
Another thing we tell clients is that when you find yourself in a hole, step one is stop digging. The Sanders campaign – and the candidate himself – spectacularly violated this rule. They publicly called out the union about going to the media (which is a protected concerted activity, by the way). Then they allegedly dismissed or reassigned campaign staff in retaliation for their actions, according to a charge filed with the National Labor Relations Board.
Yesterday the campaign and the union announced that they reached a deal to settle the public and embarrassing dispute. The final details of the deal aren't public (yet) but it appears that the ultimate deal is very close to the one proposed by the campaign months ago. Sounds like a lot of knock-down, drag-out labor battles. A lot of drama followed by accepting the deal already on the table.
Everybody is making nice now (I'm sure the unfair labor practice charge is being withdrawn as I write this). Campaign manager, Faiz Shakir, stated the campaign was "proud to have successfully negotiated with the union in good faith" to pay campaign staffers a "living wage."
More telling was the statement from the union. UFCW 400's spokesperson boasted, "This is what democracy in the workplace looks like." Indeed.
Sanders is having enough trouble getting traction in this year's Democratic primaries. And the way this dispute blew up in the media isn't a good sign. This was an embarrassing hostage situation with a union that seemed pretty willing to shoot the hostage. That's not going away with this contract settlement.
This morning the House Committee on Education and Labor is holding a hearing on the PRO Act (aka the son of EFCA). The PRO Act has been promoted by every Democrat presidential candidate – especially Bernie Sanders – as the solution unions need to solve income inequality in the United States. It's actually just a bailout for unions who fail miserably year after year to grow members the only way you can – by providing value.
Some may argue that this dustup with the Sanders campaign is an example of how unions do provide value to members. After all, these campaign workers are now making a "living wage" while out on the trail. But I see the reality much differently.
This dispute (and all kinds of others that we'll probably never hear about) illustrate how union leaders inside the Sanders campaign are willing to blow a hole in the bottom of the boat their members are in just to get their way. They don't think twice about it. They relish it.
In the short run, it feels good to get your way and to get the employer to capitulate. Although in this case, like many, the members don't gain more than they would have without a battle. But in the long run, this approach kills the golden goose, and it happens over and over again.
The problem with the PRO Act is it just gives union leaders a bunch more weapons to attack employers. But it does nothing to encourage unions to provide more value. So the businesses – and employees - unlucky enough to get stuck with a union could end up like the Sanders campaign: out of business.
**********
Union Bailout Update
Joint employer is still in the spotlight, as anticipation of NLRB action remains at high levels. Board Chair, John Ring, has signaled the agency's desire to use rule-making to "issue guidance in a clear and more comprehensive manner," including the issue of joint employer. According to Ring, the NLRB has received over 29,000 comments in response to its notice of proposed rulemaking.
One of the still-unanswered questions surrounding joint employer is whether or not board member William Emanuel will recuse himself from the decision. In the earlier Hy-Brand decision, which reversed the Obama administration's joint employer standards, an agency inspector general's decision that Emanuel should have recused himself reversed the ruling. Now documents leaked from the board, a Supplemental Recusal List, suggests both Emanuel and Ring would need to recuse themselves from ruling on the matter.
In a related action, CNN agreed to pay $70 million to settle a 15-year-old lawsuit brought by employees of Team Video Services, a contractor to CNN. The case came before the NLRB during the Obama administration, which not surprisingly found a joint-employer relationship.  A three-judge panel overturned the ruling in 2017, but CNN agreed to settle to prevent having to go back and litigate a number of factual issues.
Social media made headlines again, as an NLRB memo addressed cell phone and social media workplace policies. Bottom line for social media: employers cannot prevent employees from making disparaging remarks about the company, or providing the employer's phone number. Cell phones cannot be totally prohibited from work, and employees must be allowed to access their devices on campus during breaks and before and after the work day.
The NLRB has provided more stability in situations where a collective bargaining agreement is in place but the employer has proof that the union no longer has the support of a majority of employees. Under the new guidelines, the employer must notify the union of its anticipatory withdrawal within 90 days of the contract's expiration. It can then officially withdraw when the contract ends. The union has 45 days from the time the employer gives notice of the anticipatory withdrawal to re-establish its majority status by filing a petition for a new election. There is now clarity by the time a new CBA negotiation is due to begin.
President Trump has selected a replacement for outgoing Labor Secretary Alexander Acosta. A week after Acosta announced his resignation in the wake of his role in the Jeffrey Epstein plea deal, Eugene Scalia was announced as his successor at the DOL. Scalia, son of the late Supreme Court Justice Antonin Scalia, served a short time as the solicitor for the DOL, appointed by George W. Bush in 2002. Scalia also served in George H.W. Bush's Justice Department and Ronald Reagan's Education Department and has had an extensive legal career on behalf of employers.
**********
Control Versus Advocacy
What is playing out at the AFL-CIO as Richard Trumka's reign at the helm of the labor organization winds down is typical of labor unions in general. Instead of letting the successorship run a democratic course, Trumka appears to be attempting to hand-pick his successor.
Two current front-runners for the position are current AFL-CIO secretary-treasurer Liz Shuler, and Sarah Nelson, president of the Association of Flight Attendants. From an article in The Guardian:
Two top union leaders who insisted on anonymity said that early this year Trumka and Shuler were asking various union presidents whether they would support Shuler to be the AFL-CIO's next president. These officials said Trumka, the AFL-CIO's head since 2009, appeared at the time to be considering stepping down within a few months to make way for Shuler, but only if there were strong support for her in the federation's 55-member executive council, which is composed largely of union presidents.

…

Several officials said Trumka dropped the idea of resigning early after the presidents of three large unions representing nearly half the AFL-CIO's 9 million union members indicated they were not prepared to support Shuler – or anyone else at this point.
Neither Schuler nor Nelson will comment, presumably so as not to be seen as angling for the job before the convention in 2021.
**********
Will 2020 Bring Sunshine For Big Labor?
As the 2020 general election looms closer, the labor movement is chasing its tail trying to decide whether or not they will ever see whole-hearted, labor-friendly reform effort from Democrats. In one breath, they laud the apparent support indicated by the backing of the Protecting the Right to Organize (PRO) ACT, co-sponsored by 40 senators and 100 members of the House. As they exhale, they remember the mismatch between past campaign promises and the failure of the Carter, Clinton and Obama administrations to pass such sweeping "labor reform" into law.
Be that as it may, they still feel compelled to direct the union voter base to support the most seemingly labor-friendly candidates, as if this is the only topic on the hearts and minds of Americans. The In These Times story linked to above provides this assessment of where some of the leading Democratic candidates stand on the issues.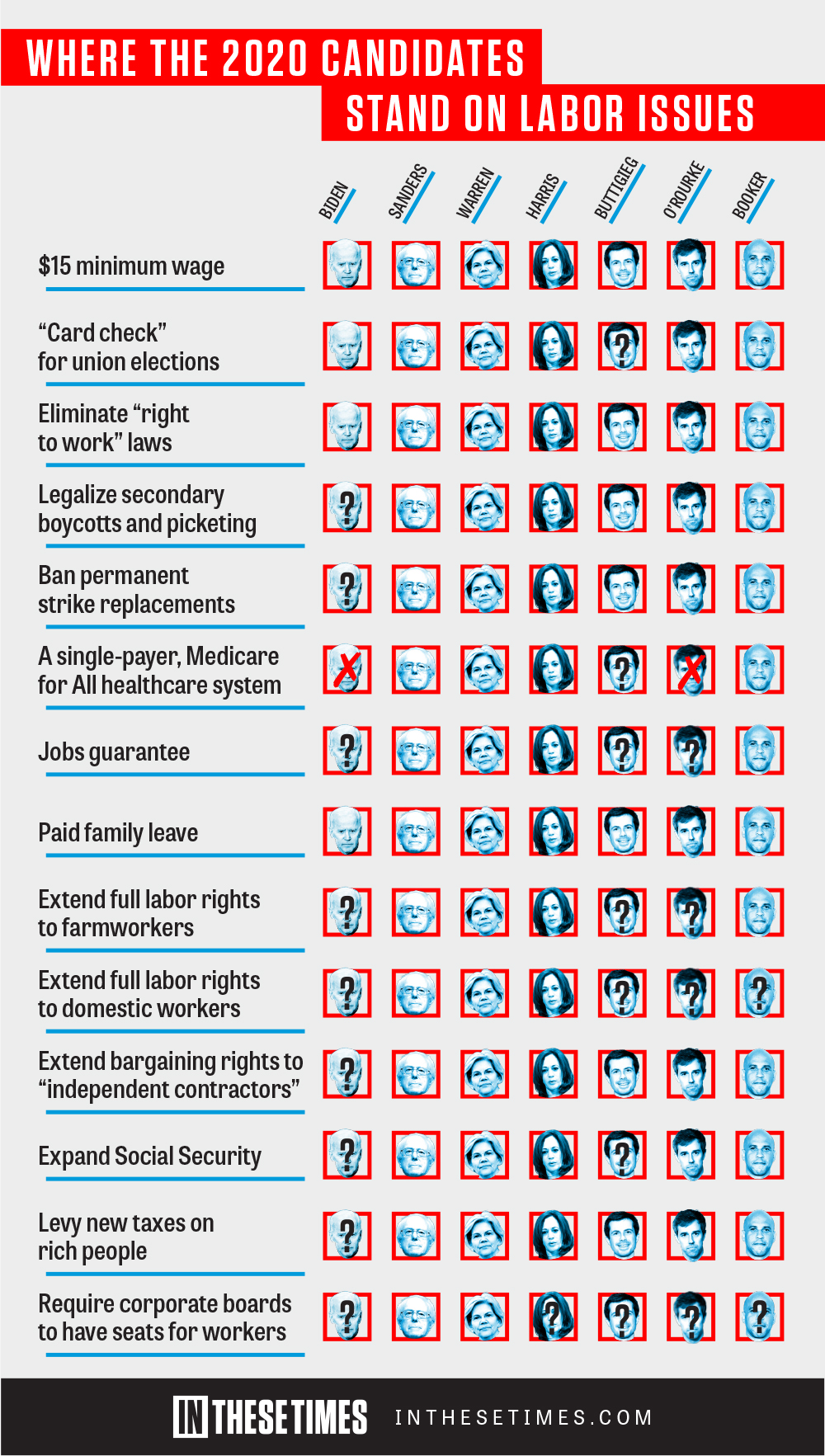 **********
Labor Solutions Corner
What do you do when it is difficult to gather your employees in one place long enough to answer their questions about unions, and to tell your side of the story?
In the last few months, we've been very busy helping folks in this situation. Healthcare workers are often mobile, or when in a facility, have very little time to divert from patient care. Stage hands are only on location during production hours. Yet they all carry smart phones and are in the habit of consuming media with them.
The solution is a mobile-friendly employee website, tailored to the company and the campaign.
But our solution isn't just to put up a template website and throw you the keys. We secure your branding guide and images, information about your company and the attacking union, and then customize everything to fit your situation: menus, layouts, and content. Perhaps most importantly, we become a part of your campaign team – updating the site, sometimes multiple times per day – helping you maintain the exact rhythm of communication you deem appropriate for your situation, while providing our 40-year expertise along the way.
And we know about 90% of the employees who visit the site will do so from their mobile phone, so everything is designed with mobile access in mind.
Call us to set up a demo of this low-cost, high-touch campaign tool. And if you're a multi-location organization, be sure to ask how we handle simultaneous campaigns!
800-888-9115
**********
California's Next Step for the Gig Economy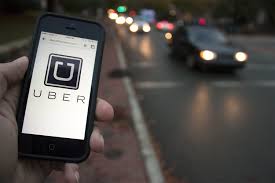 California's State Assembly just passed a bill that expands upon the state's Supreme Court decision last year, which guaranteed the rights of gig economy workers — rights like minimum wage and overtime pay. Even more, this bill appears to make it harder for companies in the state to label workers as independent contractors instead of employees.
Uber and Lyft are not into it and they're making it known. Both ride-hailing companies are in public talks with unions in an attempt to find a work-around.
**********
Union Pension Turmoil
The Ways and Means Committee of the U.S. House of Representatives passed the Rehabilitation for Multiemployer Pensions Act this month. This legislation would "provide funds for 30-year loans and new financial assistance, in the form of grants, to financially troubled multiemployer pension funds…the program is designed to operate primarily over the next 30 years."
According to the act, only the current severely financially troubled plans would qualify for the loans and grants, and the most dire plans will actually be required to do so.
**********
A.I.'s Takeover
The pace at which technology is impacting the world labor market is stunning, which also means that the pace at which technological businesses can go from start-up to uber success is also stunning. Leaders at Microsoft and Dell know this, which is why they have developed a plan to pour millions into external entrepreneurial A.I. ventures.
Meanwhile, in an attempt to combat technology's impact on the workforce, Amazon has just announced their new program in which they will spend $700 million over the next six years retraining at least a third of its US workforce for more highly skilled positions.
It's an extremely thoughtful investment by Amazon, especially when others who work in hands-on roles are seeing their market slowly dwindle. Take cargo handlers at the LA Port, for example. This month, the Los Angeles Harbor Commission approved a permit allowing electric-powered, automated cargo handlers to be installed by the port's largest operator.
Workers at the largest port in Canada, however, are still hanging in there having just reached an agreement that "robots will not be allowed to take over port workers' jobs without the union getting a say."
**********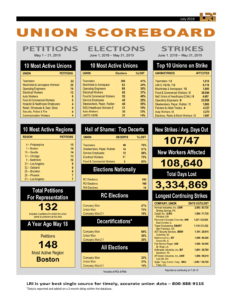 SCORE BOARD
Who are the winners (and losers) of the labor movement? Don't guess, just check the LRI Scoreboard.
View this month's scoreboard (archives also located here).
Download a PDF of this month's scoreboard
**********
Minimum Rising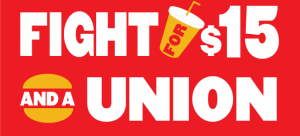 Two weeks ago, the US House of Representatives passed the Raise the Wage Act, which would make a $15 minimum wage a requirement for all employees by 2025.
In a last minute attempt to move centrists over to their side, Democrats added one additional year to the implementation deadline making it six years, rather than five, for employers to fully integrate the new law. The Raise the Wage Act still has to make it past the Republican-led Senate and the President's desk in order to take effect.
**********
Labor In Healthcare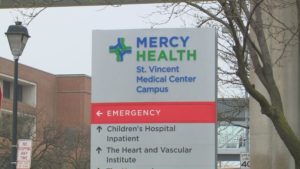 Nurses at the Mercy Health St. Vincent Medical Center in Toledo, Ohio ratified a new three-year contract at the beginning of this month.
The real story here has to do with the lack of support that nurses received from their union, the UAW, during the process, most notably, when the union accepted a contract on behalf of support staff while nurses were still striking. In fact, the union even encouraged support staff to cross the nurses picket line during their six week strike. Hundreds of nurses resigned their membership to UAW Local 2213.
SEIU District 1199 fared better recently as they reached a four-year labor deal covering 1,700 registered nurses and LPN's with Boston Medical Center earlier this month.
**********
Right-to-Work
The NLRB moved to heighten enforcement of Beck rights by instructing regional directors to issue complaints against unions when union officials fail to inform employees of the amount of reduced union fees they can pay by objecting to union membership. Under Beck, workers who refrain from union membership are only to be charged for fees germane to bargaining, and are supposed to be informed of the fee amount. An example memo issued to the Director of Region 32 read in part that "it is difficult for an employee to make an informed decision about whether to become a Beck objector without knowing the amount of savings that would result from the decision."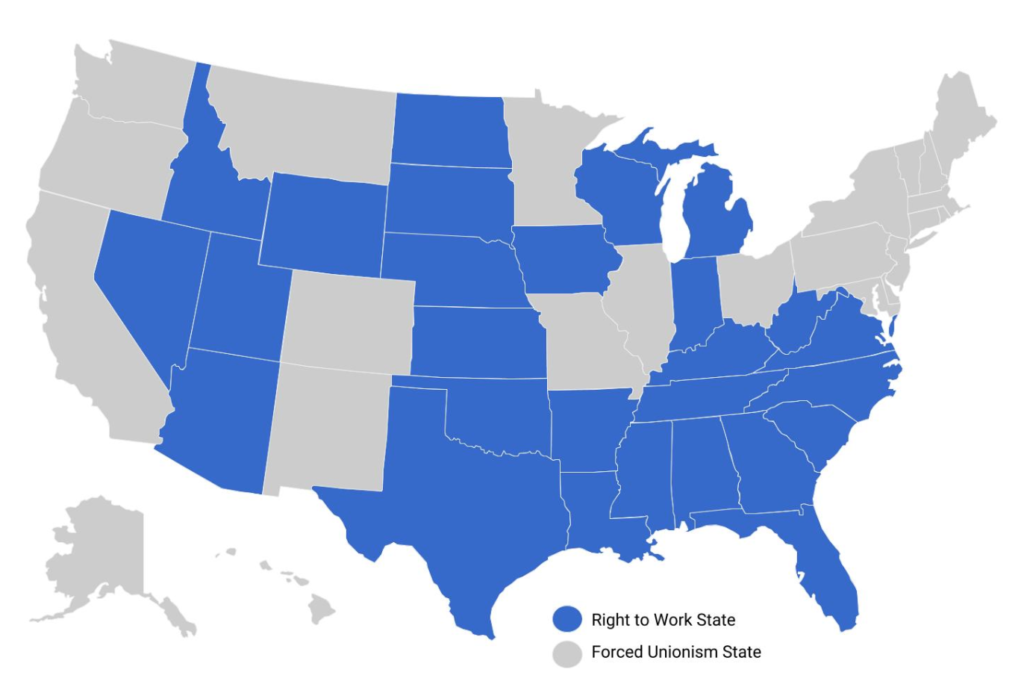 Map per National Right To Work Legal Defense Foundation website.
**********
Whistlin' Dixie
Despite the UAW's bewailing comments about injustice during the election at Chattanooga's Volkswagen plant last month, the NLRB certified the employee's 'no' vote in last month's election.
**********
Labor Around the World
Countries around the world are coming together to fight international labor violations and to create a "sustainable global supply chain." Leaders of the G20 recently released a declaration detailing its plan to "aggressively intervene in multinational firms' transnational exploitation of workers."
Last month, Vietnam's National Assembly ratified the International Labour Organisation's (ILO) Convention 98 on collective bargaining and the right to organize. The ILO is the UN agency for labor standards. This is big news for Vietnamese workers and the Vietnamese government itself. Expect to see a significant amount of contention in the coming months as the country goes through this major transition.
In the UK, a Court of Appeals issued a decision last month that may strip trade unions of their veto rights during collective bargaining.
**********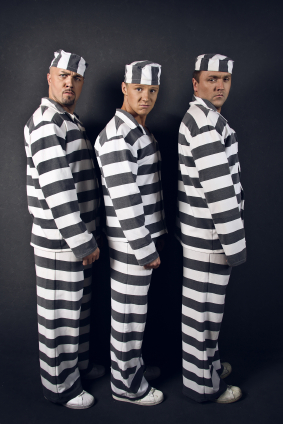 Sticky Fingers
Current charges or sentences of embezzling union officials:
Rodney Capello – LIUNA:  $200,000
Esper Alexander – SPFPA:  $1,000
Kelly Carter – NLPC:  $7,130
Dennis Robertson – LIUNA:  $38,000
Jennifer Conway – AFSCME:  $250
http://nlpc.org/index.php?q=union-corruption-update
**********
Labor Relations INK is published semi-weekly and is edited by Labor Relations Institute, Inc. Feel free to pass this newsletter on to anyone you think might enjoy it.
New subscribers can sign up by visiting: https://lrionline.com/free-stuff/newsletter-signup/
If you use content from this newsletter please attribute it to Labor Relations Institute and include our website address: http://www.LRIonline.com
Contributing editors for this issue: Phillip Wilson, Greg Kittinger, and Meghan Jones
You are receiving this email because you subscribed to receive our labor relations newsletters and updates. You can manage your email preferences by clicking the link at the bottom of any of our email communications.
NOTE: if you are using older versions of Internet Explorer, read the text version, as the html may not load properly. We recommend upgrading to the latest version.