In this issue:
Criminals & Bullies
Will Labor Issues Figure Prominently in the 2016 Campaign Season?
High Tech and New Media Employers Beware
Exposé of Union Fat-Cats
SEIU Watch, Sticky Fingers, Scoreboard, Insight and more…
The bottom of each story contains a link to the individual post on our site.
Labor Relations Insight
By Phil Wilson
One of my audience members became so bored and distracted that he shoved both his hands down the front of his pants. And that's when I knew I may have bitten off more than I could chew.
Maybe I should back up a bit. I volunteered to help my daughter's school start a debate team this year. I know what you're going to say - just think of it as my nerdy version of playing catch with my kid. In order to get these middle schoolers up to speed the speech teacher and I decided to hold a debate camp. Since the speech teacher doesn't know much about debate we decided I'd teach the class.
Here's the thing. I love to teach. Not to brag, but I've taught classes and given keynotes to hundreds of audiences all over the country. I'm don't pretend to be the best teacher in the world, but I get very solid reviews whenever I teach or speak. However, I've never taught middle schoolers. And when the speech teacher suggested we add a couple of incoming fourth graders to the class I stupidly said something like, "Sure - the more the merrier!"
It turns out that fourth graders don't really find debate that interesting. And once you've got a fourth grade boy uninterested and bored it is hard to predict exactly what he might do. In the whole scheme of things quietly warming his hands is probably pretty mild. But it sure is distracting.
This experience emphasized an important lesson for me. You can't expect the smaller and less sophisticated audience members to be ready for the same stuff that the more sophisticated ones can handle. This is exactly the same lesson unions are exploiting under the new ambush election rule. Check this out: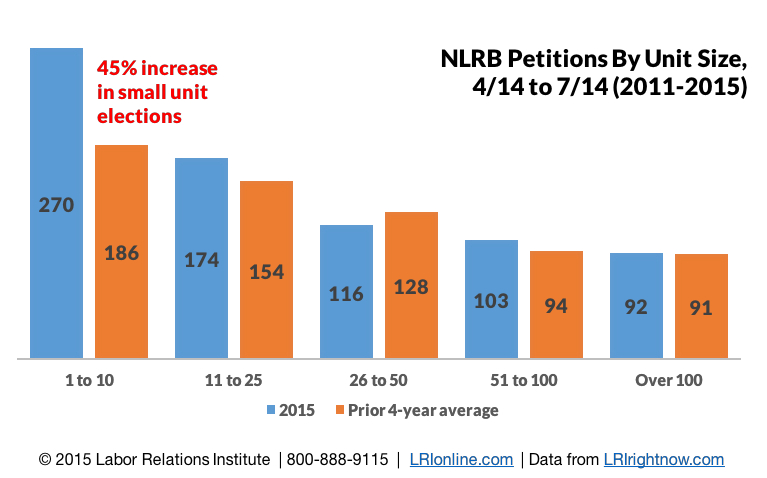 This chart shows the latest numbers from the first quarter under the new ambush election rule. Petitions remain up around 15%, but what is most interesting to me is where these new petitions are being filed. Unions are hitting very small units (10 employees or less) with virtually all these new petitions. All other categories remain basically flat compared to the prior 4-year average.
The bottom line: you are more likely to get hit with an ambush election if you are a very small employer. It remains to be seen whether this trend will continue, but it has held consistently over the last three months.
We are also beginning to get a picture of election length under the ambush rule, using data and not just anecdotal information various board regions. The short answer: the average ambush election occurs in 28 days. The chart below further explains how these are breaking down: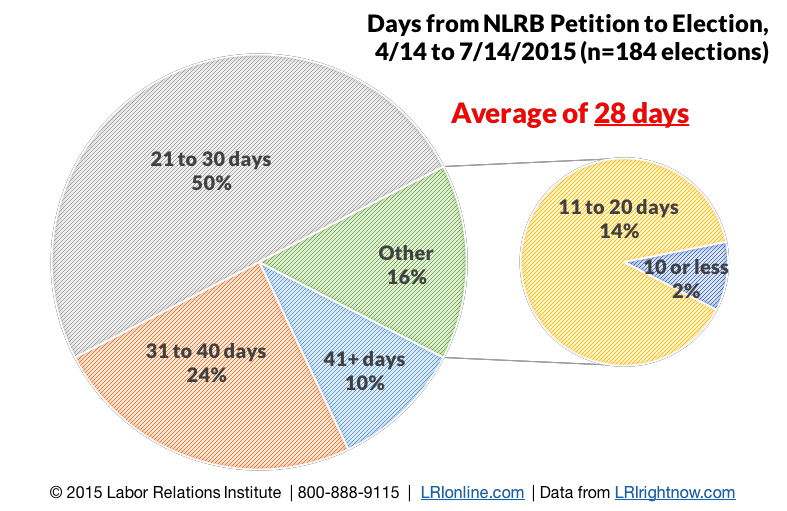 These numbers lag a bit. You don't know the final result until the election results go final, and that takes at least 7 days after the election if not more. Then you sometimes have to wait for the Board region to answer a FOIA request which can delay things even further. Nevertheless, we have nearly 200 election results covered here which is a pretty solid sample.
Employers have lost about 10 campaign days on average since the ambush election rule went into effect. This is significant - it slices campaigns by about 25%. This isn't as bad as many feared (but this number could very well shrink as the Board regions get more comfortable with the rule). Nevertheless, for a small employer these 10 days are crucial. Shrinking elections isn't the only problem for small companies. The biggest changes to the rule impact the very beginning of the process, where an unsophisticated employer is very likely to be caught completely off guard and without skilled help.
Small employers (and more important their employees) are a lot more sophisticated than my fourth grade debate student. But when it comes to rapidly responding to this new ambush rule they are definitely not ready. This is the true problem with the ambush rule. It hurts the companies and employees least able to handle it. The best solution would be to exempt these small employers or small units from the Act altogether (just like many other employment laws). Since that isn't likely anytime soon we will just have to hope that small employers learn about the rule in time to mount a more sophisticated response. If you happen to know a small employer, please forward this article to them!
**********
Union Bailout Update
The National Labor Relations Board has seemingly been all over the map in recent weeks. Here's just a partial list of topics and decisions they have bounced around on. The board –
A Sixth Circuit Court decision sent mixed signals by ruling that a tribal casino did not fall under the jurisdiction of the NLRA, while at the same time stating that NLRA jurisdiction would apply in this case because of a 2-1 decision by a different three-judge panel in a case involving a different tribe three weeks earlier.
There were a few glimmers of hope in governmental/court action. The D.C. Circuit Court overruled the recent NLRB decision in AT&T that charged the company with a ULP when the company attempted to restrict its employees from wearing t-shirts denigrating the company. The same court also backstopped employer rights to call the police during a protest. Both of these decisions were thin-margined, but they do suggest that employers need not tolerate offensive imagery when it threatens customer relations, nor refrain from seeking police intervention to maintain civil order, in an effort to comply with Section 7.
Texas legislators stepped up to the plate to protect franchisors from the DOL attempts to create joint-employer nightmares, although it is not yet certain how the exemptions created by the amendment to the Texas Labor Code will end up being interpreted in the end.
**********
Criminals & Bullies
Some people truly believe the days of union corruption, bullying, and intimidation tactics are a thing of the past; well it's not – far from it in fact.
Take the Ironworkers Local 401 for example who, under the charge of Joseph Dougherty, committed an immense array of flagrant acts in recent years including: attempted arson at a Malvern construction site after the builder resisted calls to hire the union, the successful 2012 arson of a Quaker meeting house in Chestnut Hill, Pennsylvania, the baseball-bat beatings of nonunion workers outside a Toys-R-Us, and the extortion of a nonunion builder who was erecting an apartment complex in Philadelphia. Dougherty was found guilty on 6 counts in January. Government prosecutors are seeking a 22-year sentence for the 73-year-old former union leader. Dougherty will likely die in prison.
In the white crime arena, two current and one former union officer were indicted on embezzlement and kickback charges earlier this month. Rocco Miranti and Johnnie Miranti, business manager and secretary-treasurer respectively of Novelty and Production Workers Local 223, and Louis Smith, former president of Teamsters Local 810, have been accused of accepting over $1 million in kickbacks from an outside vender in exchange for an arranged healthcare benefit scheme.
Last but not least on today's ledger, this footage shows Dolores Huerta, cofounder of United Farm Workers alongside Caesar Chavez, pushing a member of her union in an effort to keep said member from speaking with California Governor Jerry Brown. Members of the union travelled three-hours that day to implore the Governor's help in releasing the union's jurisdiction over them. This, after United Farm Workers have continuously ignored a decertification vote held in November 2013.
**********
Will Labor Issues Figure Prominently in the 2016 Campaign Season?
Depending on how far Wisconsin Governor Scott Walker progresses in the run as the GOP presidential contender, labor issues may be lifted into the spotlight during the campaign season.
Why? Big Labor hates him.
When Governor Walker took over in a state that twice backed Barack Obama, he made no bones about taking on the public sector unions. The result - union density in the union-bastion state has dropped to near the national average, and in the public sector, has dropped precipitously.
And - the public seems to love him for it.
**********
Alt-Labor
Things are heating up in Missouri. Kansas City became the first city in the state to increase its minimum wage. Beginning August 24, 2015 minimum wage will increase to $8.50 an hour, up from $7.65, with the goal being to reach $13 by 2020. Enforcement will prove to be the most difficult part as many business owners question the legality of the decision. Nonetheless, expect St. Louis to make a similar move in the near future as SEIU has been focusing a lot of their resources in the area – more specifically, $2.3 million in the last two years. In Massachusetts, home health care workers won a starting wage increase to $15 an hour, up from $13.38.
Unfortunately, emotion rather than reason drives voter responses to issues like this. Economic studies, such as the one conducted by California's nonpartisan Legislative Analyst Office, found that raising the minimum wage in the state can be expected to contribute to rising prices, declining profits, and fewer low-wage jobs. Another study conducted by the Employment Policies Institute found over 20% of small business owners believe they will go out of business if minimum wage is increased to $15. Such data usually doesn't matter to the general public, who will instead focus on anecdotal stories that they can emotionally connect with.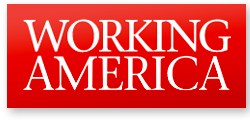 Ironically (but not surprisingly), the ones fighting for the increase don't seem to believe in it enough to live it themselves. We already know about unions like the Service Employees not shelling out $15 to the protesters they pay to manipulate the public into believing this is a bigger movement than it is, while at the same time attempting to exempt those in collective bargaining agreements from adhering to the law. A recent example: earlier this month Working America, a minimum wage advocate, posted a job offer on Facebook for field representatives. The starting pay: $12.25.
In other news, the Food and Commercial Workers have dropped two of their most senior organizers in an effort to finally catch up with the 21st century. They have decided to embrace a "more media-focused approach" to their OUR Walmart campaign. The first ad appeared in print in the New York Times earlier this month.
**********
High Tech and New Media Employers Beware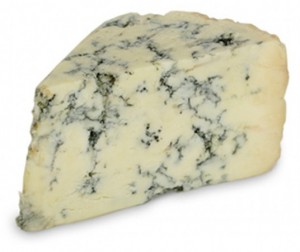 Unions may seem to be clumsy at strategy, but eventually even a blind mouse can follow a trail of cheese crumbs leading to a bigger prize. Such seems to be the case in Silicon Valley, which in recent years has become the focal point of money streams into new businesses, especially high tech and new media. (Even blind unionistas can follow the scent of money…)
With this channeling of the most union-coveted of all assets (cash), and the rash of changes to labor law (faster elections, smaller units, and possible joint-employer relationships), employers in these niches, whether in Silicon Valley or not, should be on the alert.
Similar to the Fight-For-$15 movement in retail, organized and funded by unions, Silicon Valley Rising is a new, well-financed coalition of unions (Teamsters, SEIU, CWA, UNITE-HERE), the South Bay Labor Council, the NAACP and other community organizations established to focus on these new employers and their various vendors and service providers.

As happened with Facebook and the unionization of their contract shuttle drivers, the effort can impact these businesses indirectly if not directly. If the NLRB gets its way with joint-employer definitions, this situation will only deteriorate.
**********
Social Media Spotlight
In an inevitable gaff, a woman who voted for unionization ruined the effort by tweeting a picture of herself casting her ballot, which was the deciding vote in a 5-vote turnout at Webster University in St. Louis. The NLRB Regional Director ruled that by ruining the secrecy of her vote, she nullified her ballot, thus creating a 2-2 tie which goes to the employer.  In a world where folks seem to think everybody wants to see what they had for breakfast via Facebook, Instagram, or Twitter, be prepared to see more of this.
Another social media development is worth keeping an eye on, for two different reasons.  A recent campaign on social organizing site coworker.org, led by Starbucks baristas, forced the company to make changes to dress code policies. Coworker.org has facilitated similar campaigns since its inception in 2013, none of which have been led by unions.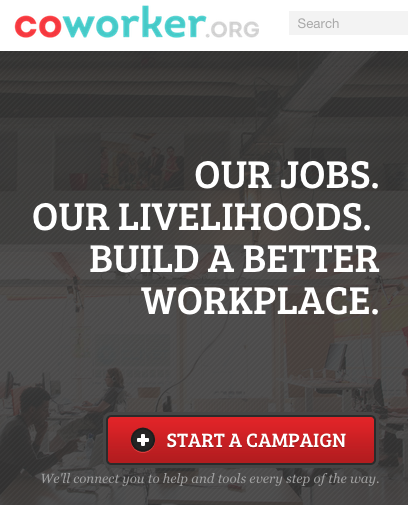 The younger, social media-savvy members of your workforce may find other powerful ways to use such tools to impact the employer-employee relationship. That's the first reason to pay attention. The second reason is more subtle. Although proponents of this type of action celebrate that it is grass roots based and not currently led or encouraged by unions, it may not be long until unions work to try to manipulate the tool to be used on their behalf.  Remember the Occupy Wall Street movement?
*********
Right-to-Work
When the United Steelworkers attempted to make a Buckeye Florida Corp. employee pay to be represented in a grievance case, although he was in a right-to-work state and had opted out of paying dues to the union, an administrative judge ruled that the USW violated the NLRA. The USW appealed to the NLRB, which gave the board the opening it needed to request briefs as to whether it should change the rules, to allow unions to charge "fair share" fees for such representation.
Fortunately, the case was settled (in the employee's favor), and with the impetus no longer existing, the NLRB suspended the request for briefs. One can imagine that the unions are frantically looking now for another case to push this question back onto the board agenda.
**********
Exposé of Union Fat-Cats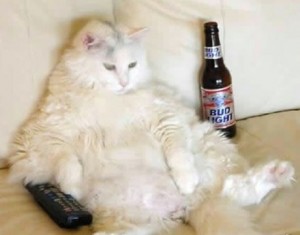 This is an intriguing article partly because of its source.  Shannon Jones, writing an article for the World Socialist Web Site, pivots on the term "freeloaders," which is usually used to describe those who take advantage of right-to-work laws to opt out of paying dues to a union, using the term instead to apply to the bureaucrats who run the union, in this case the UAW.
I cannot verify all of the facts quoted, but even if the numbers are off slightly, we know enough about how unions operate via public documents to know they probably are not far from the truth.
Recommended reading, particularly if you have issues with the United Auto Workers.
**********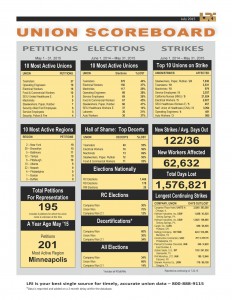 SCORE BOARD
Who are the winners (and losers) of the labor movement? Don't guess, just check the LRI Scoreboard
View this month's scoreboard (archives also located here).
Download a PDF of this month's scoreboard
**********
Whistlin' Dixie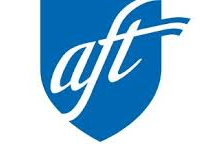 At the end of this week two teams of Oregon School Employees Association members, an extension of the American Federation of Teachers, will head south in an attempt to convince teachers in Louisiana, New Mexico and Texas that the best way to kick off the school year would be to instigate a union organizing drive. Best for who? Certainly not the kids.

Continuing their pattern for attacking southern manufacturers, the Auto Workers now have Hyundai in their sights.  Late last month the union sent members to Hyundai facilities across the country to spew degrading accusations at an organization that has employed thousands of American workers during its 10 years of operation in the U.S.
Hyundai responded to UAW's classic accusations of low wages and unsafe working conditions with the following statement: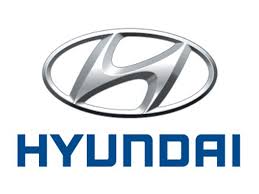 "The health and safety of workers associated with the manufacturing of Hyundai vehicles in paramount. Our contracts with suppliers require them to be in full compliance with all applicable laws and regulations."
The UAW should be careful how hard they attack organizations that improve America's economy or Hyundai will follow the lead of Ford and GM and move work to Mexico.
**********
SEIU Watch
Mendocino County employees have set up a website in an effort to gather enough signatures to approve a decertification vote. Ross Liberty, leader of the drive, said all SEIU has done for them is make things worse.
"Union negotiators have created an adversarial relationship between employees and county officials that is beneficial to neither…I think that's the nature of unions. They need to keep their members in a constant state of fear and loathing. That's how they get the employees to part with their dues."
The situation for home care workers in Minnesota is even more interesting – they didn't realize they were a part of the union until they saw dues being deducted from their check. Here's what went down. Employees signed a card that as far as they knew simply meant they supported the decision to hold an election. SEIU, however, had included a note in fine print that said by signing the card they were in fact voting for the union as their bargaining representative. Even more, SEIU is now giving those that want to opt out the run-around.
In California, a judge has just certified a class-action lawsuit against SEIU seeking an injunction for 34,000 nonunion employees who want SEIU to stop withdrawing money from their paychecks for political contributions. Currently, SEIU requires them to opt out of this every year before SEIU withdraws the money. Plaintiffs say the opt out information is "confusing and the process itself is cumbersome."
After waiting two months past the deadline to file their LM-2, SEIU Healthcare Michigan, the local that skimmed dues off of home-based caregivers for years, has finally revealed the effects of being caught in the scheme. Membership is down 80% and revenue is down 50%.
Lastly, remember Dave Regan's "leaked" piece slamming Mary Kay Henry for her decision to create a new local with half of Regan's membership? It should come as no surprise that Dave Regan was the source of the leak. And how about this for another "Reganism:" he's named his recent deal with the California Hospital Association that prevents workers from reporting patient-care violations…"Caring for Californians."
**********
Teamster Beat

When IBT Local 726 dissolved in 2008, it left behind a 15-year lease agreement with intent to buy after 5 years in the hands of the real estate developer that purchased and developed the property at the union's request. Local 726 transferred its entire membership, assets and liabilities (minus the lease agreement) to newly chartered IBT Local 700. Local 700 then informed the developer, who was left with an empty building unable to resell or re-let, that since it was different than Local 726, Local 700 was not responsible for the financial commitment made to the developer. They were wrong.
Cook County Circuit Court Judge Raymond Mitchell "became the first Illinois court to apply the doctrine of 'corporate successor liability' to unincorporated labor unions." Local 700 must pay $1,996,853 to the landlord in damages, plus legal fees and costs under the lease.
**********
Unions Around The World
Kathy Jackson, former union official for Australia's Health Services Union, is being sued by HSU for spending over $1.3 million of union funds on personal expenses such as fine dining, artwork, and expensive toys.
Canadians have had a big win with the passage of C-377. The bill follows America's lead in requiring union financial transparency. Most importantly, it requires unions to report transactions that exceed $5,000 and the names of officials who earn more than $100,000 a year.
On July 9th, members of the National Union of Rail, Maritime and Transport Workers employed at the London Underground went on strike over concerns about some new nightly services. The effect was chaos. Wired reported nearly 1,500 "congestion hotspots" and 833 miles of traffic jams. It was gridlock for 8.6 million Britons.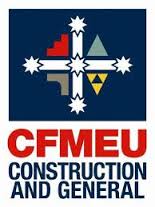 India's top 11 unions have called for a nationwide strike on September 2 to oppose Prime Minister Narendra Modi's proposition to merge 44 labor laws into 4, "a move that would simplify some of the world's most rigid rules for hiring and firing workers."
The Royal Commission into Trade Union Governance and Corruption began its trial against the Construction, Forestry, Mining and Energy Union this month. So far proof has been given that the union and its officials have committed extortion, taken bribes, trespassed and physically threatened employers, lied on the stand, and blacklisted companies.
**********
Sticky Fingers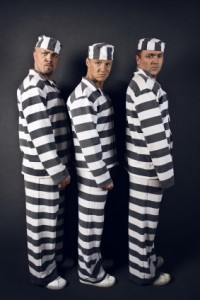 Current charges or sentences of embezzling union officials:
Russell Cameron Hill – NALC: $1,300
Jacqueline Askew – IUPAT: $40,930
Salvatore Mauro – APWU: $8,856
John Jones – UBC: $12,000
Wayne Wedderman Jr. – NEA: $23,000
Timothy Casperson – NALC: $9,650
Rodney Horne – UGSOA: $6,045
Helen Herold-Roden – CWA: $138,658
http://www.nlpc.org/union-corruption-update
**********
Labor Relations INK is published semi-weekly and is edited by Labor Relations Institute, Inc. Feel free to pass this newsletter on to anyone you think might enjoy it. New subscribers can sign up by visiting:
https://lrionline.com/free-stuff/newsletter-signup/
If you use content from this newsletter please attribute it to Labor Relations Institute and include our website address:
Contributing editors for this issue: Phillip Wilson, Greg Kittinger, and Meghan Jones
You are receiving this email because you subscribed to receive our labor relations newsletters and updates. You can manage your email preferences by clicking the link at the bottom of any of our email communications.
NOTE: if you are using older versions of Internet Explorer, read the text version, as the html may not load properly. We recommend upgrading to the latest version.