In this issue:
Online Union Calculators
Union Corruption
Collective Action
Insight, Scoreboard, Sticky Fingers and more…
**********
Labor Relations Insight by Phil Wilson
This month's insight will be brief. If that's not unusual enough, it's also going to begin with a pitch. Then I'll briefly reflect on President Biden's unprecedented actions at the NLRB.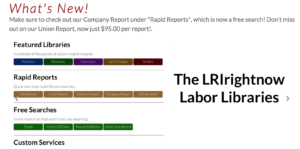 First the pitch. If you are reading this and aren't a subscriber of LRI Rightnow you have no excuse. I'm so proud of the product our team has developed and continues to improve almost daily. It's hands down the best source of up-to-the-minute labor relations data and research on earth. It costs nothing to subscribe.
LRI Rightnow features numerous free libraries, including daily petitions reports (other services charge hundreds of dollars a month for these), a "one-click" way to find union LM financial data, interactive maps, and real-time updates of our popular union scoreboard. The paid libraries allow you to dig into the most comprehensive online database (over 500,000 records) that you can now geo-locate and map. One of my goals for this quarter is to make sure the labor relations world knows about this incredible resource. Now that you know – the next step is to sign up for an account and you can do that here.
Joe Biden certainly hit the ground running on the labor front. I expected him to take action quickly and thought there was a chance he would make the unprecedented move to remove Peter Robb from the General Counsel's position. What I didn't expect was that he would make this move (plus terminating GC Robb's Deputy Alice Stock) on days one and two of the new administration.
These moves leave no question that Biden intends to live up to his campaign promise of being the most pro-union President in history. These moves are some great red meat to his Big Labor supporters. But they may have the unintended consequence of slowing his labor agenda to a crawl.
When I say unprecedented, I mean literally the first time in the history of the National Labor Relations Act. Twenty-three minutes after Biden took the oath of office the Administration notified General Counsel Robb that he must resign or be terminated that evening. Robb refused to resign and was terminated. The next day the Administration moved Alice Stock, the Deputy General Counsel, into the General Counsel position and she received the same ultimatum. Acting GC Stock also refused to resign and was terminated.
Neither General Counsel Robb nor Ms. Stock received any explanation for why they were fired. This move is extremely troubling. The NLRB General Counsel position was created to be independent from outside influences. General Counsels are nominated by the President and subject to the advice, consent, and confirmation procedures of the Senate for set four-year terms.
Not only is this the first time a General Counsel (or Acting GC) has been terminated by the President, at least eight other Presidents have left the prior General Counsel (including both Presidents Trump and Obama) in place to serve out their full terms.
The Biden Administration's actions are not just unprecedented, they are probably illegal. There have been numerous arguments floated to justify the President's right to terminate the General Counsel. None of these are persuasive. The duties of the NLRB General Counsel are not executive level, policymaking duties. The duties of the NLRB General Counsel are essentially prosecutorial in nature. They do not fit into any of the Supreme Court cases that allow a President to terminate a sitting appointed position.
Not only that, but this week the Administration named a Regional Director from Chicago (the same Regional Director who thought college football players should be considered employees of their college) to the Acting General Counsel role. This creates a fact situation akin to the one in Southwest Ambulance where the Supreme Court ruled that an unusual appointment to the General Counsel's role was unlawful. That decision resulted in hundreds of NLRB actions being ruled unlawful. It created a litigation and bureaucratic nightmare. Looks like we're right back in that quagmire as well.
While these moves probably led to some high fives in the offices of Big Labor officials, none of this bodes well for the Administration's labor agenda. They guarantee litigation, including quite possibly a fight over the Executive Branch's authority that Democrats might prefer to avoid with the current makeup of the Supreme Court. It probably means a pitched battle over the Secretary of Labor's nomination and any future NLRB nominees. And it puts every NLRB decision over the next several years at risk of being overturned over a completely avoidable (and foreseeable) unforced error.
One thing I never thought I'd say is that I miss 2020. But the way this year started I almost think I do. I know elections have consequences, and I fully expect the Administration to aggressively pursue a strong pro-labor agenda. They should do that, it's what they promised. But this is a terrible way to begin an Administration that's supposed to be dedicated to unity and coming together. President Biden can still do the right thing. Consider the legal quagmire he just created – and the likely long term negative impact on accomplishing his goals – and reinstate Mr. Robb and Ms. Stock for the brief few months remaining in their term.
**********
Union Bailout Update
The recent BMW Manufacturing Co. decision continues the Trump NLRB trend to more leniency in evaluating company handbook policies, stemming from the 2017 Boeing Co. ruling. In BMW, the board reversed an ALJ finding, giving the green light to the following Standards of Conduct outlined in the handbook:
requiring employees to "[d]emonstrate respect for the Company" and "[n]ot engage in behavior that reflects negatively on the Company";
instructing employees to "[n]ot use threatening or offensive language";
prohibiting use of "personal recording devices…[and][unapproved] use [of] business recording devices within BMW MC facilities"; and
requiring that any information the employer had not released to the general public must be treated as confidential.
Good news for now, but it's likely the Biden board will begin to unravel the more lenient attitude the board has taken toward employer handbook provisions.
A December 7th ruling is a good reminder that an employee's reasons for engaging in workplace advocacy or other protected activity —however arguably self-motivated—are immaterial to the objective determination of whether the conduct warrants protection under Section 7 of the Act. In this very complicated case, the employee in question was terminated by the employer for evading investigatory questions and lying. Even though the employer claimed that his conduct outside of the scope of protected activity justified their action, the board ruled in favor of the employee.
On January 6th the Department of Labor issued its final rule on who is an independent contractor, finally bringing needed clarity to this issue. Unfortunately, the Biden administration has already asked federal agencies to freeze proposed and pending regulations.
The rule reaffirms an economic-reality test to determine whether an individual is in business for himself or herself—an independent contractor—or is economically dependent on a business for work. Someone in the latter category would be an employee covered by the FLSA.
Under the final rule, two core factors are integral to determining whether someone is an independent contractor:
The nature and degree of control over the work.
The worker's opportunity for profit or loss based on initiative and investment.
Three other factors that may serve as additional guideposts in the analysis are:
The amount of skill required for the work.
The degree of permanence of the working relationship between the worker and the potential employer.
Whether the work is part of an integrated unit of production.
The actual practice of the worker and the business is more relevant than what may be contractually or theoretically possible.
Labor lawyers are mixed over their belief whether the new rule will withstand meddling from the new administration.
President Biden wasted no time in putting his stamp on the direction of labor law. On his first day in office, Biden fired NLRB General Counsel Peter Robb, and sent notice to Robb's replacement, Assistant General Counsel Alice Stock, asking her to resign or face the same fate.
The President then selected Boston Mayor Marty Walsh as his Labor secretary. Walsh is a former union official, and has been accused of involvement in extortion while in his role as the head of the Boston Building and Construction Trades Council. Biden pointed to California Labor Secretary Julie Su for the role of deputy secretary under Walsh.  Su has been criticized for failing to prevent rampant unemployment fraud and lengthy delays in processing of claims, which may make her confirmation anything but a shoo-in.
The President then wielded the sword of executive order to begin stripping many of the efficiency reforms enacted within the federal government by the prior administration. Biden minced no words in Section 1 of the order, stating "It is also the policy of the United States to encourage union organizing and collective bargaining."  (One wonders where in the Constitution that came from!) In addition to the revocation of prior orders and the disbandment of the Interagency Labor Relations Working Group, the order including a push to have all agency heads and their subordinates engage in collective bargaining and a move to bump the minimum wage for all federal employees to $15/hour.
Biden also rescinded President Trumps Executive Order 13950, which limited diversity and inclusion training for federal contractors.  A preliminary injunction had been issued against the Order, so federal contractors are now released from the uncertainty of their actions related to such training.
There is plenty of speculation around how the labor policy landscape may evolve.  Below are a few articles that list a host of possibilities. It seems too early to attempt a synthesis, so we'll just list the articles for your perusal:
**********
COVID-19
For employers who manage a unionized workforce, it is important to remember that even though you technically can mandate a vaccine in your workplace, you cannot do it without first bargaining with your workers union. Specifically, according to labor law expert Jill Lashay,
"If you unilaterally implement a mandatory vaccine policy when it's not been addressed in your current collective bargaining agreement, that may lead to a successful unfair labor practice charge against the employer." More details here.
The EEOC originally provided guidance on how to handle a pandemic in the workplace during the H1N1 outbreak. They have updated their recommendations to address COVID-19. You can find the publication, which is organized into an easy-to-navigate FAQ format, here.
Since the start of the pandemic through the end of 2020, OSHA issued citations totaling almost $4 million in proposed penalties for pandemic violations. Top violations include failures to:
Implement a written respiratory protection program;
Provide a medical evaluation training for proper use of PPE;
Report an injury, illness or fatality;
Record an injury or illness on proper OSHA recordkeeping forms; and
Comply with the General Duty Clause of the OSHA Act of 1970.
The NLRB has issued two more advice memos on remote bargaining and hazard pay during the pandemic. They include:
Good faith bargaining may not require remote negotiations; and
An employer need not agree to reopen contract for hazard pay negotiations
And lastly on the pandemic front, the effect of COVID-19 on mental health in both on-site and remote workers is becoming hard to ignore. Research suggests and intuition assumes that the hardest hit are the frontline healthcare workers; but even among the general workforce, the data indicates a higher risk of symptoms of anxiety or depression, increased substance abuse, and general difficulty coping with stress.
**********
Labor Solutions Corner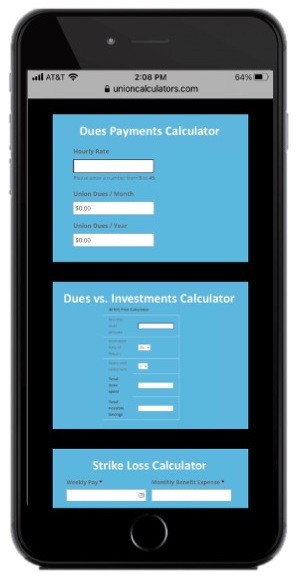 New: Free Online Union Calculators Webpage!
For years, LRI offered physical strike calculators for use during union organizing campaigns.  Employees could select their wage rate and length of a strike, and then use the "slide-rule" type calculator to figure out how much money they could lose during a strike.
No more shipping of paper calculators!  We've put up a mobile-friendly Union Calculators webpage, with three different calculators. Employees can first calculate how much dues they would pay each year, then take a look at how much future income they could lose by calculating how much that same money could earn them if invested in a company 401(k). They can then calculate how big of a hit to their wallet a strike might be, including figuring in the out-of-pocket cost of continuing their health benefits during a strike.
This is a public webpage!  Bookmark the site and feel free to use it as needed:
NOTE:  Anyone with a smartphone can access the calculators.
**********
Tech/Media Unions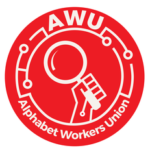 The biggest news in tech and media this month is the formation of Google's Alphabet Workers Union, a minority union partnered with the Communication Workers of America. As a minority union, AWU has not organized for collective bargaining rights through the NLRB. Rather, for now, they are simply a group of Alphabet employees and contractors who are rallying together to stand against and for social issues affected by the tech giant. Whether or not the group uses this collaboration as a stepping stone to formal representation remains to be seen.
In Texas, the newspaper industry has seen a jump in union membership. When 2020 began there were zero newspaper unions in the state. Today, there are two: one at the Dallas Morning News and another at the Fort Worth Star-Telegram. These two newspapers are the first Texas newsrooms to organize in modern times. The last unionized newspaper in the state, the San Antonio Light, closed in 1993.
**********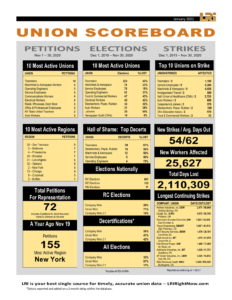 SCORE BOARD
Who are the winners (and losers) of the labor movement? Don't guess, just check the LRI Scoreboard
View this month's scoreboard (archives also located here).
Download a PDF of this month's scoreboard
**********
Union Corruption
The National Legal and Policy Center put out their annual roundup of the Top Ten Union Corruption Stories of 2020. In addition to the noise of embezzlement that we've come to expect from those in union leadership positions, 2020 also saw quite a few large hauls of benefit fraud. Details here.
Speaking of benefit fraud and onto the news of today, five former employees of the Carpenters Council in New Jersey have filed suit against the organization, claiming that they were fired last March for supporting a union official who reported the theft of $1.5 million in benefits to law enforcement.
And early this month, John S. Romero, former president of the United Industrial Service Workers of America, was sentenced to 12 years in prison for his part in embezzling $800,000 from the union's health plan.
********** 
Off (or On) The Beaten Path…
Forgive us a moment to brag about one of our team members, Laura Wright.  Laura works with our LRIRightnow data libraries, and also volunteered to oversee our team fitness challenge. Just before the pandemic broke out, we had distributed FitBits to everyone, and created a database to track our steps and other fitness activities each week as a way to encourage each other to make health a key objective for 2020. Who knew only weeks later the pandemic would drive most people to the couch to binge on Netflix episodes?!
We started by walking west the length of Route 66, then reversed course to take on the Lincoln Highway. During that project, Laura contacted the Lincoln Highway Association to inform them of our virtual hike, and the Association chose to publish Laura's description of our adventure in their Quarterly Journal.
Here is the article as published in the Fall 2020 edition of The Lincoln Highway Forum:
In February 2020, the company I work for, Labor Relations Institute, Inc. decided it was time to implement a Wellness Campaign for our employees. I gave a presentation about what a Wellness Campaign is and what we as employees could do to create a wellness attitude. This does not just mean not being free from illness but encompasses many aspects of life, health, wealth, emotional health, less stress, etc.

We decided that one way to encourage our employees in this new Wellness Campaign was to count our walking steps. So, we came up with our first Walking Challenge. Using our SmartTrackers, iWatch, and FitBits we are all able to keep track of our individual steps. As a group we would virtually walk the length of Route 66. We are headquartered in Oklahoma and many miles of Rt 66 run through our city. We thought this would be a fun way to connect as a team and also learn a little about the Route and the places we 'walked' through.

This Walking Challenge was a virtual walk, we all kept track of our steps and then converted them into miles every week. I would plot the miles on a big map we hung in the break room. It took a couple of months to complete this challenge.

The next Walking Challenge was your Lincoln Highway. I used your Lincoln Highway map on your website to plot the route and also used the Places of Interest in emails and zoom meetings to indicate where on the LH we, as a company, were. When we started our Wellness Campaign we were all in the office and going to gyms, parks and other recreational places to get our step in, then the Coronavirus hit and we were all sent home to work. We kept up our step tracking at home, walking in the neighborhood, home workouts, and sometimes walking in place.

We started at the Golden Gate Bridge on May 13, 2020 and completed the Lincoln Highway Walking Challenge this week arriving in New York City's Times Square. Clearly, we never left our own state or city, but I now want to take a road trip on the great Lincoln Highway.

Some of our weekly plots were: Donner Pass, CA; Hamilton, NV; Salt Lake City, UT; Point of Rocks, WY; Cozad, NE (the halfway point); South Bend, IN; Lima, OH; North Braddock, PA; Princeton, PA; NYC, NY.

Since we were working from home we have been holding bi-weekly zoom meetings and I would use those meetings to tell the group where on the LH we were. My favorites were the Donner Pass and Cozad. For these places, I dressed up for the meetings (pics attached). At Donner Pass my character was a survivor from the party and I told a brief story of the troubles. Then for Cozad, NE, I dressed loosely like a member of the band Bon Jovi and played the song, 'Livin' on a Prayer' "we're half way there". The team loved it and now I think I might have set the bar a little high.

I know that we did not actually travel the Lincoln Highway but I know I learned a lot about it and the many places we 'walked' through. Thank you for having the map – that was a great asset. Now we at LRI are on to our next Walking Challenge.
Footnote:  In case you're wondering, we are now following the meandering trail that travel author Peter Jenkins trekked to write the 1979 book, A Walk Across America. (Green line).
**********
It's All Academic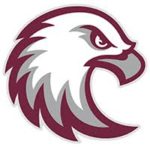 More than 130 professional and clerical staff at Augsburg University in Minneapolis, Minnesota voted to form a union this month, making them the first unionized professional staff at a private college in the state. The campaign was almost entirely organized remotely through zoom meetings, phone calls, text, social media, and email.
**********
Collective Action
No time like during a pandemic to make use of a strike, when the roles of essential workers are highlighted and heightened.
2020 saw a resurgence of strikes as a key labor tactic around the world. From traditional labor rights in healthcare workers, transportation and warehousing, and gig workers, to social justice causes in tech, protests abound and were apparently mostly successful.
**********
Healthcare
If ever a time were ripe for unionizing healthcare workers, this is it. From PPE shortages to low staffing levels to deaths among coworkers, the COVID-19 pandemic has created incredible tension in the industry. Some sources say they are noticing an uptick in union interest among healthcare workers, but whether or not an uptick in interest actually leads to an uptick in membership remains to be seen.
Meanwhile, after voting to join SEIU District 1199 in the largest organizing effort since Virginia implemented its right-to-work law, nurses and NP's at Cabell Huntington Hospital have approved their first union contract; and a hospital in Houston, Texas is offering a $500 bonus to employees who get the COVID-19 vaccine.
**********
Alt-Labor
Minority unions were on the rise in 2020. A minority union is essentially "an organization made up of groups of individuals (including traditional employees, temporary employees, and even contractors) who seek to advocate for worker rights and social justice issues in the 21st century workplace." While many of these minority unions are aligning themselves with more traditional Big Labor unions, they are not technically represented by these unions nor are they granted collective bargaining rights.
That said, employers should take them seriously. Follow this link for a detailed rundown of important employer considerations for minority unions. A few of the top ones include:
Minority unions are protected under Section 7 of the NLRA and taking adverse action against employees who engage in such conduct is unlawful.
Bargaining with minority unions is also unlawful. There is a fine line here between listening and responding to the concerns of your workers without 'direct dealing.'
Many of the minority unions are centered around social justice causes. Be careful how you position yourself, so as not to create larger issues down the road.
**********
Minimum Rising
Newly-inaugurated President Biden signed an Executive Order last week instructing the Department of Labor to provide guidance on raising the federal minimum wage to $15 per hour. Similar recommendations are also included in the President's Covid-19 relief package.
Additionally, 74 jurisdictions are already scheduled for a wage increase by the end of this year.
**********
Labor Around the World
The United States, Mexico, Canada Agreement included in it a clause that asked Mexico to adjust its labor laws to make the collective bargaining process more fair for workers. In the first report from an independent body set up to monitor compliance with the USMCA, investigators identified a number of serious concerns about how well Mexico is implementing the agreed upon changes.
Canada has seen a renewed interest in organizing amidst the pandemic according to Unifor president Jerry Dias. He points to the auto industry, grocery, retail, and restaurants as the primary drivers. Similarly, the US has seen a significant spike in interest coming from workers on the frontlines.
**********
Sticky Fingers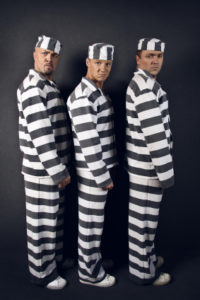 Current charges or sentences of embezzling union officials:
Scott Rodgers – NPMH:  $184,138
Hasan Zahdeh – NUHW:  $15,000
Sarah Geddes Holmes – IAM:  $300,000
Tyrone Johnson – AFSCME:  $1,500
Dorothy Jordan – AFSCME:  $25,000
Michael Johnson – IBEW:  $9,317
http://nlpc.org/index.php?q=union-corruption-update
**********
Labor Relations INK is published semi-weekly and is edited by Labor Relations Institute, Inc. Feel free to pass this newsletter on to anyone you think might enjoy it.
New subscribers can sign up by visiting: http://lrionline.com/free-stuff/newsletter-signup/
If you use content from this newsletter please attribute it to Labor Relations Institute and include our website address: http://www.LRIonline.com
Contributing editors for this issue: Phillip Wilson, Greg Kittinger, and Meghan Jones
You are receiving this email because you subscribed to receive our labor relations newsletters and updates. You can manage your email preferences by clicking the link at the bottom of any of our email communications.
NOTE: if you are using older versions of Internet Explorer, read the text version, as the html may not load properly. We recommend upgrading to the latest version.