Union Membership Shrinks Again!
New App for Bargainers and Union Members
Union Leadership Manipulation of Election Results
Another Innovation Stifled by Big Labor
SEIU Watch, Insight, Scoreboard and more…
The bottom of each story contains a link to the individual post on our site.
http://lrionline.com/labor-relations-ink-january-2016
**********
Labor Relations Insight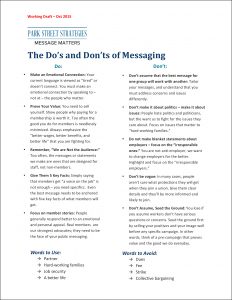 by Phil Wilson
How carefully do you craft messages to your employees? Have you ever announced something and then wished you'd said it a different way?
We recently ran across a messaging document posted on Facebook originally produced by the PR firm Park Street Strategies for the United Food and Commercial Workers. (Memo to self: The Google sees ALL the web pages).
According to their 2015 LM-2, the UFCW payed Park Street Strategies nearly $800,000 in member dues in 2015. That should give you some sense of how important they take this stuff. And if you happen to be a UFCW member reading this you might question whether this is the best use of your dues money. But that's a discussion for another day.
The point of the document is to help the UFCW hone its messaging for potential members. It highlights what this PR firm sees as messages that hurt UFCW organizers. It suggests how those organizers should re-shape the messages to be more persuasive.
In a very helpful section it provides "green light" words to use all the time, "yellow light" words to use sometimes, and "red light" words organizers should never say. These suggestions are telling.
For example, organizers should never call union members, well, union members. Or workers. Instead they should be called "partners." The document tells organizers to avoid the word "dues" like the plague. Instead it says to talk about "membership" (although they don't give any advice about how to use the word membership without using the word member). They advise organizers to talk about changing the power dynamic and making a better life, versus talking about jargon like "arbitration" or "grievance procedure."
On its face it is hard to argue with the advice in the document. Focus on aspirational values instead of conflict. Talk about benefits versus features. Draw attention to shared values. All good stuff.
On the other hand the document is short on practical examples of how unions actually deliver on the aspirational goals they outline. It's one thing to say you'll get "better wages, better benefits, and a better life." The problem unions have is when you compare what unions actually deliver to new members in collective bargaining (oops, not supposed to mention that phrase), they really don't deliver any of those things.
This problem explains why the UFCW (and every other union) needs to spend nearly a million dollars figuring out how to spin that reality into something people will pay them money to do. Not easy.
I encourage you to download the document, and not just as a way to show how unions struggle to square the facts on the ground with the promises they make during union campaigns. The advice on how to communicate to your employees is still excellent (and you didn't have to pay a silk-stocking PR firm to get it).
Communicate in aspirational terms about the value each person receives and delivers to your customers and community. About your commitment to providing a great employment experience to your team. What you do to honor each person's commitment to the organization and the customer. Ironically, just like with unions, the more you deliver on the these words the less likely you will ever have to worry about whether your employees will support you.
**********
Union Membership Shrinks Again!
The Bureau of Labor Statistics just released its annual report, indicating union membership has fallen yet again. Total membership fell from 11.1 % in 2015 to 10.7 in 2016, and private-sector membership fell from 6.7% to 6.4%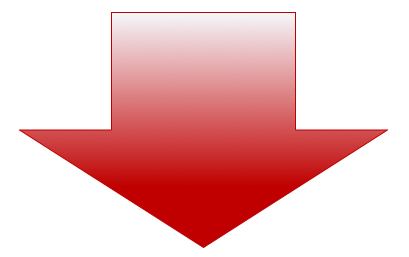 **********
Union Bailout Update
Dotting the i's and crossing the t's during organizing campaigns remains critical, as the recent URS Federal Services, Inc. case demonstrates. In this case, the employees overwhelming voted against unionization (91-54). However, although the union had been provided the Excelsior list by the required deadline, it called for an overturning of the election results because the union received the list from the NLRB regional director instead of directly from the employer, as the rule specifies, as amended in December 2014. The NLRB reversed the regional director's ruling and nullified the election.
The issue of whether or not employer arbitration policies that prohibit employees from filing class or collective actions are a violation of the NLRA is on it's way to the Supreme Court. The NLRB contends such policies inhibit concerted protected activity and are thus a violation of the law. The circuit courts are split on the issue, with the Ninth and Seventh Circuits holding them unlawful, while the Second, Fifth and Eighth find them acceptable.
State and municipal governments are ratcheting up the attack on employers as well. In California, two local governments have voted to give unions monopoly control of construction contracts as a condition of getting a state grant. In New York, Mayor de Blasio signed into law the Freelance Isn't Free Act, which will go into effect in May of this year. If you deal with freelance contractors in New York, you should check into the details of the new law. Connecticut became the most recent state to implement legislation prohibiting employers from looking into an applicant's criminal history at the onset of the employment process. There are exceptions, and there is an opportunity later in the hiring process to check criminal backgrounds, but a review of hiring procedures (in that state) may be in order.
Look for a "Fight-for-15" type of movement by state legislatures to attempt an end-around the injunction of Obama's overtime rule. Lawmakers in Rhode Island, Connecticut, Maryland, Wisconsin and Michigan are already talking of introducing bills, with those in many other states hinting they may follow suite.
**********
New App for Bargainers and Union Members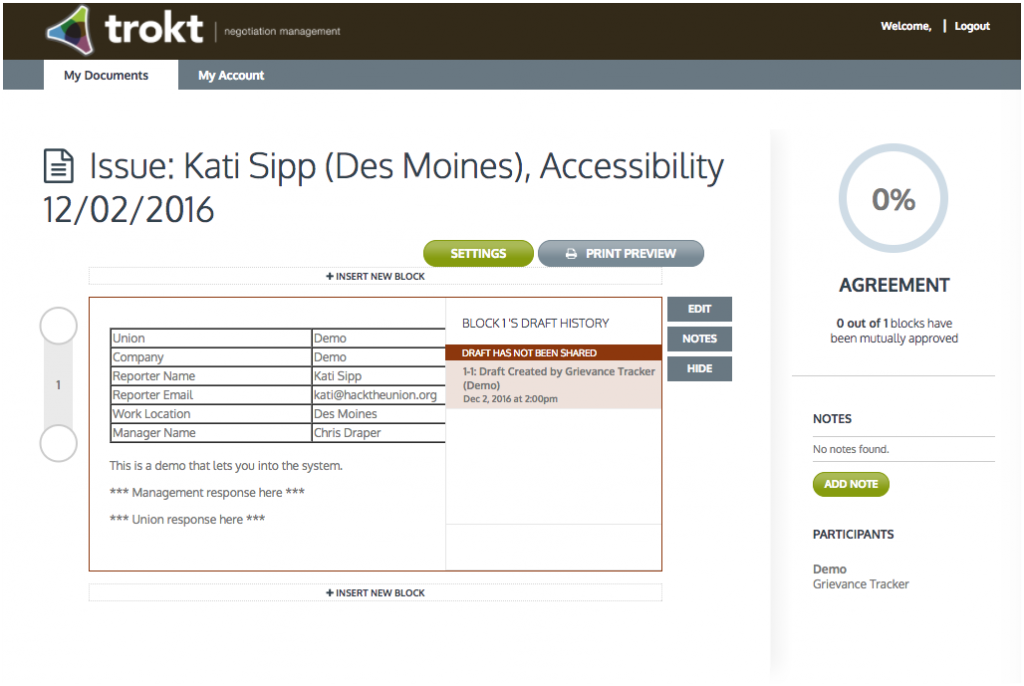 A new tech tool has emerged on the scene for union organizers and bargainers. It's called Trokt and it has two basic functions.
The first is a grievance tracker. This feature will make it easy to see what kinds of grievances were filed at what times. It takes away a lot of the grunt work that goes into figuring out what section of the contract need reviewed when negotiations come around. The second feature is a contract changelog. This would keep track of all changes made by both sides at the bargaining table. The tool also makes it easier to share documents amongst all parties.
For individual union members and stewards, Trokt's app also has an option to "file grievances, look up contract language, or check on the status of an already filed grievance."
**********
Union Leadership Manipulation of Election Results
If you need a current example of how entrenched union leaders hold onto power and stack the deck of candidates, despite the wishes of the union membership, the Washington Post includes a good description of how ATU Local 689 President Jackie L. Jeter was "reelected." The violations were so egregious that outgoing DOL head, Tom Perez, was forced to order a new election. According to the Post,
In a 35-page report, the department says a confluence of factors combined to invalidate the results of election: the union mailed election notices only 14 days before the vote took place, in violation of its bylaws and a 15-day notice provision of the Labor-Management Reporting and Disclosure Act; that the union allowed any member whose dues payments were less than two months late to remain in good standing, in violation of an established provision; and that the union held "secret" payment standards for members who were more than two months late on their payments.
The union "unreasonably applied a conflicting set of unpublished, alternative standards which were not announced to the Local's membership," the filing reads. "These alternate standards were spread, at best, by word of mouth. Members who happened to learn of them could try to take advantage of them. Members unaware of them could not."
**********
SEIU Watch
The Service Employees District 5, currently in bankruptcy, have asked a judge to reject Professional Janitorial Service's bid to liquidate the organization. SEIU argues that the janitorial company is trying to force SEIU out of business in Texas. Others might say that PJS is simply trying to collect on the debt SEIU owes them after a jury ruled the union pay over $7.8 million for malicious actions taken against the company in an organizing campaign.
SEIU's International is also making some big financial decisions in light of the recent inauguration of President Trump. They plan to cut their budget by 30 percent in preparation for what they expect to be a rough road ahead for unions in general. Their current budget is set at $300 million per year.
One SEIU local is suing former members after they decided to pull out of the local and form their own independent union. The lawsuit is over ownership of the banquet hall the two unions formerly shared. The banquet hall originally belonged to the members who left SEIU. They brought it with them over a decade ago when the two unions originally merged.
**********
Another Innovation Stifled by Big Labor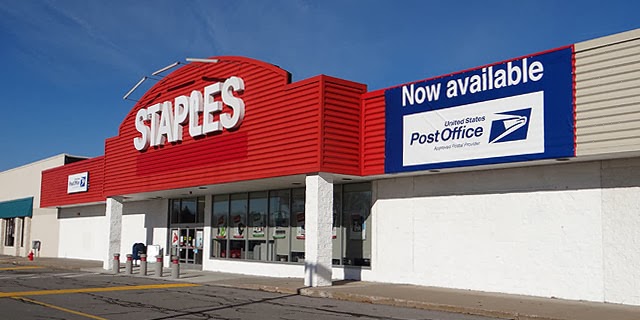 Staples and the U.S. Postal Service created something unusual: a winning innovation combining a private enterprise with a government agency, that created a solid benefit to the American public. The pair teamed up to open mini-post offices within Staples stores. Starting in 2013, getting to the post office became way more convenient.
You already know the end of the story. The American Postal Workers Union lambasted the move, calling for boycotts and involving other unions in the protest. The NLRB eventually chimed in, deeming the action a violation of federal labor law.
Outgoing Postmaster General Patrick Donahoe, disgusted with the outcry, called the union/NLRB move "an example of the narrow, near-sighted view winning over the broader, long-term strategy."
The experiment was downgraded from postal services to preferred shipping status, but will end entirely in March.
**********
Union Leader Faces Two Lawsuits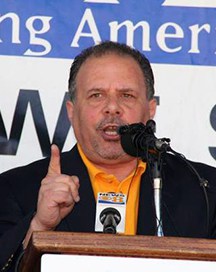 Two former employees have sued Mickey Kasparian, president of Food and Commercial Workers Local 135.  While the two cases themselves are very different in substance, one theme is a constant among them both. Kasparian created a hostile work environment and used intimidation to discourage employees from reporting acts against them.
Specifically, Kasparian has been accused of forcing one woman to carry on a sexual relationship with him for years. He has also been accused of wrongly firing another woman when she was "incorrectly suspected of being on the wrong side of a political issue."
**********
Fight for $15

On January 1, new minimum wages went into effect in nineteen states. Click here to see the list. The effect of an increased minimum wage remains controversial. How much does it benefit individual workers at the cost of the overall economy?
Ed Rensi reported last week in Forbes that due to these raises, some small businesses have had to close their doors – from daycare centers in Washington to independent eateries in Arizona. Even apparel manufacturers in California join a growing list of businesses leaving the state for less-expensive operating costs.
And still the question remains: what is the real benefit for unions, who have reportedly spent over $70 million funding the Fight for $15 campaign? To some major proponents, like David Rolf, the changing landscape is clear. Traditional unions are on their way out and Fight for $15 is a bridge to evolve with the times.
Rensi argues that while unions may have spent a lot of money on Fight for $15 so far with little return, their business plan is a pretty good one. They expect to see a pretty good return on investment. This could happen in a number of ways.
Some unions have provisions in their contract that if the minimum wage increases in a state, the wages of their members should increase by 15 percent above the new minimum wage. This is the case with UNITE contracts in Pennsylvania, Ohio, and South Jersey. And of course, the more money the workers make, the more money the union makes.
In other cases, unions have negotiated situations where if a company is unionized, they are exempt from the minimum wage law. This makes union labor cheaper than non-union labor. This has actually already happened in Los Angeles. The unionized Sheraton Universal Hotel employees were paid $10/hour. While the non-union Hilton Hotel across the street was forced to pay $15.37/ hour under the city's hotel minimum wage law.
Due to tactics like these, the EPI has actually estimated that "California unions can expect a return on investment of roughly $9 million in additional dues per year."
**********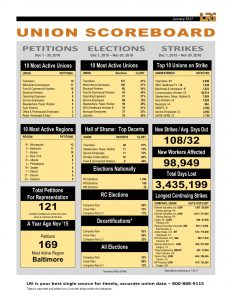 SCORE BOARD
Who are the winners (and losers) of the labor movement? Don't guess, just check the LRI Scoreboard
View this month's scoreboard (archives also located here).
Download a PDF of this month's scoreboard
**********
Election Ripples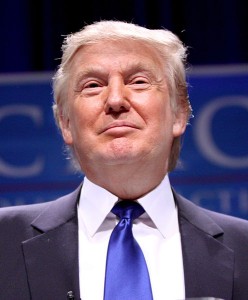 It is too early to make any real judgments about exactly how Trump's presidency will impact the world of
labor relations. Phil has already addressed the possible impact on the NLRB specifically, but if you want to review a few other prognostications, here's a recent list.  We won't spend much time on theory, but will keep you apprised once words become actions.
Chicago Tribune: How will the workplace change under Trump? Here are a few clues, issues
International Labor Rights Forum: Trump's Pro-Worker Rhetoric: Reality or Ruse?
National Law Review: What to Expect From a "Trump" NLRB
Washington Examiner: Labor awkwardly promises to work with Trump
**********
Right-to-Work
We mentioned on Jan 10th that Kentucky wasted no time passing right to work legislation.  Missouri and New Hampshire are cuing up to follow Kentucky.
Wisconsin has been fighting off challenges to its recently enacted right-to-work law, and in December one of the law's provisions met a legal challenge it has yet to surmount. At issue was the more generous dues check off provision. Wisconsin's law provides that an employee is permitted to revoke wage deduction authorization for union dues at any time after providing employer 30 days' written notice. Federal regulations under the Labor Management Relations Act permits unions to bargain for dues checkoff authorizations that are irrevocable for one year. Judge William Conley of the Western District of Wisconsin found that the LMRA preempted the state law. The Wisconsin Department of Justice is considering appealing the ruling.
**********
Pension Woes

Ironworker retirees are next on the chopping block to see their pensions reduced. On December 16, the Treasury Department approved cuts to the Ironworkers Local 17 Pension Fund. There are 2,000 members represented in this fund. On average, benefits will be reduced by about 20 percent. But some members could take more severe cuts. Pension administrators argue these cuts are the only way to keep the fund afloat.
**********
Labor Around the World
Australian union membership numbers are the lowest they've been since at least 1998, as reported by Roy Morgan, a research agency. At 17.4 percent, this number stands a little higher than the 15 percent reported last year by the Australian Bureau of Statistics. Whichever report you choose to give more credit to, one fact remains clear. The people of Australia are losing trust in their unions.
Taiwanese workers won big late last year when the decision was made that all citizens, by law, will be able to enjoy two days off work each week. The law went into effect on January 1.
January 1 was a big day for employees in France as well. On that day, a law went into effect granting employees the "right to disconnect" from work email and phone calls when they're off the clock. Also in France, after 5 days of closure due to strikes, the Eiffel Tower reopened last month.
Venezuela's minimum wage rose by 50 percent earlier this month. While that may sound like great news for the Venezuelan people, the reality is that the raise pales in comparison to the "insane levels of inflation" the country is dealing with. The increase in prices has made even necessities like food too expensive for many Venezuelans.
**********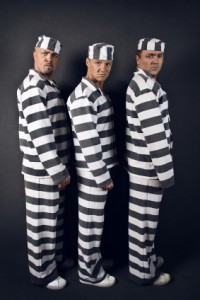 Sticky Fingers
Current charges or sentences of embezzling union officials:
Sergio Acosta – IAM:  $6,660,000
Gregory Tyree – NASPSO:  $1,219
William Dixon – IBB:  $4338
Oscar Picazo – IAFF:  $297,000
Pascale McAtee – SMART:  $80,000
Mark Kirsch – IUOE:  $184,000
Michael Lackey – CWA:  $70,000
Harold Gilberson – UWUA:  $179,052
Michael Benett – UAW:  $100,000
David Maddy – UAW:  $37,197
http://nlpc.org/index.php?q=union-corruption-update