In this issue:
New Blood
Operating Engineers Blackballs Employee
CWA Throws In The Towel At IBM
Mixed Media
SEIU Watch, Sticky Fingers, Scoreboard, Insight and more…
The bottom of each story contains a link to the individual post on our site.
**********
Labor Relations Insight with Phil Wilson
The Real Impact of Ambush Elections
In just a couple of months we will have one year of experience under the NLRB's ambush election rule making. This is one of the most significant changes in US labor law since… Ever. It has slashed the amount of time employees have to consider their decision about whether or not to choose representation. More important, it has fundamentally altered how decisions about who is included (and excluded) from bargaining are made.
But what are the actual "on the ground" differences? Let me start with the latest statistics. First, number of days till an election. Here is what has happened since the rule went into effect: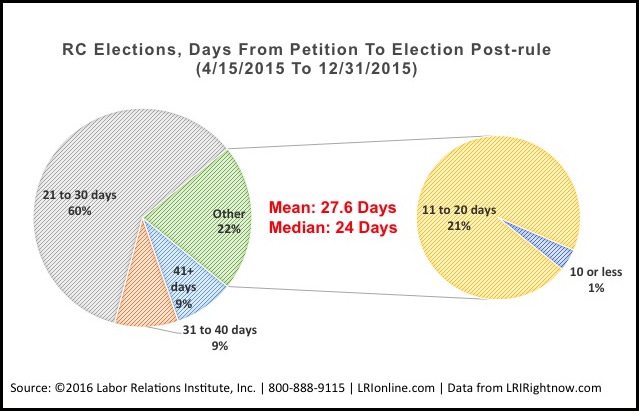 You can see from the chart, election periods are substantially faster since the rule went into effect. The average election happens in around 27 days from the date of the petition. But that average is a little misleading. About 10% of elections have a significant delay (several have gone more than 100 days from petition to vote). The median election period is 24 days. As you can see from the chart, well over half the time your election is going to happen somewhere in that 24 to 27 day range.
This is a lot faster than under the old rules. For the decade prior to the ambush rule elections happened in around 36 days (the NLRB goal was 42 days). So elections under the rule happen about 1/3 faster than they did before the rule was adopted. Many fear these periods could shrink even further. Our anecdotal experience (that's quite a few anecdotes – we've handled nearly 100 elections under the new rule) is that the election period under the rule is pretty stable. Your mileage may vary, but if you get a petition you will have about 3 1/2 weeks till your vote.
How are these fast elections affecting election outcomes? Take a look: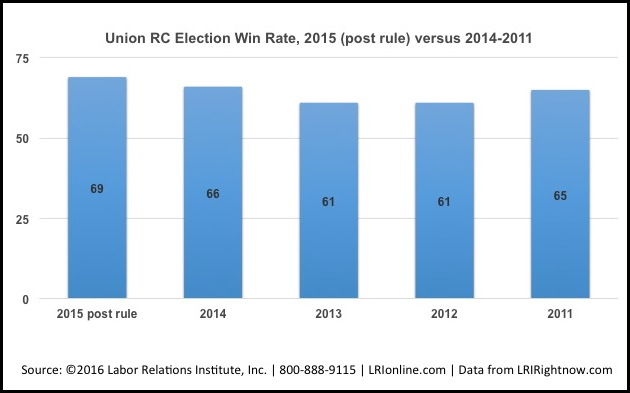 Unions supporting the reduced election periods argued that extended campaigns gave employers time to brow-beat employees into voting against them. They believed shortening election periods would increase their win rates. The actual experience shows that these claims of employer misconduct were way overblown.
Union win rates are up. Since the rule went into place unions are winning about 3 percent more elections than they did in 2014. If you go back further the win rate jump looks even more pronounced, around an 8% improvement over 2012 and 2013.
However, I think to really evaluate this claim you have to have some perspective. Unions have, for decades, hovered around a 65% win rate in union elections. The "jump" in wins isn't out of this range, and there will be a number of elections in the first quarter of the year (elections tend to follow seasonal patterns) that could bring the win rate closer to what it was in 2014.
This increased win rate means around 50 more election wins this year. What impact will that have on union membership? Take a look at this chart: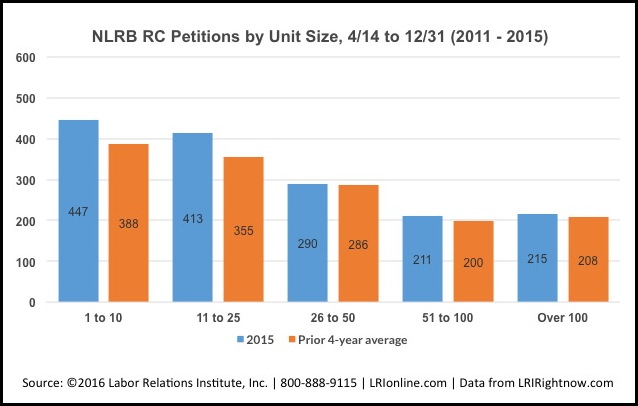 Unions appear to be targeting smaller employers at a much higher rate than larger companies. Since the rule went into effect smaller companies (under 25 employees) are over 15% more likely to get a petition than they were in 2014. At the same time elections against employers over 25 employees are essentially flat under the new rule.
This means that while unions are winning more elections, they are winning them in very small bargaining units. In other words, those 50 election wins will probably net unions 700 or so new represented workers (NOT 700 more dues-paying members). Before unions start generating revenue off those workers they first have to negotiate a contract. And if you're running a union I think this will turn out to be one of the unintended, hugely negative consequences of the new rule.
If you've read INK for any period of time you've heard me say that unions don't have an organizing problem, they have a message problem. They're becoming more and more marginal. They are selling buggy whips to people who want an SUV.
Unions are trying mightily to change this perception problem with things like Fight for $15 and Alt-Labor. But those efforts are not resulting in new members. When it comes to actual results during bargaining – the thing you are selling in union elections – you need a lot of lipstick to make that pig look good.
In a fast election where employees barely get any information, where unions can apply the right amount of smoke and mirrors, they can win. But eventually it comes time to deliver what you promised. And in the harsh light of collective bargaining people quickly start to see that maybe, just maybe, the employer wasn't brow-beating or threatening employees during the election. Maybe the employer was just explaining the reality of collective bargaining in an incredibly difficult business environment.
Once employees figure this out they feel betrayed by union salespeople. They wish things were back the way they were. And in today's social media environment unions have to think very carefully about the potential blowback of all these dissatisfied and disgruntled members. In a world where figuring out how to get rid of your union is just a click away, It's a big problem. One last chart: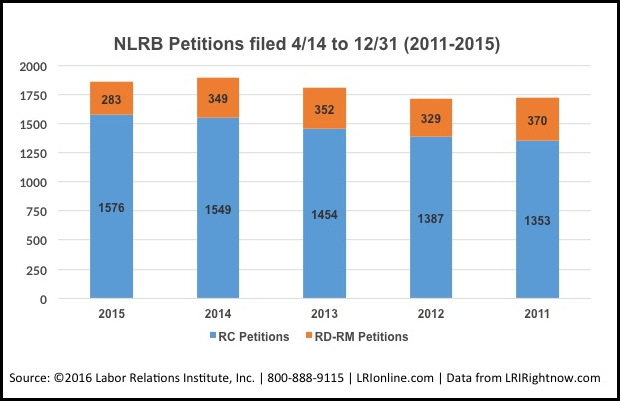 This is the most telling chart. Unions need to start winning a LOT more elections if they are going to just replace the members they lose each year to business closure and decertification. The net impact of the ambush rule on organizing activity: Zero. Zilch. Nada.
The total number of union elections in the 8 months since the ambush rule is actually LOWER than the same period in the year prior. Elections are basically flat over the last 5 years. There have been fewer decertification campaigns this year than in years prior. I attribute this to the fact that the new rule requires employees to serve petitions directly on their union (a terrible change under the ambush rule – clearly designed to intimidate workers who no longer want a union). I don't think that trend continues in 2016.
The bottom line is that even if the union win rate in elections stays stable at 69% (heck, even if it was almost 100%) the net increase in dues-paying members would be minimal. That's because so few people are being organized in the first place. The ones that are don't get contracts that they're happy about (when they get one). They feel sold a bill of goods. And ramming a union down the throats of American workers is just going to make this worse.
Unions are getting all they want out of this administration, but I don't think they feel like they're winning. That's because they want the wrong things.
**********
Union Bailout Update
The NLRB has continued to move against mandatory arbitration provisions in employment contracts, and in fact, has been extraordinarily focused on the issue. In the last two months, the Board has decided twenty seven separate cases surrounding employment policies that prohibit workers from bringing collective legal actions. As board Chairman Mark Pearce clarified in the Solar City case, "The board made it clear an employer may lawfully maintain an arbitration agreement that requires arbitral proceedings to be conducted individually, but only so long as the employer leaves open a judicial forum for class and collective claims."
The Board is at odds with the Fifth Circuit court, which ruled in Murphy Oil in October, 2016, that the Federal Arbitration Act trumps the NLRA. The Board viewed the Fifth Circuit's decision as based on a misunderstanding of the right at stake, and appears to be working to push the issue to the Supreme Court.
2015 saw a 10% increase in wage and hour litigation, and with the overhaul of the Fair Labor Standards Act's overtime exemption for white collar employees, it is expected to increase this year as well. A proposed change to the rules, expected this year, doubles the salary basis test for an employee to be considered as exempt. Many employers will be required to make changes to how employees are compensated and potentially classified.
The final version of the Persuader Rule is expected as early as March. For details you can watch the replay of our webinar on the rule here.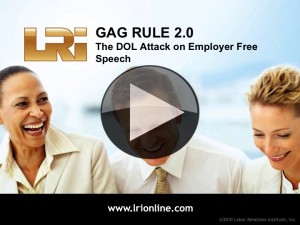 Although it's been a year since the Purple Communications ruling allowing off-duty employees access to company email systems for the purposes of organizing, there are many unanswered questions remaining to be clarified, among them:
Will the principle of Purple Communications be expanded to non-employees?
Are on-duty employees permitted to use emails for these purposes?
What about other forms of electronic communications, such as corporate texting, voicemail, etc.?
A group of professors from around 70 different universities have petitioned the NLRB to drastically change the rules surrounding captive audience meetings. The professors attempted to use the Railway Labor Act (RLA) to bolster their case that if an employer holds a captive audience meeting for the purposes of expressing its opinion during a union organizing drive, the union should be given the same time - on the clock - to hold a similar meeting. Although the use of the RLA was a bit out of context, it will be interesting to see how the Board handles the case.
**********
New Blood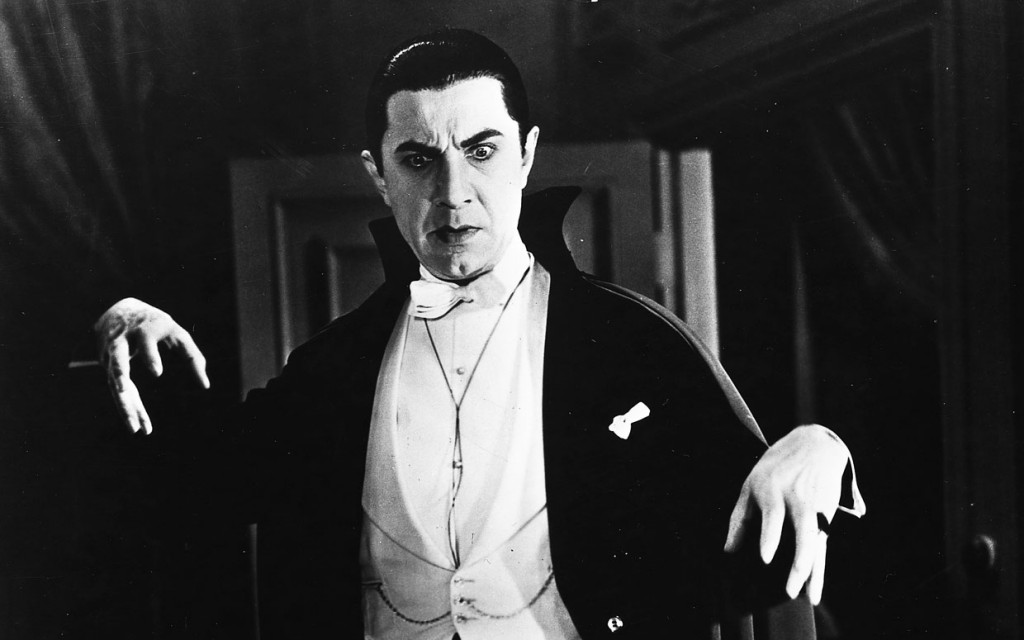 Unions are getting creative in their attempt to stem their declining membership roles. While they still have not made inroads in some of their recent high-profile targets, such as big box retail stores and fast food restaurants, they have found some new blood in some interesting places.
A handful of notable digital media companies succumbed to organizing pressure last year. Although print newspapers have been churning out union members for decades, the move into the world of online media is recent.
Tech company shuttle drives in the San Francisco Bay area and bike share companies across the country have begun to migrate into the union fold as well. Although small, these first three groups all represent the young, hip and tech savvy. The trend might be worth paying attention to.
Security guards, especially from independent contractors, have also been a big boon for unions, particularly the SEIU, which has added 50,000 guards to its roles since 2003.
Lastly, colleges and universities are continuing to contribute to the ranks of union members. SEIU alone has gained another 10,000 members over the last three years, and the UAW has gotten in on the act, going after teaching assistants and resident advisors. Once limited to public universities, private campuses are now under assault as well.
**********
Mixed Media

Arianna Huffington has publicly supported her employees' right to organize since negotiations around their eligibility first began in October 2015. In a letter to staff earlier this month, Huffington Post management announced that they have reached an agreement with the Writers Guild of America, East (WGEA) to voluntarily recognize the union, pending a count of signed authorization cards. Perhaps HuffPost will have better luck than Al Jazeera.
Two weeks ago, Al Jazeera America CEO, Al Anstey, announced that the company will be closing its doors on April 30.
"[O]ur business model is simply not sustainable in light of the economic challenges in the U.S. media marketplace," Anstey told staff in a memo.
This comes just months after staff members of the digital newsroom voted to unionize under the News Guild of New York (CWA).
**********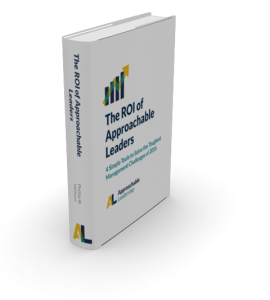 Don't Miss It!
Our First Approachable Leadership Webinar!

You've read the eBook (You have read the eBook, right? If not, click here to download it now . Now it's time to dig a little deeper into some of the tips, tactics and tools you need to bring the power of approachability into your organization.
This is the first of a monthly webinar series on all things approachability. The webinar, led by Phil Wilson, will highlight the latest research on Approachable Leadership, go over one practical leadership tool, and answer your questions. The goal? Provide a fast-paced, practical leadership "hit" to help each of us be a more approachable leader. We hope you can join us!
Know anyone else who might benefit from the webinar? Feel free to forward the invitation to them. Help us spread the word about Approachable Leadership!
or click the link below to register for our Approachable Leadership webinar scheduled for next Thursday, February 4th at 2PM Central (that's Noon Pacific, 1PM Mountain, and 3PM Eastern).
https://attendee.gotowebinar.com/register/4425450011626022914
**********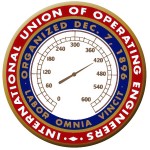 Operating Engineers Blackballs Employee
What would you expect would happen to a union member who criticizes union management and files a discrimination suit with the Equal Employment Opportunity Commission? Well no - she didn't suffer the same fate as Jimmy Hoffa.  However, her name was deleted from the work-eligible hiring list at the union hall and the union refused to stamp her unemployment book. Fair representation at its finest.
**********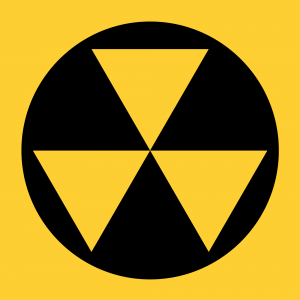 Right To Work Fallout
On the Right To Work front, legislation was introduced in Ohio to make that state the 26th to enact a right to work law. It is unclear how much support there is this early in the process. Such legislation has been introduced before, and Governor John Kasich has stated that he doesn't believe his state needs a right to work bill.
In the public sector, the Friedrichs case continues to threaten forced dues paying in California's teachers unions, with ramifications for all public sector unions. Michigan teachers' unions have already experienced the loss of members and dues associated with the enactment of right to work laws, but the ramifications from the Friedrichs case could extend beyond state boundaries.
Meanwhile, at least one union in Michigan has resolved that it is better to risk the safety of their members and damage the productivity of the companies they work for in a petty attempt to take "revenge" on those who decide to opt out of the union under the right to work law. According to a newsletter from Local 412 of the United Auto Workers (UAW), members were encouraged to "not share any tools, knowledge or support for any of these employees who choose not to pay their fair share," and then proceeded to list the names of those who had opted out. Although other unions have already resorted to posting names and attempting to "shame" employees who opt out, this UAW Local has been the first (at least publically) to attempt to take such drastic action.
**********
CWA Throws In the Towel At IBM
After 16 years, the Communication Workers of America are "suspending" their efforts to make a union shop of IBM. The CWA local, dubbed Alliance@IBM, had 400 dues-paying members at its peak. Now they sit at about 200. IBM is estimated to have about 71,000 U.S. employees.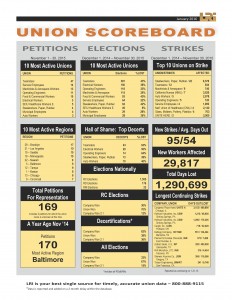 **********
SCORE BOARD [links need to be corrected]
Who are the winners (and losers) of the labor movement? Don't guess, just check the LRI Scoreboard
View this month's scoreboard (archives also located here).
Download a PDF of this month's scoreboard
**********
Teamster Beat
As we reported in October, the Independent Review Board has recommended that a trusteeship be imposed on the Ohio Conference of Teamsters after finding that the organization spent at least 70 percent of members' dues money "for the benefit of its officers, employees and other local officers."
What happened next? The Independent Review Board started looking into the locals that make up the Ohio Conference of Teamsters. The findings on their November 24 report aren't much of a shocker. Here are a couple highlights:
Local 400 officers abolished the members pension plan, but neglected to make the required payments on the withdrawal liability (totaling $697,482);
The organization spent member's dues on gifts and grants, including golf tournaments and donations to the Ohio Conference of Teamsters, while the union was in debt.
**********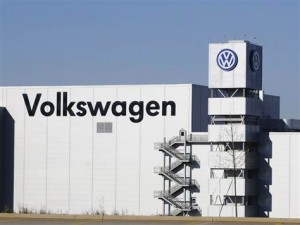 Whistlin' Dixie
Volkswagen is currently refusing to bargain with the UAW as the representative of 165 skilled maintenance workers at its Chattanooga plant. They took it a step further in late December when they filed for an appeal of the NLRB decision that determined the unit size. VW officials would like the vote to be recast to include all 1,400 production and maintenance workers at the facility, although the likelihood of that is minimal with the members sitting on Board today.
**********
SEIU Watch
SEIU Healthcare Michigan lost more than 44,000 members in 2014 when the Supreme Court ruled that their dues scheme was over. Sadly, it appears that wasn't the only scheme SEIU had up its sleeve.
All it took was $76.67 for home-care worker Patricia Johansen to realize SEIU was attempting to pull one over on her. The organization claimed they'd received an organizing card and approval for dues deduction from Johansen with her signature. Johansen says she never saw or signed any such card. She requested a copy of the card be sent to her.
When Johansen received it, she says it was clear the signature was forged.
"I'm left-handed, the letters are all formed differently. So they didn't have my signature. Somebody else just signed my name to it."
An SEIU Healthcare Michigan executive told Johansen that their investigation into the matter was "inconclusive;" however, they would go ahead and refund the money.
Bill Messenger, an attorney with the National Right to Work Legal Defense Foundation, is challenging the union's constitutionality saying the card controversy points to a larger issue.
"I think that this just shows why the SEIU cannot be entrusted with personal information about all PCAs (personal care assistants) in the state, which the state agreed to hand over to the SEIU without any safeguards on how SEIU uses that information."
In other SEIU news, Dave Regan announced last month that he's moved $3 million of his members' dues money into a political fund. The fund is for a ballot initiative that would, in Regan's dreams, pressure the California Hospital Association back into their failed sweetheart deal.
**********
Labor Around The World
As China's economic growth slows (2015 is likely to be the weakest recorded in 24 years), the country is seeing an increase in labor activism. The country has seen a 13-fold increase in strikes and protests since 2011. Chinese police have started arresting leaders of organized strikes.
The UAW International Executive Board has nullified a resolution passed by its members. Local 2865 became the first American local union to endorse a boycott when 13,000 teaching assistants and student-workers at the University of California voted to do so in December 2014. Specifically, they have been supporting the Boycott, Divest, and Sanctions (BDS) movement against Israel that asks supporters to withhold financial investments in companies "complicit in severe and ongoing human rights violations as part of the Israeli oppression of the Palestinian people."
**********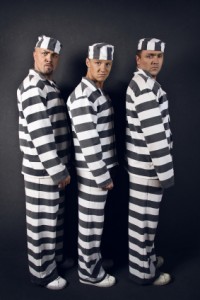 Sticky Fingers
Current charges or sentences of embezzling union officials:
Robert Tuttle - IBT:  $4,857
Stanley Buchanan - NALC:  $7,776
Patrick Rommevaux - IUEC:  $16,545
John Allen - ILA:  $1,940
Daniel Correa - LIUNA:  $20,000
James Deamicis - IBT:  $40,000
http://www.nlpc.org/union-corruption-update