In this issue:
Organizing in Blaseball
NLRB GC Policy Directives Reversed
Biden Balancing Environmental vs. Union Concerns
Expedited Hi-Tech Jobs Shift
More Union-Mob Ties
Sticky Fingers, Insight and more…
**********
Labor Relations Insight by Phil Wilson
2020 Review and Innovative Organizing in 2021
The team at LRI RightNow just released our 2020 annual elections review. There are lots of interesting tidbits in this year's report. Here are a few of the highlights that intrigued me.
Unions racked up 31,610 newly organized workers in 2020 in just over 800 NLRB elections. The pandemic obviously dramatically impacted petition and election activity – total elections were down 31% over 2019. What struck me was that in a year where a ton of elections occurred by mail ballot the union win-rate in RC elections dropped nearly 5%. Here is an excerpt from the report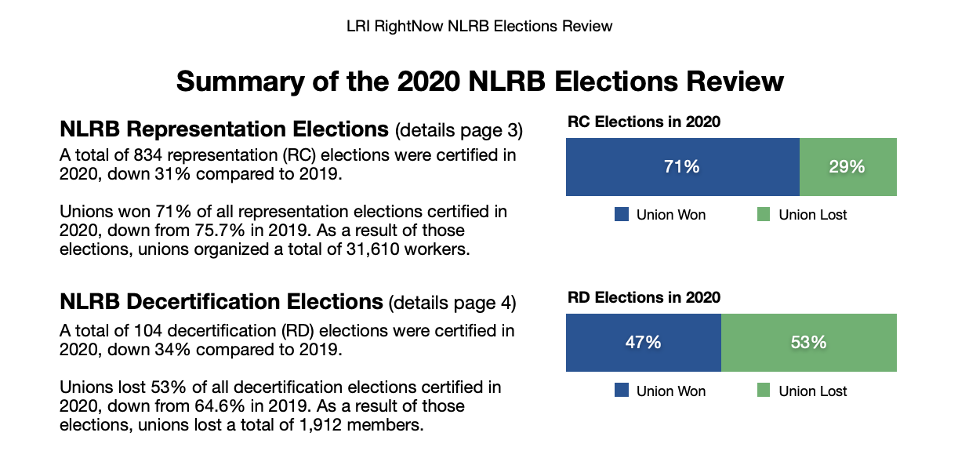 The 5 most active unions this year don't really have any surprises. Here's that chart: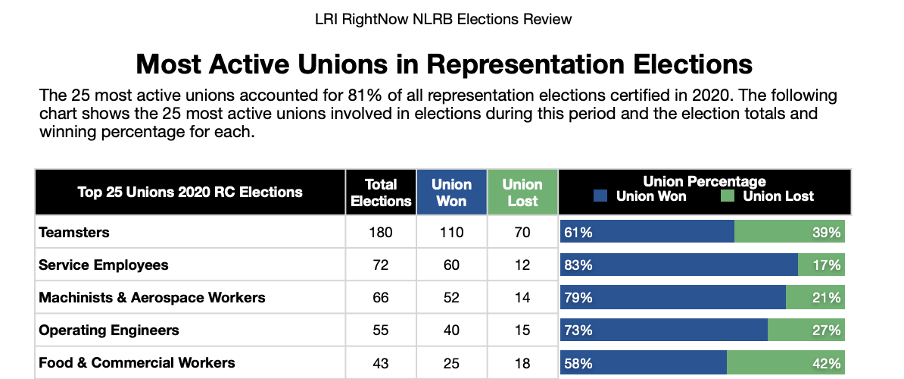 What did surprise me was a few of the unions that round out the top 10, including one union that went 17 for 17 in elections in 2020. Curious who that was? You'll have to get the report to find out 
One of the centerpieces of election reforms during the Obama administration was making it easy for unions to organize micro-units. A micro-unit is where a union can show majority support in a small work group, carved out of a larger group of workers. As soon as the NLRB has a Democrat majority – most likely this fall – it is probable that micro-unit elections will be back. And that bodes well for unions, as you can see from this chart in the elections review: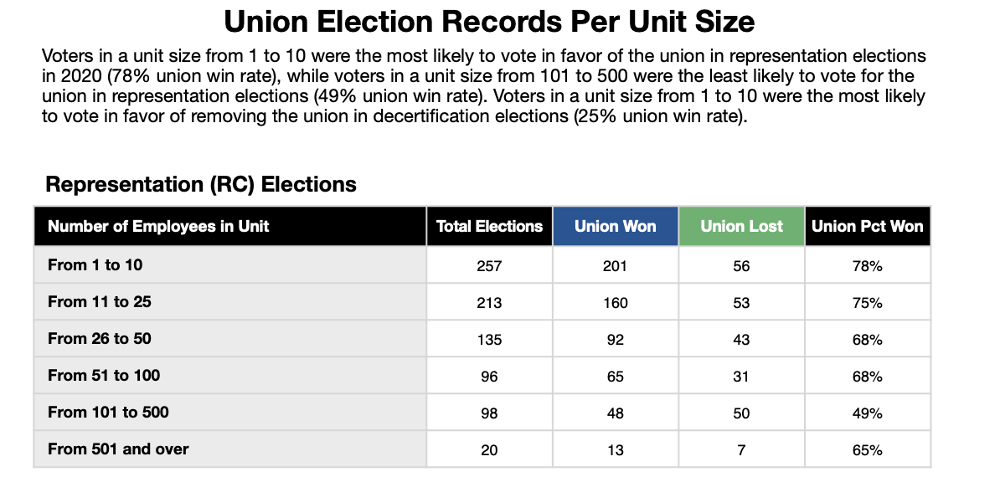 Last year unions won almost 80% of the 257 elections conducted in these small units of 10 or fewer eligible voters. Even though these elections were in small units, they were not micro-units. That's because the NLRB reversed the prior administration's rule and said elections must occur in units where employees share a community of interest.
You can anticipate that a Democrat-majority Board will flip the standard back to the "overwhelming community of interest" standard, where the union gets to pick any group of workers it wants, and that unit can only be expanded if the company can prove that the micro-unit shares overwhelming similarities to other excluded workers. That means you will see a lot more elections in the smaller units under 25 employees, where unions are the most successful in converting petitions to election victories.
Those are just a few of the things I thought were standouts in this year's review. You can also see how unions fared in your industry, in your region, and using the interactive maps feature you can even see how they fared anywhere near one of your locations. It's a tremendous resource. Pick yours up today!
Innovative Organizing
Unions have kicked off 2021 with a number of interesting innovations. One trend we've been following is the launch of some off the beaten path organizing vehicles. The one that stands out the most to me is a site called Unit Workers that attempts to turn traditional NLRB organizing into an app-based experience. The basic idea is that a group of workers sign up on the website to organize a group of peers. They can then use the site to survey coworkers, get them to sign authorization cards, and get the organizing process working. In the background there is legal and professional organizing support, but the "union" doing the organizing is an independent one-site union.
Once a group of workers organizes under the model, they pay the company (interestingly they are NOT considering themselves a union) 0.8% of their monthly pay in fees to the website while they negotiate their labor agreement. In exchange they receive legal and strategy support provided from the app company. This one is fascinating, and they've already filed at least one NLRB petition. That petition ended up being withdrawn, but the workers in that case received legal representation from across the country (the petition was filed in Seattle, but the attorney handling the case on behalf of the "union" was in Boston). We'll see whether this model gains additional traction, but it is fascinating and shows a lot of innovative spirit.
A couple of others also caught my eye this month. Social media "influencers" are now eligible for union representation thanks to SAG-AFTRA. Now your favorite TikTok, Instagram or Twitch star might also be carrying a union card. In another innovative move SAG-AFTRA created an Influencer Agreement which gives anyone paid to advertise on their social media platform the option to join SAG-AFTRA and gain access to health and pension benefits like those offered to actors and other entertainment business workers.
And if TikTok stars unionizing isn't crazy enough for you, how about organizing in Blaseball? That's not a typo, and I had to look it up, so if you already know what Blaseball is you're way cooler than me. For those who don't know, it's a splort… well, just go here and see if you can figure out what it is. The reason this is in our humble labor relations newsletter is that the Wobblies creatively jumped onto some organizing activity inside the Blaseball universe. As best I can tell in Blaseball you often try to get a bunch of other people to get together with you to sabotage the other team – kind of like the Gamestop runup (you know, #stonks). The Wobblies are trying to use this as a jumping off point to teach players to organize here in the real world. I'm pretty sure this is one of the signs of the apocalypse, but I do think it's also evidence of how unions are more and more a part of the zeitgeist of the 2020's.
Will any of these developments lead to a lot of new organizing? I don't think so. But I think they are really important to watch. Unions have talked about needing to innovate for decades. The talk is turning to walk.
**********
Union Bailout Update
The removal of NLRB General Counsel, Peter Robb, by the Biden administration was unprecedented. Some have predicted that legal challenges to his forced removal could impede the Biden board, but apparently the pro-union steamroller is working up momentum.
Ten of Robb's individual policy directives have been rescinded by acting GC Peter Ohr. Directives related to analysis of the Boeing decision, neutrality agreements, and some that tightened requirements for unions were among those targeted in Ohr's initial actions. In mid-February, Jennifer Abruzzo received the nomination as the next NLRB General Counsel.
The NLRB's 2019 Caesar Entertainment ruling allowing employer restrictions of union-related employee email is facing a legal test in a T-Mobile case. The board upheld the propriety of employer restrictions in an April 2020 ruling, but the Communications Workers appealed the decision to the D.C. Circuit.
In a divided decision, the NLRB expanded protections for workers who initiated a "wildcat" strike during contract negotiations. What appeared to tip the decision in favor of the workers was the filing of a grievance by a union steward on behalf of the dismissed employees, though the employees struck without original approval by the union.
Employers received another social media policy reprieve when the NLRB overturned an Administrative Law Judge's decision on January 25th. Among the provisions upheld:
Prohibition on disclosure of proprietary or confidential information of the employer or co-workers.
Limitations on an employee's use of the employer's name, logo, trademarks, or other symbols in social media to endorse, promote, denigrate or otherwise comment on any product, opinion, cause or person.
Prohibition on posting of photos of coworkers without their written consent.
Prohibition on use of social media to disparage the employer or others.
Prohibition of "inappropriate communications" generally on social media.
It's reasonable to expect a Biden board will unravel these guidelines in the near future.
To close, a few more prognostications about the direction of the Biden DOL:
**********
Covid-19
The CoVid-19 pandemic is having an impact on union strength at the bargaining table. Bloomberg Law reports that union wage hikes were down nearly one percent into 2021.
The Families First Coronavirus Response Act, which required certain employers to provide employees paid leave for a series of qualifying reasons, including childcare, quarantine, and COVID-19 symptoms, lapsed on December 31, 2020. Biden's current proposal does include some qualified paid leave, but it remains to be seen what any final bills will look like.
**********
Biden Dancing A Jig
President Biden is facing the inevitable clash of trying to reconcile his aggressive pro-union agenda with actions supposedly designed to push a Green agenda. Democrats are initiating new legislation that supposedly promote zero-emission infrastructure, while laden with pro-union shackles that the business community believes are not reasonable or will do irreparable damage to many sectors of the economy, particularly smaller businesses. Biden's moves to freeze new oil leasing on public lands and cancel the Keystone XL pipeline already had the business community, and unions, up in arms. Many of the unions that ardently supported the Biden campaign are lining up against threats to other pipelines and oil and gas industry infrastructure jobs.
**********
AI, Technology, and Labor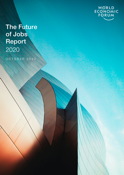 The steady progression of replacing manual labor with technology received a kick-in-the-seat-of-the-pants by the pandemic. Andy Van Kleunen, CEO of the National Skills Coalition, a policy research group that promotes workforce training, put it this way: "We've fast-forwarded 10 years of change in the space of less than 10 months." According to the World Economic Forum's Future of Jobs survey, forty-three percent of businesses anticipate reducing their workforce because of new technology.
Although the number of new jobs created by new technologies balances or surpasses those lost, the issue is job training, especially given the accelerated pace. Thus far pandemic relief packages have contained no earmarks for training, and it will likely be a difficult fight to create any legislation that does.
**********
Tech/Media Unions

Just five years ago, Gawker Media became the first digital news outlet to organize a union. It was a slow burn at first, but in the last two years we've seen this movement gain significant momentum among some of the largest publishing platforms online. Early this month, employees at Medium announced their intention to do the same.
Traditional news outlets are following suit. Workers at New York Daily News organized with the NewsGuild of New York and have asked the News' parent company, Tribune Publishing, to voluntarily recognize the union.
**********
Union Corruption
Last October, James Cahill, former president of the New York State Building and Construction Trades Council, was indicted for solicitation of bribery. Now a new filing is alleging his "extensive ties to organized crime." Learn more here.
In late January, another former Auto Worker leader was sentenced for his participation in the now infamous corruption scandal. He will serve one year in prison and one year of supervised release for his role in embezzling $1.5 million in union funds, along with producing fraudulent tax documents to support the embezzled amount.
Speaking of the ten-year-long corruption scheme at the UAW, the union and the federal government reached a deal to settle the investigation. The UAW has agreed to: "the appointment of an independent monitor to keep tabs on the union's financial affairs, a member referendum to ratify new methods of electing IEB [elected international leadership team] members, and payments by the former union officials to satisfy their unpaid tax liabilities."
For a more comprehensive list of corruption among union bosses since the start of the year, check out this detailed article by LaborPains.com.
**********
It's All Academic
The NLRB updated its rules for determining when adjuncts and non-tenure faculty at universities can join a union. Faculty members can only join a union if their school has a committee that exercises 'effective control' over school policies and curricula that the non-tenure faculty are unable to join. If a school does not have this sort of committee, then said faculty members are considered management employees with a reasonable voice in their daily operations and thus not eligible to unionize.
In the case of non-tenure track faculty at Elon University, the Board ruled in favor of the union's attempt to organize, stating that the university did not meet "its burden" to prove that "non-tenure faculty are structurally included in the university's faculty bodies."
The NLRB also ruled this month that graduate nurses are professionals and eligible for a union vote.
**********
The Long Goodbye
After petitioning the state NLRB for a vote to remove the Operating Engineers union multiple times last year and being unlawfully denied due to 'blocking charges' filed by the union, workers at Rieth-Riley Construction Company in Michigan have finally been granted the opportunity for a decertification vote.
No doubt they will find the same success as Shamrock Foods employees in Idaho who voted out the Teamsters this month, after similar attempts from the union to block an election.
**********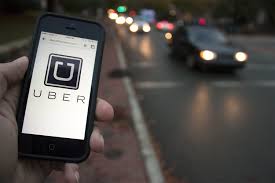 Gig Economy
Proposition 22, which classifies rideshare drivers in California as independent contractors, took effect in December. Shortly after, a group of drivers filed a lawsuit to overturn the decision. That case was rejected by the California Supreme Court earlier this month. Prop 22 stands.
**********
Healthcare
SEIU locals are kicking up their focus on nursing care facilities.
In Pennsylvania, SEIU Healthcare petitioned the governor and health department to update nursing home regulations in the state. Proposed changes include increased staffing to increase per patient care, increased management oversight, higher wages and benefits, required stockpile of PPE, and more onsite training opportunities.
In Oregon, workers at Rawlin Memory Care went on strike to force union recognition (SEIU 503) via card check. No formal vote has been held.
**********
Minimum Rising
In a meeting with a group of mayors and governors earlier this month, Biden appeared to concede that a minimum wage hike to $15 is not likely to happen as a part of the current Covid-19 relief package.
In order to pass the relief package through reconciliation, which would mean at least 50 congressional votes, all democrats need to be on board. Due to the minimum wage provision, two are not: Senator Joe Manchin of West Virginia and Senator Kyrsten Sinema of Arizona. Sinema argues that a minimum wage provision is not appropriate as part of a Covid relief bill (she's not wrong); and Manchin says that in his part of the country, a $15 minimum wage is simply not sustainable for small businesses. He'd like to see it closer to $11.
The House will vote on Covid relief, including the minimum wage provision, by the weekend, at which point it will be sent back to the Senate. Democrats hope to have passed a relief package by March 15th.
**********
Labor Around the World
The U.K. Supreme Court ruled last week that Uber drivers are employees of the company who are entitled to minimum wage, paid holidays and other benefits. The degree to which the company has control over the services offered proved to be the determining factor. In the case of Uber and its drivers, this includes Uber's control over fares, the driver rating system, and contract development.
Uber has 65,000 active drivers in the U.K.
**********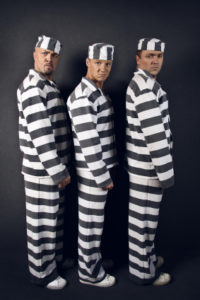 Sticky Fingers
Current charges or sentences of embezzling union officials:
Edward "Nick" Robinson – UAW:  $1,500,000
Dorothy McBride  CWA:  $635,000
https://nlpc.org/category/project-name/union-corruption-update/
**********
Labor Relations INK is published semi-weekly and is edited by Labor Relations Institute, Inc. Feel free to pass this newsletter on to anyone you think might enjoy it.
New subscribers can sign up by visiting: http://lrionline.com/free-stuff/newsletter-signup/
If you use content from this newsletter, please attribute it to Labor Relations Institute and include our website address: http://www.LRIonline.com
Contributing editors for this issue: Phillip Wilson, Greg Kittinger, and Meghan Jones
You are receiving this email because you subscribed to receive our labor relations newsletters and updates. You can manage your email preferences by clicking the link at the bottom of any of our email communications.
NOTE: if you are using older versions of Internet Explorer, read the text version, as the html may not load properly. We recommend upgrading to the latest version.