In this issue:
Laboring Toward 2020 
AI, Technology and Labor
Gig Economy
Union Bailout Update, Insight, Scoreboard and more…
The bottom of each story contains a link to the individual post on our site.
Labor Relations Insight by Phil Wilson
The NLRB Gets Its SexyBack.
Do you remember where you were on September 14, 2006? Yeah, me neither.
If you were listening to the radio (or possibly iTunes… Spotify was just created a few months earlier) you were probably jamming to Justin Timberlake's SexyBack.
The big labor story that day was that Ford Motor Company and the United Automobile Workers union agreed on a controversial buyout program that persuaded more than 75,000 Ford workers to leave their jobs.
You wouldn't have read any of these stories on Twitter, since it was also created only a few months earlier.
But for readers of INK, perhaps the most notable thing that happened on September 14, 2006 was that two NLRB petitions, filed in long-term care facilities in New Jersey, were blocked by unfair labor practice charges. Those two elections – Pine Brook Care Center and Pavillion @ Forrestal – remain blocked today. That is 4,726 days ago – nearly 13 years.
Look, I understand that justice isn't exactly swift in some Board regions. But what unfair labor practice can't be resolved in 13 years? The employees in both of these organizations were deprived of their opportunity to vote on union representation this entire time. Their elections were blocked. And since turnover is high in long term care it is entirely possible none of these employees even work in these facilities anymore. They were disenfranchised forever.
Unions will claim that the only reason they block elections is because an employer's alleged misconduct has so tainted the atmosphere that a free and fair election is impossible. My personal experience is that unions more commonly block elections where they think they are going to lose. They want to avoid the embarrassment of a lopsided public loss by claiming the employer did something wrong. But there are certainly situations where employers do commit unfair labor practices that should be resolved in favor of the union.
But these two cases illustrate the absurdity of the current blocking charge policy (not to mention the inefficiency of some Board regions). Thankfully that blocking charge policy is about to get much more rational.
On August 12 the NLRB published a notice of proposed rulemaking that ends the ability of unions to disenfranchise voters by simply filing an 11th hour claim of employer wrongdoing. The proposal is simple. Instead of stopping elections at the last minute, the Board instead will adopt a "vote-and-impound" procedure. In other words, in situations where a union claims that employer misconduct will impact the election the Board will allow employees to vote and then wait to count the ballots until after the charges are resolved.
This policy makes imminent sense. In cases where no employer unfair labor practice is found, the Board simply opens the ballots. If an unfair labor practice is found the Board will determine an appropriate remedy, typically ordering a new election.
This system gets rid of a bunch of the gamesmanship unions play at the end of an election. They know the vote is going to happen one way or the other. If they are just trying to avoid a loss, they will pull their petition. If they truly believe an unfair labor practice occurred, they still get their day in front of the agency. Only now the interests of the employees – who are supposed to be at the center of this process – are actually accommodated.
Another important component to this is resolving cases in a timely manner. There are a number of procedural reasons that a case can linger at the Board, but 13 years (and this is just two cases – the NLRB's appendix to their rulemaking shows many more elections blocked over 1,000 days). Justice delayed is justice denied, and there are way too many of these cases just sitting on someone's desk.
The NLRB rulemaking does not just fix the blocking charge problem. It also enfranchises employees in situations where their employer voluntarily recognizes a union. This commonly happens in the construction industry (what's called a 9(a) recognition). But it also happens outside the construction industry, often in situations where a union engages in anti-corporate campaign activity to pressure a company into giving a union what it is afraid to attempt to gain via a government supervised secret ballot election.
The new rulemaking fixes these two situations as well. Now, in 9(a) situations the company is required to show that it has actual proof that a majority of its employees want to be represented by a union. And in non-construction situations employees are given the right to ask for an election within 45 days after their employer voluntarily recognizes a union. This helps ensure transparency and makes sure that a group of employees isn't forced into a union that they don't want.
These proposed changes are significant improvements to the election rules. While I hope the Board quickly comes out with other improvements to the election rules (like reversing the prior election rulemaking) these 3 changes are a great start.
Now I'm going to go crank some more Timberlake. And since it's 13 years later, I'm doing it on Spotify.
**********
Union Bailout Update
The Division of Advice at the NLRB will now be helmed by Richard Bock, who joined the agency in 1996 as a field attorney. Although memos from the Division of Advice are not binding, they do provide guidance to board regional offices and can be cited as persuasive authority.
As we mentioned the day it was announced, the NLRB has posted a Notice of Proposed Rulemaking related to election rules. If you missed our email blast, you can read the notice here.
The recent NLRB Walmart decision provides employers (and employees) with more clarity concerning unconventional or intermittent strikes. In the decision, the board reversed an ALJ who ruled that members of OUR Walmart (a UFCW-led association of Walmart employees) who failed to show up for work so they could attend a UFCW rally at a Walmart board meeting in Arkansas, were participating in protected concerted activity. The ALJ ruling was the result of Walmart firing 54 of the employees for violating attendance policies.
However, the board found that the "ride for respect (R4R)" that the Walmart employees participated in was one of four intermittent strikes occurring over a period of many months, and as such would not be considered protected concerted activity. Even though seven months had elapsed from the last short strike prior to the R4R, it was obviously part of the UFCW / OUR Walmart strategy aimed at the same overall goals, and was thus unprotected.
In a recent 3-1 decision, the NLRB ruled that employers may require workers to sign arbitration agreements in response to class-action lawsuits and fire them if they refuse to sign. Click the link for details (NOTE: full story behind a paywall).
Arbitration agreements are in the spotlight, as states scramble trying to respond to the groundswell of support for the #MeToo movement. Fifteen states have proposed laws, with four states enacting laws providing some limits regarding what can be included in arbitration agreements. Thus far, judges have continued to rule that the Federal Arbitration Act takes precedence over state (and other federal) laws. However, the winds of change are blowing, and congressional action amending the FAA isn't unthinkable.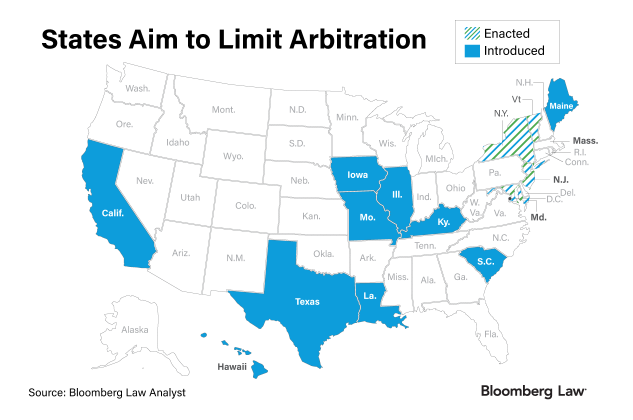 The National Mediation Board, which coordinates labor-management relations for the U.S. railroads and airline industries, recently simplified the decertification process. Prior to the change, a process for direct decertification didn't exist, and a "straw man" process had to be used to trigger a vote. Under the final rule, employees may now submit authorization cards stating the intention to no longer be represented by their union. If cards are returned for 50% of the voting population, an election can be held, to include the three options of current representation, no union, and a write-in.
As retaliation claims have risen over the last decade, employers should be aware that OSHA has recently refreshed its website to offer even more clarity about the industries and issues the agency covers. Although Section 11(c) of the Occupational Safety and Health Act is, perhaps, the most well-known retaliation statute that OSHA enforces, the agency is responsible for the enforcement of over 20 other federal retaliation statues.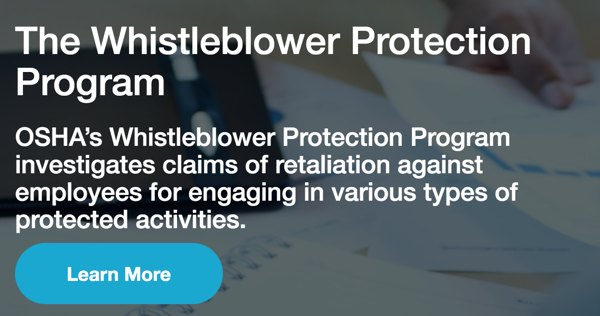 The last step for employers in California to have to collect pay equity data is pending with the California Assembly, having already been passed by the Senate. If it becomes law, a private employer with 100 or more employees that needs to file an EEO-1 report under federal law must submit a pay data report including wage information to the Department of Fair Employment and Housing (DFEH). If the bill becomes law, California employers can expect to see an increase in pay equity enforcement action by the state, and more class action litigation on pay equity issues.
New Jersey and Illinois became the most recent states to ban certain requests and uses of salary history in hiring processes. Each state's law is unique, so if this topic falls in your wheelhouse, be certain to review your state's version, if applicable.
**********
Laboring Toward 2020 
As election season heats up, unions are making hay by grabbing short-term employees from several Democratic Party hopefuls. One presumes they don't anticipate much of a fight from Dems, so even though most of these folks will be out of a job come the new year, the unions might as well pick their pockets while they can.
The campaign teams of Cory Booker and Julián Castro became the latest to unionize, following those of Bernie Sanders and Elizabeth Warren. The Teamsters picked off the Booker staff, while the Campaign Workers Guild grabbed the Castro group. All is not peaches and cream for the unionized workers though, as an Unfair Labor Practice has been filed against the Sanders campaign.
At the recent AFSCME forum in Las Vegas, nineteen Dem contenders showed up to pitch their platforms to Big Labor. The AFSCME, usually one to quickly endorse a candidate, is being coy this time around, and it's expected other unions will follow suit.
At the recent Iowa Federation of Labor (AFL-CIO) convention, Bernie Sanders touted his plan to double union membership within four years. The plans strategies include:
Card check organizing
Compulsory mediation to first contract
Elimination of Right To Work
Codify the Browning-Ferris joint-employer standard into law
And more…
On the other side of the race, the Labor Department's potential apprenticeship initiative may steer construction workers away from Trump. Although they were hopefully supportive of Trump due to his stance on job creation in their industry, the Building Trades may come down hard if they feel their job-training programs could be undermined. The Building Trades is a union federation representing millions of construction workers across the country.
**********
Labor Solutions Corner
Mid-Year Elections Review Available Now!
Every quarter, our team at LRIrightnow.com complies a review of petition and election activity for the quarter.  The Mid-Year report covering the first half of 2019 is available now. Cost is $50.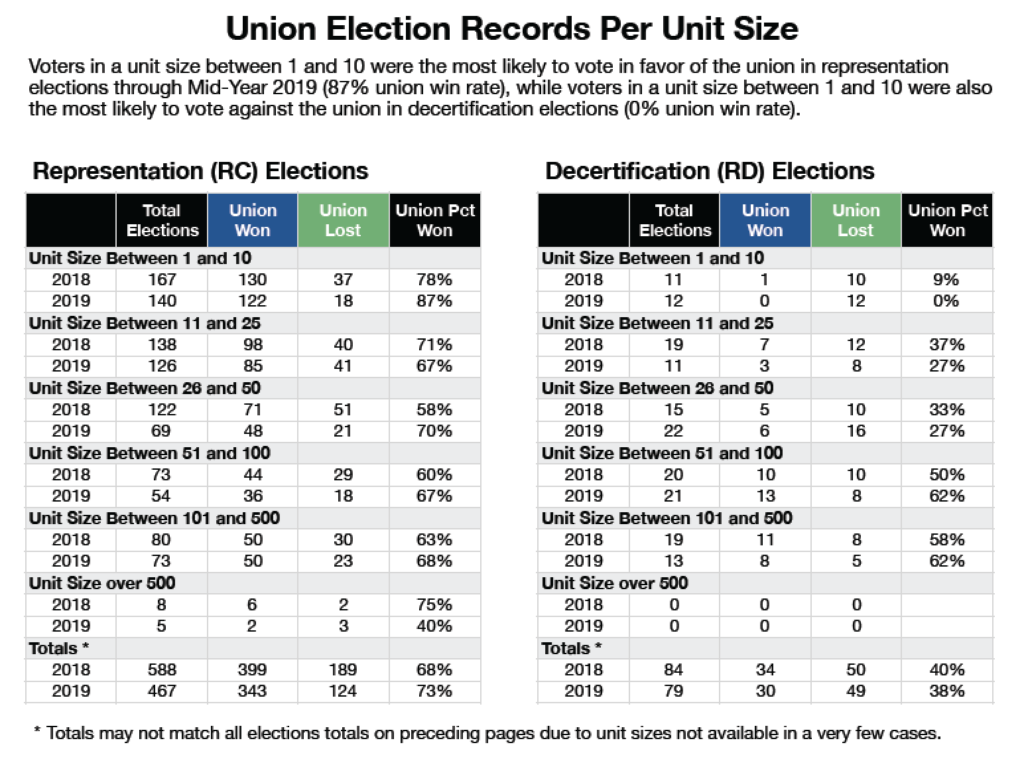 SAMPLE GRAPHIC
Charts and summaries included in Elections Review:
Summary of the NLRB Elections Review
Representation (RC) & Decertification (RD) Elections Summaries
Most Active Unions in RC & RD Elections
RC & RD Elections per NLRB Region
RC & RD Elections per State
RC and RD Elections per Industry
RC and RD Elections per Unit Size
**********
AI, Technology and Labor
Artificial intelligence made gains this month in the communication sector and in delivery.
Chase Bank announced that it has entered into a partnership with Persado, a New York-based company that uses artificial intelligence to write marketing copy. According to the company, in the three years since Chase has been under a pilot program with Persado, the ads created by Persado's machine learning system outperformed the ads that were written by humans.

On the delivery front, Amazon revealed that the company's self-driving robots, named Scout, will begin delivering packages to customers in Irvine, California soon. Each robot will be accompanied by a worker for the time being.
**********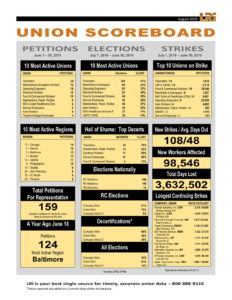 SCORE BOARD
Who are the winners (and losers) of the labor movement? Don't guess, just check the LRI Scoreboard
View this month's scoreboard (archives also located here).
Download a PDF of this month's scoreboard
**********
Union Corruption
The president of the International Longshoremen's Association Local 1964 was charged with accepting $150,000 in bribes over the course of a decade from a company that employed ILA members. The unnamed employer allegedly paid these bribes to Glenn Blicht in order to keep the union from pursuing arbitration claims against the company.
Also in July, former Chicago Teamsters boss, John Coli Sr. pleaded guilty to corruption charges stemming from an extortion scheme. Coli also agreed to cooperate with federal authorities and to provide "complete and truthful testimony" in relation to any ongoing investigation. Coli has had significant relationships with some of Chicago's most powerful elected officials.
Rhondalyn Cornett, former president of a teachers union in Indianapolis, also pleaded guilty last month for embezzling more than $100,000 from the labor group.
Last week, former UAW Vice President Joe Ashton was finally revealed as one of the top UAW officials who orchestrated the embezzlement of training center funds. The complaint that named Ashton also charges Mike Grimes with wire fraud conspiracy and money laundering. And finally, Norwood Jewell was sentenced to 15 months in prison for his role in accepting over $90,000 in illegal payments from FCA.
**********
Gig Economy
The debate over how to classify workers in the gig economy hit a new high this month when multiple senators submitted a letter to Google urging them to stop its "anti-worker practices" and treat all people doing work for the company fairly.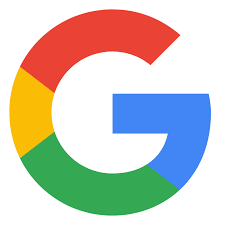 And while in this particular case with Google (who apparently employs more than 102,000 full-time temporary workers), a request for equal treatment and benefits may be validated, a recent article in the Harvard Business Review lays out some considerations for why we should be careful not to impose sweeping, one-size-fits-all 'solutions' on gig workers. We highly recommend the read. Click here to check it out.
In other bad news for Google, the unofficial Youtubers Union has apparently teamed up with the largest trade union in Europe, IG Metall, to begin bargaining with the company over terms of the relationship between Google (YouTube) and its content creators.
**********
Minimum Rising
After months of buildup surrounding the proposed Raise the Wage Act, including passage in the House, the bill has officially stopped at the Senate floor. There will not be a federal increase to the minimum wage any time soon.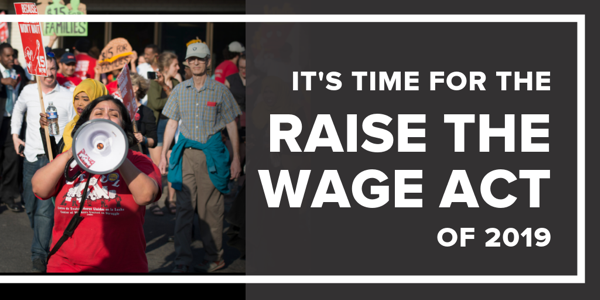 Similarly, New Hampshire Governor Chris Sununu vetoed a bill this month that would have increased the state's minimum wage to $10 an hour in 2020 and $12 per hour in 2022.
Meanwhile, Oregon became the first state in the country to offer 100% wage replacement for minimum wage workers. The bill includes "12 weeks paid time off to new parents, victims of domestic violence and those who become ill or need to care for a sick family member. It also includes people who may be in the country illegally and those working part-time. Residents need to earn $1,000 a year to qualify." Benefits begin in 2023.
**********
Labor Around the World
Mexico's government just took the next step toward legitimizing collective bargaining agreements in the country by publishing the protocol with which existing unions should apply for recognition. Mexico's recent labor law reform bill, enacted on May 1st, granted workers the legal right to bargain collectively for the first time in the country's history.
The UK's decision to leave the EU continues to be put on hold as the country tries to work out what it really wants to do. Recent discussions include negotiations relating to the Irish border, talk of a Scottish independence vote, and concerns about the country's building industry should all the foreign labor disappear.
**********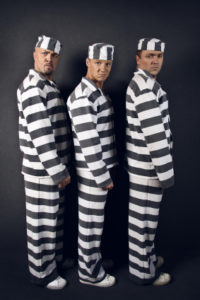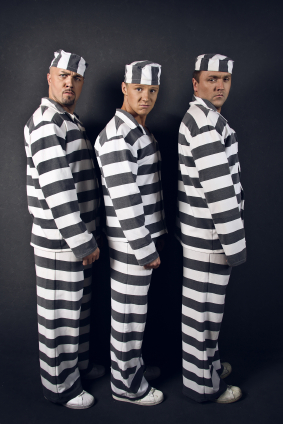 Sticky Fingers
Current charges or sentences of embezzling union officials:
Rhondalyn Cornett - NEA:  $100,000
Asenath Roland - APWU:  $4,740
http://nlpc.org/index.php?q=union-corruption-update
**********
Labor Relations INK is published semi-weekly and is edited by Labor Relations Institute, Inc. Feel free to pass this newsletter on to anyone you think might enjoy it.
New subscribers can sign up by visiting: https://lrionline.com/free-stuff/newsletter-signup/
If you use content from this newsletter please attribute it to Labor Relations Institute and include our website address: http://www.LRIonline.com
Contributing editors for this issue: Phillip Wilson, Greg Kittinger, and Meghan Jones
You are receiving this email because you subscribed to receive our labor relations newsletters and updates. You can manage your email preferences by clicking the link at the bottom of any of our email communications.
NOTE: if you are using older versions of Internet Explorer, read the text version, as the html may not load properly. We recommend upgrading to the latest version.