In this issue:
Lessons from Bessemer
Sectoral Bargaining
White Collar Organizing Rising?
Insight, Sticky Fingers, Scoreboard and more…
**********
Labor Relations Insight by Phil Wilson
The PRO Act Pivot
The biggest union election in decades ended in a lopsided loss for the Retail Wholesale and Department Store Workers Union (RWDSU) in Bessemer Alabama earlier this month. Predictably, the entire labor movement is crying foul. The union just filed election objections, meaning that the election will be tied up in litigation for months or years. This is a brazen attempt by the union to disenfranchise the nearly 2,000 workers who told the RWDSU to get lost.
There have already been too many pixels spilled on this election and I'm not going to add to them here. But let's be clear – the Bessemer election was never about representing the workers. It was always about justifying the PRO Act.
As soon as the results became clear, unions, academics, and politicians began trotting out all the greatest hits about how this election proves that labor law must be rewritten to help bail out Big Labor. Of course, they don't say it that way. They claim the current rules allow horrible actions by evil companies who force their employees to work in 21st century sweatshops. These arguments are tired, condescending, and contradictory (if the rules are so stacked against unions why do they win 70% of elections?), but they are raining down now. They won't stop until unions get what they want: the PRO Act.
The PRO Act is coming, one way or the other. If the employer community gets engaged, it may not pass this year or in its current form. It may not ultimately end up on Biden's desk as legislation. But make no mistake: the key provisions of the PRO Act are coming, some of them very soon.
Here's what a lot of people miss about the PRO Act. Most of its provisions do not require a legislative fix. Legislation is the preferred method, since it is virtually impossible to get rid of a law once it's passed. But many of the provisions in the PRO Act can (and will) occur through rulemaking, case law, and operational changes at the agency level. Employers who aren't pivoting to prepare for a PRO Act world are already way behind.
The PRO Act Pivot is what every company should do right now. That means proactively looking at everything you do with an eye toward the most likely changes coming in the next two years (with or without a legislative fix).
I'll give one example of dozens. It is a certainty that the Department of Labor will reintroduce the persuader rule, and I predict that happens very soon. Ironically the provisions of the Labor Management Reporting and Disclosure Act related to employer reporting were originally created to combat union corruption and collusion between unscrupulous unions and companies. But over the years the rule morphed into a way to discourage companies from relying on attorneys and consultants during organizing campaigns. It also gives unions a way to smear a company for the "crime" of getting advice about communicating legally about unions.
While the persuader rule is part of the PRO Act, Secretary Walsh isn't waiting around for a legislative fix. I'd also anticipate changes in interpretive guidance around management reporting. A new persuader rule will face legal challenges just like the last one (that one even earned a nationwide injunction before it was pulled by the Trump administration). Hopefully those challenges will be successful. But putting all your eggs in that basket is like loading up on the latest hot stock tip on Reddit: potentially rewarding, but very risky (#stonks).
There are many other changes likely over the next two years, including:
Restrictions on mandatory meetings and employer communications;
Making it much harder for employers to demand elections, essentially back-dooring card-check;
Return to micro-units and even members-only units;
Increased and creative penalties for ULP violations, essentially turning remedial "make whole" relief into punitive penalties; and
Joint employer and independent contractor rules, and much more.
How should you pivot? Using the example of the persuader rule, here's the approach I recommend. You'll embark on two parallel tracks. First, what can you do now, before the rules change? Second, what will your approach look like in the future state?
On the persuader rule what you can do now is to make sure all of your campaign communications and tools are produced, reviewed and in place now. Remember the last version of the persuader rule originally required reporting all kinds of positive employee relations practices like employee surveys and vulnerability assessments. A smart company, especially one sensitive to reporting, should do a thorough review of their entire positive employee relations program now to identify gaps and fill those before the persuader rule is finalized.
The second track is equally important. What should your process and tools look like in a world where payments for these activities are now reported? For some companies, that will mean clearly communicating about the value of these activities. The idea that a company should be embarrassed for spending resources on following the law or creating a great workplace has never really made sense to me. But the claim will be made that this spending is bad for workers. You should be prepared to defend these expenditures in the face of negative PR.
Some companies may choose to invest in more heavily proactive ways, far Left of Boom, like on leadership training. These activities reduce labor risk but probably won't trigger a reporting requirement. Others might choose to bring resources in-house. Whatever the right approach for your company, it is critical to figure that out now and to quickly head that direction. Bottom line: it's time to pivot.
**********
Union Bailout Update
The Amazon unionization vote at a Bessemer, Alabama facility sucked up most of the media (and labor relations) attention in the last several weeks. The unprecedented public access to the vote count was reminiscent of watching the 1994 low-speed police chase of OJ Simpson's Bronco on national television. Aware of the challenges of getting appropriate participation from the voting unit using a mail-ballot process, the company did everything it could to ensure voters felt safe, and that it was easy to cast their ballots. Police were asked to patrol the large parking areas to prevent intimidation, and the company requested the USPS install a mail box (which was surrounded by a tent to protect anonymity) so that voters could easily vote, and so there was less chance ballots would get lost in the mail if posted at random across the city via personal mail boxes or city-wide USPS mail receptacles.
Those interested in the final tally watched via Zoom as less than 16% of the Amazon employees voted to join the union. To no one's surprise, following the typical union playbook the RWDSU filed a host of objections to the election, asking the NLRB to schedule a hearing to determine whether the results should be tossed out.
It remains to be seen what the new administration will do after this first experiment with transparency.
As a counterpoint, the NLRB paused a mail ballot election at the end of last month. Rush University Medical Center requested a stay to the election when the NLRB regional director, Paul Hitterman, alluded to but did not analyse the arguments made by the hospital to hold an in-person election. The hospital contends that it meets the bar for in-person elections according to the board's guidance in Aspirus Keweenaw.
Also in the "no surprise" department was the new administration's announcement to ignore and move to repeal union financial disclosure rules enacted by the prior administration. The rule, part of the DOL's Office of Labor-Management Standards effort to reign in union malfeasance, established new reporting mandates for many unions regarding their strike funds, apprenticeship programs, and other trusts.
Other moves by the NLRB are aimed at expanding the board's "enforcement" efforts. New Spanish-language websites and social media accounts, and an expectation for increased funding, point to a more aggressive NLRB trolling for business.
Case in point, acting board General Counsel Peter Ohr released a memorandum announcing "vigorous reinforcement" of protected concerted activity. As Ohr states in his memorandum: "I look forward to robustly enforcing the Act's provisions that protect employee Section 7 rights with full knowledge that recent decisions issued by the current Board have restricted those protections."
A unanimous 3-judge panel of the D.C. Circuit appeals court encouraged the NLRB to use a recent T-Mobile case to clarify when employee-sponsored organizations are illegal "company unions," claiming board decisions have been inconsistent in recent years.
If you want to get some tips from the Michigan Department of Labor on how to organize a union, you can join this live Q&A session on April 26th, 5-6:30 MI time!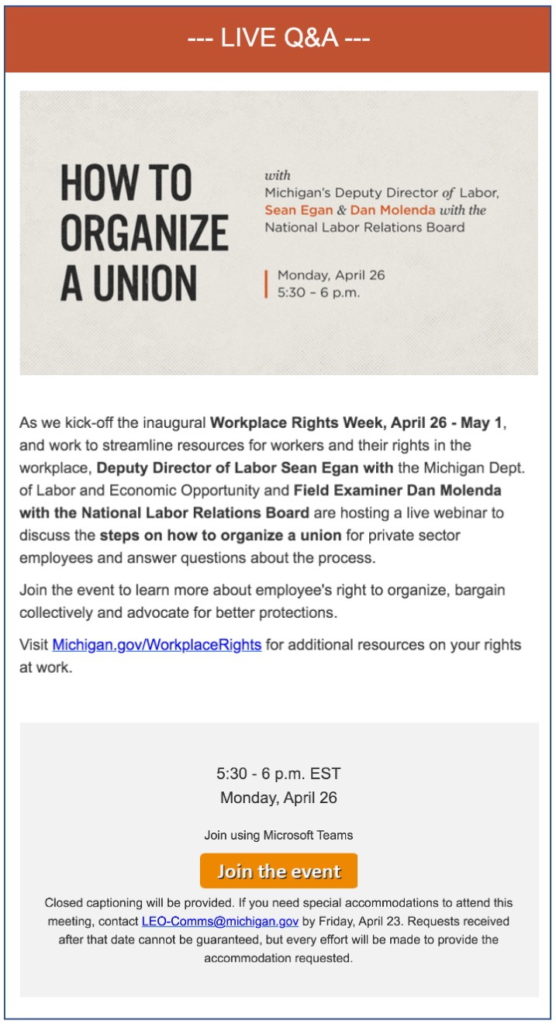 **********
Covid-Related
The rumor-mill is all abuzz about whether or not OSHA will prescribe an emergency rule for Covid precautions in the workplace. Earlier this month, Labor Chief Walsh said he needed more analysis, and then no more than a week later speculation began again that employers should prepare for something soon. Nothing to do but wait and see. If OSHA does put a rule in place, many believe it will look similar to what Virginia has implemented, wherein safety measures are determined based on the risk of exposure unique to each workplace.
California's Governor Newsom signed a bill last week that requires hotel, event center, airport hospitality and janitorial employers to rehire any workers that were laid off in the last year due to the pandemic before they hire new employees.
**********
SEIU Pushes to Import European-Style Unionization
The SEIU is leading a charge to bring sectoral bargaining to the U.S.  Ignoring the largest labor federation in the U.S. (the AFL-CIO), the Chamber of Commerce, and recent developments in Europe (German companies are fleeing such arrangements in droves upon being given the chance), the ultra-activist SEIU is touting a Biden endorsement and a recent report issued from the Democratically-controlled House Education and Labor Committee.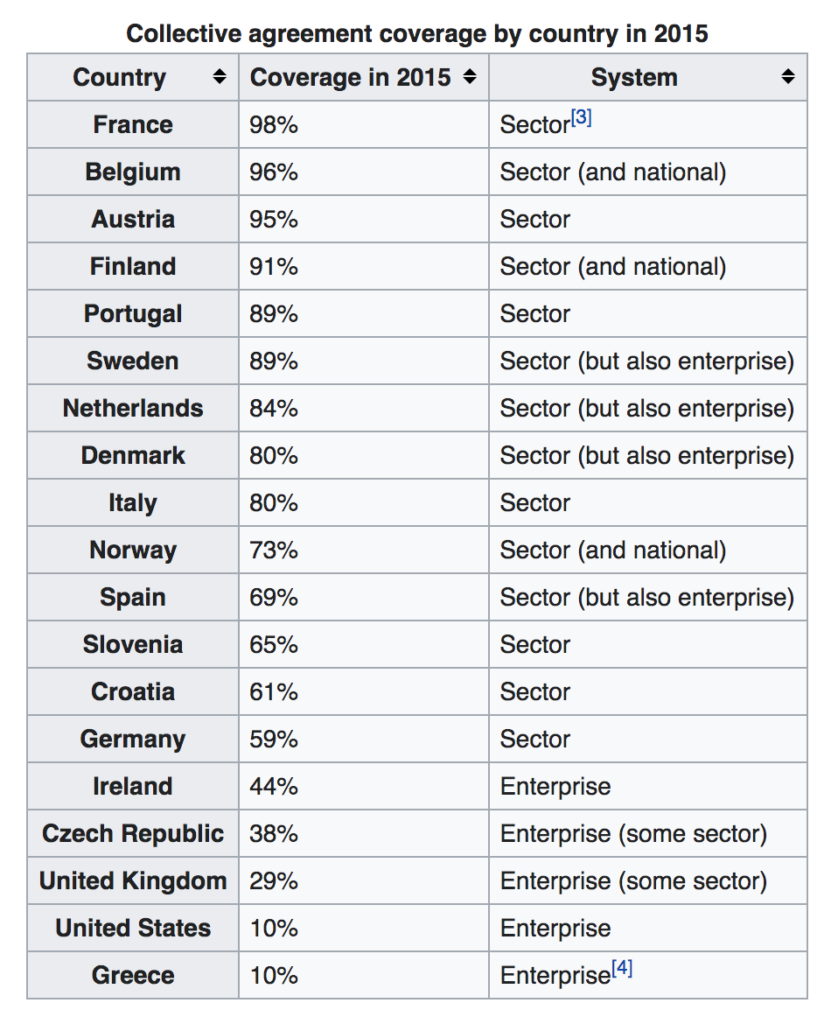 Sectoral bargaining—also known as multiemployer, industrywide, or broad-based bargaining—is a form of collective bargaining that covers all workers in a sector of the economy. The U.S. follows a model of enterprise bargaining (based on individual workplaces) whereas much of Europe uses the sectoral model.
**********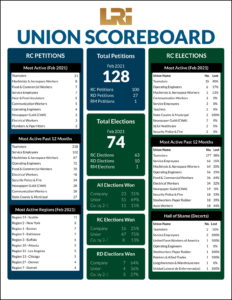 SCORE BOARD
Who are the winners (and losers) of the labor movement? Don't guess, just check the LRI Scoreboard
View this month's scoreboard (archives also located here).
Download a PDF of this month's scoreboard
**********
Organizing

We could be in the midst of a white collar organizing boom. Say hello to the Tech Times Guild, a union of 650 tech workers at the New York Times. Also, staff at the Brooking Institution and the Urban Institute asked their employers for voluntary recognition of their affiliation with the Nonprofit Professional Employees Union, IFPTE Local 70.
**********
Manufacturing/Miners
Two months ago a U.S. District Judge approved a consent decree that would put the Auto Workers under a federal monitor for six years. Prosecutors selected veteran lawyer Neil Barofsky, after reviewing multiple candidates proposed by UAW. If approved, Barofsky would "head a team tasked with implementing reforms that target union election, compliance, and investigations." Barofsky previously served as special inspector general for the organization's Troubled Asset Relief Program.
One UAW member, Matt Horner, said he thinks it's "obnoxious the UAW had the ability to choose the monitor given the severity and extent of the crimes committed by our former leadership." We agree.
In other UAW news, 3,000 workers are on strike at the Volvo plant in Dublin, Virginia. More details here.
Coal miners in Alabama are also on strike trying to earn back the concessions their union agreed to five years ago that restored only $1.50 out of the $6 paycut workers had previously received. They have been on strike since April 1 and have been publicly blasting their union, the United Mine Workers of America, for selling them out in the process.
Meanwhile, UMWA has also reportedly signaled that they will support a transition away from fossil fuel in exchange for "new jobs in renewable energy, spending on technology to make coal cleaner and financial aid for miners who lose their jobs."
**********
Healthcare
The strike by hundreds of nurses at St. Vincent Hospital in Worcester, Massachusetts entered its 7th week on Monday. It comes after two years of contract negotiations between Massachusetts Nurses Association and Dallas-based, Tenet Healthcare. Staffing is said to be the main area of contention.
On the organizing front, 613 residents and fellow physicians at UMass Medical School voted to join the SEIU's Committee of Interns and Residents last month.
This article from JD Supra proposes that micro units are an inevitable reality again with Biden's NLRB. If that does prove to be true, it'll be much like it was before the NLRB overruled Speciality Healthcare in 2017, which is to say, hospitals and healthcare employers beware.
**********
Alt-Labor
Nonunion worker groups have been popping up for the last decade and while much of that movement began with a real intention by Big Labor unions (or more specifically, the Service Employees) to boost their ranks through the largely untapped collective of minimum wage workers in the restaurant and service industries, we have seen a significant shift in recent years toward independently-led worker groups looking to come together to effect change on a societal level.
On occasion though, we do see a worker center transition toward union representation. Late last month, KY 120 United, a Kentucky worker group, did just that when it joined with the American Federation of Teachers. KY 120 United stood out in 2018 when they began holding sick-outs (protesting workers would call in sick on the same day) as a way to skirt the Kentucky law that says it is illegal for public employees to strike, regardless of union representation.
**********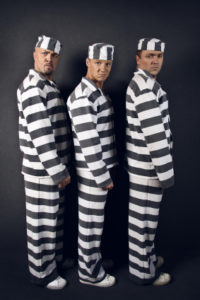 Sticky Fingers
Current charges or sentences of embezzling union officials:
Trey Huffty – USW:  $37,368
Thomas Burkhart – USW:  $19,900
Rodney Priestley – ILA:  $32,230
Brian Walker – ILA:  $20,001
Lamar Elliott – ACT:  $44,806
Scott Peterson – IAF:  $22,622
Brenda Walters – APWU:  $95,100
http://nlpc.org/index.php?q=union-corruption-update
**********
Labor Relations INK is published semi-weekly and is edited by Labor Relations Institute, Inc. Feel free to pass this newsletter on to anyone you think might enjoy it.
New subscribers can sign up by visiting: https://lrionline.com/free-stuff/newsletter-signup/
If you use content from this newsletter please attribute it to Labor Relations Institute and include our website address: http://www.LRIonline.com
Contributing editors for this issue: Phillip Wilson, Greg Kittinger, and Meghan Jones
You are receiving this email because you subscribed to receive our labor relations newsletters and updates. You can manage your email preferences by clicking the link at the bottom of any of our email communications.
NOTE: if you are using older versions of Internet Explorer, read the text version, as the html may not load properly. We recommend upgrading to the latest version.