In this issue:
The Changing Face of Labor Activism
UAW Turns Scrappy To Survive
AI, Technology and Labor
Mickey & Minnie Object To Teamster Local Leadership
Healthcare, Insight, Scoreboard, and more…
The bottom of each story contains a link to the individual post on our site.
**********
Labor Relations Insight by Phil Wilson
Is Your Washroom Breeding Bolsheviks?
A few weeks ago I took a wonderful trip down memory lane. I visited my old law firm offices, where I got started in this business a quarter-century ago (good lord that last part was hard to type). In the years since I left the common spaces, the firm transformed into an art and natural history museum.
The art in the office is a great new addition. But my favorite piece of art at the firm was there the first day I showed up for my summer internship, and it still hangs in the same prominent place: the men's bathroom.
Here it is for your viewing pleasure: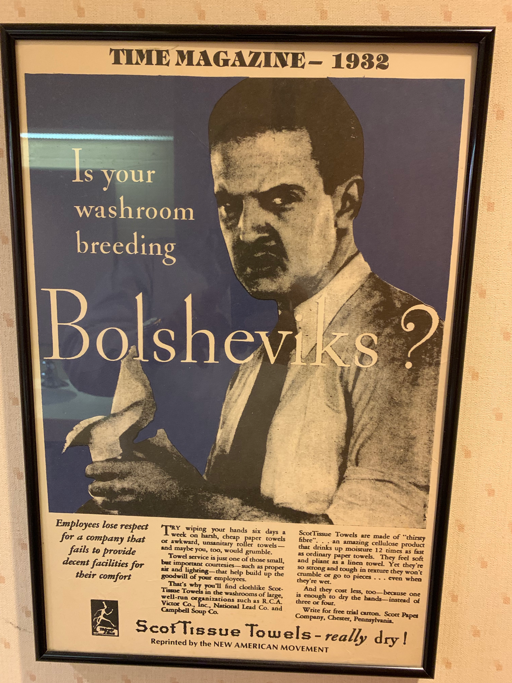 This paper towel ad ran in Time Magazine in 1932, during the anti-communist red-scare. ScotTissue Corporation came up with a brilliant campaign. If your employees spend the week wiping their hands on "harsh, cheap paper towels" you could be breeding commies right under your own nose.
The answer? Apparently you can avoid grumbling by providing employees "cloth-like" ScotTissue towels. Those "thirsty fiber" towels rank right up there with other employee benefits like "proper air and lighting" (seriously?). Oh, and the folks in accounting like them too, since you only need one towel to dry your hands - brilliant!
I'm not sure how many Bosheviks were bred based on harsh paper towels, but I've definitely seen union elections that centered around bathroom conditions. So I think the folks at ScotTissue make a good point – you want to pay attention to what's happening in your bathrooms.
And like clockwork, the NLRB also recently weighed in on bathroom behavior. This incident occurred in a bathroom at a Quicken Loans office. This grumbling wasn't about paper towels, instead, this potential Bolshevik was dropping F-bombs about clients in a public restroom.
Apparently, Michael Woods was frustrated that a client he'd assisted four years before was back in his pipeline. In the public bathroom, he declared that the client should "get in touch with a [f-bomb] Client Care Specialist and quit wasting [Woods' f-bomb] time." His timing wasn't great, since he said all this in the presence of a supervisor.
The question in Quicken Loans was whether terminating Woods violated the Act. His position (of course) was that the conversation in the bathroom was protected concerted activity. Based on earlier Board decisions (in which almost anything was protected activity) the Administrative Law Judge ruled Woods' conversation was protected. The Board ruled, in a 3-0 decision that surprisingly included Democrat Member McFerran, that the conversation was unprotected.
The Board found that the conversation was not trying to induce any kind of group action about the way calls were handled between departments, instead, it was an individual complaint (saying, for example, the client was wasting his time) and Woods was not trying to get others to join him in protesting his concern. In other words, the conversation was "mere griping" and therefore unprotected.
The Board went further, they stated even if they had found that the conversation intended to generate group action, the goal was not "mutual aid and protection" or to improve or change any policy, procedure or work condition, instead they found the goal – if any – was just to complain.
It is refreshing to see the protected concerted activity pendulum swing at least partially away from the world we lived in a few years ago, where every stray employee gripe got full protection from the federal government. Unfortunately, Quicken Loans does not directly answer the important question of whether paper towel complaints are protected. We'll be forced to wait a bit longer for the answer to the question, "Is Your Washroom Breeding Bolsheviks?"
**********
Union Bailout Update
Associate Deputy Labor Secretary, Michael Avakian, resigned from his position in early April due to a possible ethics violation. Avakian had been suspended without pay earlier when he continued legal work against the Ironworker's union after joining the agency. Department officials explained that Avakian didn't realize he was in violation of rules, and misinterpreted an admonition to "wrap-up" the case when he joined the Department.
As the NLRB bleeds field staff, there is a discrepancy in changes to workload between agency leadership and the NLRB union. While the field staff has dropped 17% since the start of the Trump administration - mostly due to attrition and field office consolidation - the agency claimed that unfair labor practice filings were down 7-10%. However, the NLRB union claims filings are actually up 2%.
The NLRB overturned a Clinton-era rule regarding a successor employer's right to set the initial terms of employment, narrowing  the circumstances when a Burns successor will not be able to set its own terms and conditions of employment. This is a bit complex to embody in a summary, so if you need the details, read them here and here.
In a recent decision, in which a series of unfair labor practice charges against the company were upheld, the remedy involved holding a second election (due to the passage of time and workforce turnover), which included equal time to be provided to the union for meeting with employees.
A recent ruling by an administrative law judge is a reminder that, though arbitration agreements have been declared legal, the clauses within them can be problematic. In this case, a confidentiality clause was deemed to chill Section 7 employee rights, in violation of Section 8(a)(1) of the National Labor Relations Act.
The NLRB finally release a proposed joint employer rule at the beginning of the month. You can review the rule and examples here, and to make comment use this link, and look for rulemaking docket RIN 1235-AA26.
**********
Union Political Spending Highlighted
The Center for Union Facts has put up a new website that tracks the political spending of public unions.  Although most of the unions on the site won't be of interest to business leaders, what is evident from the site is the huge partisan disparity of union spending - 90% of funds going into Democratic coffers - which generally holds true of all unions. Here's a quick snapshot of SEIU: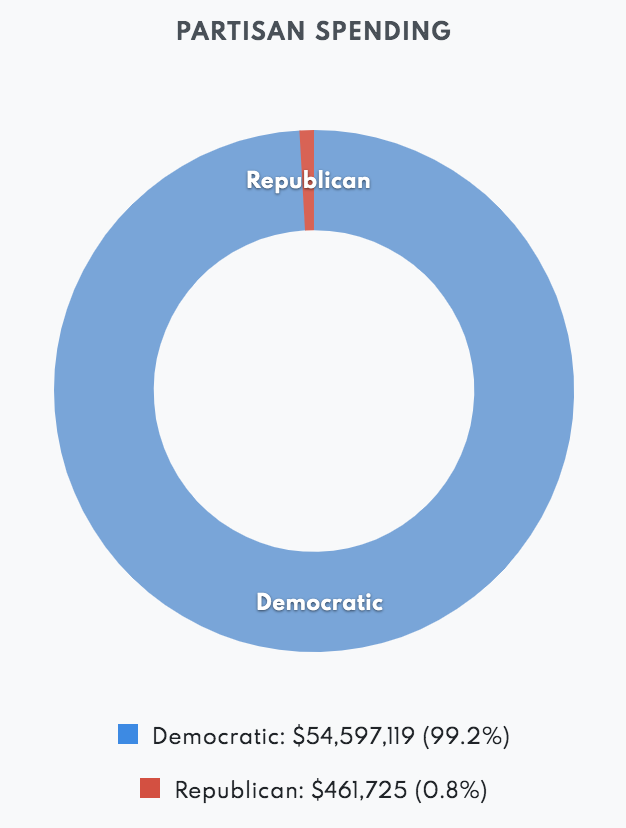 **********
The Changing Face of Labor Activism
Even as Green New Deal proponents site the need to enlist labor unions to carry the weight of the fight, what is emerging is an interesting hybrid of labor tactics (strikes and demonstrations) put to use by folks that aren't necessarily members of a union. Many employees of larger firms are raising the mantra of "corporate responsibility" - such as the Google employees' recent scuttling of a company project on behalf of the military.
This activity is even running contrary to Big Labor interests at times. The national office of the AFL-CIO took a stand against the Green New Deal (in defense of jobs), while the Maine AFL-CIO became the first state federation to support it. Luckily for the Maine affiliate, it happens to be the only affiliate whose charter allows such defiance of the national leadership. When you remember the disenchantment of many unionistas over the backing of Hillary Clinton by Big Labor leadership in 2016, there may be more unrest in the labor camp as rank-and-file take on issues more directly.
**********
UAW Turns Scrappy To Survive
Membership in the United Auto Workers trended down around 9% in 2018, losing around 35,000 members and showing the continuation of a downward trend which began at the turn of the century. With the prevalence of right-to-work laws, especially in auto-heavy Michigan, and the potential loss of General Motors jobs as expected layoffs and plant closures loom, the trend is likely to continue. However, despite fallout from the multi-million dollar financial scandal involving the Fiat-Chrysler training center, the union was able to diversify and add members from gaming and education. The scrappy union is going to have to continue looking beyond manufacturing to ensure a future, as its 2018 loses came despite 264,000 new manufacturing jobs being added to the economy that year.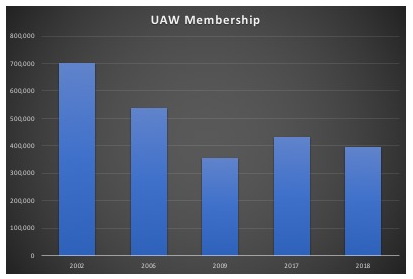 **********
It's All Academic
Rutgers University reached a contract with their union last week that many believe could pave the way for a new national standard.
What's different about this negotiation? It laid out a process for addressing equal pay in the actual contract. Unions talk a lot about social justice, but when it comes to negotiations, they inevitably default to business as usual. In this case though, it is written in the contract that "women and faculty from underrepresented communities will be able to obtain pay equity with their male and white counterparts."
**********
AI, Technology and Labor
Get ready to see more robots in your grocery stores.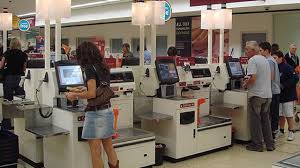 We've already seen Walmart jump on the advent of the self-checkout kiosk. This year, they're taking things even further by adding machines that scan shelves for out-of-stock products at 300 stores; they're deploying autonomous floor scrubbers in 1,500 stores; and "the number of conveyer belts that automatically scan and sort products as they come off trucks will more than double, to 1,200." You can expect similar changes at
other grocery store chains like Stop & Shop and Giant Food Stores.
In traditional offices, we'll continue to see AI step into the roll of HR and marketing through the use of predictive analysis. The main issue that employers need to be on top of here is the biases necessary in order to provide "people analytics." There's a great article in HR Examiner on just this. Click here to dive in.
As technology continues to make its way into roles traditionally filled by people, the U.S. Government Accountability Office is calling on the Department of Labor to develop ways to better track workforce effects of technologies. As it stands, "workforce data doesn't identify the causes of employment shifts, making it difficult to track technology's effects."
**********
Instagram's New Union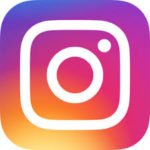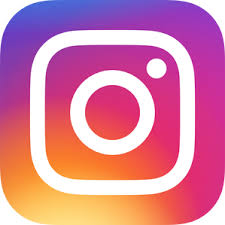 Big Labor has been scrambling for years trying to figure out how to stay ahead of the major transition we are living through. In particular, the questions remain, "What does organizing look like for millennials? How do we (Big Labor) continue getting in on a piece of the pie?"
If the new union at Instagram is any signal, then maybe the answer is — they don't.
Instagram memers started their own union this month, called IG Memers Union Local 69-420. Members of the collective are taking a stand because, from their perspective, they "generate the engagement that helps keep Instagram growing," Instagram then monetizes their original content, and the Memers don't get any cut of the proceeds.
From The Atlantic:
Memers aren't direct employees of these tech platforms, nor are they independent contractors for them. But they produce, directly or indirectly, the bulk of these platforms' income. And current labor protections don't cover this type of "mediated work."
Unlike other 'grassroots' organizing movements of recent years (think Fight for $15, which was less grassroots and more bankrolled by the SEIU), the IG Memers Union will probably never be recognized by the National Labor Relations Board.
So the question is — What happens if this collective stand actually works to get the Instagram Memers what they want? Meanwhile, no one involved will have had to shell out to a union for "representation."
**********
Union Pension Turmoil
The Board of Trustees of Supplemental Income Trust Fund, the sponsor of a multiemployer defined contribution plan for some Teamster members, has agreed to settle a class-action lawsuit brought by two plan participants for about $8.75 million.
This is awesome news for contributing members, but unfortunately, it's only one plan and there are currently more than 300 underfunded pension plans.
Other Teamster members are supporting the Rehabilitation for Multiemployer Pensions Act. This proposal, and a similar bill in the Senate, "would allow the U.S. Treasury Department to sell bonds to financial institutions, generating cash that the government would then loan to failing pension plans."
**********
Healthcare
Kaiser Permanente and the coalition of unions representing more than 84,000 of its employees returned to the bargaining table last week to negotiate a contract that has been expired for over a year.
Meanwhile, SEIU Local 121, a member of Kaiser's coalition of unions, may have just lost 343 of its members, registered nurses at a Kaiser location in SoCal.
**********
Minimum Rising
There's been significant movement on the minimum wage front in 2019 — most notably the proposed federal bill to raise the minimum wage for all Americans to $15 by 2024. It's things like this persuading companies like McDonalds, Amazon, and Bank of America to jump on the Raise the Wage bandwagon.

Google, however, is taking things even further by requiring the staffing companies they work with to provide workers with health benefits, 12 weeks of paid parental leave, and a $5,000 tuition reimbursement for continuing education, all on top of a $15 minimum wage for contractors.
Some argue that it's easier for large companies like the ones listed above to embrace a higher minimum wage because they have the capital needed to sustain their enterprise; and perhaps even more importantly, to invest in technological replacements. In fact, the National Federation of Independent Business recently released a report detailing the effects of an increased minimum wage on small businesses. Check out the findings here.
**********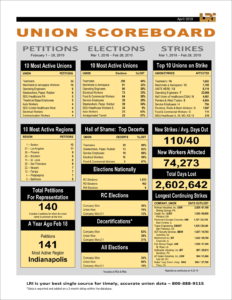 SCORE BOARD
Who are the winners (and losers) of the labor movement? Don't guess, just check the LRI Scoreboard.
View this month's scoreboard (archives also located here).
Download a PDF of this month's scoreboard
**********
Right-to-Work
The Janus decision has had an impact on "agency fee payors" for public sector unions. The AFSCME lost 98% of it's agency fee-paying members last year (from 112,233 to 2,215), while the SEIU lost 94% of theirs (from 104,501 to 5,812).
Unions are also taking a hit in states where recent right-to-work laws have gone into effect. The UAW was forced to return $26,000 in dues stolen from employee paychecks of two emergency medical transportation companies in Michigan.
Just because a right-to-work law is in place, it doesn't mean it will be enforced. In Wisconsin, companies are still actually posting want ads describing their businesses as "union shops," and listing union membership as a requirement of employment:
Ceco Concrete Construction: "This position is governed by a collective bargaining unit. According to the terms of the CBA, applicants who are selected will be required to join the appropriate union within a certain period after hire. Details of union participation will be given to employees upon hire."

Henkels & McCoy, Inc.:  "This is a union position. All applicants must agree to join the union by membership and work under the union pay scales agreements."

TOTAL Mechanical: "TOTAL Residential is a union shop; if not already a member of Sheet Metal Workers Union Local 18, individual will be required to join."
When appeals have been made to the Wisconsin Employment Relations Commission, they site lack of jurisdiction and point grievants to the NLRB.
Right-to-work proponents in New Mexico faced a setback when Governor Lujan Grisham signed a bill invalidating counties' right-to-work laws.  When a push for a state law failed in 2015, proponents began working in local jurisdictions, passing right-to-work regulations in 10 counties and one village. With a signature Grisham flushed those away.
**********
Mickey & Minnie Object To Teamster Local Leadership
Of about 1000 costumed character Disney employees, 600 have signed a petition expressing their willingness to forfeit Teamster membership due to unresponsive local leadership. The leadership have allegedly been unresponsive to grievances and charged with making deals with Disney management. In fact, the officers of Local 385 are facing separate charges of having created false records and committed embezzlement and obstruction.  Teamster President, James Hoffa, is reviewing and considering trusteeship for the local.
**********
Whistlin' Dixie
The Auto Workers are attempting to establish a union at Volkswagen's Chattanooga, Tennessee plant.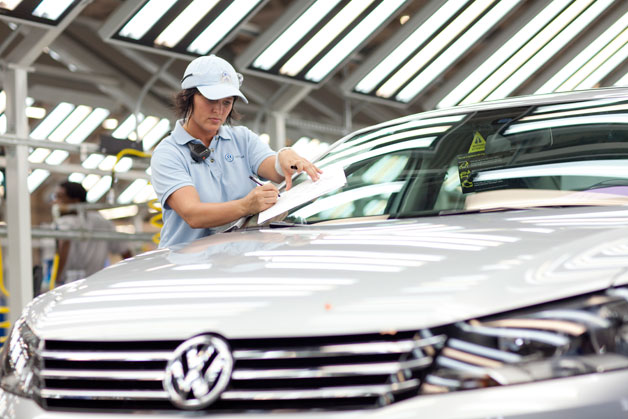 Yes, you read that right. No, it's not 2014. In fact, the UAW would like us to forget all about it's years-long attempt to organize the same plant, even filing a motion with the NLRB to 'disclaim interest' in the micro unit organized at the plant in 2015. By doing so though, the Auto Workers may have shot themselves in the foot.
While they were hoping for a 'quickie election,' requesting that the vote be held on April 29 and 30th, due to the unresolved issue of the micro unit, they now have to hold off.
Meanwhile, the National Right to Work Legal Defense Foundation is making sure all workers at the Volkswagen plant know their rights.
**********
'Culture of Corruption' at the UAW
Former UAW Vice President, Norwood Jewell, pleaded guilty to his role in the Fiat Chrysler corruption scandal. Specifically, Jewell admitted to making and approving "thousands of dollars in purchases at fancy steak restaurants and a Palm Springs golf resort using National Training Center credit cards, which were funded by the FCA."
Labor law prohibits the exchange of gifts between auto officials and labor leaders. Jewell's sentencing will be conducted in August.
For more on the UAW's "culture of corruption," check out the Center for Union Facts new website www.UAWInvestigation.com.
**********
Labor Around the World
The European Parliament passed a new law this month granting a small amount of employment rights to those in the gig economy; or more specifically, to persons who work an average minimum of three hours per week or twelve hours per four weeks.
The new rights include things like requiring the employer to be clear about working conditions and pay from day one of employment. It also prohibits employers from penalizing workers for doing work for other companies.
EU governments have three years to enforce the new standard.
Also this month, Mexico's Congress passed a labor law reform that ensures workers can "freely vote for their union representation and contracts." This is a necessary move toward winning approval of the U.S.-Mexico-Canada trade agreement.
Chinese tech workers took to the internet to protest their required amount of overtime - twelve hours a day, six days a week - even garnering support from Microsoft, Google, and Facebook employees here in The States.
**********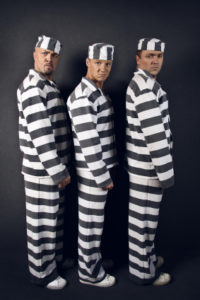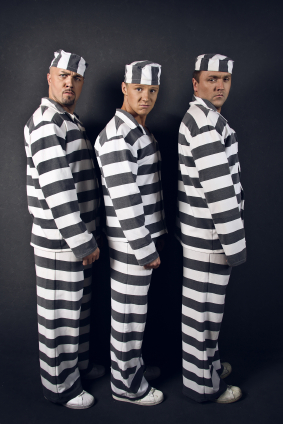 Sticky Fingers
Current charges or sentences of embezzling union officials:
Charles Kimo Brown - ILWU:  $1,575
Mark Douglas - UFCW: $7,078
Vincent D'Acunto Jr. - UFCW: Racketeering
Frank Cognetta - UFCW: Racketeering
Norwood Jewel - UAW: $70,000
Charlotte McDaniel - AFSCME: $50,000
Darin Kingrey - USW: $7,464
http://nlpc.org/index.php?q=union-corruption-update
**********
Labor Relations INK is published semi-weekly and is edited by Labor Relations Institute, Inc. Feel free to pass this newsletter on to anyone you think might enjoy it.
New subscribers can sign up by visiting: https://lrionline.com/free-stuff/newsletter-signup/
If you use content from this newsletter please attribute it to Labor Relations Institute and include our website address: http://www.LRIonline.com
Contributing editors for this issue: Phillip Wilson, Greg Kittinger, and Meghan Jones
You are receiving this email because you subscribed to receive our labor relations newsletters and updates. You can manage your email preferences by clicking the link at the bottom of any of our email communications.
NOTE: if you are using older versions of Internet Explorer, read the text version, as the html may not load properly. We recommend upgrading to the latest version.