In this issue:
Unions Seeking Another Entrée Into Politics
Workforce Strategies Tug-Of-War
Fight For Fifteen
Insight, Scoreboard, SEIU Watch, Sticky Fingers and more…
The bottom of each story contains a link to the individual post on our site.
**********
Labor Relations Insight by Phil Wilson
When is a Union Not a Union?
This week I attended and spoke at the Oklahoma HR State Conference. Every year this conference gets better and better. They have to if they're going to overcome people like me on the agenda!
The kickoff speaker was "business magician" Jon Petz. He was so entertaining that I even forgave him for living in Columbus! Jon performed several incredible illusions, but one blew my mind. Jon asked for anyone in the audience who had a $100 bill in their wallet (I was thankful I did not). Once he had his victim he asked her to come on stage and sign her name on the c-note.
Jon then put her through a "game show" where she learned her "prize" was a lemon. The business magician then pulled up a bag of lemons and asked her to pick one of the half-dozen lemons out of the bag. He then cut open her lemon and rolled up inside was - you guessed it - her signed $100 bill!
I was in the front row for this whole performance and it was stunning. Nothing was what it seemed. But what if Jon cut open the lemon and there was no $100? What if he kept cutting open all the lemons and none of them had the $100? What if he then said, "oops, sorry, I guess you lost the $100." How would you feel? If that was my $100 his next trick better be making himself disappear!
Unions have been playing a trick like that for a number of years, with an assist from the Department of Labor. They hide money (and a LOT more than a $100) in "Worker Centers." These organizations do everything the Labor Management Reporting and Disclosure Act of 1959 (LMRDA) defines as a "labor organization." However, they have never been required to report their receipts and disbursements like every other labor union in America. Hopefully that is about to change.
Here is the problem with the current system. These worker centers (think about organizations like the Fast Food Forward, OUR Walmart, or the Coalition of Immokalee Workers) operate as labor organizations. They seek to organize and represent workers, and sometimes even negotiate on their behalf.


Unlike all other labor organizations, the receipts and expenditures of worker centers are completely hidden from public view. Often these organizations receive funding directly from labor unions that ARE required to report. For example, in a House hearing today one witness stated that the SEIU spent over $90 million funding worker centers over the last several years. This means members - who would ordinarily get visibility to how their dues money was spent by their union - have no way of knowing once these funds are transferred to worker centers.
The $90 million spent by SEIU is just one union. Many other unions perform the same "union magic" trick. The other funding sources for these worker center organizations are, of course, unknown since they don't have to report their funding sources or expenditures.
Labor Secretary Acosta has mentioned on several occasions that the Department of Labor is looking into these organizations. Today the House Committee on Education and the Workforce held a hearing on the subject of worker centers and this week the US Chamber of Commerce also issued a report on them.
The bottom line: there is simply no reason these worker centers should be treated differently from any other labor organization. Labor organizations have a well-documented history of corruption and malfeasance. That's why the LMRDA exists in the first place. Congress wanted to make sure that members and contributors to these labor organizations had an easy way to see how their money is being spent.
Today worker center organizations subvert the spirit and, in my view, the letter of the LMRDA. These worker centers are labor organizations and coordinate extensively (if not directly controlled) with organizations that do have a reporting obligation. It is about time for this massive "worker center" loophole to get closed. Like the $100 bill inside the lemon, we might be surprised about what we find.
**********
Union Bailout Update
The National Labor Relations Board is back to full strength with the confirmation of John Ring. Additionally, Ring replaces Kaplan as the board chair. Ring's confirmation brings the board to a 3-2 Republican majority.
NLRB General Counsel Peter Robb filed a motion asking the board to withdraw its decision vacating the Hy-Brand ruling, just prior to Rings confirmation. Once Hy-Brand is decided, the D.C. Circuit has indicated it will take back up Browning-Ferris, so joint employer questions will hopefully be resolved soon.
Congress funded the board equal to last year's measure with the omnibus spending bill passed in March, prompting the union representing the NLRB staff to request General Counsel Peter Robb to reconsider reorganization plans. No word yet on further action.
Democrats in the Senate succeeded in stalling a bill that would have exempted tribal businesses from the NLRB, with Republicans falling 5 votes short of being able to cut off a filibuster.
Democrats in three states are leading the way in trying to circumvent a potential Supreme Court ruling against forced dues when it rules in the Janus case later this summer. The schemes for preventing employees from opting out of paying dues take various forms, including demanding employers automatically deduct unless the employee requests otherwise and severely limiting the time window in which an employee can opt out.
**********
Unions Seeking Another Entree Into Politics
The foot soldiers of political campaigns are generally volunteers or low-paid employees, but a new union, the Campaign Workers Guild (CWG) is trying to change that. As you would suspect, Democrats are no more pleased with the prospect (despite campaign rhetoric) than are Republicans.

Although the CWG has had some success, it is generally low-hanging fruit. Progressive candidates flush with cash or who are current or former union members are more likely to roll over.
**********
SEIU Watch
Washington State, the hub of many of the home health care workers that SEIU siphoned dues from for years, has passed a union-backed bill that will allow the state to hire a private company to help manage the growing caseload of home caregivers. Once these workers move into the private sector, they will be exposed to new contract negotiations that could potentially remove their ability to opt out of paying union dues.
In Chicago, members of SEIU Local 73 are making progress in their attempt to end the two-year-long trusteeship being held over their local by the International. Officially, the trusteeship was only supposed to last for 18 months. Now more than 20 months have passed and Mary Kay Henry has refused to give up control. Looks like her time is almost up though. Earlier this month, a federal judge "encouraged [SEIU and the members who are suing it] to negotiate conditions for reasonably prompt resumption of local control, and free and fair elections." Another hearing is scheduled soon.
Dave Regan continues to wreak havoc. Most recently, by trying to be the 'big man on campus' and effectively encouraging 21 unions and the 45,000 employees they represent to step aside from a 20 year long labor partnership amongst the 34 unions who represent Kaiser Permanente employees. Adrienne Enghouse, president of the Oregon Federation of Nurses and Healthcare Professionals, one of the unions leaving the coalition, put her reasoning bluntly when she said:
"There's no point of being part of a coalition if you don't have a relative voice."
**********
It's All Academic
Harvard graduate students have officially elected to join the Auto Workers union by a vote margin of almost 400. This comes after a 2016 NLRB ruling granting teaching and research assistants the legal status to organize.
Georgetown University has also agreed to let graduate students vote this spring on whether or not they wish to join the American Federation of Teachers. Workers at the University of Minnesota, on the other hand, have officially decided to drop their efforts to organize under the Service Employees after three years of effort.
In Louisiana, charter schools are still fighting to keep their independence from NLRB oversight with a case making its way up to the 5th Circuit Court of Appeals.
**********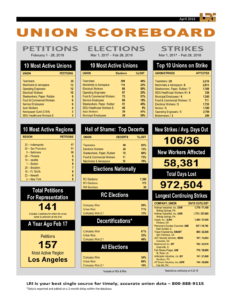 SCORE BOARD
Who are the winners (and losers) of the labor movement? Don't guess, just check the LRI Scoreboard
View this month's scoreboard (archives also located here).
Download a PDF of this month's scoreboard
**********
Teamster Beat
Teamsters Local 1108 is facing the largest decertification campaign of its kind. Roughly 600 pilots working for the private jet company One Sky Crew are petitioning for a decertification vote under the Railway Act. The "straw man" (or individual speaking on behalf of the workers) claims to have signed decertification cards from more than 50% of the crew already.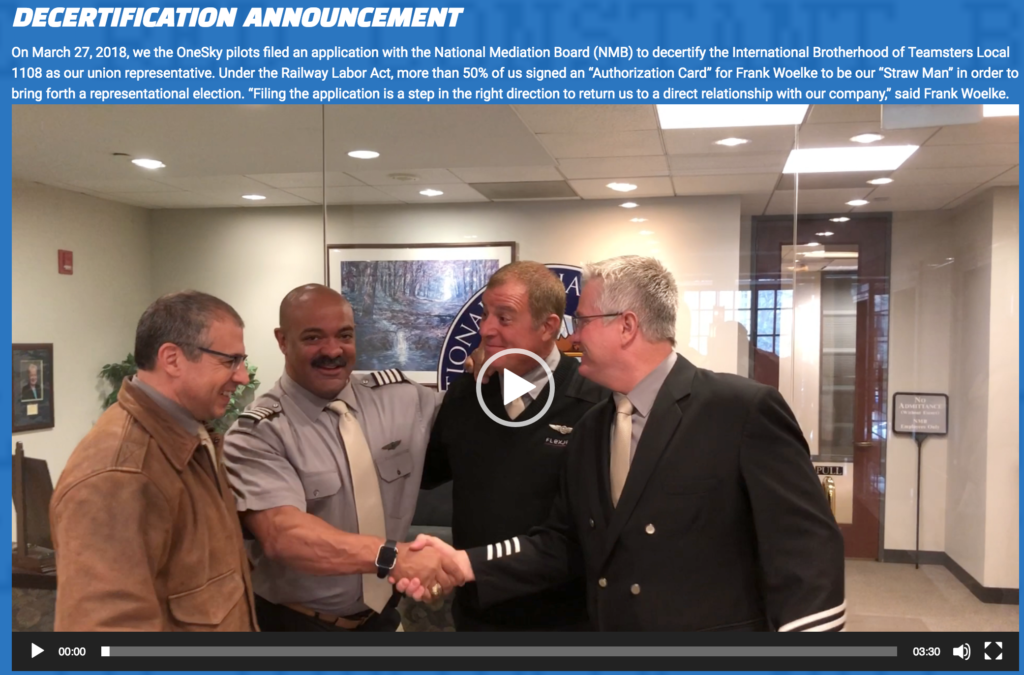 **********
Workforce Strategies Tug-Of-War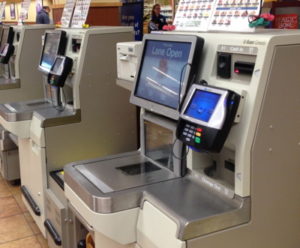 AI, automation, and demographics are making prognostications about the composition of the future workforce difficult. One of the largest retailers in the world (Walmart) is experimenting with a mix of higher pay, more robots, and more "gig workers" to retain the flexibility it needs to respond to the rapidly changing retail environment, especially when up against online giants such as Amazon.
In the restaurant industry, demographics are wreaking havoc in certain areas of the country as the available workforce isn't keeping up with the boom in eating out. Adding to the angst for managers is the crackdown on undocumented workers, a long-time staple to fill dishwashing and other kitchen assignments. Restaurateurs are having to get creative both in attracting and keeping cooks and wait staff.
**********
Fight for $15
The SEIU has cut funding to the Fight for $15 campaign by almost $10 million since the organization's peak in 2014.
As the primary financier to the "grassroots" movement to increase the minimum wage, the Service Employees had big dreams that after corralling this group together they might have organized the next big wave of unionized workers.
Things don't seem to be working out quite like that.
**********
Auto Workers
After announcing his bid to run for re-election, UAW Secretary-Treasurer Gary Casteel has changed his tune. The long-standing union leader will retire when his term comes to an end in June.
The timing of his decision, with UAW leadership in the midst of a massive financial corruption probe, is curious to say the least.
**********
Labor Around the World
The past month has seen France embattled in a standoff between unionized rail workers and the French government. France's transport unions have rallied workers to protest two days per week in opposition to the French government's proposed labor overhauls, one of which includes opening up SNCF, the country's public railway system, to private competition. This is the biggest labor dispute of President Emmanuel Macron's term thus far.
British Columbia's Labour Minister has appointed a counsel to review B.C.'s Labour Relations Code. This will be the first time the legislation has been reviewed since 2003. What's on the top of the list? A consideration to remove secret ballot union representation elections in favor of a card check system.
**********
Sticky Fingers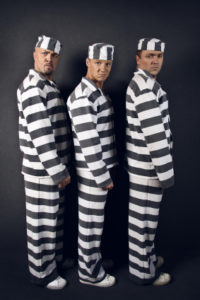 Current charges or sentences of embezzling union officials:
Ronald Coldrren - USW:  $30,639
Michael Taylor - BLET:  $24,869
Thomas H. Rodgers - SMART:  $3,672
Milton Thomas - UAW:  $100,000
Steven Brumit - BLET:  $6,434
http://nlpc.org/category/project-name/union-corruption-update/
**********
Labor Relations INK is published semi-weekly and is edited by Labor Relations Institute, Inc. Feel free to pass this newsletter on to anyone you think might enjoy it.
New subscribers can sign up by visiting: http://lrionline.com/free-stuff/newsletter-signup/
If you use content from this newsletter please attribute it to Labor Relations Institute and include our website address: http://www.LRIonline.com
Contributing editors for this issue: Phillip Wilson, Greg Kittinger, and Meghan Jones
You are receiving this email because you subscribed to receive our labor relations newsletters and updates. You can manage your email preferences by clicking the link at the bottom of any of our email communications.
NOTE: if you are using older versions of Internet Explorer, read the text version, as the html may not load properly. We recommend upgrading to the latest version.