INK

March 27, 2012
In this issue:
Union Bailout Update
Posting Rule Update: Brace for Concerted Activity! 
UAW Starts Card Drive on VW in Chattanooga
Filming Starts on "Teamsters" Reality Show 
SEIU Watch, Sticky Fingers and more…
NOTICE: You can make a PDF of this issue of INK directly from the post. Click here for instructions on how to do so.
**********
Union Bailout Update
Since those controversial "recess" appointments that kicked off the new year it's been quiet over at the NLRB — almost too quiet – but not anymore.
On March 15, the U.S. Chamber of Commerce asked the Court of Appeals to add its recess appointment challenge to an appeal of a Board ruling against a small bottling company in Washington State, Noel Canning. The Chamber will challenge the constitutionality of the President's emergency "recess" appointments, arguing in part that the appointments denied the Senate's Constitutional right to review all candidates.
Ironically, the one "recess" appointee the Senate did have the opportunity to vet, Republican Terence Flynn was accused last week of breaches of ethical conduct by an internal Board investigation. As a result, Flynn could lose his appointment.
Flynn was first nominated to the Board by Obama in January of 2011, only to have his nomination stall for a full year until his emergency appointment two months ago. Up until December 2011, Flynn served for six years, first as chief counsel to Board Chair Peter Schaumber and then Board Member Brian Hayes.
Flynn is accused of passing along insider information about cases to Schaumber, now an advisor to the Romney campaign, and former Board member Pete Kirsanow, now a labor attorney who represents the National Association of Manufacturers. (NAM recently sued the NLRB challenging the poster rule.) Flynn is accused of emailing information to Schaumber and Kirasnow about specific cases including attorney assignments, where cases stood within the agency and the public stance Board members would take.
"As a result of our investigative efforts, we found that Mr. Flynn, while serving as a chief counsel, violated the Standards of Ethical Conduct for Employees of the Executive Branch and that he lacked candor during the investigatory review," said the report by Dave Berry, the labor board's IG. All eyes now turn to Attorney General Eric Holder on what happens to Flynn next.
The greatest mystery remains how the White House remained unaware of the investigation of Flynn before the emergency appointment in January.
Meanwhile, a memo has gone out from the Office of the General Counsel to the Board's regional offices to prepare for "train the trainer" sessions in mid-April on the following seven changes to Board procedures:
(1) Stating that the purpose of a pre-election hearing is to determine if a question concerning representation exists; (2) ensuring that pre-election hearing officers can limit the presentation of evidence to that which supports a party's contentions and is relevant to the existence of a QCR; (3) giving pre-election hearing officers discretion to permit the filing of post-hearing briefs; (4) eliminating the parties' right to file a pre-election request for review and deferring that review until after the election; (5) removing the prohibition of scheduling elections sooner than 25 days after a decision and direction of election; (6) narrowing the circumstances under which a request for special permission to appeal to the Board will be granted; and (7) providing that all post-election hearing officer reports will be directed to the Regional Director and reviewed by the Regional Director on the filing of exceptions followed by a supplemental decision to the Board which is reviewable by a discretionary Request for Review.
**********
Posting Rule Update: Brace for Concerted Activity!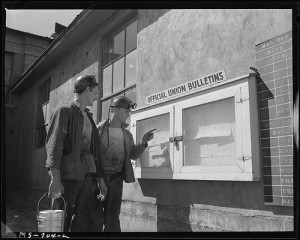 Over the next month the Board will also be busy rolling out new Web pages that emphasize to employees their right to participate in "concerted activity" with or without a union presence. Although currently 90% of the NLRB's workload comes from complaints around union-related activity, the Board is apparently now keenly interested in expanding its meddling into shops that don't even have a union in the mix…just yet.
The Board is creating new web content to capitalize on what will likely be its website's highest traffic levels ever on and around Poster Day, April 30. Employers are expected to make repeated visits to download materials or check for updates, and their employees will then (in theory) swarm the site as directed to by the many millions of posters newly posted in backrooms all across America.
And it would appear the Board will be playing up concerted activity rights in its new web pages while not talking all that much about rights of association. Speaking about workers not under immediate threat of unionization Chair Mark Pearce said, "I want workers to know that if they have grievances they have a right under certain circumstances to voice them."
Of course, while concerted activity is protected regardless of union presence, concerted activity charges will likely draw swift and keen union attention. And Board decisions around non-union concerted activity cases could go a long way towards emboldening members of prominent new non-unions like ROC, OUR Wal-Mart and Warehouse Workers United. It's the hot new emerging organizing trend of the largest most aggressive unions (SEIU, UFCW, Teamsters) — organizing workers into non-union "employee associations," that don't seek representation rights (yet) but do perform many of the same functions as a union such as: collecting dues; issuing demands; exploiting the emotions of the frustrated; spewing class warfare hate speech; and consistently choosing to agitate around workplace issues rather than actually help solve them.
Lost in all this maneuvering the real question — will a new sea of 10pt legalese under foggy Plexiglas above the time clock result in more organizing activity? Fittingly the guessing about that question will be over by May Day.
**********
UAW Starts Card Drive on VW in Chattanooga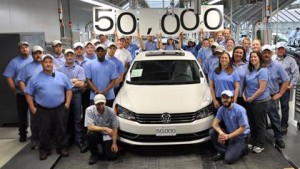 A Chattanooga news outlet has reported that since early March UAW organizers have been at the gates and holding meetings to gather signed authorization cards from Volkswagen workers. One VW employee told a reporter he was gathering signatures in the plant during breaks. It is also rumored that UAW organizers have been meeting with small groups of shop floor activists for several months.
Last summer UAW President Bob King traveled to Germany to coordinate support from IG Metall, the union for German Volkswagen workers setting off the first serious speculations about Volkswagen as the UAW's first (and perhaps only plausible) target to come out of over a year of UAW staff on the ground throughout the south poking around for a ripe target.
News of the card drive came as the company announced it was adding 600 jobs to its Chattanooga facility, for a total of over 3000 hourly positions. Both those new jobs and the UAW card drive were discussed in a closed-door meeting between employees and visiting VW executives last week. Several sources said workers stood up and cheered after one employee told the execs the plant was a great place to work and didn't need a union. VW workers in Chattanooga make around $15 less a month (after dues deduction) than UAW second tier workers in the GM Springhill plant down the road.
Bob King and other leaders of the UAW have repeatedly let slip that organizing of a foreign automaker in the South is critical to the very survival of the UAW – the implication there being that what the workers in Chattanooga might want is at best a secondary issue, at least to the UAW.
**********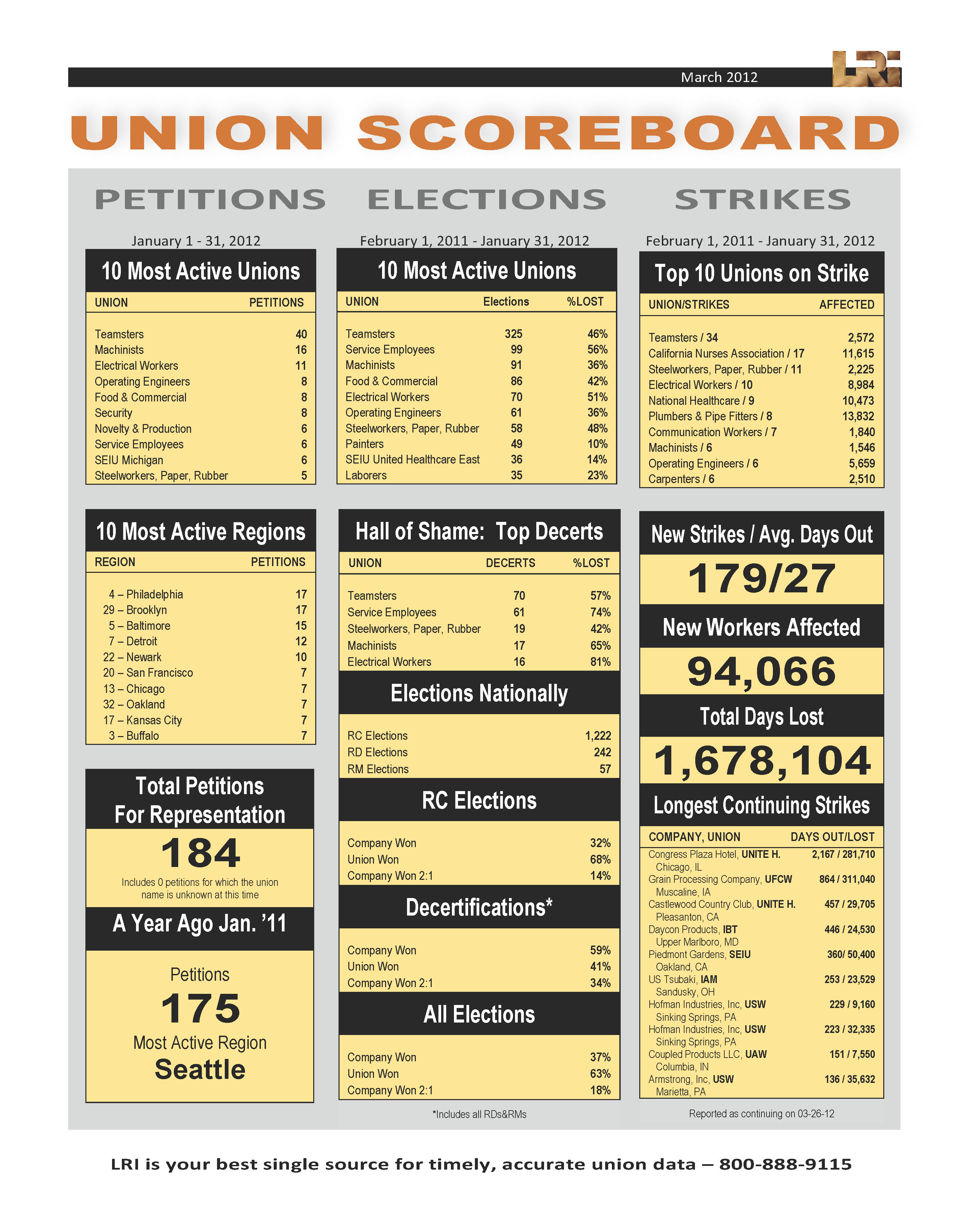 SCORE BOARD
Who are the winners (and losers) of the labor movement? Don't guess, just check the LRI Scoreboard
View this month's scoreboard (archives also located here).
Download a PDF of this month's scoreboard.
**********
Unions Made More Powerful by Citizens United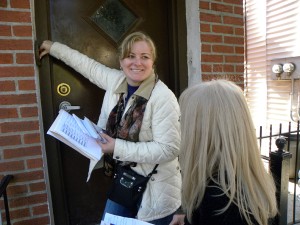 Unions have been yowling about the Citizens United decision since the election of Scott Walker was attributed by Democrats to pro-business Super Pacs and big donor bundlers like the Koch brothers. What rarely gets mentioned is the power the controversial decision gave to labor unions that they will only first fully exploit this election year.
Citizens United gave unions the power to spend union resources attempting to politically influence the general public. Before Citizens United, unions could only campaign for or against a political candidate to their own members. The decision removes that restriction granting unions the same freedom of political speech the new law grants to corporations.
And it appears labor intends to take full advantage of the gift; the AFL-CIO has announced it expects its member unions to put 400,000 members on the ground this year (a force about the size of the U.S. Army) to knock doors for Obama and other Democrats. That figure would not include the ground forces of the Change to Win labor federation that includes SEIU, the Teamsters and the UFCW. The SEIU alone has announced it intends to mobilize 100,000 members this cycle. Some labor experts estimate unions will drop well over the $400M they spent on Obama in 2008, with most money this year going to troops on ground, the most effective way to influence an election.
Not only did the decision grant unions more room to flex their organizing muscles, it gave unions exponentially bigger bang for their dues buck. Before Citizens United, union sponsored door knockers, limited as they were to only visiting union households, would skip from street to street, losing hours in a day to drive time and looking for addresses. And union door knockers were also only able to make a difference in areas with significant union density to tap. Now those same union ground forces will be able to knock every door, going door to door, anywhere they are needed, or target Democrats, independents, the elderly or new voters, now talking to several households in the same time it once took to just find the next union member's house.
That hasn't stopped unions from continuing to posture around the repeal of Citizens United; just last week the member unions of the AFL-CIO issued a joint resolution calling for a constitutional amendment to overturn the ruling. However unions are now quick to mention that as a Constitutional amendment is such a serious step, the language for it must be written "like a laser" to really hone in on the specifics of a problem. And according to the AFL-CIO, "amending the U.S. Constitution should be a rare act, done with the greatest of care," and "narrowly crafted to protect our democracy from the economic power of the 1 percent." And there you go.
It's also no shock that unions are now pushing the difference between the evil of corporate political spending and those benchmarks of true democracy — union political programs. "Any campaign finance reform," the labor federation said, "needs to recognize the fundamental distinction between the democratically governed communications among working people through unions and the unaccountable spending by corporations and the rich."
Meanwhile, top union officials worry privately that their members might not be as motivated to reelect Obama as they are. "Fully mobilized, they can be a major factor," said Steve Rosenthal, a Democratic strategist and former political director of the AFL-CIO. "Are the rank-and-file leaders going to be jazzed; are they going to do the work of talking to members? That's what makes the difference."
**********
Filming Starts on "Teamsters" Reality Show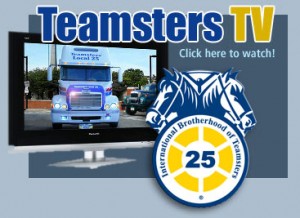 Actor/Producer Mark Walberg and the A&E Network have begun filming of a new reality show that will "focus on the lives and struggles of members of Boston's Teamsters Local 25." The union's president Sean O'Brien, told reporters the show's crew filmed Local 25's membership meeting just over a week ago, (now there's some riveting television) and that they'll come back to get more footage as soon as all parties involved "tie up some legal issues."
According to A&E, the show is "set in the real-life world that provided such color to films as The Fighter and The Departed." The network says the show will also give viewers "a first hand glimpse of the most legendary union in the most aggressive and territorial city in America: Boston. Here, the Teamsters Local 25 battle for the rights of their 11,000 members." And how is this a reality show again?
While details are few, it is confirmed the show will prominently feature O'Brien, the local's popular president and IBT rising superstar. O'Brien, a close friend of Walberg, was recently made a member of the IBT Executive Board and has been a staunch vocal Hoffa supporter. It's also widely believed that O'Brien will likely become the third Local 25 president to move on to the International presidency. (Hoffa is not expected to seek reelection.)
The Boston Herald describes Local 25 as having "a long, colorful, and sometimes troubled history." (And good luck finding a Teamsters local without one.) And at least one rank and file member is concerned. "What if Local 25 looks too much like Teamsters of the past?" he asks. "Is this movie thing just going to be a puff piece for Sean, polishing his image for a run as international president?"
The local represents, along with UPS drivers and others, the truck drivers for film crews while working in the Boston area. And over the years officials of the local have been accused of shaking down Hollywood types to the point filmakers were avoiding Boston altogether and were quite vocal with state politicians about why. Walberg, meanwhile, worked closely and well with Local 25 (his father was a member) as the producer of The Fighter and Good Will Hunting.
O'Brien's predecessor as local president was George Cashman , a former truckdriver who like O'Brien, was elected as reform candidate to "sweep the place clean." Early on Cashman stood up to the old guard and demanded from them an end to shakedowns, until he ended up at the bottom of a flight of stairs at the union hall with a broken leg. Later Cushman was heavily implicated himself in a federal grand jury corruption probe and as part of his plea bargain Cushman revealed he had 18 ineligible people enrolled in the union's healthcare plan as favors.
Meanwhile, the IBT seems to be banking on the show as a vehicle to not only position O'Brien to replace Hoffa but to also put some much needed spin on the life of a typical Teamster. "We would want the members to be front and center," a Teamsters insider said. "The workplace leaders –the stewards–would be shown organizing, defending workers rights, and fighting against employers, while at the same time disagreeing, when necessary, with their own higher-level elected union officials." Sounds like a great script, but again, isn't this a reality show?
**********
American Says No to Arbitration Ploy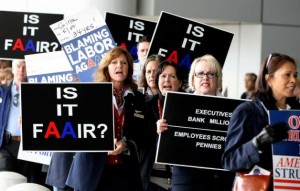 American Airlines has told the National Mediation Board that it does not want to enter into arbitration with the labor unions. The airline also argued that it should be allowed to work within the rules of bankruptcy to reach new contract agreements or the bankruptcy judge should set new terms. Unions representing American pilots, flight attendants and ground crews appealed to the NMB on March 8 to intervene in the bankruptcy process telling the Board they would agree in advance to accept binding arbitration from the Board. Surprised?
The company contends there is no legal or historic precedent for involving the NMB in its union negotiations, calling the union's ploy nothing more than a last resort public relations strategy.
Of course, union officials disagree. "We thought [arbitration] was a wonderful idea of taking two parties that have a long history of not working together very well and with the help of a mediator work together to help rebuild an airline," said Howie Schack, a spokesman for the Allied Pilots Association.
On Feb. 1, American proposed a massive cost-cutting plan that aims to reduce labor costs by $1.25 billion a year, but it can't happen without new union contracts. And if negotiations fail, American can ask the court to impose new contract terms and has warned it is coming close to doing so. The company has also stated it's possible the company could be sold off in parts or merged into another airline if its labor costs are not lowered.
**********
Pot Workers Unionize to Save LA Dispensaries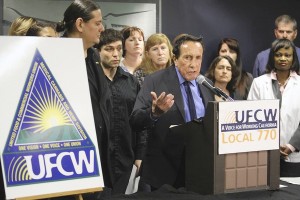 With the future of their jobs hanging in the political balance, workers in a dozen Los Angeles medical marijuana shops have joined UFCW Local 770. Pot workers believe the union will be able to apply enough political pressure to avert a citywide ban on dispensaries and the end of their jobs.
Councilman Jose Huizar has pushed for a ban since community activists from his district complained about the neighborhood's high number of dispensaries. Unfortunately for Councilman Huizar, he was once a good friend of Big Labor and enjoyed the endorsement of the UFCW and AFSCME.
Rick Icaza, the president of UFCW Local 770, said the union will work towards an ordinance that stops short of a total ban on dispensaries, and that unionizing the workers "is the next step in professionalizing and stabilizing this new sector of the healthcare industry."
**********
Oh! No! Occupy Announces General Strike!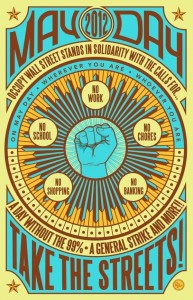 Well, don't cancel your plans for May 1 yet because America might not grind to a halt that day afterall. Occupy Wall Street, the official front organization of the Occupy Movement, had announced last week that it was calling for a "crippling" general strike on May 1. And while the working title of the strike "The Day Without the 99%" has a post-apocalyptic feel to it, the street buzz is few people with a job to strike from will actually be participating.
"It won't happen," said Stuart Appelbaum, president of the Retail, Wholesale and Department Store Union. "They (Occupy) are not working with the unions in a serious way yet; nor are the unions working with them in a serious way. And it is the wrong strategy."
"I think the concept is a great one but the reality is very tough," said Arthur Cheliotes, the President of Local 1180, and Communications Workers of America, telegraphing labor's general aversion to illegal strikes. (The United States hasn't seen a wide scale general strike since 1946 as they were soon outlawed by Taft-Hartley, but then how would a bunch of Poli Sci majors know that!)
"We're public sector workers—we take a day off for a general strike and we're fined two days' pay," said Cheliotes. "I don't think my members are inclined to engage in that process."
"We do expect people to not work," said organizer Max Berger. "Just in terms of participation by labor organizations and mass people not working, we're realistic about where we're at and what's possible." Which leaves all the rest of us once again asking, and so the point again is?
"Frankly there's not enough union people in this country anyway, so even if you made every union person strike, you still couldn't have everyone not working," said Jeff Smith, an Occupy organizer. "It's about getting enough people to opt out of what their normal equation is. Even if you just stay home and watch TV, in some ways you'll have participated in this."
Oh. So there you have it. Stay home, watch TV and overturn the capitalist structure.
The official poster of "The Day Without the 99%" lists these possible alternatives to your normal May Day – no work, no chores, no banking, no shopping, and no school – so plan accordingly.
**********
NY Longshoremen Still Defiant About Diversity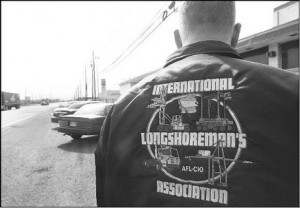 According to the New York Times, rooting out discrimination in union hall hiring in New York Harbor is nearly as hard as rooting out corruption. The longshoremen's union has again defied government order last week, refusing to send a representative to a mandatory hearing and making the stunning announcement that the Waterfront Commission had no authority to demand that all hiring be done without discrimination. Put another way, the ILA is exerting the right to continue to discriminate at its own discretion.
The commission has been pushing for years for a more diverse workforce on the docks; union hiring halls are sending in a workforce that is 80% white and male and not at all reflective of the neighborhoods surrounding the docks. The ILA has also been accused of assigning work to less qualified less experienced white males over several well qualified experienced persons of color who also applied.
**********
SEIU Watch
SEIU is collecting signatures in California to put two measures on the ballot this fall. Both measures are written in a manner that rewards the two major hospital chains with SEIU contracts and punishes hospitals the union has been unsuccessful in organizing.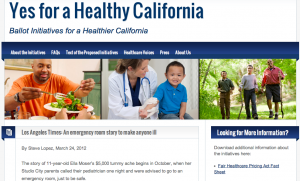 Dignity Health, the state's largest hospital chain, and Kaiser Permanente, the largest HMO, will not be subject to the proposals. SEIU represents nearly 60,000 workers in those two systems. The measures would prohibit their private competitors from charging more than 25% above the actual cost of providing care and require nonprofits to devote at least 5% of their patient revenue to free care for the poor.
At least a quarter of California's private hospitals would be exempted from the measures, according to the state's nonpartisan legislative analyst. Public hospitals are exempted as well, because most of their patients receive government assistance.
"This is really about a union using the initiative process to try to get targeted hospitals to buckle to their union demands," said Jan Emerson-Shea, a spokeswoman for the California Hospital Association.
When SEIU members kicked off the signature drive they started in a familiar location: Sutter General Hospital in Sacramento. The union has tried unsuccessfully to organize Sutter hospitals for years.
Sticky Fingers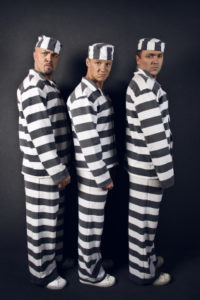 Current charges or sentences of embezzling union officials:
| | | |
| --- | --- | --- |
| Michael Martin | APWU | $11,320.61 |
| Carole Reeves | sheet Metal Workers | $19,000.00 |
| Raymond Norville | ILA | $100,000.00 |
| Linda Favela | USW | $12,510.00 |
| Sandra Jungbluth | IUOE | $450,000.00 |
| | | |
| | | |
| | | |