Labor Relations INK
Download a PDF of this issue with links here.
In This Issue:

• EFCA Update
• Turmoil Behind the Scenes
• Divisive Rhetoric
• PLUS September Scoreboard, Employee Relations Tip-Of-The-Month, and more…
View the web-based version of this newsletter (including pictures and graphics) by visiting:
https://lrionline.com/ink-september-24-2009/
EFCA Update

"I would just caution you to not take great comfort in the current eye of the storm and recognize that the Category Five is still forming." Marriott Executive VP David Rodriquez warned American businesses not to be lulled into a false sense of security as the debate over health care reform has stolen the public stage. Rodriquez referred to the Employee Free Choice Act, and other labor mischief soon to be stirred by the various union-schooled Obama appointments. Bill or no bill – changes are coming.

We notified you with an alert that Specter has detailed the EFCA "2" bill now proposed. Specter mentioned that he had Arkansas Senator Lincoln's support, but she balked, trying to retain the support of her constituency. However, if you read between the lines, she states clearly that her aversion to voting for cloture only applies to a version of EFCA with a card-check provision. Although some Democrats are still posturing, the last impediment to having 60 Dem votes was swept aside today when Massachusetts cleared the way to allow the Governor to appoint a successor to fill Senator Kennedy's vacated seat until the special election next year.
With pressure from the President, and a renewed commitment by Sec. of Labor Solis to swing the weight of her office behind the bill, and the extraction of the card-check provision from the bill, passage soon is all the more likely.
Big Labor is not quietly sitting on its hands waiting for federal action. Oregon just passed legislation making it illegal for employers to force employees to attend so-called "captive audience" meetings designed to relay the facts about unionization. And Big Labor has not given up on the card check provision. As we've already highlighted, even if the bill comes up for a vote without it, it could be added back via amendment prior to going on the books. I will be an interesting fall!
**********
Employee Relations Tip Of The Month
Employee Engagement: Voodoo Or To Do?
Is employee engagement just another management fad? That was the question asked in an interesting blog post by Bret Simmons that I ran across last week called "Engagement Soup." Since I've helped many companies transform their work environment over the years I certainly count myself in the camp of folks who believe that employee engagement works. But the post does make some interesting points.
First Bret takes a Business Week article to task for making the claim that the Gallup Q12 questions measure engagement or predict financial performance. Read the entire article here…
**********
Growth By Merger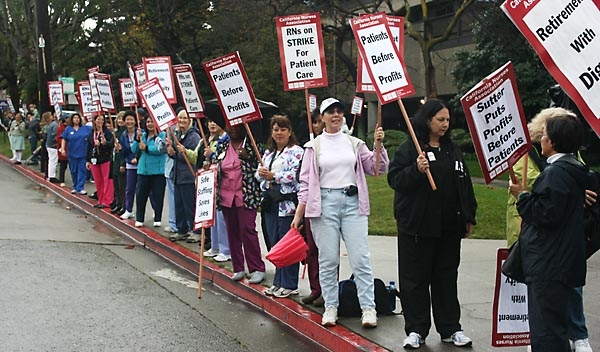 Another Big Labor strategy beginning to play out in expectation of an easier organizing climate is the merging of unions. This seems to be an effort to pool resources, recover from overspending on the last election cycle, and extend clout. The latest to announce a merger strategy is the California Nurses Association (CNA/NNOC). At its founding convention in December, the National Nurses United super-union will be officially birthed by the merging of the CNA with the Massachusetts Nurses Association (MNA) and the United American Nurses (UAN).
At over 150,000 combined members, the union will become the largest union of direct care nurses. It is expected that the group will grow larger by acquisition (as opposed to organizing) as other nursing organizations affiliate with the new union. David Schildmeier, director of communications for the MNA believes it could surpass the size of the American Nurses Association to become the largest group of union-represented RNs .
The merger will represent a coup for the CNA if government healthcare becomes a reality, as members will be driven into the super union in droves (see "Government Healthcare…" story below).
**********
Turmoil Behind The Scenes
In the next chapter of the SEIU / UNITE HERE battle, UNITE HERE announced at the recent AFL-CIO convention that it ditched the Andy Stern–birthed Change To Win federation to rejoin the AFL-CIO. This will bring a powerful ally in Richard Trumka and his federation to UNITE HERE's side of the fight. Trumka warned from the convention platform that anyone daring to "raid an AFL-CIO [affiliate] will find 1,000 organizers coming to the rescue of that union."

Even as the delegates met at the Pittsburg Sheridan, SEIU continues its effort to move union members from the UNITE HERE local into its fold. In an interesting strategy, Stern colluded with Sheraton and Omni hotel management to hold member dues in escrow, hoping to put financial pressure on UNITE HERE head John Wilhelm to negotiate. Adding fuel to the fire, Stern sent flyers to Chicago UNITE HERE members encouraging them to put pressure on Wilhelm to submit to arbitration in the dispute.
Labor insiders see SEIUs recent gambits as a desperate attempt to bring closure to its war with UNITE HERE, to prevent the bleeding of resources in internecine squabbling that could be used for organizing. Public opinion, at least among UNITE HERE members, seems to be leaning against the renegade Stern and his SEIU juggernaut.

Stern and his SEIU were not the only rogue union called to the carpet at the convention. Doug McCarren's 500,000 member United Brotherhood of Carpenters (UBC) has been accused of undercutting AFL construction unions. A Painter's union official admitted it had spent $9 million keeping the UBC at bay.
Sal Rosselli, interim president of the National Union of Healthcare Workers, which was recently formed by a break-away SEIU California local, visited the convention as a guest, yet another reminder that all is not "brotherhood and solidarity" in the ranks of Big Labor.
**********
Divisive Rhetoric
Much has already been said about the very vocal incoming head of the AFL-CIO, Richard Trumka. In case you were still wondering about the mindset of Big Labor leadership in America, these words from Trumka's speech at the recent AFL convention should clear up any confusion:
"What kind of labor movement do we need? … A labor movement that can project its power… a labor movement that stands by its friends, punishes its enemies, and challenges those who can't decide whose side they're on."
Any questions?
**********
Government Healthcare = Unionized Healthcare + More Unionized Private Sector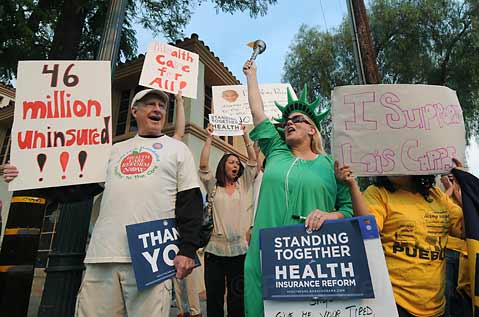 As we've warned, Big Labor's real push for a "government option" in healthcare has nothing to do with the welfare of its constituents, and everything to do with the mandatory unionization and union manipulation of the health care industry that will result. According to Mark Mix of the National Right To Work Committee, "Monopoly bargaining and compulsory union dues may quickly become a required standard resulting in potentially hundreds of thousands of doctors and nurses across the country being forced into unions."
If you have doubts about how this would happen, just ask Sherry Loar or Dawn Ives. Both run daycare centers out of their homes in Michigan, and because their low-income clients receive financial assistance, they were required to pay dues to a union. Seems the Department of Human Services created the "Childcare Providers Together Michigan" union in conjunction with the United Auto Workers and AFSCME. Even though the women are not employees of the government, 1.15% from each subsidy check is withheld ostensibly for dues. That may not seem like much, but across the state such coercively acquired "dues" would total $3.7 million annually (again – not for DHS, but for the union).

The current House version of the healthcare reform bill (H.R. 3200) grants Secretary of Health and Human Services Kathleen Sebelius tremendous discretionary authority to regulate health-care workers. Union officials are guaranteed seats on the various federal panels charged with recommending health-care policies.
Another provision uses tax breaks and penalties to create an incentive for private companies to turn their employees over to unions in an attempt to mitigate the costs of benefits. Since government benefits provided unionized employees would be exempt of proposed federal taxes, Big Labor may try to make the case that its better for companies' bottom lines to send their employees into a unionized plan rather than face the higher costs and tax penalties of staying in private plans. This would add huge leverage in the trend in labor organizing of negotiating neutrality agreements and boilerplate contracts.
**********
Emerging Trend?
In a corollary story to the healthcare issue above, a public employee union in Canada recently contributed $10,000 to a United Steelworkers local strike fund as a display of solidarity and support. Since public unions are in essence funded via taxes, and enjoy monopoly privileges, their coffers are less constrained by negative economic environments. There have been similar pairings of such public unions as the NEA and AFSCME with unions who hold mostly private-sector employees as members. Most joint efforts in the past have centered around policy issues and political campaigns, but don't overlook direct financial support of organizing or corporate campaigns, or strike funds. Imagine if the healthcare industry (count the billions in GDP) were unionized as above, and able to contribute in this way to Big Labor's efforts.
**********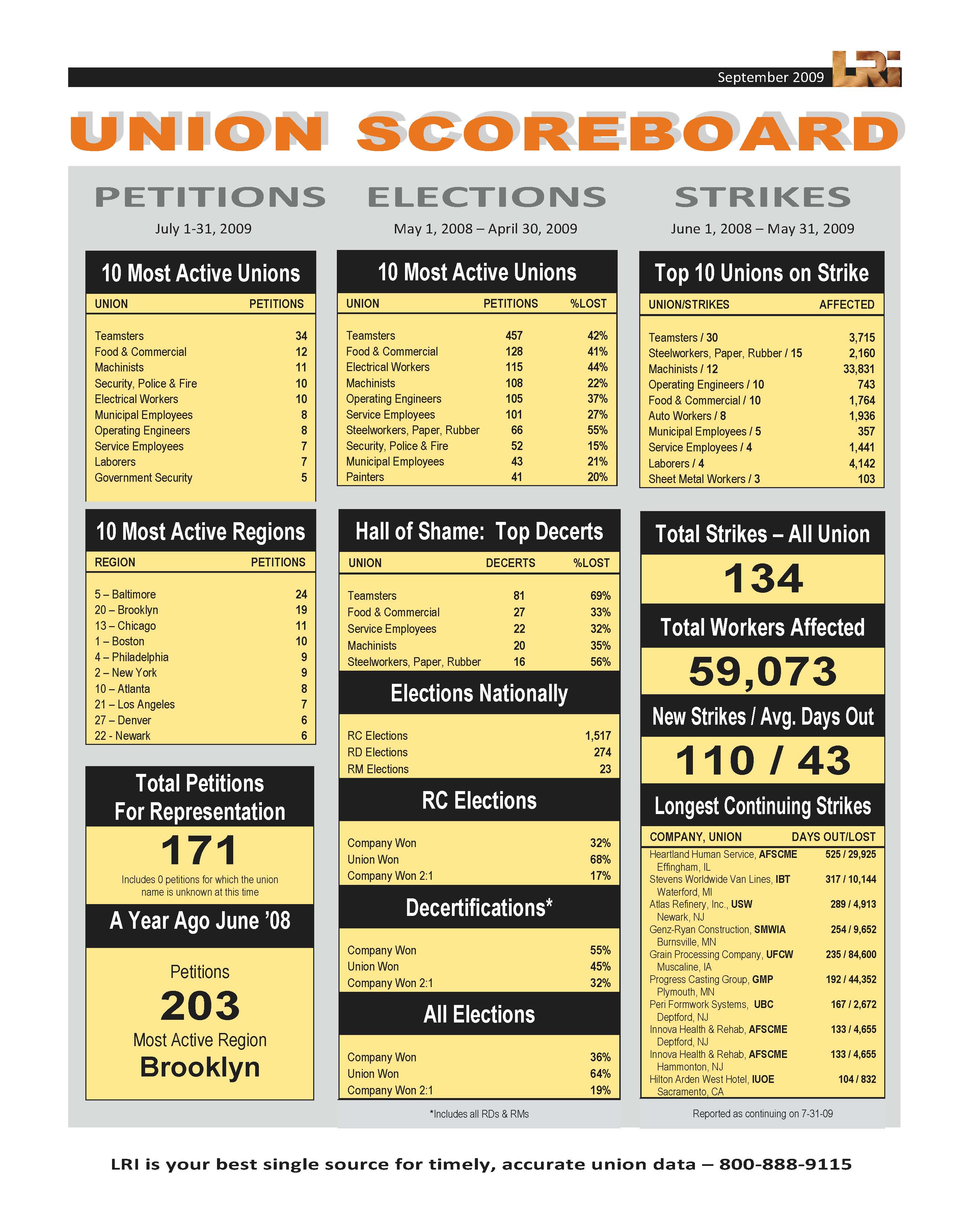 SCORE BOARD
Who are the winners (and losers) of the labor movement? Don't guess, just check the LRI Scoreboard
View this month's scoreboard (archives also located here).
Download a PDF of this month's scoreboard.
**********
Unintended Consequences of Union-Bought Power
The newly imposed 35% tariff on Chinese tires is just one example of potentially disastrous economic policies being adoopted in an effort to placate Big Labor. The move is a victory for the United Steelworkers union, whom Obama must keep on his side if he is to retain their help on his health care reform plan.
Other impingements upon free-market mechanisms are sprinkled throughout recent policies, including the TARP bailouts, all designed to protect union interests. It is a shame that unions are either completely unaware of the fundamentals of economics, or are completely consumed with self-interest rather than a healthy U.S economy!
**********
FREE! EFCA Strategy Review & Vulnernability Audit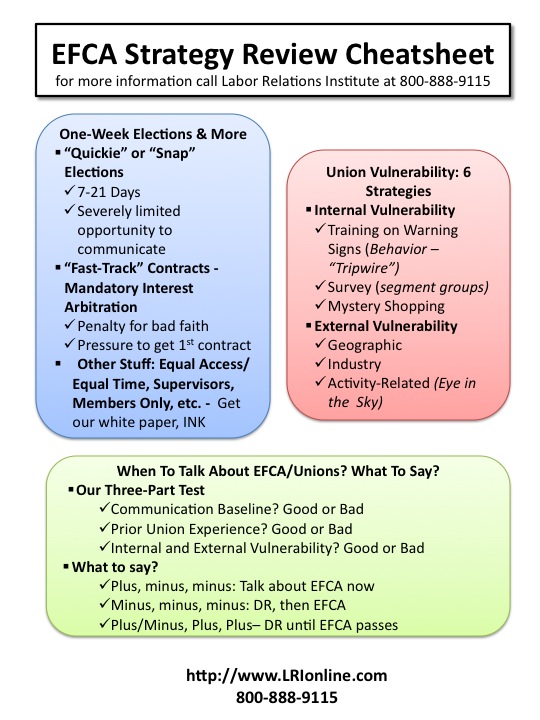 This has quickly become one of our most popular programs, in light of upcoming labor law changes. It is more important than ever to assess both the internal and external factors that contribute to your company's vulnerability to union penetration, and formulate action plans to shore up any uncovered weaknesses.
• What are the most likely labor law changes, and how will they impact my vulnerabilities?
• What are the six strategies I can implement to strengthen my defense against union encroachment?
• When do I talk to my employees about unions? What do I say about unions?
CLICK HERE to schedule your free 30-minutes consultation with Phil Wilson, LRI's President and General Counsel.
**********
LRI's EFCA
Tool Kit is
everything needed to inoculate a company against unionization in the "target rich" environment
created by passage of the Employee Free Choice Act. If you are a business,
trade association or labor law firm, you can benefit immediately. Review
the details and preview the videos here.
**********
Mob Boss vs. Union Boss
Take a 2 and ½ minute break and see if you can discern between union bosses and mob bosses in this YouTube video quiz.
[flashvideo file=https://www.youtube.com/v/EXrJDFO7fYQ&hl=en&fs=1&rel=0&border=1 image=wp-content/uploads/boss.jpg /]
Watch the video on YouTube at this link: https://www.youtube.com/v/EXrJDFO7fYQ&hl=en&fs=1&rel=0&border=1
**********
Unions And Politics
The federal investigation of L.A. County Supervisor Mark Ridley-Thomas' union dealings by the Labor Department and FBI illustrates how unions can virtually buy elections and taint the democratic process. The probe is a spinoff of the corruption scandal of former SEIU local labor chief Tyrone Freeman. The tale of how Freeman and his local bought their way into political office through Ridley Thomas makes a mockery of the concept of fair elections. However, for Big Labor, this is business as usual. As this LA Daily News article stated,
"Union leaders then and now see nothing wrong with what they did. Why should they? They got away with the naked snatch of a county supervisor's seat and sent a message to other L.A. politicians that unless you play ball with us, we'll crush you."
Sound similar to recent threats by Trumka and others to hold "their" elected officials accountable?
**********
Mayor Daley: Prophet?
When Chicago union leaders failed to grant concessions required to help bring the municipal budget in line, over 2000 AFSCME members and 141 Teamsters lost their jobs. "They lost their salary, their pension and healthcare," said Mayor Daley. "Now they better not blame Brian Doherty or Mayor Daley. You go blame yourself. You look in the mirror."
A portent of things to come, in both private and public sectors, if the EFCA and Big Union-bought federal labor officials have their way?
**********
Labor Relations INK is published semi-monthly and is edited by Labor Relations Institute, Inc. Feel free to pass this newsletter on to anyone you think might enjoy it. New subscribers can sign up by visiting:
https://lrionline.com/free-stuff/newsletter-signup/
If you use content from this newsletter please attribute it to Labor Relations Institute and include our website address: www.LRIonline.com
Contributing editors for this issue: Phillip Wilson, Greg Kittinger
You are receiving this email because you subscribed to receive our labor relations newsletters and updates. You can manage your email preferences by clicking the link at the bottom of any of our email communications.
NOTE: if you are using Internet Explorer v. 6, read the text version, as the html will not load properly in IE6. We recommend upgrading to IE7.