Labor Relations INK
Download a PDF of this issue with links here.
In This Issue:

• EFCA Update
• Becker Appointment Controversy
• Rules, What Rules?
• PLUS October Scoreboard, Employee Relations Tip-Of-The-Month, and more…
EFCA Update

Not much movement on the Employee Free Choice Act front, other than continued posturing by both sides. The U.S. Chamber released a new white paper debunking union studies on employer coercion. You can download the "Union Studies on Employer Coercion Lack Credibility and Integrity" here, and download all the Chamber papers on the subject here. Christopher Prandoni from the Alliance for Worker Freedom makes a great case that the equal access provision being floated as a compromise offering may receive a constitutionality challenge.

Big Labor seems to be miffed over the hesitancy of the Democrats to push their agenda. "If you can't deliver health care, and you can't deliver jobs, and if you can't deliver [card check legislation], and you can't figure out how to take care of the working people of this great city and country, you don't deserve to stay in office,'' quipped Robert Haynes, president of the Massachusetts AFL-CIO. Representative Dennis Kucinich, (D-Ohio), added, "Labor has always delivered for the Democratic party. But the Democratic party doesn't always deliver for labor.'' Case in point – Senator Diane Fienstein's (D-California) supposed waffling on the EFCA.

Lack of movement on specific legislation doesn't mean Big Labor pay-to-play is not operating on all cylinders. Senate contenders are still scrapping for Big Labor endorsements, and tellingly, Andy Stern made a recent list of the 50 most powerful people in Washington, D.C. More people are beginning to realize that the labor agenda can be pushed through via board appointments, rule changes, and other behind-the-scenes maneuvers (as the battle over the Craig Becker NLRB appointment indicates – see article below). Capital Research Center has an excellent white paper (6 pages) anticipating what the NLRB might do once the remaining board members are seated. And finally, another recent DOL appointment continues the trend of SEIU/Big Labor insiders filling the halls of government, as Michael Kerr, who oversaw Finance and Administration for the SEIU, took his post as Secretary for Administration and Management.
**********
Becker Appointment Controversy

The Senate seems to be maneuvering to appoint Craig Becker to the NLRB without the public hearings called for by opponents. Senator Harkin hopes to package the appointments so that the typical "closed doors political deal" can be made to secure his nomination. The U.S. Chamber of Commerce and some of their congressional allies are trying to force an unusual public hearing. Stated Rep. John Kline of the House Committee on Education and Labor, "Mr. Becker's writings and public viewpoints as an academic and union official call into question his ability to effectively – and objectively – serve in this important position. At a minimum, they raise serious questions about whether he intends to administer the law as written. Judicial activism is no more acceptable on the NLRB than on the federal bench." Although the Senate Health, Education, Labor and Pensions Committee passed the slate of nominees yesterday, Senator McCain (R-Arizona) put a hold on the Becker appointment, denying the slate a vote by the full Senate.
Beyond his pro-union legal rhetoric, Becker has also been linked to the Blago-Quinn-SEIU scam in Illinois that subjects home health care providers to forced unionism, and to the besieged activist group ACORN.
**********
Rules, What Rules?
The AFL-CIO attempted an end-run around the law by appealing to the National Mediation Board to change the rules about union elections under the Railway Labor Act, which oversees the rail and air industries. In what Rep. John Kline calls "EFCA's Evil Twin," Big Labor would like to adjust the playing field in their favor by allowing a union to be certified by only a majority of votes cast, versus a majority of those eligible to vote. The move is timed to attempt to capitalize on elections now pending before the NMB due to the acquisition of Northwest Airlines by Delta last year.
The Air Transport Association is fighting back, asking that if this rule is changed, that the election ballots should include an option for workers to decertify a union. The AFL-CIO dismissed the request as a distraction, but the ATA claims that changing the voting rules would effectively deprive employees of their right to choose not to be represented unless the NMB were also to adopt a formal decertification procedure.
**********
Pension Hijinks
Twelve of the top 21 contributors to Rep. Earl Pomeroy, a North Dakota Democrat, are unions. Perhaps this is why Pomeroy proposed a bill that would salvage badly mismanaged union pension funds by bleeding solid employers from other industries, and ultimately take cash out of the pockets of all taxpayers.
The bill would allow union-controlled multiemployer pensions plans to form alliances with one another. Via the last-man-standing rule, if every other company in a multiemployer pension plan goes bankrupt or pulls out of the plan, the one survivor is responsible for every single employee covered by the plan, even those who never worked for him. All past employers and all future employers would be liable for every employee who ever was in one of their plans and potentially any plan that would ally with it. This could add billions in pension liabilities to these companies and bankrupt even healthy businesses.
Just ask UPS what this could mean. UPS recently paid $6.1 billion in withdrawal fees just to escape the Teamsters Central States pension fund.
**********
Employee Relations Tip Of The Month
Too Much At One Time?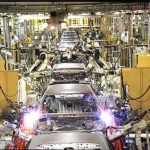 Be careful when structuring changes to schedules and benefits, especially when options aren't provided. When Toyota recently cut 5 paid holidays and required mandatory overtime, it catapulted organizing drives by two unions. "Overtime is good security and everybody enjoys the money, but when it steadily takes more time away from your family, it hurts," said Lee Sperduti, a veteran assembly line worker and organizer for the International Association of Machinists. "There is no amount of money that can make up for lost family time."
It might have been prudent to find ways to allow the employees the option of signing on for the overtime voluntarily, or for the Saturday shifts that are also expected. At the very least, communication needs to be transparent and complete when considering broad changes to the workplace. Toyota will now have to fight the communications battle with two groups of union organizers thrown into the fray.
**********
Georgia Attorney Speaks Up
Apparently the police in Macon, GA, are considering joining the Teamsters union. Bill Clifton, an local employment lawyer with national firm Constangy, Brooks and Smith, couldn't help sounding the alarm via a letter to the local paper.
Clifton pointed to available government data, indicating
"In 2005, the federal Office of Labor-Management Standards reported 114 new indictments and 97 criminal convictions of union officials for embezzlement, making false reports and other federal crimes. That same year, the Department of Labor's Inspector General opened 103 new racketeering cases against union officials, referred 88 cases for federal criminal prosecution, obtained 322 new indictments, received 196 new criminal convictions and was awarded $187.9 million in restitutions, forfeitures and civil monetary actions."
He also referenced the 6,909 Unfair Labor Practice charges filed against the Teamsters between 1998 and 2004. Clifton concluded, "Our police deserve respect, but they won't find it sleeping with the Teamsters."
**********
Bribery Sting

Edward W. Rodzwicz, president of the Brotherhood of Locomotive Engineers and Trainmen (a division of the Teamsters) tried to squeeze a midwest attorney in exchange for allowing the lawyer to remain on a list of attorneys recommended to union members for use in dealing with work-related injuries. The attorney was supposed to be eliminated from the list for soliciting other attorneys' clients, but Rodzwicz approached him in Little Rock, AR, suggesting a way that he might pay to remain on the list.
The attorney went to the Department of Labor's Office of Inspector General. After then meeting with Rodzwicz at his St. Louis office, the two met twice again in Las Vegas and Kansas City, where $10,000 was delivered to Rodzwicz each time. The union head was arrested at his home in Avon, Ohio, Oct. 13.
**********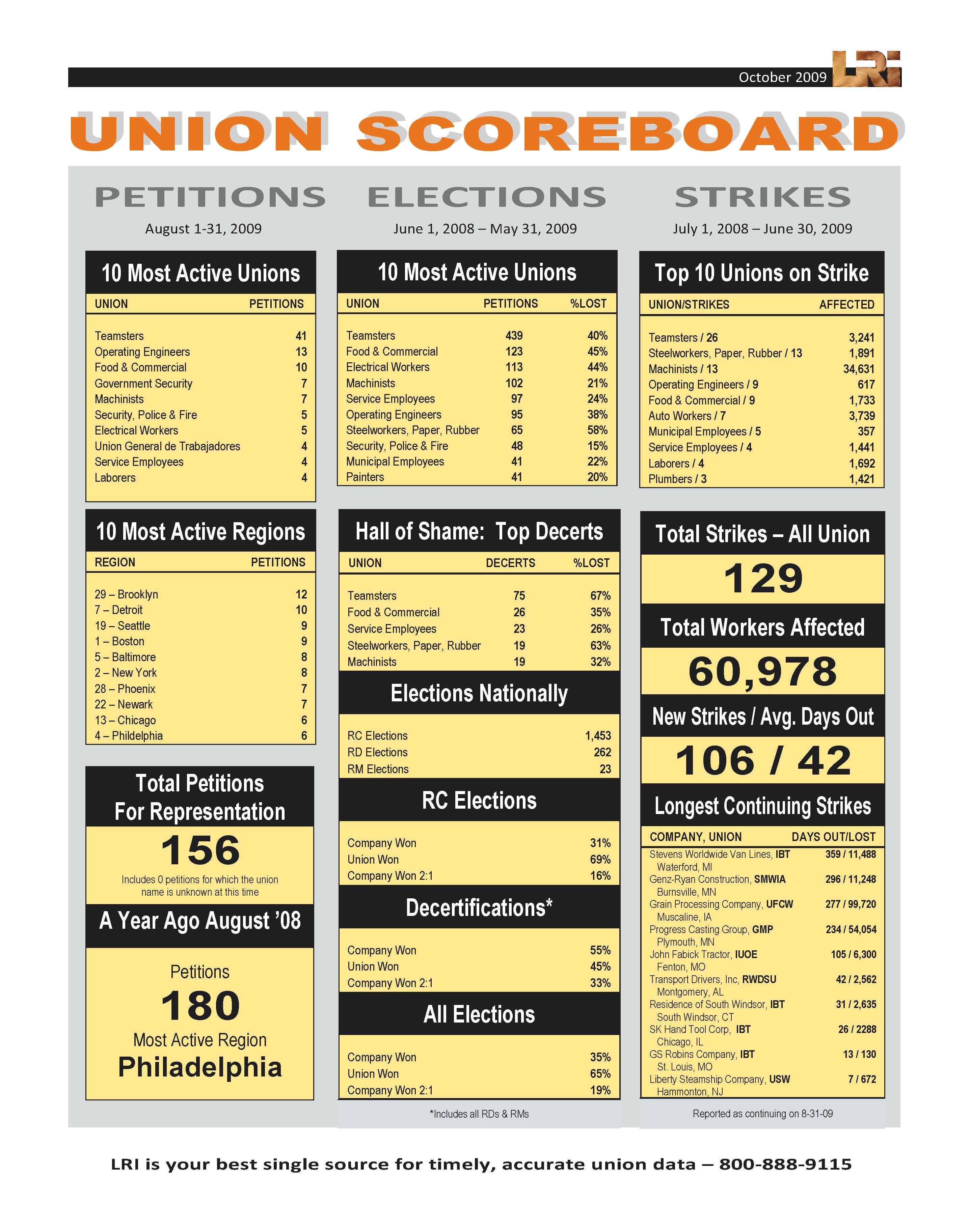 SCORE BOARD
Who are the winners (and losers) of the labor movement? Don't guess, just check the LRI Scoreboard
View this month's scoreboard (archives also located here).
Download a PDF of this month's scoreboard.
**********
Kiss Disclosure Goodbye

I know this sounds like a broken record, but we have not yet seen the end of the current administration's payback efforts on behalf of Big Labor. New disclosure rules just made it harder for union members to find out how their unions really spend the money they collect in union dues, and more kickbacks are surely on their way.
Included in the latest rule changes, the Department will no longer require unions to:
• Disclose the total value of benefits received by union officers and employees;
• Disclose the names of parties buying and selling union assets; or
• Itemize union receipts.
It is likely that the next disclosure target will be the LM-2 report, since it was responsible for exposing hundreds of thousands dollars of forced teacher union dues going to ACORN and millions more going to other radical organizations.
**********
FREE! EFCA Strategy Review & Vulnernability Audit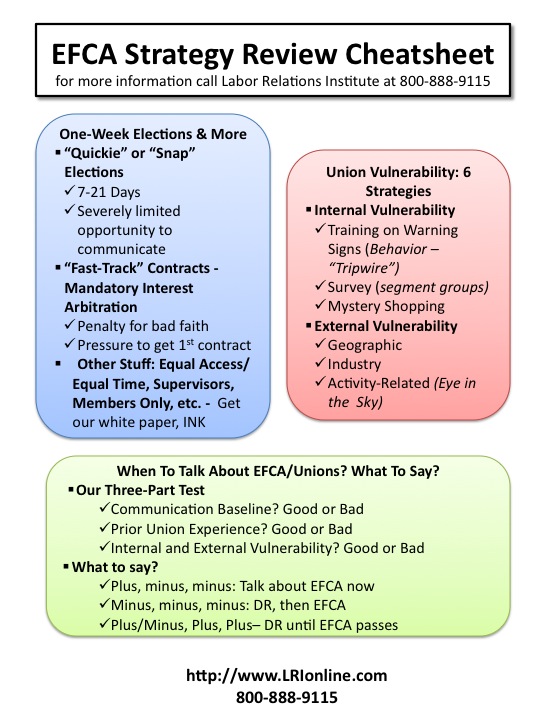 This has quickly become one of our most popular programs, in light of upcoming labor law changes. It is more important than ever to assess both the internal and external factors that contribute to your company's vulnerability to union penetration, and formulate action plans to shore up any uncovered weaknesses.
• What are the most likely labor law changes, and how will they impact my vulnerabilities?
• What are the six strategies I can implement to strengthen my defense against union encroachment?
• When do I talk to my employees about unions? What do I say about unions?
CLICK HERE to schedule your free 30-minutes consultation with Phil Wilson, LRI's President and General Counsel.
**********
All Not Rosy Between Labor and…Labor!

Gerry McEntee, head of the public employees' union AFSCME, has defied other Big Labor leaders and come out against the White House on healthcare reform. According to Ben Smith over at Politico,
"McEntee led workers in chanting a barnyard epithet to describe Senate Finance Committee chairman Max Baucus's health care bill, which would levy a new tax on expensive health care plans. He published an op-ed in U.S.A. Today warning, in terms that could be used against Democrats in the midterms, that the plan could tax the middle class and cost workers their health care. And he blew off a plea from White House Chief of Staff Rahm Emanuel and published an open letter promising to "oppose" legislation that contained the tax – published over the objections, several labor officials said, of other union presidents whose names appeared on the letter."

From another perspective, ACORN, longtime bedfellow of the SEIU and Big Labor, doesn't seem to want its workforce unionized. Union proponent Kate Bronfenbrenner, a professor at the Industrial and Labor Relations School at Cornell University, tries to explain the double standard this way, "There's a tendency to say, 'We can't play by the same rules, so we can't have staff unions because we're in a crisis.'"
**********
Scholarly Viewpoint
Two scholars deliver concise evaluations of the impact of government on labor markets via health care reform, labor legislation and other regulatory means. It is worthwhile to stay tuned to the "high altitude view" of employment issues like minimum wage, unemployment compensation, and such proposed encroachment as the Employee Free Choice Act.
Steven Davis of the American Enterprise Institute encourages the administration to roll back government mandates in the health care arena, suspend the minimum wage, and renounce the EFCA. Law professor Richard Epstein bemoans the entire spectrum of government regulation and interference in labor markets, concluding "The great curse of the current downturn is to delude well-intentioned people to cling to the miraculous idea that policies known to be dangerous in good times somehow become social necessities in bad times."
Both short articles are "recommended reads."
**********
SEIU's Next Victim: Maryland Parents
In the continuing saga of the SEIU's collusion with state governors to trap home health care workers into forced unionism, Gov. Martin O'Malley of Maryland signed a collective bargaining agreement with the SEIU last week. The agreement includes a 3 percent increase in subsidies paid to providers, while not asking parents to pay more. The increase costs about $5 million over two years, to be born by taxpayers. Meanwhile, the SEIU begins collecting dues.
As in other states we have recently reported on, the agreement means that one-person providers could be subject to rules about how to take care of their own child. Arrangements such as this present a triple whammy by usurping parental rights, feeding union coffers, and driving the costs of business within a state higher.
**********
Labor Relations INK is published semi-monthly and is edited by Labor Relations Institute, Inc. Feel free to pass this newsletter on to anyone you
think might enjoy it. New subscribers can sign up by visiting:
https://lrionline.com/free-stuff/newsletter-signup/
If you use content from this newsletter please attribute it to Labor Relations Institute and include our website address: www.LRIonline.com
Contributing editors for this issue: Phillip Wilson, Greg Kittinger
You are receiving this email because you subscribed to receive our labor relations newsletters and updates. You can manage your email preferences by clicking the link at the bottom of any of our email communications.
NOTE: if you are using Internet Explorer v. 6, read the text version, as the html will not load properly in IE6. We recommend upgrading to IE7.