Labor Relations INK
Download a PDF of this issue with links here.
In This Issue:

• EFCA Update
• Embattled Teamsters
• Healthcare Bill a Windfall for Big Labor
• PLUS November Scoreboard, Employee Relations Tip-Of-The-Month, and more…
EFCA Update
The most significant news about the Employee Free Choice Act actually came from the Healthcare bill vote this weekend. Three of the key Senators that EFCA opponents are (were) counting on to prevent a cloture vote refused to allow a Republican filibuster of the Healthcare bill, saying that even though they do not like the bill in its current form, they felt it best to allow the bill to move forward to full debate. We can probably expect a similar move when EFCA moves forward soon.

SEIU head Andy Stern sees 2010 as the "make or break" year for the EFCA. "They have 60 votes for the first time and probably the last time they're gonna have it. They have to decide if they are an army of one or an army of 60," said Stern, about the prospects of getting the bill passed. Current SEIU foe, UNITE-HERE's chief John Wilhelm, tends to agree with Stern that no EFCA action will occur this year. "There is no possibility it comes up in the Senate this year," he said at a recent conference.
In response to recent comparisons of the EFCA to similar existing (or already repealed) laws in Canada, a prominent labor journal posted a collection of articles aimed at refuting the negative impact these laws have had on the Canadian economy and on the Canadian workforce.
Both sides in the debate are attempting to take the battle to the venue of state legislatures. We've already mentioned the attempt in Oregon to make it easier to organize. The Save Our Secret Ballot initiative recently received its first legal challenge when a Missouri Circuit Court Judge ruled to allow a bill protecting the secret ballot in union elections to remain on the November 2010 Missouri ballot. It remains to be seen whether these maneuvers by both opponents and proponents of the EFCA will stand the test of conflict with federal law.
Making its appearance for the third time, the National Right-To-Work Law was introduced (it also appeared in the 109th and 110th Congress). The bill aims at amending the National Labor Relations Act and the Railway Labor Act to protect Right-To-Work provisions that are currently safeguarded only by state action. The bill doesn't stand much of a chance in the current Congress.
**********
Union Demographics Changing
A new report was released by the Center for Economic and Policy Research describing the demographic changes in the unionized workforce. Titled "The Changing Face of Labor, 1983-2008," some of the interesting findings include:
• Women now comprise 45% of the unionized force
• The Latino percentage has more than doubled (5.8% to 12.2%)
• More-educated workers were more likely to be unionized than less-educated workers (a reversal from the earlier period)
If you are an employer, this short report may be worth a read!
**********
Embattled Teamsters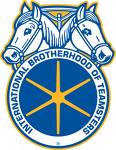 Police raided four different New York newspapers last week with the suspicion of organized crime shenanigans affiliated with their unions. The union, Newspaper and Mail Deliverers Union (a Teamsters affiliated) delivers hundreds of thousands newspapers per day to customers. It is not clear if criminal charges will be filed.
The President of a Teamster's local union, Helen Green, filed federal charges against the local Secretary/Treasurer Mike Magnani relating to sexual harassment. The two were involved in a sexual relationship, and when Green wanted to call things off, the intimidation and harassment started. Teamster's officials are desperately trying to keep the issue out of court, but it may not be possible.
The Teamsters continue to attempt to make life difficult for employees in right-to-work states. In a recent example, two employees did not want to pay the portion of dues that are allotted to non-bargaining activities. Union heads threatened repercussions of fines and even termination if the employees did not "jump through the appropriate hoops." The employees decided to fight back, filing charges with the National Relations Labor Board.
Members of one Teamster Local in Wenatchee, Washington are taking matters into their own hands by filing for decertification. The Public Employee Works Department would not divulge the reasons why employees of the union want to disband. The Teamsters were voted in in 2000, and apparently, some members have had enough.
**********
SEIU Watch

The SEIU-splinter union, the National Union of Healthcare Workers, has charged the SEIU with voter fraud in the recent fight over 10,000 home health care workers in California. According to the NUHW, SEIU staff threatened workers with deportation and tampered with secret ballots in the election. After bringing in over 950 staff and spending around $10 million on the campaign, the SEIU/United Healthcare Workers won by a narrow margin, 2,938 to 2,705.
The NUHW filed charges Nov. 6 with the California Public Employment Relations Board, which oversees the election. SEIU/UHW workers were charged with pressuring voters to change their ballots; threatening voters with loss of wages and benefits; and physically changing ballots. "SEIU not only tolerated but encouraged people to break the law, intimidate people and harass people," said Sal Roselli, NUHW president. Although SEIU spokespersons deny the allegations, one former SEIU employee, Carlos Martinez, admitted both pressuring voters to vote for SEIU and changing ballots, and that he was instructed to do so by his SEIU superiors.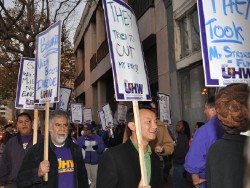 SEIU supporters took their animus against NUHW to other quarters, by throwing eggs and water bottles at attendees at an event honoring the fledgling union, and by threatening to withdraw its funds from several California County Labor Federations (LA, San Francisco, and North Bay). Labor Federation members rebuffed the threat by voting to increase per capita contributions to cover the difference should SEIU carry through on the threat. The Los Angeles Teachers Union (UTLA) hosted the conference, in which attendees included representatives from seven different unions and several community organizations. In retaliation for UTLA sponsoring the event and supporting the NUHW, SEIU threatened to organize LA area charter school teachers. This short video clip includes comments by the Presidents of AFSCME, the Operating Engineers, and the Laborers against recent Stern/SEIU raiding attacks against other unions.

Proving that no target is too insignificant to the SEIU, a Boy Scout in Allentown, Pennsylvania was threatened with legal action by local SEIU officials for attempting to aide his city via an Eagle Scout project. Allentown Mayor Ed Pawlowski defended the project, and U.S. Rep. Charlie Dent said the union official owes the teen an apology.
"I am astounded, that you would threaten to file a grievance against the City of Allentown because the administration wisely chooses to make volunteer opportunities available," Dent said. "Especially when this type of frivolous grievance could add to the tax burden of the citizens." Nick Balzano, the president of the Service Employees International Union's Allentown chapter who initiated the threat, submitted an unexpected resignation letter, along with several other employees, according to SEIU spokesman Matt Nerzig.
Finally, in a nicely detailed article that portrays the ties between the Big Labor agenda and nationalized healthcare (the real ties – not the altruistic blather spouted by union officials), Nation Review reveals another hidden twist, illuminated by this short excerpt:
Stern's real breakthrough came when he realized that labor could offer a carrot as well as a stick Around 50 percent of SEIU's members work in the health-care industry as nurses, hospital attendants, and lab techs. The facilities that employ such workers benefit from a number of government programs. SEIU's pitch was simple: Let us organize your workforce, and we'll use our lobbying power to push for increased government spending on health care.

It worked. Fred Siegel and Dan DiSalvo recently observed in The Weekly Standard that, "under the brilliant leadership of Dennis Rivera, [SEIU Local] 1199 built a top-notch political operation, and with the hospitals, which were barred from political activity, formed a partnership to maximize the flow of government revenue." The alliance has been so successful, they wrote, that New York now spends as much on Medicaid as California and Texas combined. Rivera now serves as the SEIU's point man on national health-care-reform legislation, with over 400 union staff members working full time at his disposal. Sen. Chuck Schumer called him "one of the few key players" shaping the final bill.
**********
Employee Relations Tip Of The Month
Are Your Employees At Risk Of Leaving?
Which employees are at risk of leaving your organization? Rather than guessing, take a proactive approach to identifying these individuals. Potential strategies might include searching internet job boards for your employees' resumes or asking other workers to identify who is actively searching for other employment opportunities. Creative strategies such as these can increase your chances of correctly identifying individuals who are considering leaving.
One of the primary reasons employees pursue other opportunities is that they don't feel challenged in their current job. To address this, require a development plan for each employee to ensure they will continue to grow and learn. Development plans might include presentations to management, or new projects and tasks that require employees to hone existing skills or learn new ones. Managers and employees should work together to identify challenging activities.
You might also consider conducting interviews with key employees to find out why they stay. By identifying what keeps them at your organization, you can work to reinforce the positives and eliminate sources of frustration.
Hat Tip to Eric Vanetti of VantagePoint Alliance
**********
Healthcare Bill a Windfall for Big Labor

We've mentioned that one of the main reasons for Big Labor's push for nationalized healthcare is the attempt to more effectively drive healthcare workers into unions. As the legislation has been scrutinized more closely, myriad benefits to Big Labor continue to surface. Among several of the newest revelations:
• Mismanaged union pension funds could receive up to $10 billion in taxpayer-funded bailout money under the cover of a "reinsurance program."
• Union-friendly government officials (such as Sec. of Health & Human Services Kathleen Sebelius) would have tremendous discretionary authority in regulating health care workers.
• Non-union employers could be excluded from eligibility to work on program-funded contracts. Health care providers would be required to pay wages and benefits that have been collectively bargained or that union-friendly appointees determine are competitive.
• Creation of lucrative state training partnerships that contain little or no opportunities for non-union employee organizations.
• Union-negotiated health care plans could be exempted from taxes on "Cadillac" health plans.
This article by our friends at Fisher & Phillips is worth a read.
**********
The Special Interest Sledgehammer
As union strength has diminished in the private sector in the previous several decades, the union presence in the public sector has remained strong and is growing. It would be easy to believe that private industry has escaped the gallows. One must never forget, however, that as long as union coffers can be filled by any sector, every employer in the nation is at risk.
One factor exposed by recent state budget battles is how much political influence public union dollars can purchase. States at risk of violating their constitutions (by not balancing their budgets) are being railroaded by legislators "owned" by Big Labor. Just ask the governor of New York, or the mayor of San Francisco what its like to feel the "union" heat.
Colorado is only the latest state to experience the collusion of a state government with unions to force home healthcare workers (who are neither government employees, nor work for a unionized company) into a union.
Every dollar that flows into union coffers funds the political shenanigans of Big Labor in effects far beyond the scale of the contributions, due to the political leveraged obtained through massed special-interest group pressure. American businesses cannot be spared the carnage – whether via EFCA, healthcare or other regulatory and legislative manipulation, the sledgehammer will eventually land.
**********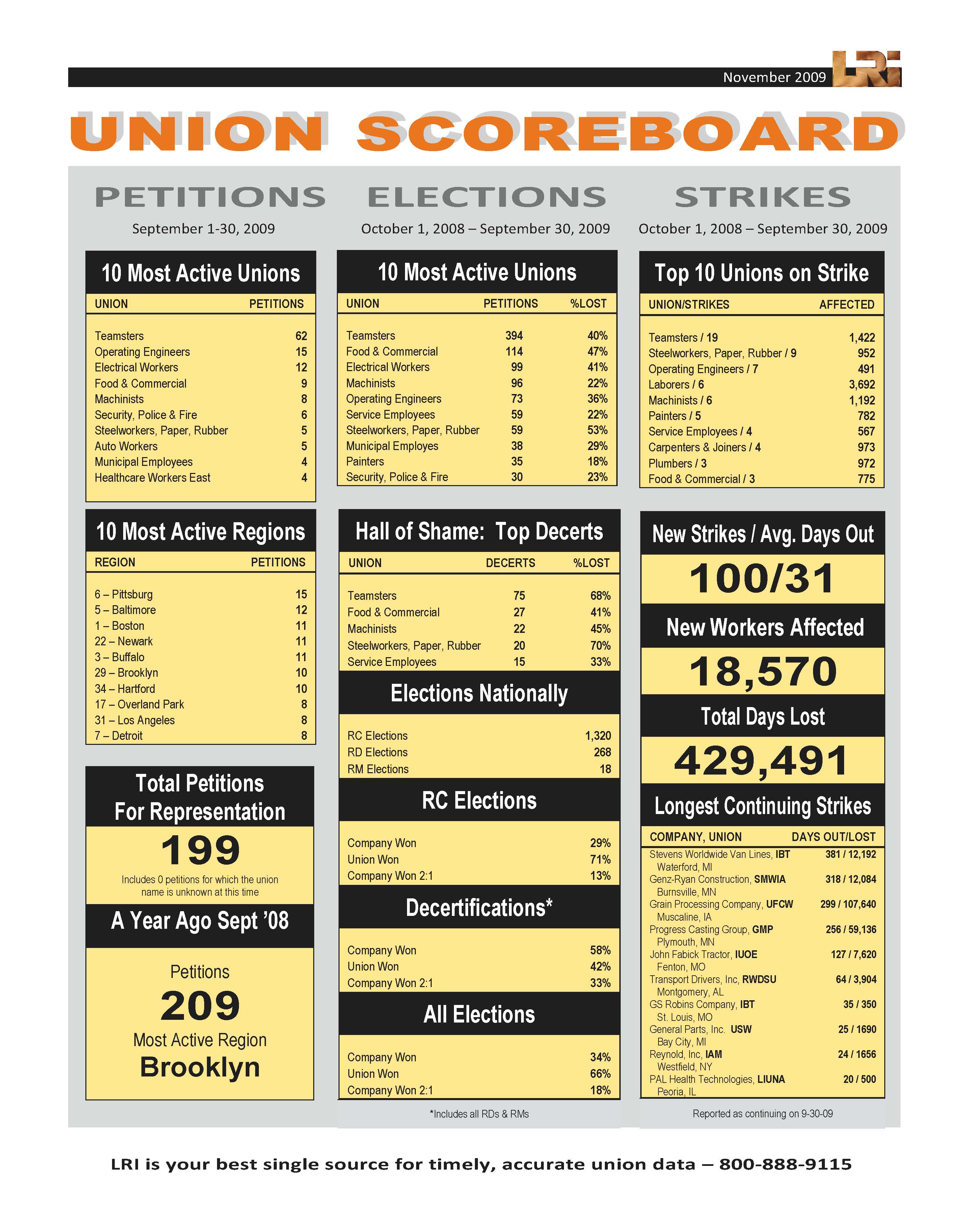 SCORE BOARD
Who are the winners (and losers) of the labor movement? Don't guess, just check the LRI Scoreboard
View this month's scoreboard (archives also located here).
Download a PDF of this month's scoreboard.
**********
How Do You Define Democracy?
Nurse Marie Ritacco, a board member of the Massachusetts Nurses Association, has a peculiar way of defining democracy. Speaking of the upcoming merger with the CNA, Ritacco said in a letter to the MNA membership, "it is clear that it is the will of the majority that we move toward a national nurses union that would give us the greatest opportunity to fight for and achieve our goals," [italics added].
Majority? When the vote was held in October, it was held in a hard-to-get-to location, and on a weekday, meaning the turnout for the election was destined to be low. In fact, only 514 out of 23,000 members were able to attend and vote. 390 "yes" votes determined the destiny of 23,000 Massachusetts nurses, even though a great percentage of the nurses were opposed to this bill and had asked for either a change of venue for the meeting, or another method of voting.
So – 1.7% of the membership determines the MNA's destiny. That's democracy union-style!
**********
FREE! EFCA Strategy Review & Vulnernability Audit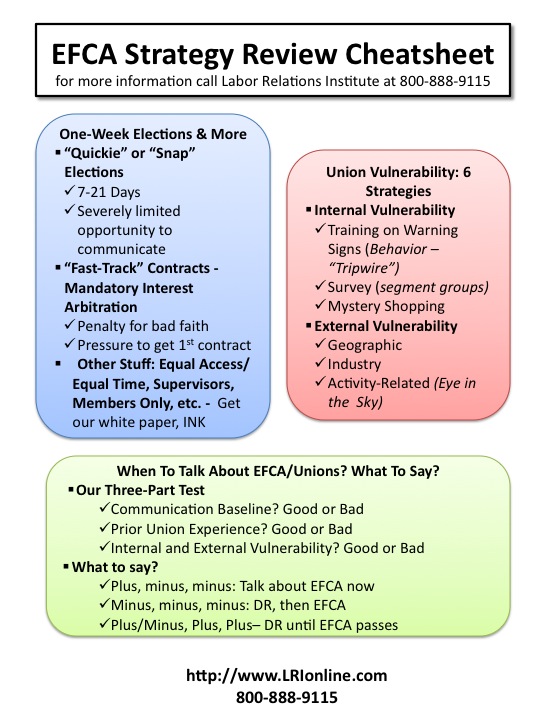 This has quickly become one of our most popular programs, in light of upcoming labor law changes. It is more important than ever to assess both the internal and external factors that contribute to your company's vulnerability to union penetration, and formulate action plans to shore up any uncovered weaknesses.
• What are the most likely labor law changes, and how will they impact my vulnerabilities?
• What are the six strategies I can implement to strengthen my defense against union encroachment?
• When do I talk to my employees about unions? What do I say about unions?
CLICK HERE to schedule your free 30-minute consultation with Phil Wilson, LRI's President and General Counsel.
**********
LRI's Brand New Online Supervisory Training Program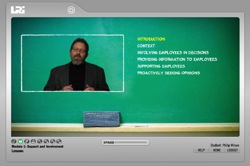 If there is one thing we have learned after more than 20 years and over 10,000 elections battling unions, it is this:
Your front line supervisors are the number one key to a solid union defense, and a positive workplace.
Nothing takes the place of properly trained front line managers and supervisors, but in today's hectic business environment, we've never asked our front line leaders to do more with less. How in the world can you take the time to pull them from their jobs, and provide training that really makes a difference!
Our new Online Active Interval Training (OAI/T) is the answer. OAI/T includes: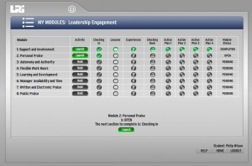 • Easy access from any computer
• Research-based and validated content
• Best adult learning principles available
• Only 15-20 minutes per week
• Real time tracking of attitudes, skills and knowledge
• Instantaneous reporting and learner feedback
• Personalized action plans for immediate implementation
• Accountability to upper level manager for progress and plan execution
OAI/T is incredibly value-priced, PLUS you can try it absolutely FREE! For complete details, visit this page on our web site, or call us at 800-888-9115.
**********
UNITE-HERE Goes "Pink"
A UNITE-HERE organizer and former employee of a Miami hotel, Julia Rivera, has accused the union of using the tactic of "pink sheeting" during organizing campaigns. Pink sheeting is the process of uncovering and using deep personal issues to both control union organizers, and to use during the process of organizing. Rivera said that her supervisors pressured her to use sensitive personal information during recent organizing drives, including the disclosure of episodes of sexual abuse she experienced from her father. Several of Rivera's UNITE-HERE organizer peers have also claimed this tactic has been used on numerous occasions, and are uncomfortable about such personal details of their lives being divulged. More than a dozen union members charge that they were urged to reveal such information under threat of dismissal, and that the information was then used to control them. UNITE-HERE has also been accused of retaining such sensitive information in a database.
UNITE-HERE's John Wilhelm said he has "a zero tolerance for inappropriate intrusions into people's private and personal lives," yet these current and former organizers declare that this is a long established practice within the organization.
This is not the first time a union has used this tactic. The United Farm Workers used pink sheeting when organizing rehabilitation centers. Rivera and her friends are protesting in efforts to end the degrading practice.
**********
EFCA to Magnify Violence (?)
As this short video depicts, union violence is not a "thing of the past." I shudder to think about the growth of such tactics should Big Labor achieve its desired end of making it easier to organize via card check or other undemocratic means.
[flashvideo file=https://www.youtube.com/watch?v=APzu9zX4mBA image=wp-content/uploads/ytvid1124.jpg /]
Watch the video on YouTube at this link: https://www.youtube.com/watch?v=APzu9zX4mBA
**********
9 Years of Effort = Still No Results
The Communication Workers of America are still trying to organize T-Mobile USA after repeated unsuccessful attempts over the past nine years. The CWA represents over 700,000 workers nationwide, 42,000 of them belonging to AT&T's wireless division, but is having a hard time entering other wireless carriers. T-Mobile indicates a positive employee satisfaction score of over 70%, and despite employees saying that they do not have an interest or need for a union, the CWA has not given up efforts to organize them.
**********
CNA Takes to the Air Waves

The California Nurses Association is the flagship sponsor of Nurse Talk, an internet talk show trying to extend its reach onto America's airwaves. The show is styled on Click & Clack, the Tappet brothers of Car Talk fame, and thus far has made the leap from internet to radio only in California. Besides sponsorship, the CNA-NNOC also provides "guest experts" periodically for the show. The program is looking for additional sponsorship and more radio exposure.
Big Labor is adept not only at old fashion "muscle" tactics, but is becoming savvy in using social media and other 21st century methods to spread its propaganda.
**********
Make Hay While The Sun Shines
Not content to ask only for legislative and administrative changes to make it easier to organize America's workforce, Big Labor would like to track every single vote cast in a union election (if indeed they are forced to accept that ballots will be required). The Association of Flight Attendants asked the National Mediation Board to allow the use of hyperlinks in emails and on web sites for voting purposes. The use of such technology would allow AFA bosses to track the voting of employees, thus enabling them to bring coercive tactics to bear during elections.
The NMB has been asked before to make similar changes, but ruled that the use of hyperlinks for voting should not be allowed, and that it would undermine the integrity and confidentiality of the voting process. However, now that a former AFA President has been appointed to the board, perhaps the airline union feels the sun will shine this time on their request.
**********
Sticky Fingers!
Current charges or sentences of embezzling union officials:
Carolyn Williams - IBEW: $9,554
Sonia McGuire - APWU: $15,000
Richard Clark - NALC: $20,805
Nicholas and Paul Maddalone - ATU: extortion & bribery
Robert Bealefeld - GMP: $5,686
Joseph Moon, Jr. - ATU: $14,931
**********
Labor Relations INK is published semi-monthly and is edited by Labor Relations Institute, Inc. Feel free to pass this newsletter on to anyone you think might enjoy it. New subscribers can sign up by visiting:
https://lrionline.com/free-stuff/newsletter-signup/
If you use content from this newsletter please attribute it to Labor Relations Institute and include our website address: www.LRIonline.com
Contributing editors for this issue: Phillip Wilson, Greg Kittinger
You are receiving this email because you subscribed to receive our labor relations newsletters and updates. You can manage your email preferences by clicking the link at the bottom of any of our email communications.
NOTE: if you are using Internet Explorer v. 6, read the text version, as the html will not load properly in IE6. We recommend upgrading to IE7.