Labor Relations INK
Download a PDF of this issue with links here.
In This Issue:

• EFCA Update
• UFCW A Jobs Killer
• SEIU Watch
• Only In A Union
• and more…
EFCA Update
Although the Senate appears to have been happy to focus on health care "reform" and thus avoid the discussion of the Employee Free Choice Act, it seems the Senate has painted themselves into a corner by pushing a version of the health care bill that includes a tax on "Cadillac" health plans, while excluding a full public option. Both the House and Big Labor are opposed to the "Cadillac tax," and the unions were hoping for a full-monty public option.

The conversation has taken some interesting twists this week. Monday morning, AFL-CIO President Richard Trumka began the posturing by commenting, "I think you will see the Employee Free Choice Act pass in the first quarter of 2010," and also slammed the "Cadillac tax." This was just prior to a meeting President Obama held Monday afternoon with top labor heads, including Trumka, the SEIU's Stern, and eight other leaders.
Speculation prior to the meeting was that Obama would push the unions to agree to the tax and get behind the Senate bill, while in exchange he would promise to move the EFCA to the front burner for action after the health care bill was finalized. However, according to Roll Call, "Labor bosses appear unwilling to engage the White House or Democratic leaders in possible legislative horse-trading over the contentious revenue proposal". Union sentiment about the "Cadillac tax" prior to the meeting can be summed up by firefighters union head Harold Schaitberger. "It's terrible policy and absolutely disastrous politics," he said. "This is failed promises. We went out and worked hard to deliver our membership [in 2008] . . . . This is a political nightmare for the midterms." The veiled threat in Schaitberger's comments reflects Big Labor's touted use of the upcoming mid-term elections to "hold politicians accountable" for both these key health care bill issues, and the EFCA. In addition, grass roots labor activists appear ready to turn up the heat directly under the President, and any Senators they deem hesitant to expedite labor's pet issues.
According to the CongressDaily, Trumka, Stern, and United Auto Workers head Ron Gettelfinger then met the next day with House Speaker Nancy Pelosi and "tentatively struck a deal… to exempt collectively bargained healthcare plans from a tax on high-cost plans expected to be used to help raise revenue for the healthcare overhaul."
With the possibility of unions mollified via compromise within the health care bill itself, another avenue for passage of the egregious EFCA has starting to simmer to the surface. Town Hall reports that "Senate Majority Leader Harry Reid (D-NV) is mapping out a process by which the Senate can get EFCA passed as quickly as possible so that opponents won't have time to voice opposition. There is even talk of including it in the next 'jobs bill.'"
Thomas Donohue, president of the U.S. Chamber of Commerce, warned Congress Tuesday not to attempt this ruse. "It would be a bad idea to put a card-check bill on a jobs bill," he said. "And, yes, we would oppose it."

As vocal as the Chamber and other pro-business groups have been in opposition to the EFCA, there is a sense that the majority of American small and medium-sized businesses are still woefully unprepared. "The majority of employers are still in denial about the likelihood of significant pro-union legislation passing," says Paul Myers, a partner at Strasburger & Price in Dallas. There is also a perception that efforts to defend against unionization are expensive, especially in a recession. This is unfortunate, as there are many reasonably priced options for assessing vulnerability, supervisor training, employee engagement surveys, and other organization and communication strategies useful for inoculating against union organizing. Meanwhile, the Nation Labor College in Silver Springs, MD, is gearing up. With a current semester student load of about 1000, the school hopes to have between 30,000-40,000 students within 6-7 years, many of which will be studying organizing and negotiating.
On an interesting side note, no matter what else happens to the health care bill, it is likely that several unions will see a huge payoff. Once the government wedges its foot in the healthcare sector's door, it won't be long until a way is found to categorize an ever growing number of healthcare workers as public employees, and thus push them into two of the largest unions for public sector workers, SEIU and AFSCME. Of all the union heads, Andy Stern has seemingly been the least ruffled by the possible loss of the card check option from the EFCA. Perhaps it is because he knows that he'll reap the whirlwind anyway from the healthcare bill, and he'd just as soon not give a "level playing field" to his competitors. SEIU/Stern's recent turf wars with UNITE HERE and NUHW are indicative of his penchant for full-scale war with competing unions (See SEIU Watch below).
In related action, the New York Times reports that President Obama is considering re-nominating Craig Becker to the NLRB, after the contentious candidate's nomination was sent back by the Senate prior to the year end.
**********
UFCW A Jobs Killer

Employees of Henry Nemenz's grocery stores do not want a union. They have indicated to local media outlets that Mr. Nemenz treats them well. So what's with all the picketers outside their stores in and around Youngstown, OH?

Seems the United Food and Commercial Workers don't really care what employees want. What the UFCW Local 880 wants is the potential union dues from those employees. Since the 1990's, UFCW has been picketing and harassing the local grocer, using the typical "picket/boycott" corporate campaign tactics designed to force Mr. Nemenz to succumb to a neutrality agreement that would allow UFCW the best (and perhaps only) shot they would have to unionize the stores.
The picketing has forced the closure of two of his stores, with the attendant employment loss. When a local radio commentator recently asked one of the picketers why there were picketing, she said she did not now – she was being paid to.
Now there's a jobs program to write home about!
**********
SEIU Watch

2008-2009 was a roller coaster ride for Andy Stern and the SEIU. As much as Stern has been accepted into the high sphere of White House insider politics, his union has stumbled badly in ill-conceived strategies designed to shore up Stern's dictatorial reign over the union, and to raid members from fellow unions. The efforts to date have blown up in his face.
Labor journalist Randy Shaw does a marvelous job of connected the dots between the warfare with SEIU's west coast local that became the new National Union of Healthcare Workers (NUHW), Stern's peace accord with former rival, the California Nurses Association, and SEIU's flawed and failed UNITE HERE takeover attempt. Included is a 2008 document outlining the failed strategy developed for the takeover of UNITE HERE. Shaw highlights how the UNITE HERE takeover attempt brought other labor leaders to the side of NUHW, whereas before they had remained neutral. The results portent to be disastrous for SEIU this year. To quote in part,
SEIU now faces an estimated 100 elections involving 20,000 workers against rival NUHW in the first five months of 2010, and a June contest for 45,000 workers at Kaiser Hospitals. SEIU's misguided war on UNITE HERE, and its ongoing strategic deficiencies, could soon cost it dearly.

The recent election at Memorial Hospital is a case in point. SEIU, conceding they couldn't win the election outright, attempted to derail the unionization move altogether by running what was in essence an anti-union campaign designed to sustain a NO VOTE for unionization, rather than allow an election victory for NUHW.
Even though the takeover strategy failed, any company concerned with facing a corporate campaign from the SEIU, or any union for that matter, should make sure to read the strategy document for an insider look at the thinking and strategy involved in such campaigns.
Another "SEIU-Watch" site lists the Top 10 SEIU Bloopers of 2009 as follows:
10. SRMH election.
9. Ruining EFCA for the whole Labor Movement.
8. Fresno! Vote for us or we'll call ICE.
7. Agreeing to Kaiser Layoffs and Pension cuts, and then pretending that they didn't agree.
6. The Quality of Staff that SEIU has in California.
5. Threatening California's Progressives.
4. Attacking Unite/Here.
3. Calling Academics "Not really High Value Targets."
2. Removal of 90% of UHW Stewards.
1. Underestimating the members of SEIU-UHW.
Read the details of the above blunders at these two posts.
Not content to attack only internal targets, the SEIU refocused its Bank of America fight on incoming CEO Brian Moynihan. SEIU is running ads in New York that BoA spokesman Scott Silvestri says are "factually incorrect and deliberately misleading." The ad campaign is a retaliation after several security officers lost their jobs due to the BoA-Merrill Lynch merger, and is part of the ongoing SEIU effort to unionize bank employees, including tellers and other customer-service employees.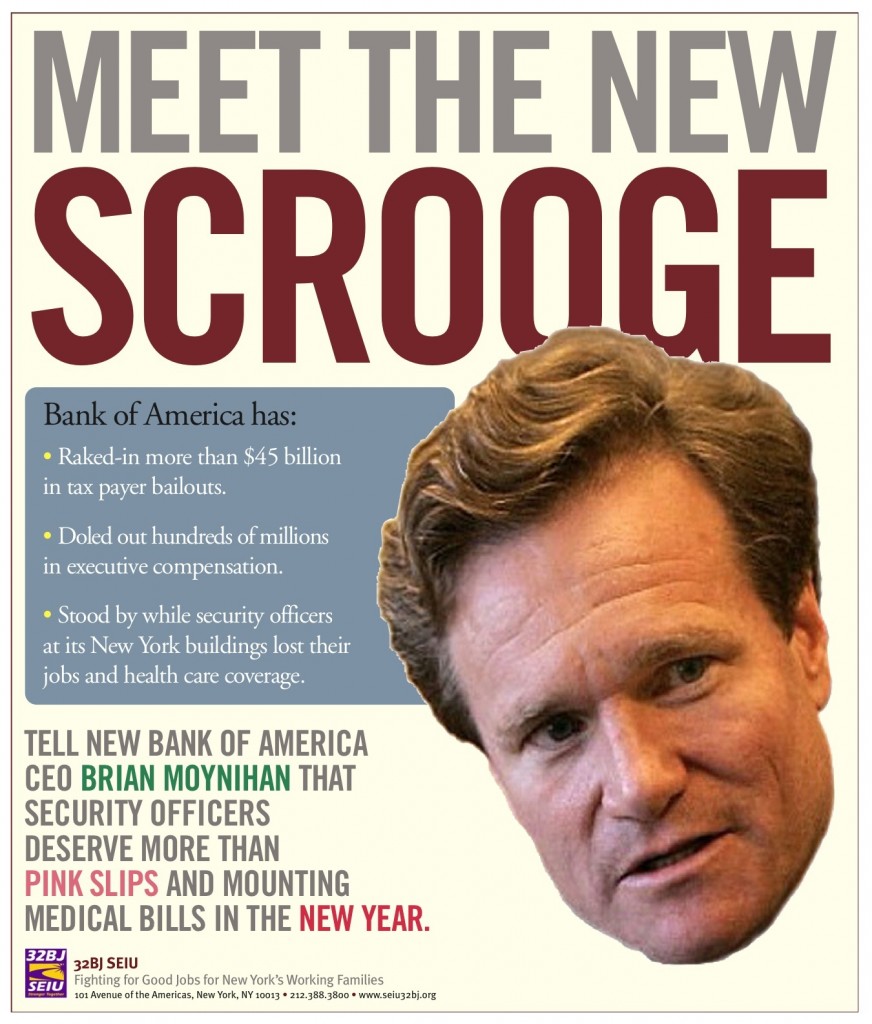 Stern does not lack for creativity in finding ways to capture members for his union. In addition to his support of a healthcare public option and raiding other unions, he is also posturing SEIU to glean from the "green jobs" momentum, and from immigration reform. Michelle Malkin points to several shell-game partnerships that funnel green job money into SEIU (and other union) pockets. On the immigration front, SEIU is pushing for a bill that will "Create millions of new taxpayers by requiring undocumented immigrants to register, go through background checks, pay taxes, and study English on their way to becoming full U.S. citizens." Reading past the doublespeak, what would actually be created are millions of new official union dues payers.
Looks to be a busy year for SEIU.
**********
DeMint Blocks Nomination of Obama's TSA pick
The Christmas day crotch bomber episode has most Americans thinking about the need to strengthen airport security. Senator Jim DeMint fears that Errol Southers, Obama's appointee to head the Transportation Safety Administration, is the wrong man for the job. DeMint believes one of Southers' main objectives would be to unionize the TSA, and has held up the appointment. According to DeMint, "we need to make the point to the American people that this administration is more about politics than security."
"It's all about politics - pay-back to the unions," he said.
When the TSA was created after 9/11, Congress specifically prevented its workers from seeking unionization, saying the agency needed to be nimble to respond to threats. Another layer of bureaucracy, which typically includes restrictive work rules, would not be in the best interest of developing a greater proficiency in effective screening processes, and DeMint is right to lament this possible outcome.
**********
Only In A Union
Lucas County Commissioner and former UAW member Pete Gerken took it on the chin when, much to the chagrin of his ex-union buddies, he recently leased a non-union made Acura. When union officials excoriated Gerken for the move, in typical fashion, Gerken blamed his wife. Lloyd Mahaffey, a longtime UAW state director, was supposedly "shocked" by Gerken's action. "I am appalled that he would do that and that's always the excuse - that it's our spouse that bought it," Mr. Mahaffey said.
**********
Machinists Fall Short
The National Mediation Board recently informed the Machinist union that there would not be an election for union representation with Air Tran, due to "insufficient showing of interest." The union was unable to secure authorization cards for the 35% of employees minimally required to hold an election.
In typical fashion, the union reached for excuses as to why they failed, and has stated they are already "campaigning" for the next attempt after the one-year waiting period expires. At stake are more than 3,000 reservations agents and customer service and ramp workers.
**********
UNITE HERE Hiring
Looking for a job? Apparently gearing up for a post-EFCA labor climate, UNITE HERE is hiring (and training) union organizers, boycott organizers, and campaign researchers.
The union is hoping to organize "hundreds of thousands" of workers "in hotels, casinos, industrial laundries, institutional cafeterias, airport concessions, and apparel manufacturing, distribution, and retail facilities throughout North America."
**********
LRI's Brand New Online Supervisory Training Program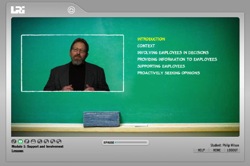 If there is one thing we have learned after more than 20 years and over 10,000 elections battling unions, it is this:
Your front line supervisors are the number one key to a solid union defense, and a positive workplace.
Nothing takes the place of properly trained front line managers and supervisors, but in today's hectic business environment, we've never asked our front line leaders to do more with less. How in the world can you take the time to pull them from their jobs, and provide training that really makes a difference!
Our new Online Active Interval Training (OAI/T) is the answer. OAI/T includes: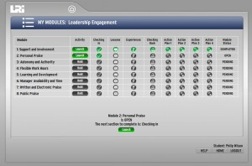 • Easy access from any computer
• Research-based and validated content
• Best adult learning principles available
• Only 15-20 minutes per week
• Real time tracking of attitudes, skills and knowledge
• Instantaneous reporting and learner feedback
• Personalized action plans for immediate implementation
• Accountability to upper level manager for progress and plan execution
OAI/T is incredibly value-priced, PLUS you cantry it absolutely FREE!
**********
Machinists Hear The Other Shoe Drop
Boeing is going for complete independence with its new 787 Dreamliner facility in South Carolina. We have previously reported that Boeing has chosen to open a second 787 assembly line in South Carolina to escape from organized labor. In a further step designed to prevent any production delays, Boeing will replicate its supply chain of all 787 parts currently produced in Washington. This move would ensure that production could continue even if the Washington-based Machinists call a future strike.
Douglas Woodward, an economics professor at the University of South Carolina's Moore School of Business, commented on the move. "It's not particularly about lowering wages," he stated. "It's about having flexibility and predictability and stability in their supply chain."
South Carolina has one of the lowest rates of unionization in the country. According to the US Bureau of Labor Statistics, in 2008 not a single day of work was lost in the state due to strikes.
**********
Poison To American Businesses
Here's a nice new ad being run by opponents of the Employee Free Choice Act. Spread it around!
[flashvideo file=https://www.youtube.com/v/T0Rr4mLEyQc& image=wp-content/uploads/trumka2.jpg /]
Watch the video on YouTube at this link: https://www.youtube.com/v/T0Rr4mLEyQc&
**********
Labor Gains Inroad To Our Children
Big Labor activists in Wisconsin won a recent skirmish in the battle for the hearts and minds of Wisconsin's children. The Wisconsin Labor History Society, the state AFL-CIO and other labor and educational groups worked twelve years to win enactment of a new law. Although not the strong mandate the proponents had hoped for, it does require the state superintendent of public instruction to make the teaching of labor history and collective bargaining part of the state's educational standards.
Wisconsin is the first state to pass such a law, but the Labor History Society expects other states will follow. Be on the lookout in your state.
**********
Sticky Fingers!
Current charges or sentences of embezzling union officials:
Wayne Mitchell - CWA: $200,000
Norman Stefanik - USW: $46,013
Sherri Pemberton - AFGE: $7,958
Christine Pawlowski - UAW: $7,000
Edward Kobe - UTU: $16,200
Michael Rhoades - CWA: $8,002
Warren Demmin - IBB: $681
Joseph Morana - SEIU: $7,696
**********
Labor Relations INK is published semi-monthly and is edited by Labor Relations Institute, Inc. Feel free to pass this newsletter on to anyone you think might enjoy it. New subscribers can sign up by visiting:
https://lrionline.com/free-stuff/newsletter-signup/
If you use content from this newsletter please attribute it to Labor Relations Institute and include our website address: www.LRIonline.com
Contributing editors for this issue: Phillip Wilson, Greg Kittinger, Shaun Fanning
You are receiving this email because you subscribed to receive our labor relations newsletters and updates. You can manage your email preferences by clicking the link at the bottom of any of our email communications.
NOTE: if you are using Internet Explorer v. 6, read the text version, as the html will not load properly in IE6. We recommend upgrading to IE7.