Labor Relations INK
Download a PDF of this issue with links here.
In This Issue:


• EFCA Update
• British Airways' Christmas Gift
• Aggressive New Labor Giant Takes First Steps
• PLUS December Scoreboard, Employee Relations Tip-Of-The-Month, and more…
EFCA Update
As the year comes to an end, the Employee Free Choice Act sits simmering on a back-burner, awaiting a Congress that is intent on passing some type of healthcare reform before Christmas. Our sources in Washington are saying that as January rolls around, so will the EFCA.
There is still no firm idea as to what type of compromise may actually be proposed. Apparently, all of the trial balloons floated over the past 6-8 months have not gained the labor-business consensus that legislators were hoping for. We don't believe there will ever be a compromise that could broach that barrier, so we'll likely be facing something similar to the healthcare bill – a piece of legislation that a majority of people do not want but we'll be stuck with nonetheless.
We are also hearing that it is likely Craig Becker will be ensconced at the NLRB via a recess appointment. Several pundits on both sides of the argument (see here and here) are making the case that NLRB (and more broadly, Department of Labor) rulemaking will establish most if not all of the objectives that Big Labor is reaching for, regardless of the final form of the EFCA.

Since many of the legislators' moves on healthcare reform and the EFCA are weighing heavily in 2010 election prospects, the maneuvering of the "candidates" is typical. Although voting for cloture is essentially the same as voting for either bill, legislators are trying to cover the tracks of their cloture vote by stating that although they "do not support" the current version of the bill, they desire to see debate proceed in a "democratic process."
**********
British Airways' Christmas Gift

It now looks like nearly one million individuals will be making it to their traveling destinations for Christmas. It was previously believed that a 12-day strike by 12,500 cabin crewmembers of British Airways would occur during the busiest travel time of the year. A British court injunction foiled the strike attempt, thereby saving Christmas for families represented by those travelers. "A strike of this kind over the twelve days of Christmas is fundamentally more damaging to BA and the wider public than a strike taking place at almost any other time of the year," said Judge Laura Cox said.

The union's strike threat was over job cuts, pay issues, and working conditions. The airline is struggling to return to profitability, and in addition to stranded customers, the strike would have cost the company an estimated 10 to 30 million pounds per day (16 to 48 million US dollars).
"We are delighted for our customers that the threat of a Christmas strike has been lifted by the court," BA said in a statement. "It has also become very clear that our customers do not believe that old-style trade union militancy is relevant to our efforts to move British Airways back toward profitability."
**********
Aggressive New Labor Giant Takes First Steps
The newly formed super-union National Nurses United is wasting little time selecting leadership. The NNU has named Jean Ross, RN of Fairview Southdale, Karen Higgins, RN of Weymouth and Beth Piknick, RN of Hyannis as Co-Presidents of the newly formed union. All three have a strong organizing focus. "We have a very friendly labor climate," said Ross, who has been a nurse for more than 35 years. "Things were going poorly for labor for many decades. Now is the time to band together to use our clout and influence for things," said Ross. The NNU board has also selected Rose Ann DeMoro, the ex-Teamster head of the CNA-NNOC as the union's executive director.
To kick off their aggressive agenda – which is mostly about organizing, making it easier to organize, and artificially constricting patient loads to force the need for more nurses (ie. more union members) – NNU staged a rally and picket and outside the offices of the Arizona Hospital and Healthcare Association in Phoenix. NNU finds itself well-positioned to take advantage of potential changes due to healthcare reform that will eventually create more nursing "public employees" as the government takes over more of the private healthcare sector.
**********
LRI's Brand New Online Supervisory Training Program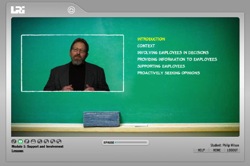 If there is one thing we have learned after more than 20 years and over 10,000 elections battling unions, it is this:
Your front line supervisors are the number one key to a solid union defense, and a positive workplace.
Nothing takes the place of properly trained front line managers and supervisors, but in today's hectic business environment, we've never asked our front line leaders to do more with less. How in the world can you take the time to pull them from their jobs, and provide training that really makes a difference!
Our new Online Active Interval Training (OAI/T) is the answer. OAI/T includes: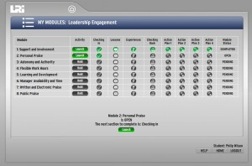 • Easy access from any computer
• Research-based and validated content
• Best adult learning principles available
• Only 15-20 minutes per week
• Real time tracking of attitudes, skills and knowledge
• Instantaneous reporting and learner feedback
• Personalized action plans for immediate implementation
• Accountability to upper level manager for progress and plan execution
OAI/T is incredibly value-priced, PLUS you cantry it absolutely FREE!
**********
Reward For Non-Performance?

By all accounts, Ernie Duran, Jr. has not done a remarkable job leading Colorado's UFCW Local 7. Earlier this year, longtime president Duran and 19 of the 25 Local 7 executive board members were ousted by a slate of rank-and-file union members (Duran is contesting the election results). In a recent tussle over grocery chain contracts, Duran sent his members to vote on a contract he considered the "last and final offer," but was trumped by the international when it instructed the local leaders back to the negotiating table. The local had sent conflicting signals to its members over whether or not they had actually voted to strike, based on two different sets of rules regulating strike authorizations. Last year he made headlines when it was revealed that the combined Local 7 payroll for he and two of his children totaled over $430,000 in 2007.
The reward for such fumbling leadership? When Duran and his fellow ousted Secretary-Treasurer leave office in January, they will receive their union-issued vehicles as retirement gifts, vehicles that were purchased with union dues. Although union officials said it was customary to reward such gifts, every Local 7 former president who has served since 1973 denied receiving such largess.
**********
Employee Relations Tip Of The Month
Get Your Employees Involved
According to recent research, the #1 thing today's employees want is to feel informed, supported and involved. Informed about what's going on in their department or the organization, supported when they demonstrate initiative (even when they make mistakes), and involved in decisions that affect them.
Here are some specific actions you can take now to increase engagement through greater employee involvement:
1. At your next team meeting, review the organization's key business strategies. Emphasize how your team's and department's goals and objectives align with these strategies. Discuss with your employees how their work supports the achievement of business goals to ensure they clearly understand how their work contributes to the overall success of the organization.

2. The next time you hear of a mistake made by one of your employees, schedule time with the employee to discuss the situation. Listen to the employee to understand what happened and ask them what they learned from the situation. Ask them what they could have done differently that would have resulted in a more positive outcome. Remember to thank the employee for taking initiative and demonstrate your support of their efforts.

3. When faced with making a difficult decision that will directly impact your team, gather the team together and conduct a brainstorming session. Explain to the team the important facts surrounding the decision and the potential impact on their work. Use brainstorming to generate ideas for how best to address the situation, then take these suggestions into consideration as you finalize your decision. If you decide to implement one or more of the team's ideas, be sure to communicate this back to them to thank and acknowledge them for their contribution.
To learn more about how to improve the morale and engagement of your employees, check out LRI's Online Supervisor Training.
Hat Tip to Eric Vanetti of VantagePoint Alliance
**********
Same Ole, Same Ole

Bob King looks like the frontrunner to take over the reins from retiring UAW President Ron Gettelfinger. Many feel that there will not be significant change in this move due to King's support of most of Gettelfinger's policies.
King has had a rough go of it lately. His effort this year to modify UAW's contract with Ford (that would have allowed a no-strike clause through 2015) was defeated by 70% of the voting members. Looks like we will see the same old tactics and leadership at least for the next two years, until King hits mandatory retirement age of 65.
**********
SEIU Defines Healthcare Reform Differently

When it appeared that a "public option" may not make it into the healthcare reform bill, the SEIU indicated it was no longer interested in supporting "reform," and in protest, the SEIU leadership cancelled several appearances in support of the legislation.
Proof once again that SEIU cares little about what's good for Americans, and only about what's good for SEIU (and its coffers). No public option means no direct path to "reclassify" healthcare jobs as government jobs, which makes them easier to unionize.
**********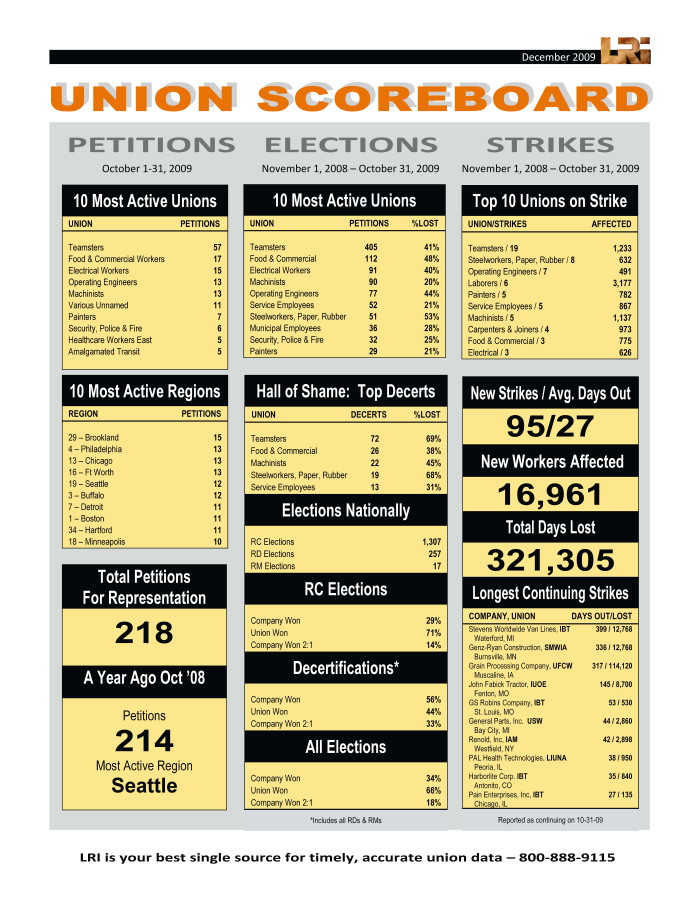 SCORE BOARD
Who are the winners (and losers) of the labor movement? Don't guess, just
check the LRI Scoreboard
View this month's scoreboard (archives also located here).
Download a PDF of this month's scoreboard.
**********
Emergency Room Agenda

The late Albert Shanker, longtime head of the American Federation of Teachers, summed up his union's agenda like this: "I'll start representing kids when kids start paying union dues." If the healthcare bill is passed, the parallel version of this quote may well become, "I'll start representing patients when patients start paying union dues."
A Denver Post article characterized union leaders from the Colorado Education Association as putting public education on the backburner until union members are taken care of. It is scary enough to realize this is reality in the classroom, but can you imagine it becoming the norm in the emergency room?
**********
FREE! EFCA Strategy Review & Vulnernability Audit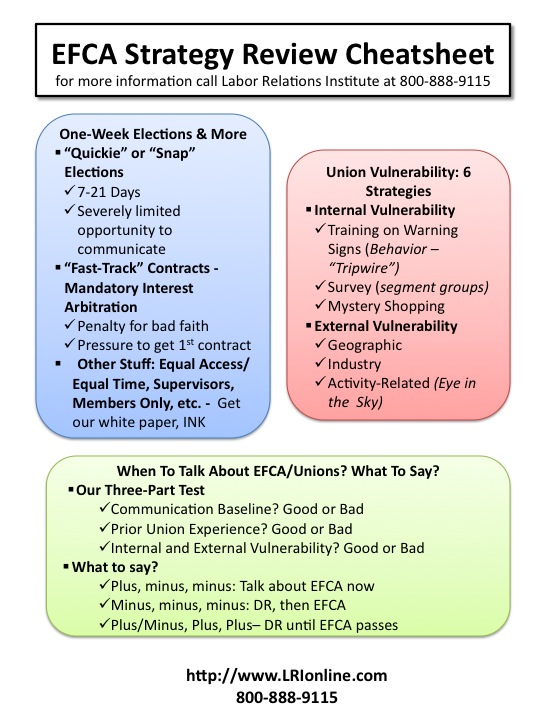 This has quickly become one of our most popular programs, in light of upcoming labor law changes. It is more important than ever to assess both the internal and external factors that contribute to your company's vulnerability to union penetration, and formulate action plans to shore up any uncovered weaknesses.
• What are the most likely labor law changes, and how will they impact my vulnerabilities?
• What are the six strategies I can implement to strengthen my defense against union encroachment?
• When do I talk to my employees about unions? What do I say about unions?
CLICK HERE to schedule your free 30-minute consultation with Phil Wilson, LRI's President and General Counsel.
**********
Caught In A Time Warp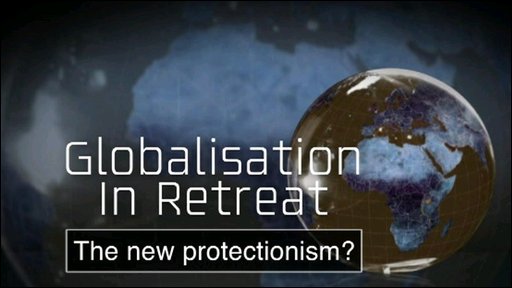 Teamsters President James Hoffa is calling for America to once again return to protectionism. This will have a negative affect on our country in terms of job losses and raising prices on durable goods. Hoffa supports implementing tariffs and banning trade deals that would require our government to privatize services and deregulate industries.
Such outdated thinking would stifle the sluggish American Economy, and constrict the range of choices on what products Americans could access. Unions have promoted this tactic in the past to ensure a ready market for union-made products, turning a blind eye to the impact of such restrictive economic and regulatory policies.
**********
Sticky Fingers!
Current charges or sentences of embezzling union officials:
Christopher Scott Tidwell - UTU: $22,264
Thomas Jon Witham - IBB: $50,000
David St. Denis - CAW: $13,000
**********
Labor Relations INK is published semi-monthly and is edited by Labor Relations Institute, Inc. Feel free to pass this newsletter on to anyone you think might enjoy it. New subscribers can sign up by visiting:
https://lrionline.com/free-stuff/newsletter-signup/
If you use content from this newsletter please attribute it to Labor Relations Institute and include our website address: www.LRIonline.com
Contributing editors for this issue: Phillip Wilson, Greg Kittinger, Shaun Fanning
You are receiving this email because you subscribed to receive our labor relations newsletters and updates. You can manage your email preferences by clicking the link at the bottom of any of our email communications.
NOTE: if you are using Internet Explorer v. 6, read the text version, as the html will not load properly in IE6. We recommend upgrading to IE7.