Labor Relations INK
Download a PDF of this issue with links here.
In This Issue:

• Insight from Phil Wilson
• "Time For Payback" Say Union Bosses
• SEIU Watch
• Coercion Beyond Cards
• and more…
Labor Relations Insight from Phil Wilson
Can Employee Satisfaction Surveys REALLY Predict Union Organizing?
Employee satisfaction surveys are a pain.
They are tough to administer. If you get administration wrong you may get sketchy results. You get piles of data that can be hard to interpret. In the worst cases companies get "paralysis of analysis" and don't report results back to employees. In these cases a survey can actually create frustration instead of fix it.
Which all begs the question: Why do an employee satisfaction survey in the first place? What are the true benefits of a survey process?
If you've read my book The Next 52 Weeks or my free ebook "Satisfaction Survey Success Secrets" you already know that I believe surveys are a valuable tool. Nevertheless, these criticisms are certainly fair. I've had many conversations with potential survey clients about why frustrations like these led them to stop doing surveys altogether. But a recent survey project we did for a client illustrates dramatically that a satisfaction survey project, done correctly, can predict - and help respond - to union organizing activity.
Here's what happened.  Read the rest of the article here
**********
EFCA Update
With the Healthcare debate garnering most of the attention during the summer Congressional recess, some are saying that progress on an EFCA-derivative could be stymied. Take warning: this could be a ruse. Harry Reid is working on a plan to ram the bill through Congress before it can be stopped.
The arbitration provision is now under intense scrutiny, and as we mentioned months ago, it is likely that this was the key objective of Big Labor all along, with card check the straw man to pave the way for a "compromise." Pro-business groups don't see any room for a compromise, and have set their sights on the defeat of any EFCA-derivative whatsoever. Bolstering their case, a former NLRB general counsel argues that even the penalties provision is a violation of free speech rights.
All this may be a moot point. As we mentioned back in early July, Big Labor may need no legislation whatsoever to accomplish almost all of what they are trying to win via an EFCA-type bill! It is no secret that the composition of the new NLRB will be hugely in favor of union interests, especially as the revelations of Obama's latest appointments to the board have made clear. (As a reminder, here is video about Becker that we pointed you to in our June 11th edition of INK):
[flashvideo file=https://www.youtube.com/v/8ia-l1RASG8&hl=en&fs=1&rel=0&border=1 image=wp-content/uploads/becker.jpg /]
Watch the video on YouTube at this link: https://www.youtube.com/watch?v=8ia-l1RASG8&feature=player_embedded
**********
FREE! EFCA Strategy Review & Vulnernability Audit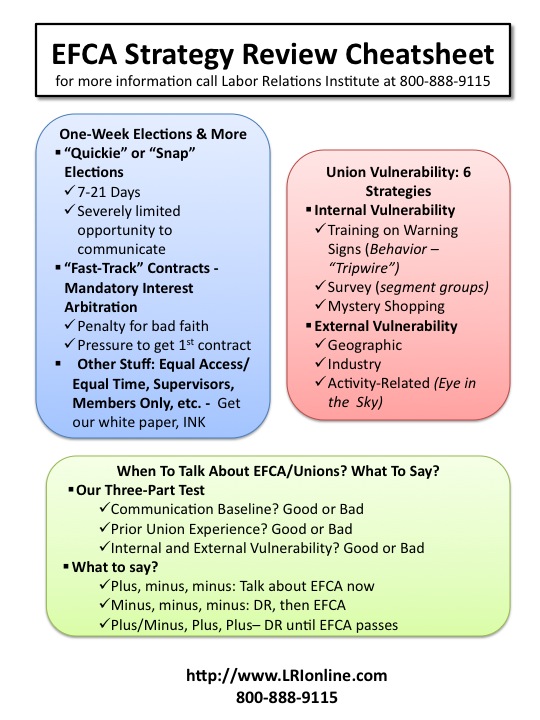 This has quickly become one of our most popular programs, in light of upcoming labor law changes. It is more important than ever to assess both the internal and external factors that contribute to your company's vulnerability to union penetration, and formulate action plans to shore up any uncovered weaknesses.
• What are the most likely labor law changes, and how will they impact my vulnerabilities?
• What are the six strategies I can implement to strengthen my defense against union encroachment?
• When do I talk to my employees about unions? What do I say about unions?
CLICK HERE to schedule your free 30-minutes consultation with Phil Wilson, LRI's President and General Counsel.
**********
"Time For Payback" Say Union Leaders

Unable to ram the Employee "Forced" Choice Act through Congress, and now frustrated over lack of momentum on healthcare legislation, union bosses are beginning to whine about the return on their election money investment.
Leaders of the AFSCME, the Sheet Metal Workers, and the International Federation of Professional and Technical Engineers, have all criticized the beneficiaries of their campaign largess, and are calling for "accountability." The incoming president of the AFL-CIO has promised more aggressive politics.

The problem is such that some senators have expressed concern, and placed on hold
Surface Transportation Board nominee Daniel Elliot after the United Transportation Union took credit for buying his position.
Commerce Chairman John D. Rockefeller IV , D-W.Va., called the UTU claim "totally inappropriate, absolutely inexcusable." Perhaps he was chagrinned that the pay-to-play realities had been so blatantly exposed…?
**********
SEIU WATCH

Andy Stern tried to make it appear that the UNITE-HERE conflict was "behind him," while at the same time the SEIU moved to decertify a UNITE-HERE unit in Puerto Rico and continued to disrupt other UNITE-HERE efforts. In San Francisco the SEIU – United Healthcare Worker West was charged with ordering an illegal overtime protest at an area hospital, while elsewhere in California a strike authorization was approved for the 95,000 state employees represented by SEIU.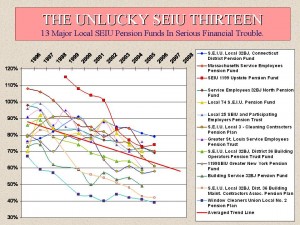 An analysis of SEIU pension funds shows the huge disparity between the funds for SEIU employees and leadership, versus the funds for the union members. The report also shows the overall critical status of SEIU funds. Of the thirteen funds in the most danger, six were listed as "endangered" and seven as "critical."
SEIU thuggery continues to spread. In recent town hall meetings, government employees who were SEIU members were used to crowd out and shut down private citizens who had come to voice their concerns about healthcare legislation, including a meeting in Florida and St. Louis, where SEIU thugs resorted to violence and physical abuse. Stern himself summed up the SEIU philosophy of persuasion: "We prefer to use the power of persuasion, but if that doesn't work, we use the persuasion of power."
SEIU was also pegged as one of the largest contributors to ACORN, paying $7.4 million to contract the activists to conduct corporate shakedown campaigns, including crashing business meetings and harassing company officials and their families at their own homes.
For a compelling account of SEIU corporate campaign tactics, which will become much more prevalent under the union-friendly administration, watch this 7-minute video.
[flashvideo file=https://www.youtube.com/https://www.youtube.com/v/3eqgj796hkU&hl=en&fs=1&rel=0&border=1 image=wp-content/uploads/corp_campaign_vid.jpg /]
Watch the video on YouTube at this link: https://www.youtube.com/watch?v=3eqgj796hkU&feature=player_embedded
**********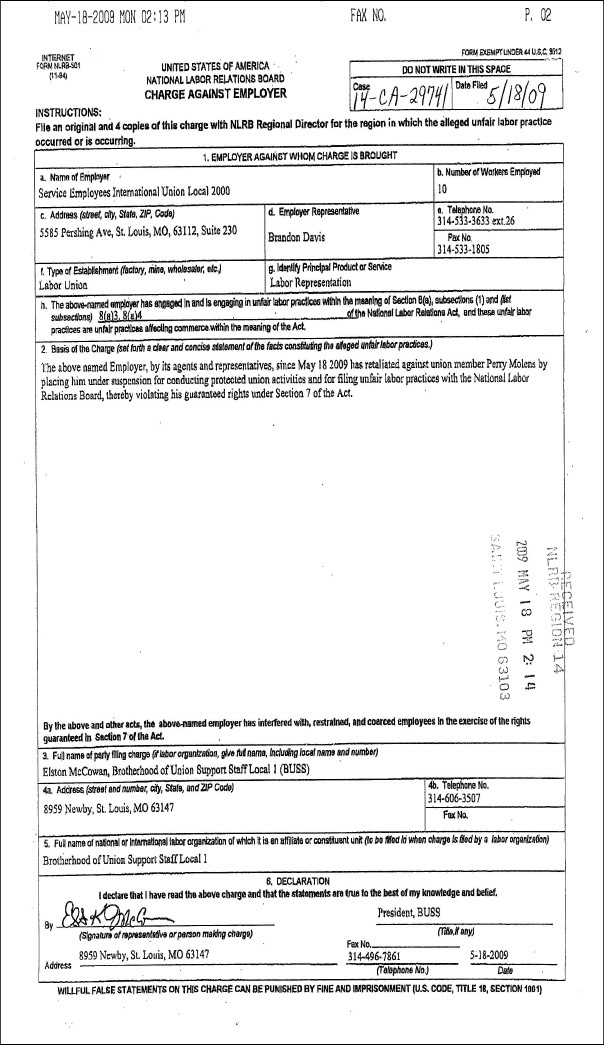 ULP Charge Of The Month
Seems that the SEIU doesn't like it when their employees want to engage in union activities on the job. When the SEIU refused to bargain with the union representing its employees, the employee filed Unfair Labor Practice charges with the NLRB, and found himself suspended by his employer!
**********
Coercion Beyond Cards
If you thought union coercion in the workplace stopped with the signing of authorization cards, think again. UPS and Teamsters officials have conceded that the company paid for workers' time (and with company supplies) to pen letters lobbying Congress in favor of rules changes that would negatively impact arch rival FedEx. Employees of UPS have charged that they were forced to pen the letters. Although company officials deny the allegation, many employees said they felt they would have been punished if they had not complied.
Scott Dennis, a part-time UPS loader in North Carolina, said he was pulled into an employee meeting and told to write a letter. "We were expected to tow the line," he said. He quit the UPS job, and contacted FedEx to describe the coercion.
**********
Union Transparency Will Diminish

You knew this was coming. Too bad for unionized employees, or those facing such threat.
John Lund, deputy assistant secretary in the Office of Labor Management Standards, in a recent Department of Labor meeting stated that the OLMS will be reviewing the financial disclosure reports that unions with receipts of $250,000 or more are required to file. Union officials lined up to decry the "unfairness" of the current standards, claiming they are invasive, hard to understand, and costly to comply with.
A former Bush administration official at the meeting said that the union comments were misleading and inaccurate.
**********
Pay-To-Play, Vegas Style
The purchasing of "favor" by unions was on display again, this time in Las Vegas, as the Clark County Commission bypassed the low bidder for a roadway project and awarded the job to a unionized company.
Former Commissioner Bruce Woodbury said he saw an emerging pattern of politics over process on the commission before he left last year, citing as evidence the rejection of a land use permit to a non-unionized cement company.
**********
Union Pension Fund Woes
One might try to write off the trouble union member pension funds are in on the basis of the state of the stock market and the U.S. economy. However, a closer look reveals a more sinister tale.

Compare the asset to liability ratio at multi-employer plans, which union funds make up the bulk of, to single employer plans (mostly company-provided pensions). The multiply-employee plans were funded at 66% in 2006, whereas the single-employer plans stood at 96%.
Track the union funds performance before the stock market crash. In 1998, UNITE-HERE's National Retirement Fund stood at 115% , but fell to 83.4% by 2007. SEIU's National Industry Pension Fund was at 103.4% in 1998, and dropped to 74.4% by 2007 and is now on the critical list (below 65%).
Look at the general state of funds among unions. We discussed SEIU's 13 most endangered funds in our SEIU Update above. Add to that 13 of the larger Teamster funds, which combined sit at 59.3% of reserves, or the 26 pension funds at the UFCW, which are at 58.7%. Seven funds of the United Brotherhood of Carpenters are at 67%. The Sheet Metal Workers National Pension Fund is at only 39%.
One would also wonder why pension funds for union officers and employees are in much better shape that the funds for union members, and why the benefits are so drastically different. The SEIU Affiliates, Officers and Employees Pension Plan was funded to 102.2% in 2007, and the plan for SEIU headquarters staff was at 84.8%
SEIU officers and employees get a yearly 3% cost of living increase – members, nada; officers qualify for an early pension at 50 – members, nope; officers qualify for disability retirement after a year – workers, 10 years.
Employees of Delphi and General Motors recently learned what it can mean for a pension fund to be turned over to the Pension Benefit Guaranty Corporation, when the two companies claimed they could no longer maintain them.
**********
Public Pension Problems

Not only are union pension funds in trouble, those of public employee unions are also wrecking havoc with state and municipal budgets. California Governor Arnold Schwarzenegger is attempting to make changes to the pension programs of the state's employees as a part of his attempt to balance the California budget and prevent future financial catastrophe. California currently has at least $63 billion in unfunded pension liabilities, an amount equal to roughly two-thirds of all annual general fund spending. "Everyone understands we are running out of money," he told reporters. "We cannot continue promising people things that we cannot deliver on."
Pension programs for government employees are typically much more generous than those in the private sector, partially because government unions who push for the lavish benefits have monopoly bargaining position, and governments have been able to push the cost onto the taxpayers. However, that reality may be coming to a close.
"The pension benefits for public employees in California are extravagant and they are going to bankrupt cities and counties, along with the state," said Keith Richman, a former state assemblyman. Other states, including New Mexico, Kentucky, New Jersey, and Georgia have all modified their state pension programs.
**********
Decert Vote Date Set At Boeing Facility
Boeing employees in Charleston, SC, will vote on the decertification of the Machinists Union on Sept 10th. Dennis Murry, a quality inspector at the facility, said he filed the petition because he felt as though the union was poorly representing the employees. "I don't like being stabbed in the back and having bluff and bluster rule the day," Murray said.
At issue was the ratification of a recent contract. In a last minute meeting attended by only 13 employees out of approximately 300, the contract was "ratified" by all but one of those attending. Union spokesman Bob Wood claimed the contract was ratified by a 92% margin, but refused to disclose how many voted.
When angered employees asked the NLRB what recourse they had, they were informed they had to wait until 60-90 days before the 3-year contract was due to expire in 2011. However, that changed with Boeing's recent purchase of the plant, opening up the contract for renegotiation, and a window to decertify the union.
**********
Union Leaders Paid Well While State Struggles
While unemployment continues to rise, and pay continues to flatten, union leaders in 27 of Hawaii's unions saw an average pay increase of 9.4%, despite declining union membership.
The top ten highest paid union leaders in 2008 (and the percent increase in pay over the prior year) include:
• T. George Paris (Iron Workers Stabilization Fund): $403,439 - up 60.5%
• Lynn Kinney (Painters): $285,926 - up .2%
• Reginald Castanares (Plumbers): $240,325 – up 56.8%
• Ronald Taketa (Carpenters): $219,445 – up 4.4%
• J.N. Musto (U. of Hawaii Professional Assembly): $193,417 – up 9.4%
• Patrick Loo (UFCW): $184,413 – up 4.7%
• Gerald Yuh (IBEW): $164,655 – down 10.4%
• Rodney Capello (Laborers): $163,185 – up 308.5%
• Dayton Nakaneula (Public Workers): $142,765 – up 6.7%
• Arthur Tolentino (Sheet Metal): $124,616 – up 6.4%
**********
"Shareholder Bill Of Rights" Another Sop to Unions
With the backing of Andy Stern, Senator Charles Shumer (D., NY) will soon introduce a bill which would give the Securities and Exchange Commission (SEC) the legal authority to grant shareholders access to the corporate proxy for nominations to boards of directors. While this sounds benign on the surface, it would give union-backed shareholders who hold a small interest in a company—as little as 1% of the shares—enormous leverage to promote their own agendas.
Unions already use their control of pension funds to coerce union-agenda actions which have no connection to the financial value of the shareholder's interests. In fact, a recent study indicated such union activism actually decreased shareholder value.
With only 9% of union households believing that funds should be managed to "advance the union's social and political goals," this is just another example of union agendas which are far removed from the interests or wishes of their union members.
**********
Labor Relations INK is published semi-monthly and
is edited by Labor Relations Institute, Inc. Feel
free to pass this newsletter on to anyone you
think might enjoy it. New subscribers can sign up
by visiting:
https://lrionline.com/free-stuff/newsletter-signup/
If you use content from this newsletter please
attribute it to Labor Relations Institute and
include our website address: www.LRIonline.com
Contributing editors for this issue: Phillip
Wilson, Greg Kittinger
You are receiving this email because you
subscribed to receive our labor relations
newsletters and updates. You can manage your email
preferences by clicking the link at the bottom of
any of our email communications.
NOTE: if you are using Internet Explorer v. 6, read the text version,
as the html will not load properly in IE6. We recommend upgrading to IE7.