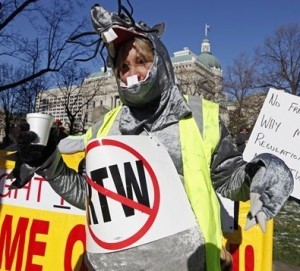 Indiana House Democrats have again gone AWOL to stall the likely passage of the nation's first Right to Work legislation in more than a decade.  As state GOP lawmakers attempted to start the first session of the new year on Wednesday, their Democrat counterparts huddled in closed-door strategy sessions with Indiana AFL-CIO President Nancy Guyott, denying Republicans the quorum needed to conduct business.  Those same Indiana Democrats fled the state for five weeks last year to block the same legislation and will face $1000 a day fines if this walkout lasts more than three consecutive days.
House Speaker Republican Brian Bosma tried three times to gavel the House into session on Wednesday.  Bosma also said the Democrats' stunt won't cause his colleagues to back off on the bill.  "We will do our very best to encourage them to do what is right, which is to show up at work and do what they were elected to do," Bosma said. "Democracy is about participating, not going on strike."  Republican governor Mitch Daniels is expected to sign the bill.
Meanwhile, unions from Illinois and other neighboring union strongholds bussed in thousands of rabid union zealots to bolster the illusion of populous Hoosier outrage against the legislation.  Polls of Indiana voters however tell a quite different story, depending of course on who's doing the asking.  The only independent poll, conducted last month by Ball State, shows 48% of Hoosiers have no opinion yet on Right to Work, their confusion likely due in no small part to Big Labor's histrionic media blitz over the past year.  (Those surveyed who had an opinion split evenly for and against the legislation.)  A House Republican poll last summer found 65% of voters support a law that ensures "a worker cannot be required to join a labor union or pay labor union dues in order to get or keep a job."
For his part, House Democratic Leader Patrick Bauer, who led last year's five-week walkout, said Wednesday that Republicans were "railroading" the revived measure through the chamber and more public hearings should be held.  "What's the urgency?" said Bauer, his comments coming after a year of public debate while Indiana unemployment hovered near 10%.
Bauer added his members would not leave Indianapolis this year but would "filibuster" until Bosma agrees to more public hearings.  (He did not specify how many.) When asked how long the Democrats will stay out Bauer added, "that time schedule is not in our hands."  Democrat Rep. Craig Fry has called a walkout "the only way" to block the bill.