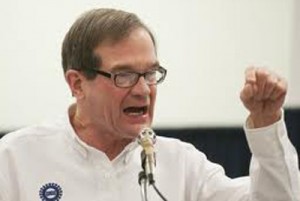 UAW president and eternal flower child Bob King used the 75th anniversary of the Flint sit-down strike to veer his union back towards its socialist roots last week, calling on all UAW members in an impassioned speech to take "direct action" (union parlance for breaking the law) against the evil 1%, starting with, oddly enough, General Electric stockholders.
"It will take direct action. It will take us being willing to face arrest. It will take us being willing to be part of marches and demonstrations," King told a crowd of 500 cheering UAW retirees many of whom may need assistance getting back up if they  do indeed dare to attempt a sit-down protest.  King announced the UAW is joining with SEIU, Occupy Wall Street and other class warfare crusaders to create a new "movement for social justice" that will employ the tactics of the civil rights movement to fight "corporate greed" and attacks on (big) labor.
King said his union would immediately begin training members "and anybody who cares about justice" (but not free enterprise!) in "nonviolent direct action." The new movement's first mission will be to demonstrate at the GE shareholders meeting in Detroit on April 25 for reasons not yet apparent.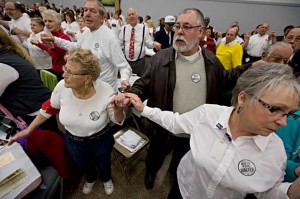 According to the Detroit News, King's veins were bulging and his voice grew hoarse from shouting at the crowd.  "It is morally wrong — it is absolutely wrong — that they (GE) make billions and billions and billions of dollars and pay not a single penny in taxes.  Enough is enough. We're the 99 percent who want 100 percent fairness for everyone." (And our full UAW retirements)  A spokesman for GE reported that the corporation paid over a billion dollars in federal, state and local taxes last year.
Ironically, just two days before King's calls for anarchy (not to mention support for the re-election of President Obama) UAW member Terry Bowman testified before the House Oversight Committee in favor of national Right to Work legislation so he and other conservative auto workers would no longer be forced, as a condition of employment, to financially support leftist political agendas they find abhorrent.  The UAW declined to comment on Bowman's testimony.