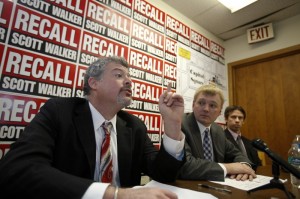 Democrat strategists are handwringing over the money Big Labor continues to dump in Wisconsin.  Public sector unions alone spent at least $15M on the ground last year collecting signatures to recall Governor Scott Walker and tens of millions more went to ad buys.  Unions also targeted six Republican congressmen for recall who supported the governor's budget agenda, generating a flood of political dollars into a state that rarely sees that level spending even in a presidential election year.
After nine months gathering signatures, organizers may have to push for another six months to get to the actual Walker recall election date, probably in late June.  Unions will need far more staff on the ground in Wisconsin until then, burning through even more dues dollars in their attempt to punish Union Enemy No. 1.  However all that expensive shoe leather will have negligible impact on the presidential election at least three months down the road.
And according to the most recent polling available, Walker continues to lead his closest potential Democrat rival by 6 percentage points, hardly the ringing condemnation by the Wisconsin electorate that unions have claimed.  This doomsday scenario is keeping top Obama strategists awake at night – up to a tenth of union soft money is spent not reelecting the President but confirming the popularity of Walker's policies.
"Some were asking us whether we could wait until after the election, but we can't. This is too big a deal," said one labor official.   Labor is also looking to invest heavily in roughing up Indiana Republicans who dared to support Right to Work legislation.