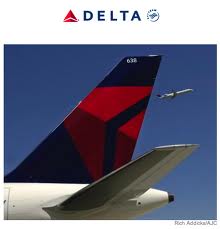 Despite the efforts of the National Mediation Board to make it easier for unions to organize in the airline industry, Delta employees have consistently turned the union down flat. In the last election, the gate and reservation agents voted 8,746 against and 3,638 for the IAM. This makes the last of 9 groups that have said NO to unions since the Delta-Northwest merger in 2008.
The IAM doesn't seem to understand the nature of an election process, and is not accepting the results, asking the NMB for a re-vote. They are charging the airlines with inappropriately interfering with the election process. The alleged interference includes explaining the truth about unions to their employees, and allowing them to vote on company computers.
A group of Delta flight attendants held a picket outside the Association of Flight Attendants (AFA) offices hoping to emphasize their desire to be left alone by the sore losers.