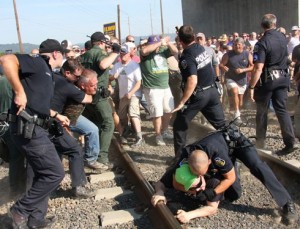 Faced with the threat of massive Occupy and Longshoremen union protests, the U.S. Coast Guard has announced it will be escorting the first ship to be loaded at the EGT grain terminal at the Port of Longview some time this month.   The grain carrier, bound for China, will be escorted up the Columbia River and out to sea in the event protestors in small boats attempt to somehow disrupt the ship's passage.
Since July, the ILWU has been holding high profile sometimes-violent protests at the new terminal claiming EGT's lease agreement stipulates they can only use ILWU local 21 members.  (EGT instead hired a Washington state sub-contractor that uses operating engineers from another union.)  The ILWU has been fined $300,000 for damages done when its members blocked incoming trains in September.  The union is under federal court order not to interfere with commerce at the port.
As we reported in the Dec. 15 issue of INK, the "Occupy" protestors, heavily infiltrated by organizers from the Change to Win's "Coalition for Safe Ports," successfully shut down the port of Longview in December causing the ILWU to accuse the Occupy movement of "co-opting" their labor struggle.  The same "Occupy" group is now calling for a massive protest to thwart loading of the Chinese ship.